Quick Big Brother Spoilers
Head of Household: Bowie
Nominees:
POV Players:
POV Winner:
Veto Ceremony:
Havenots: ?
Lock your ranks in before midnight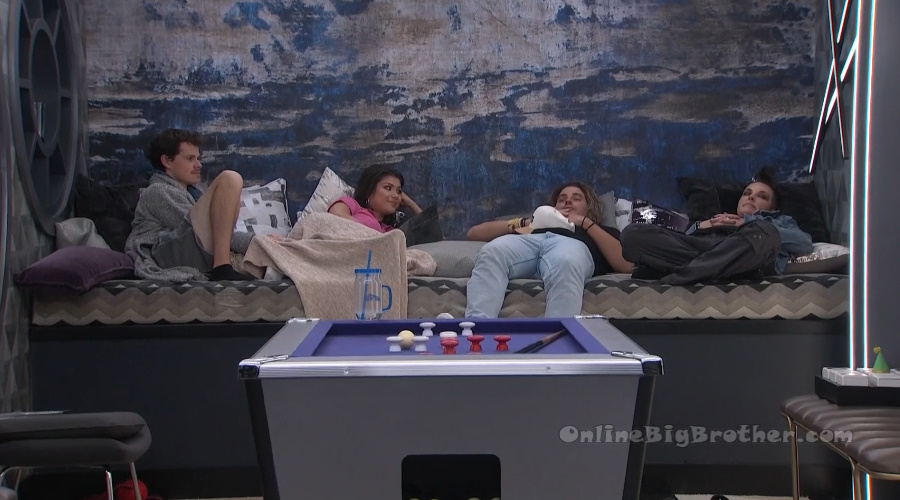 10:21pm The live feeds return after being blocked for the live eviction where Meme was evicted and Bowie Jane won the head of household competition.
Games Room – Cory, America, Matt and Bowie
Cory – actually we were trying to have a conversation. Bowie – cool well you're both up for nomination next week then! Cory – next week and not this week? Bowie laughs – uh.. this week. If you don't play bumper pool with me.. you're up for nomination. Matt – Savage! Bowie – well that was good. Matt – you must me excited. Bowie – yeah it will be cool to get a letter because its been so long. Cory – do you think it would be crazy if we were like the For real for real is back. For real for real is actually falling a part. America – Jared, Izzy and Meme. I will say that Seven Deadly Sins is going strong. America – Seven Deadly Sins is going strong. There's six of you? Matt – yeah. Cory – that's kind of suspicious isn't it? Bowie – I am probably a part of it and I didn't know. Cory – I am glad that we were able to get someone out of the Legend25. Wait, this guy (Matt) is in that too.. and you (Bowie) are too. Matt – put yourself up! Bowie – good idea.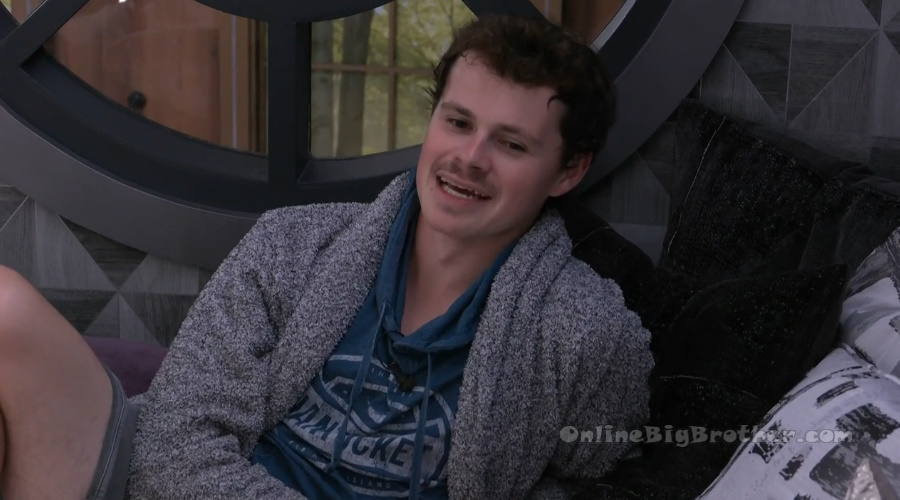 Comic Bedroom – Jag and Cirie
Jag – on the bright side I am on the market. Cirie – and on the jury. You're on the market and on the jury. Jag – Seven person jury. They done f**ked us all up. Cirie – what is it normally? Nine? Jag – nine. Cirie – oh yeah, since when? Jag – at least since when I watched it like 16 on. Jag and Cirie start talking about survivor. Cirie – I want to know what Meme is doing right now? Is she eating steak with her husband right now? Jag – I think she has to sign off on a lot of things and they have to give her all her stuff back. Cirie – I mean she's propably eating and facetiming.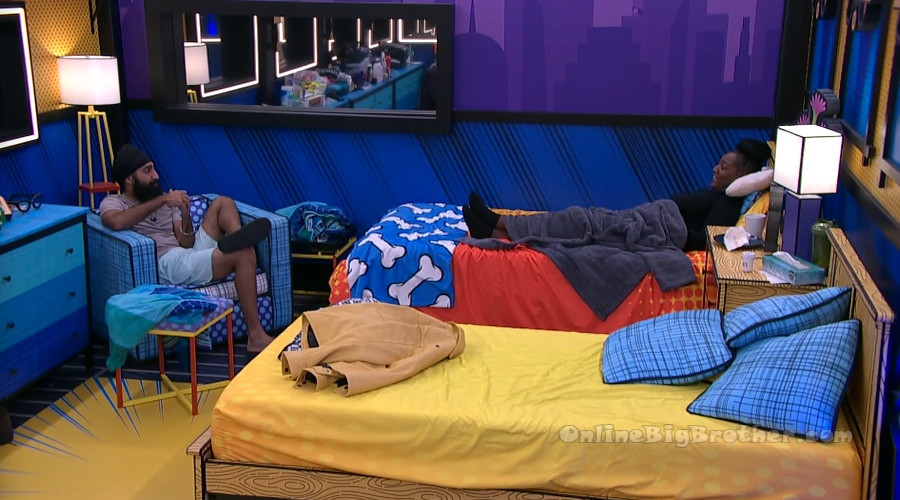 Comic Bedroom – Jag, Matt and Cirie.
Jag – if its OTEV this week then we have a good shot at it. We have to play.
10:50pm – 11:17pm Games Room – Bowie and Cory.
Cory – You know what they're saying now? Bowie – what? Cory – oh my god Cory is just running up to Bowie. Bowie – someone already said that to me. Cory – really? Bowie – I won't say who. No one in our group. Cory – tell me. Bowie – no one in our crew. Cory – as if we haven't.. Bowie – how did we get to 67, that's what I want to know? Cory – exactly. As if we haven't been talking more than anyone else in this f**king house. Bowie – yeah I know, come on. Cory – so annoying. Bowie – and I hate that she did that because its nasty. Cory – yup. Bowie – as if I haven't copped enough in here. Bowie – what did Felicia say to you when you spoke to her? Cory – not really since she stayed but before that she said hey am I good. And I was basically like look, I think so. Blue is still campaigning against you. She was like I know, Blue is going after me. She she doesn't like Blue right now. Bowie – yeah. Cory – and Blue is mad at me. America – apparently Felicia pulled Blue into a room and was like I know you've been campaigning against me. Bowie – and what did she say? America – I have no idea but Blue is pissed. Bowie – AHhh.. wow! America – I spoke with Felicia. And she was like I don't know what Bowie is going to do. I have no idea. And I just said I don't know. Bowie – what do you think she (Felicia) is going to pitch to me? Cory – probably Blue and Cirie. And Cirie probably won't say any names. Maybe Cam. Bowie – yeah. Cory – the thing is no one is going to pitch me and America because they think we're (together). Bowie – yeah. America – to him, I can't believe it happened twice! Bowie – in one week. America – and from two different people. Cory – okay there are two people on the block .. why are they both mad at me? Like one of them should feel good. America – and you didn't put them up. Bowie – one of them is leaving. America – it was so weird. Bowie – people under pressure act so weirdly. All the comments come for the people that were in all of the alliances. America – exactly. Bowie – and no one made promises that I was safe this week.. like from that group.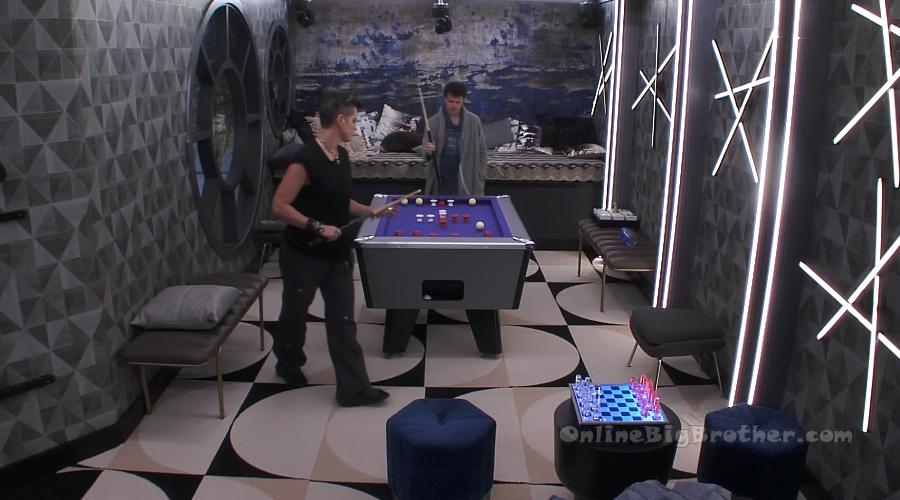 11:30pm Games Room – Bowie and America.
America – as long as Cam isn't buying anything that she (Blue) is selling we're fine. And he is truly okay with all of us, then we're fine. But if anything Blue is saying is sticking with him then we're f**ked. Bowie – yeah I mean I will sus it out but I don't think he is silly.. do you know what I mean? America – I don't think he is actually contemplating it because what concerned me was that after Blue told him all this he went to Matt and Jag instead of me and Cory to ask. Bowie – oh really? America – Like why would he need to to go to them?? Bowie – that's scary. America – because Cam can really win in competitions. Bowie – yeah that's scary.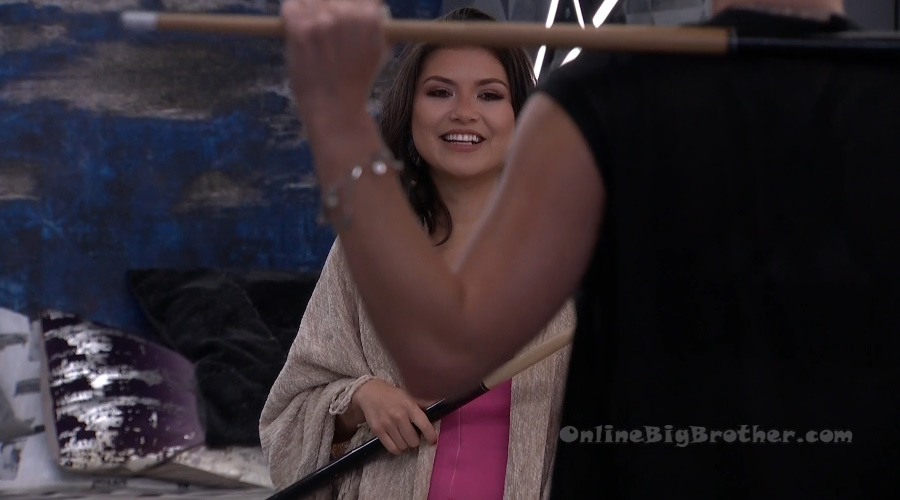 11:45pm Comic Bedroom – Jag, Matt, Felicia, Cirie, Blue
Felicia – I am going to try my hardest this week to not cross any lines. I am going to go down underground. Jag – I don't those lines exist any more in this house.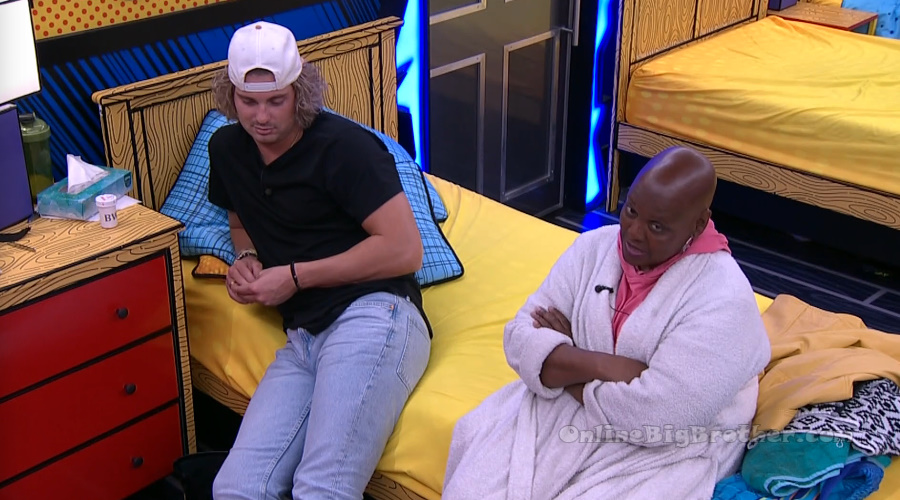 12:10am Kitchen – Matt, Jag and Felicia making something to eat.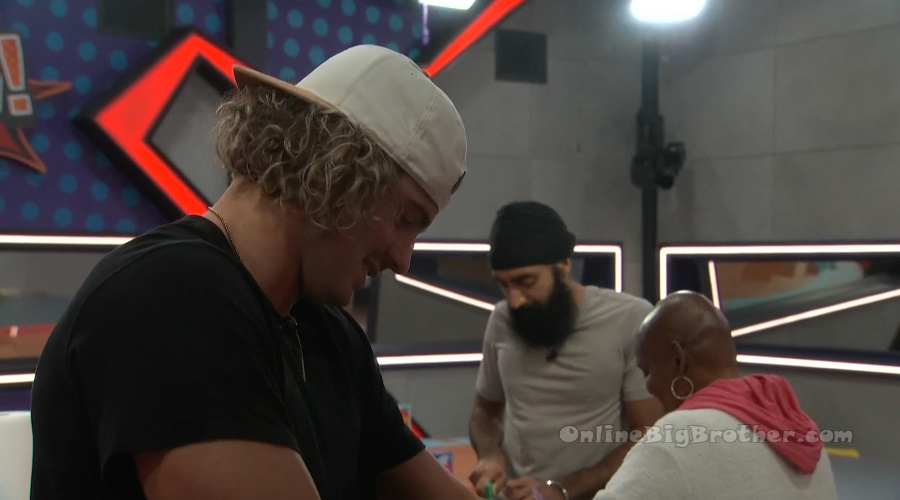 12:25am Back rub train…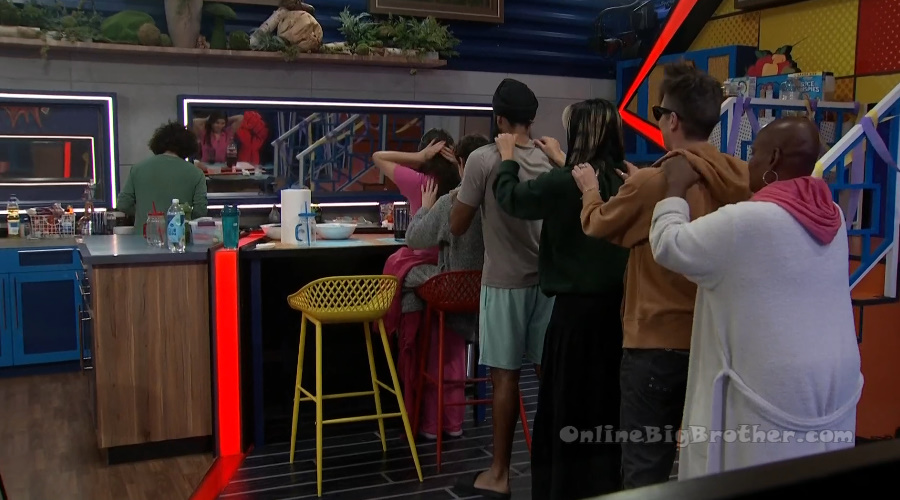 12:43am The housee guests are still chatting / cooking..
If you've enjoyed our updates this season and want to leave a tip you can do so through PayPal.
You don't even need a Paypal account to contribute. Any amount is greatly appreciated!