Quick Big Brother Spoilers
Head of Household: Bowie
Nominees: Felicia & Cirie
POV Players:
POV Winner:
Veto Ceremony:
Havenots: ?
Lock your ranks in before midnight
The situation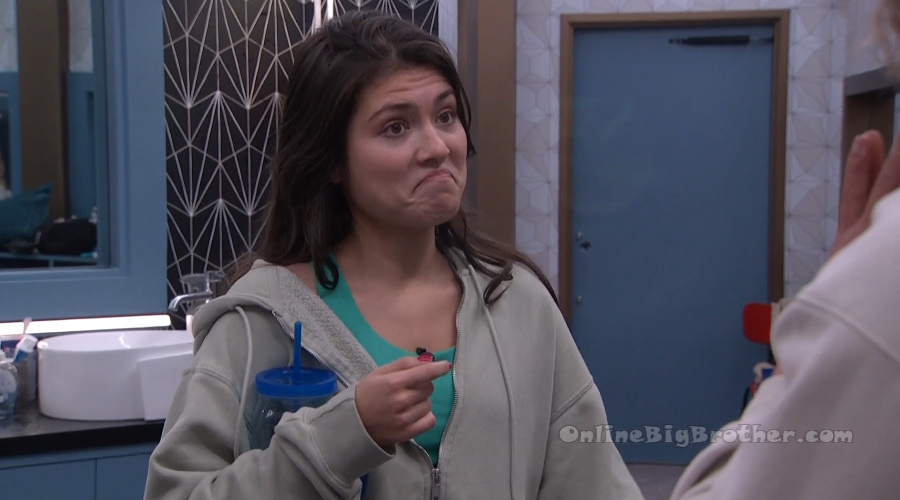 4:25pm – 5:16pm The live feeds were blocked for the nomination ceremony. As head of household Bowie Jane nominated Felicia and Cirie for eviction.
Bathroom – America and Matt.
America – All I told Cirie and Felicia just to let you know .. like how are you feeling? Yeah I know, that's how she's leaning between me you and Cory I am trying to make that not happen. She was like can you get Matt. I was like I know Matt, Jag was still up there. I will try to get Matt to push for you guys but I don't know. I just know that me and Cory have been vouching for you. And they were like oh yeah I trust Matt. Matt is good with Bowie and probably if he says something it will happen. I was like I don't know how good or close they are. Matt – they're not going to change it. I'm going last, the decision was already made. America – and that's what I told them. I will try to talk to Matt and see what will happen. That was pretty much it.. we didn't talk about Jag. Then we started talking about Cam and they were like Cam has to go up … Cam .. this is the only opportunity. And I was like YUP YUP YUP! And I didn't mention Blue's name. I didn't mention what noms we were pushing. All I said was I was just up there trying to get you guys not to be put up. They were like you don't have to say names we know who the pair is, we see it too.. so they're safe. Cirie said that. Matt – Cirie is nervous. We just have to make sure we get the veto. America – I talked to them about it, they said they're going to pick Matt and Jag (HG choice for veto pick). Matt – I am just going to beg them, like pick me if you really want to get off the block because there is a different plan. Its not you two who go home. America – they trust that. Matt – who do you want? Cam or Blue? America – yeah and if not Blue. Matt – we just have to make sure Bowie doesn't pick Cam. Its best if she just gets a random person… but if she gets house guest choice.. she is going to feel pressure and then he is going to know right away if she doesn't pick him. America – she is really going to feel the pressure. Matt – and if she doesn't pick him, he is going to know right away and he will know exactly what the plan is. America – I know, do you think you can talk to her and try and get her to pick you or Jag? Matt – I can. America – I talked to Cam today .. and this is all paraphrasing but he basically said he doesn't want to got to the end with a duo. He basically said I can't go to the end with you and Cory because I'll get third. Like you guys are a pair. Matt – I know, that's what I am saying. He is going to make a move against you and Cory and Me and Jag soon. America – so he is like prepping for that. He was saying that you guys can't trust me because I spread information around the house. Matt – he is the one saying that. All he does is go around and tell everyone everything. America – he said that you're the ones going to him telling him all this information and that all he is doing is nodding. Matt – I knew it. That makes me so mad. You should tell Jag that. I'm going to tell Jag that.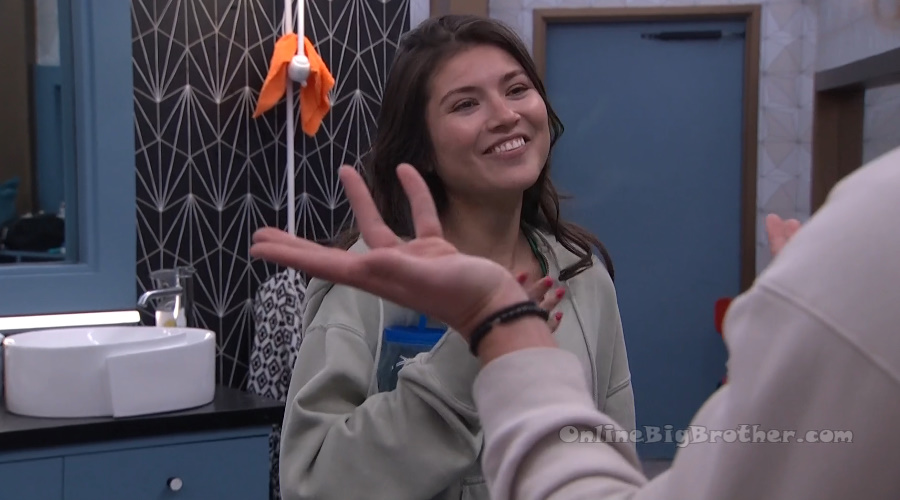 5:35pm Bathroom – Jag, Matt and Cam.
Jag – we'll see if she (Felicia) holds her sh*t together. Cam – I know what I want to happen and we all know what's right. This isn't fun. Jag – honestly I am hoping its OTEV. It will either be this week or next week.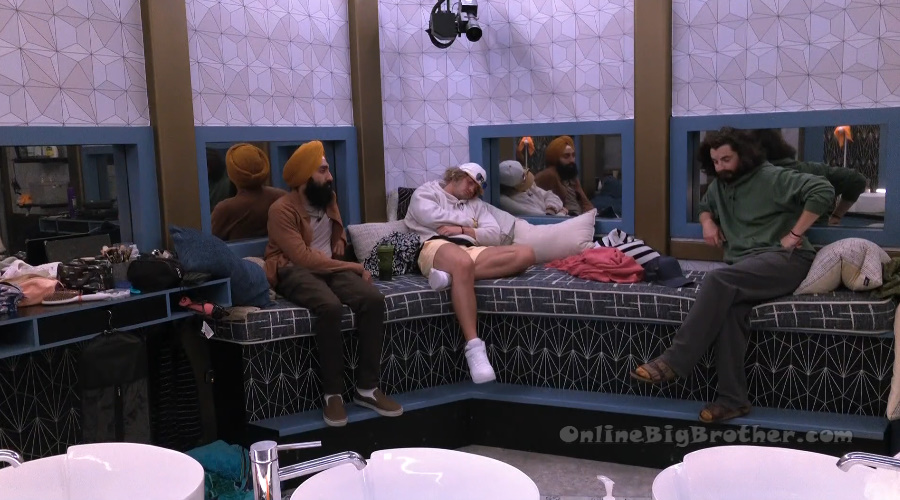 5:40pm HOH room – Bowie and Cory.
Cory – so whoever you put up as the replacement is going home. Bowie – yeah. Cory – because the votes are Me, America, Matt and Jag. So whoever you want to go is going and the reality is there is no one safe to put up anymore. So if you put up Cameron and Cameron stays.. Cameron is going to go after you. If you put up Blue and Blue stays Blue is going to go after you. Bowie – yeah. Cory – and I wouldn't be worried about it because whoever the replacement nom is .. they're going to be gone. And the nice thing is .. whoever you don't put up you can go to them .. like Blue I didn't put you up as a replacement nom. Like obviously we're good. Bowie – yeah. The downside of being HOH is having to do that but the upside is being able to prove your loyalty. Cory – but also I proved my loyalty to Felicia and to Meme and how did that work out for me? Bowie – yeah.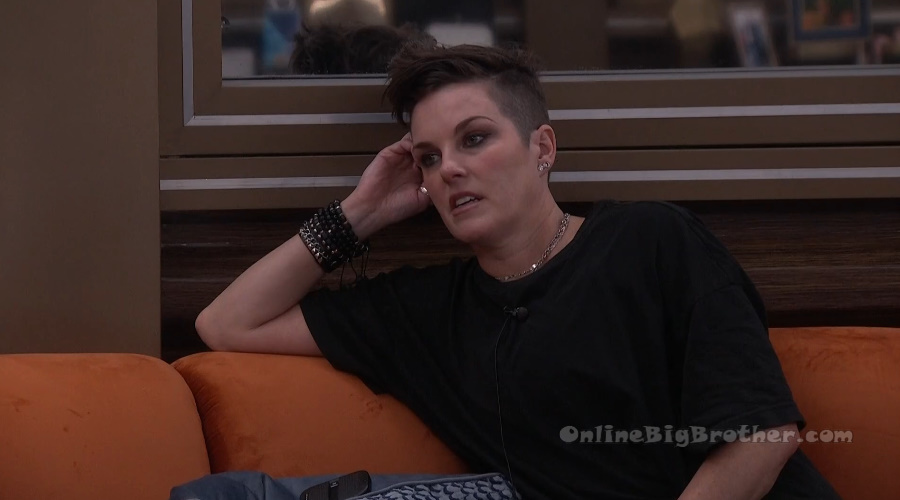 6:10pm – 6:33pm Kitchen – Matt, Blue, Cirie and Felicia are chatting / cooking in the kitchen. Meanwhile upstairs, Cory and Bowie are playing chess while Jag watches and Cam plays bumper pool
6:37pm Games Room – Cory, Bowie and Jag.
Bowie – well this will be a bloody stupid veto now. Cory – we're going to know the situation after tomorrow .. there is a decent chance the veto draw would be like legit Felicia, Cirie, you (Bowie), you (Jag), Matt and me. Bowie – or it could be… Cory – the benefit of these noms are that it gives us the chance at an easy veto. Bowie – yeah. And if it doesn't work out its still fine. As long as we got house guest choice locked up. Jag – yeah house guest choice, if you (Bowie) get house guest choice who are you choosing. Bowie – I don't know yet. You (Jag)? Cory – yeah. Jag – I'm down! Cory – I was thinking if its Otev, my bet would be you. Probably a little quicker with the answers but Matt is fast. Bowie – and I'll say because he said you really wanted to play. Can I say that? Jag – you can just say my name, you don't have to say anything. I think we can get either Felicia or Cirie to pick Matt. And then we're cooking. Cory – and I think if Blue wins we can get her to use the veto for sure. Whoever your replacement nom is, is going home. And who ever isn't is in debt to you. Cory leaves. Bowie to Jag – getting Blue out might be a good option. Jag – yeah. Bowie – The other option is .. I don't know if I feel very comfortable doing the Cameron thing. I feel like its a bit dirty. Jag – we can talk more. Bowie – because he hasn't done anything to me, its everyone else that's got the issue. Jag – yeah. Bowie – I mean I know he's a problem but.. Jag – we can talk more about it because eventually… Blue calls from them to come down for dinner.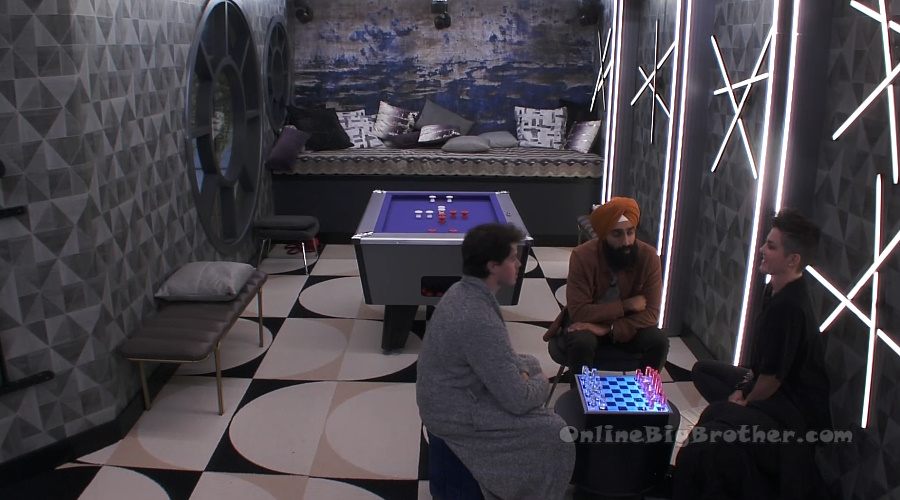 6:50pm Dinner time..
7:24pm 7:51pm HOH room – Cameron and Bowie Jane.
Bowie – Now everyone is panicking about you and Blue. Cam – who? Bowie – everyone. Cam – what the f**k guys! Bowie – I was like is this a joke!? I was like I don't know if there is anything to worry about there. Cam – who did you tell that to? Bowie – everyone. Cam – who is everyone? Matt and Jag said that? Bowie – no. Cam – oh okay, well I don't give a sh*t about everyone else. Bowie – its mostly Cory. Cam – yeah that's because he is trying to angle me. Bowie – he is pushing very hard just so you know. Cam – for me? or for Blue? Bowie – oh just for sh*t to be turned upside down. Why do I have to make those moves.. this is not good for my game so … I want noms to stay the same. Why should I make a move? Really, its blood on my hands. Cam – it wouldn't be yours. If I was going to backdoor anybody it would be Cory. In fact I want him backdoored this week. Bowie – yeah.. Cam – but its whatever you want to do. I don't want to backdoor anyone. That's just not how I play. Cam – not yet. He is going to f**k us up. Bowie – yeah, I'll tell you what.. don't say I said this but he told .. he said that you said to America that you didn't want to be in a three with a pair. In a final 3 with a pair. Cam – WHO does?! Bowie – but then he then tells everyone that right. Cam – yeah. Bowie – so this just doesn't look good. Matt and Jag are a pair and Cory is pressing that. Cam – yeah Cory is going to look for any angle. I want Cory to leave this week but I would never pressure you to do that. Matt, Jag, we all agree its exactly what needs to happen this week. Bowie – yeah. Cam – but its up to you .. if you want things to stay the same .. cool we'll do whatever you want. But I will tell you right now if you wanted to make this move .. we have all the votes. It could happen today. Blue joins them.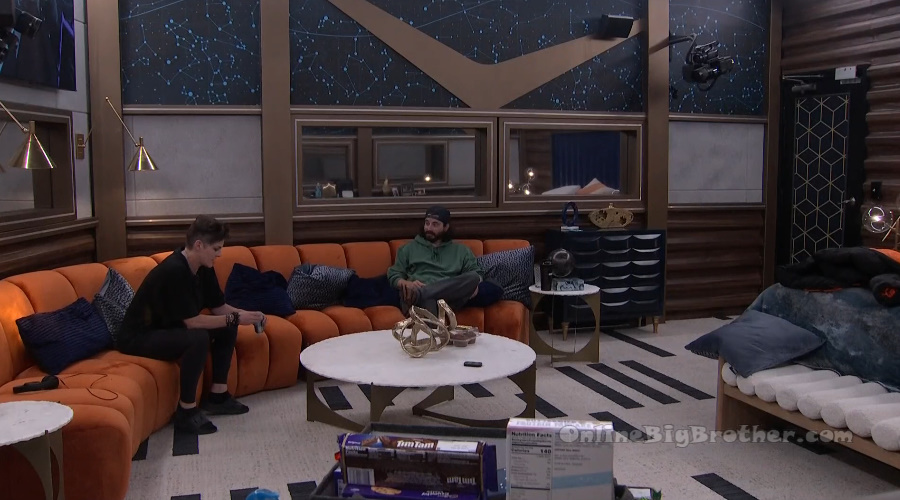 8:08apm HOH room – Cam and Bowie.
Bowie – I didn't want this job. I was quite happy to make big votes and this is like the worst time to be HOH ever. Cam – you're not in danger Bowie. I know it feels that way and there is no way I can make you feel good. Bowie – I don't care about winning, I just want to get through a few more week so that I can just make it. Cam – you will this is how. Bowie – HUH?! I would not say those things to you. We'll talk to Matt and Jag and we'll talk it all through. If all you wan to do this week is let Felicia go home. Cool, you're going to have the same people running their same mouths come Friday morning next week. The exact same ones. We'll just be doing them a favour. Bowie – but then next week, athletic .. we win and Cory goes home. Cam – I can't bank on that. One day we will wake up and this was the perfect time to get it done because next week he doesn't go after Blue. Bowie – if he goes home this week, next week who do you put up? Cam – Blue! That is between me and you. I don't know what Matt and Jag would want to do. I know what I would want to do but we would do what is best for the group. Bowie – and put up Blue and.. Cam – Felicia, Cirie, I don't give a sh*t.. they all got to go. I just want to start with him.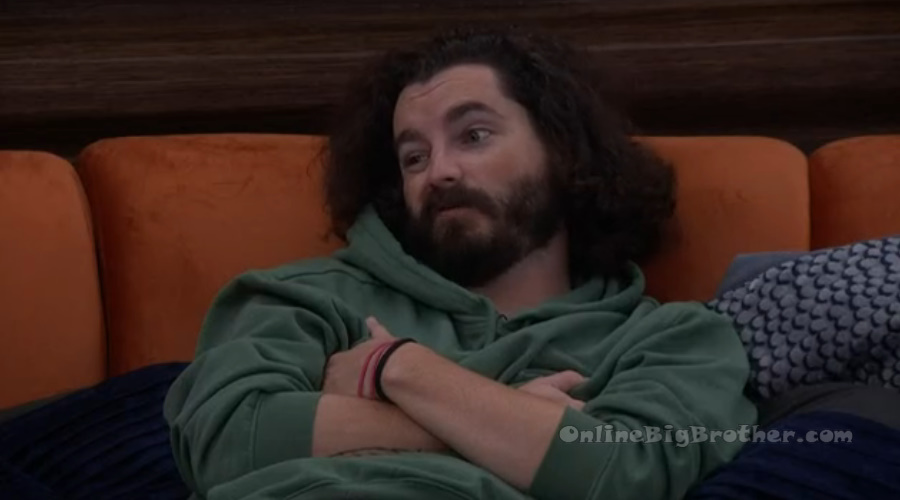 8:50pm HOH room – Matt and Bowie.
Bowie tells Matt about how Cam was pushing for Cory to go up. Bowie – he was like if he wins next week.. he is going to bust things up .. you watch. That's what Cam is saying Cory will do. Matt – Cam is saying that because he is thinking that. Bowie – so I was like if Cory goes .. who does Blue put up? Who does America put up? Who is everyone putting up? Matt – they're not going to put up Felicia and Cirie. Bowie – no they're not. Matt – I think if Cam wins another HOH it could be Cory and America, Me and Jag.. but the chances of Cory and America winning HOH is less likely. I just know everyone, I've talked to everyone.. and everyone wants Cam gone. Bowie – Yeah, and also where is Cirie, Felicia and Blue going to sit in the house.. Cam goes and then.. Matt – we pick them off. Bowie – its then 5 against 3. Matt – that's not bad. Bowie – who does Blue want gone? Cory right? Matt – for the whole month she's wanted Cameron and then for the past couple days she has said nothing bad about Cam now. Bowie – wow! Matt – I said to Cameron yeah they'll probably pitch something against you and Cam told Blue and Blue was like why didn't you tell me? And I was like why did Cam tell you that? They're working together. Bowie – wow. Matt – so now I can't tell Cam anything. Bowie – this is going to be the worst Jury ever. That is why I don't want to go to the jury house until the last minute. I wish there would be a big blow up and that way it would be easy to put him up.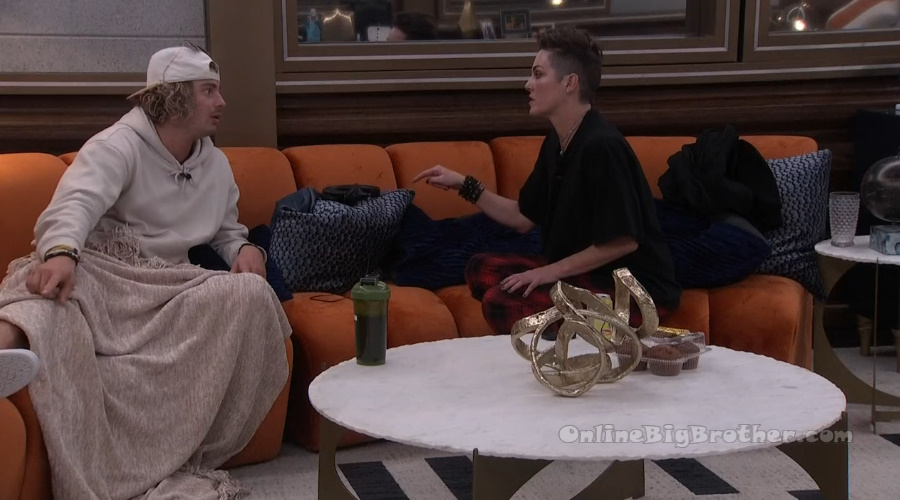 9:35pm – 9:50pm HOH room – Matt, America, Jag, Bowie and Cory.
Matt – Bowie is on 3 red bulls. Bowie – to keep my mind going and I'll have one before the comp tomorrow. So what do I need to know for this comp, quick?! America – I mean we were going over the weeks. Cory – yeah what is most important is know who played in the veto competitions. Cory and America leave to play bumper pool so that it doesn't look suspicious that they're all in the HOH room if Cam comes back. They tell Jag what Matt and Bowie were talking about. Jag – I am not even sh*tting you .. I am 100% in on this. I am deada$$.. I wanted us to meet because we're working together .. we're saying we're a three but I wanted us to meet. And honestly give it a name. I am not scared to give it a name. I trust ya'll fully with my life. Bowie – I am going to go down with this ship. Jag – me too. Matt – if we get ahead of this .. this ship won't f**king sink. Jag – its seems like ya'll are down as well. Bowie – down. Jag – I wanted to talk about what it looks like as a team. I love both of you. I want to work with both of you so bad. I am personally a huge team player. Bowie – yeah me too. Jag – everything that I do from this point onward is about us as a team. If at any point someone is targeting you or you .. we need to get them out. That is my number one priority. A big thing for me is I am not going to be selfish. I am committing to moving through this game with this team. Bowie – same. Jag – I will sink with this ship. Bowie – I've got a name "Sinking Ship". Just kidding. Jag – I am not going to decide something and go rogue. We do everything to protect each other. At no point am I going to turn my back on you guys. Blue joins them.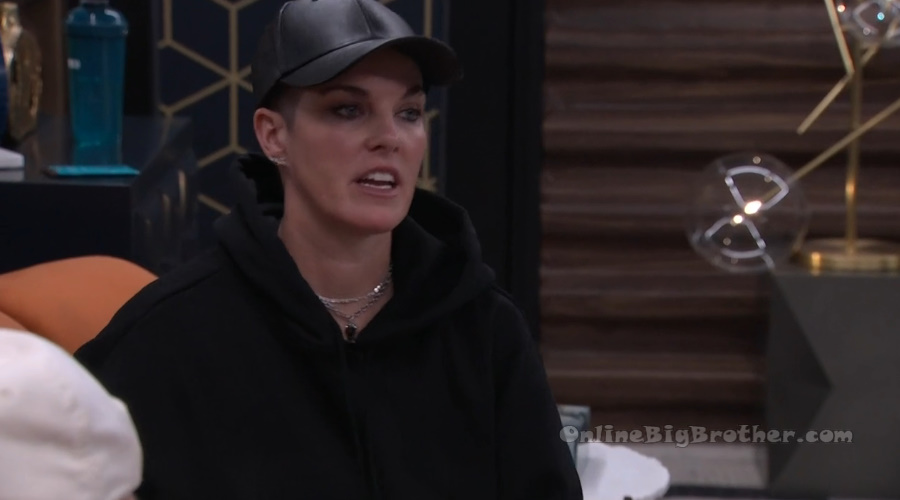 10:15pm Comic Bedroom – Matt, Jag, Cririe, Felicia talk about strategies for possible Veto comps. Cam joins them and they study together.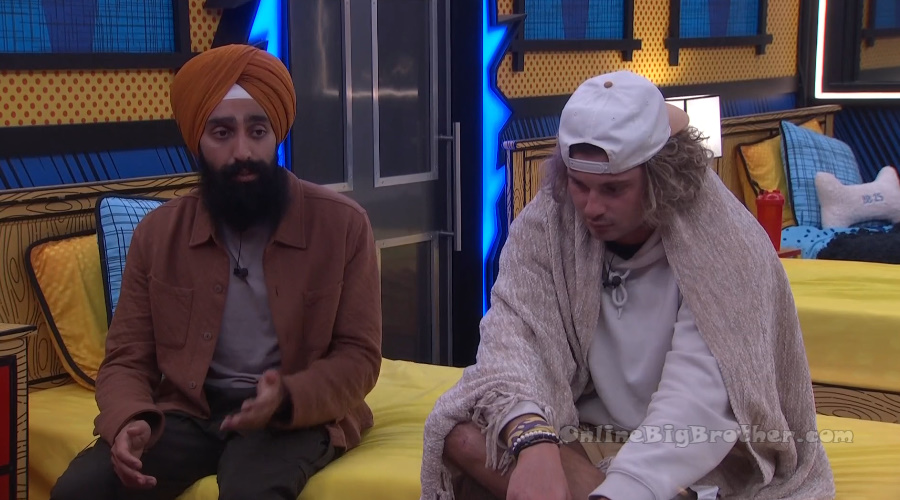 10:43pm Bedroom – Cory and America are studying past events of the season in preparation for the veto comp.
11pm HOH room – Cameron, Bowie, Blue, Jag and Matt are chatting about what the veto might be. They wonder about when Zinbot will be and what each of their Zing will be.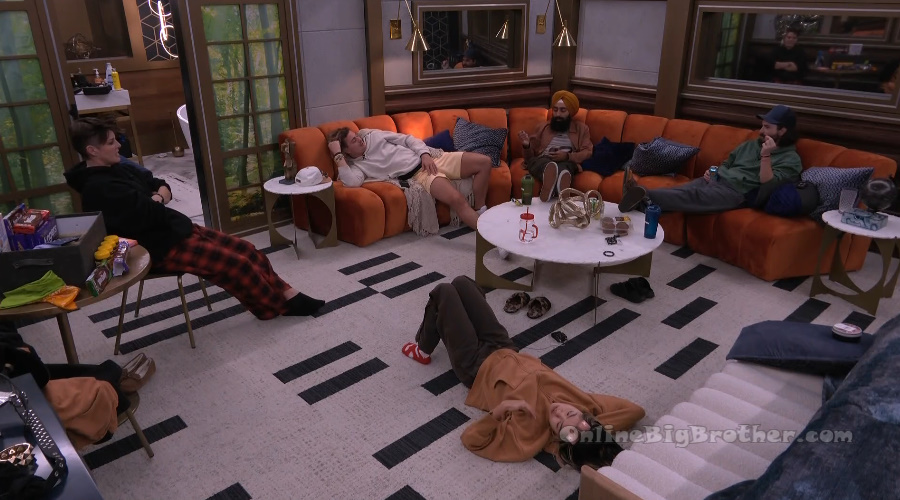 11:34pm – 11:40pm Comic Bedroom – Felicia, Cory and America.
Cory – the person / people (Cam & Blue) that I want evicted this week are not on the block right now. Which means I don't think I am a good person for house guest choice because there are other stronger faster people but if I get in a position and I win the veto. And that is not even a conversation we need to have, that is going to happen. And maybe it isn't OTEV, maybe its something totally random. But they've been building for quite a bit so I bet its OTEV. Like OTEV is about speed but it also isn't. Felicia – but is Bowie Jane on board with that? Cory – if someone comes off the block she has to put up someone else. I don't think it would be us two, I think it would have to be like you know. And honestly I think there is a decent chance that every single person will use the veto this week. We might not all be on the same page of who might go up as the replacement but that doesn't matter for you and it doesn't matter for Cirie. Even worst case scenario if he (Cam) wins it he still might use it because he's got some bigger plan. Wouldn't it be nice if you just won the veto tomorrow? Or Cirie won or I won? America – best case is you or Cirie win because that is the only way to guarantee it is used. Cory – good luck tomorrow.
11:50pm – 12am Comic Bedroom – Felicia and Cirie.
Cirie – they're going after each other already. Those motherf**kers .. and they're using us. Felicia – why are they putting us on the block? Cirie – because they don't want to punch like this (in the front).. they want to punch like this (in the back). That's why. They're too scared to just square up. They want to stab (in the back). Felicia – they said whoever wins the veto is going to use it. Cirie – this sh*t is about to erupt! And they going after each other.. good thing we weren't up in no BS! Let them, its perfect! Its actually perfect. Felicia – they're going to attack each other. Blue wants Cory. Cirie – Blue and Cam. Felicia – Blue and Cam want cory. Jag, Matt, America and Cory want Cameron. Now if they can't get to Cam, they'll take Cory.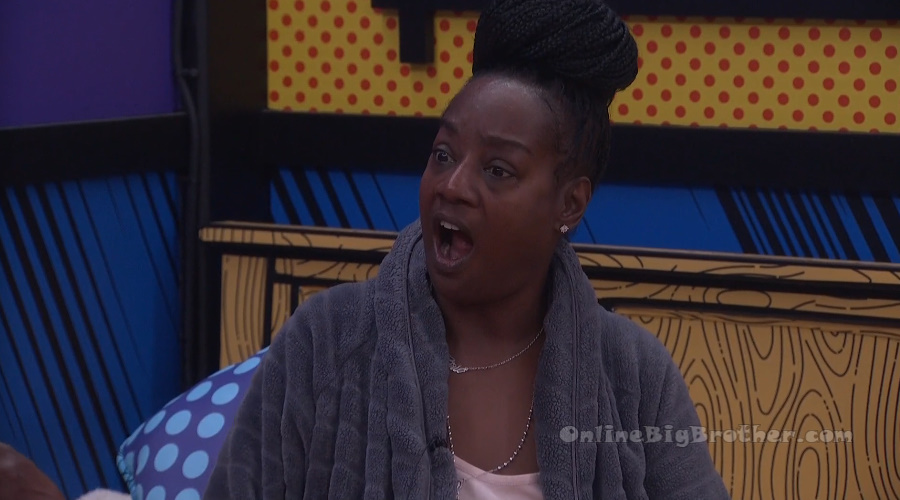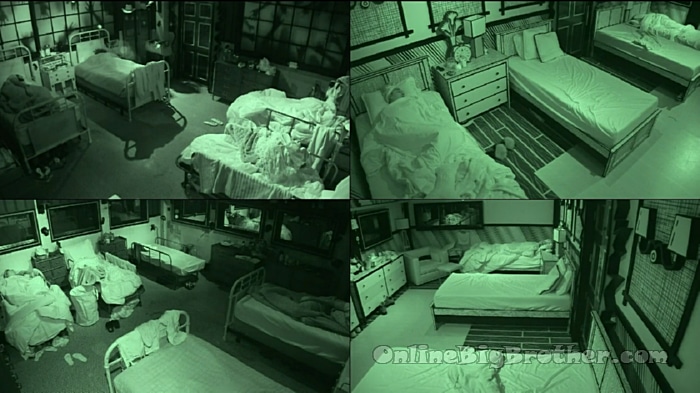 12:30 am – 6:50 am Zzzzz
If you've enjoyed our updates this season and want to leave a tip you can do so through PayPal.
You don't even need a Paypal account to contribute. Any amount is greatly appreciated!