Quick Big Brother Spoilers
Head of Household: Bowie
Nominees: Cirie and Felicia
POV Players: Bowie, Felicia, Cirie, America, Matt and Jag. Host it Cory
POV Winner: Jag
Veto Ceremony: Jag used the power of Veto on Felicia. Cameron was the replacement.
Havenots: ?
Lock your ranks in before midnight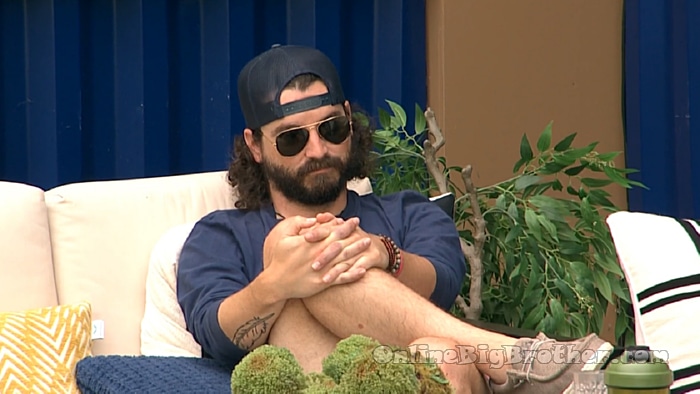 12:44 pm Feeds return Cameron on the block.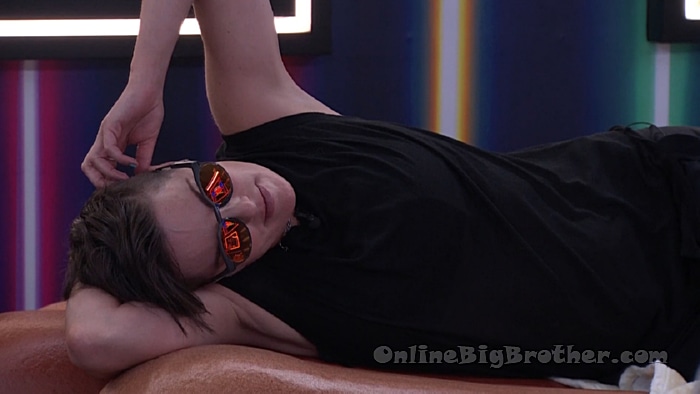 12:47 pm Bowie, Matt and Blue talking about working out together. They go over the Veto ceremony speech
Bowie – I choose Cameron reasons
Bowie – Bowie, Bowie, Bowie, you have shown your true colours. Yes I have by taking out Liars.
Blue leaves
Bowie says Cory and America are going to be paranoid because of all the things Cameron will tell them.
Cory hopes Blue/Cirie/Felicia and America/Cory take shots at each other next week.
Bowie – Cirie and Felicia want to speak with me. Do you where they sit who do they want out?
Matt – Cory and America. They've been saying to ME.
Bowie – they are close to Blue right?
Matt – maybe
Bowie – they are going to come up together. Do you think they will propose me working with them.
They talk about Bowie making a side alliance with the girls to help keep them safe.
Bowie – I just don't want to create a mess
Matt says with Cam gone they have a good shot to rolling through the season.
Matt – I'm not putting you or Jag up as the pawn ever.
Matt says he will put up Felicia and Cirie
Bowie – if we win we take out Cory right?
Matt says ideally America wins next HOH.
Bowie – Blue might win Veto
Matt – I'll make sure you don't go up.
They go on about having Cory relaxed this week in case he wins HOH. Matt seems sure it will be slip n slide and will win the competition.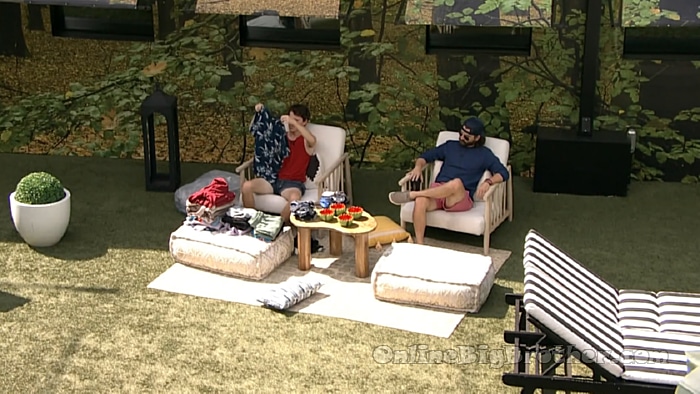 12:52 pm Cory and Cam
Cory – I'm going to be honest with you man I don't see a path.
Cameron – I need to get Blue and Felicia.
Cory – I don't see you being able to get that
Cam – I don't either
Cory – I don't see you getting me on board either.
Cam – they are going to run this thing
Cory – them being Matt and Jag
Cam – YEAH, They are running it. Right now they have a solid four and it ain't y'all now it's Blue and Bowie. They bought Bowie. BOwie wanted to be a part of them the entire time.
Cory – last I heard it's Me, America and Bowie.
Cam – that was from MEME
Cory – you don't think you contributed to that narrative at all?
Cam – I talked just to Bowie and said there was a possibility that is true base on the way she was acting about everything
Cory – let's be real though. weren't you an alliance member of mine?
Cam – it didn't feel that way since we're Being 'REAL'
Cory – you spent most of the week campaigning to get me backdoored before I was doing anything. you know what I mean?
Cory – I know it's because you thought I was gunning for you but that's the same sh1t that's been happening all season. You know?
Cam – I get it. we both did it.
Cam – what's the move, for you and America? how do you beat it?
Cory – I have to work out what my position in this game is. the reality is.. Why was I not backdoored last week?
Cam – because I.. was given a whole lot of information that you were coming after me. From Multiple people. People we trusted. I was told not to do it. Repeatedly so that MEME and Blue could go against you and they could keep their hand clean of everything that was going on.
Cory – the truth with Matt and Jag is they haven't f***ed me.
Cory says this week there was two plans, either backdoor Cory or Cameron.
Cory points out that Matt and JAg are going to be seen as the threat in the house.
1:03 pm Cory and America
Cory tells America he's telling Cameron he's not voting for him to stay.
Cory – I'll ask him questions see what he tells me ..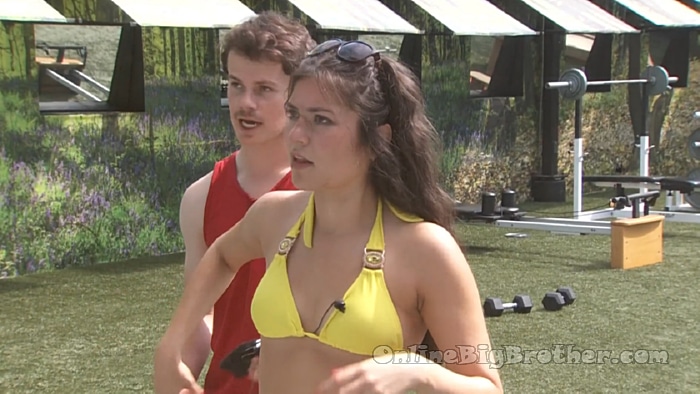 1:07 pm America and Cory
Cory brings up Cam saying There's a group of four now running the house Matt, Jagg, Blue, Bowie
Cory – Bowie would say that's Dodgy
Cory – that group of four makes no sense
America – you don't think so?
Cory – it's Matt, Jag and Blue as usually, Bowie is where we think Bowie is. I do not think Matt and Jag are trying to pull Bowie in without you and me.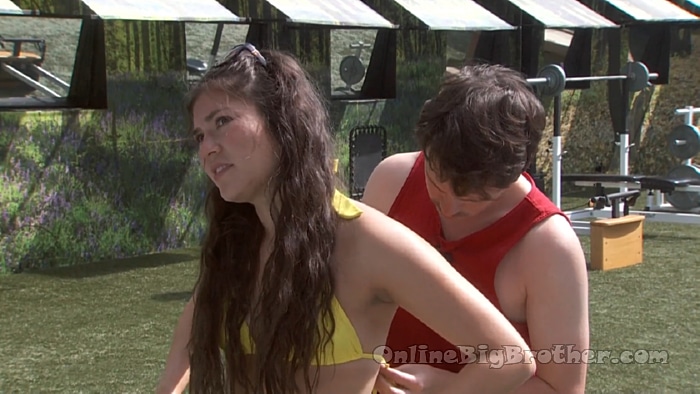 Matt is heading inside yells "Behave yourself Cory"
America – Just clip it on
Cory – I'm trying it's just…. (Cory struggles)
Cory says he's not even entertaining voting to keep Cameron it'll make them look shady.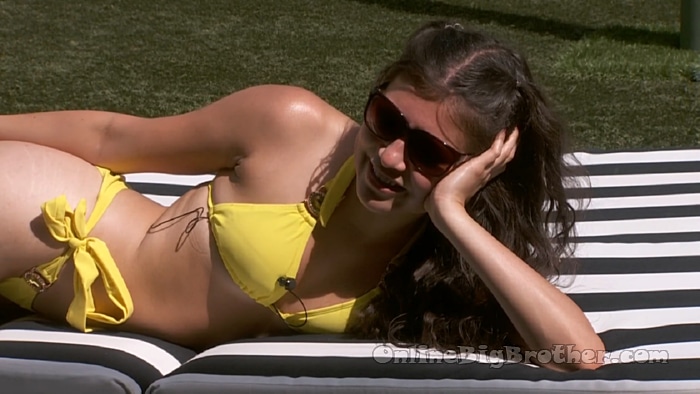 1:27 pm America and Bowie
chit chats mostly.
America – I went into the comic room and studied the other day with Blue, they were having a hard time with the days. YES they don't know the formula
Bowie – YEAH YEAEH yeah
America – it helps a lot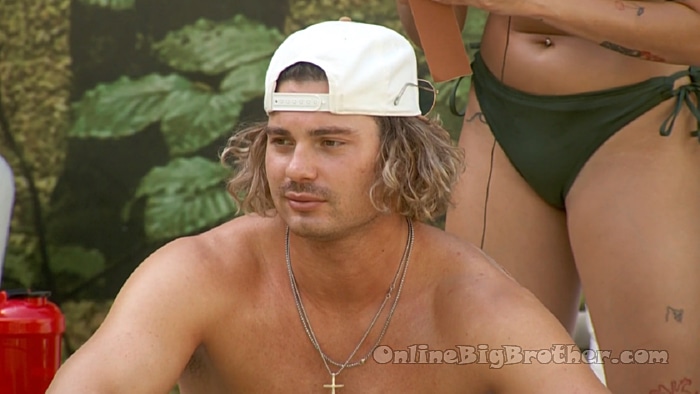 1:42 pm Matt's out in the sun.
1:45 pm Current awkward feed moment.
Felicia looks up "there's a lot of small jets today"
Without your support this site and these spoilers wouldn't be possible.
Please consider a donation to keep the madness going.