Quick Big Brother Spoilers
Head of Household: Bowie
Nominees: Cirie and Felicia
POV Players: Bowie, Felicia, Cirie, America, Matt and Jag. Host it Cory
POV Winner:
Veto Ceremony:
Havenots: ?
Lock your ranks in before midnight
The situation Going to be a interesting week. As is stand right now if Veto is used Cameron goes up.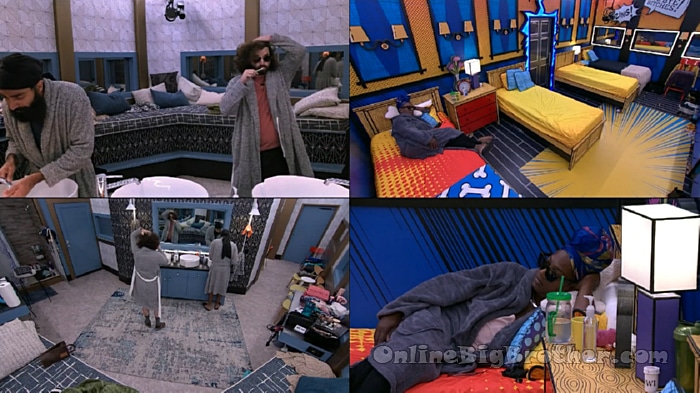 7:57 am Waking up for the day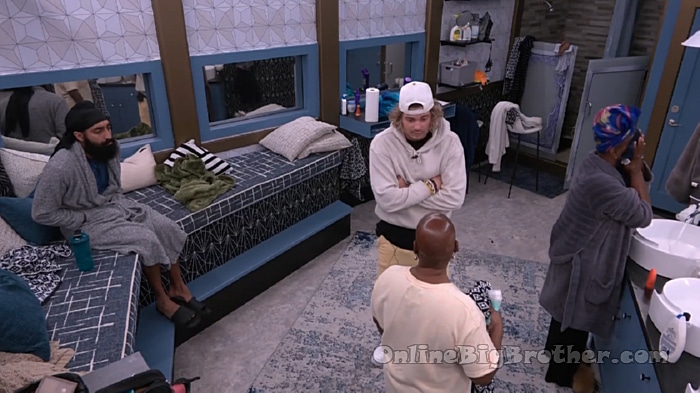 8:07 am Hard to hear but sounds like Felicia is telling Jag and Matt to use the veto on them if they get picked to play. Production tells Felicia to put on her microphone but she doesn't.
8:50 am Feeds on pound for veto player picks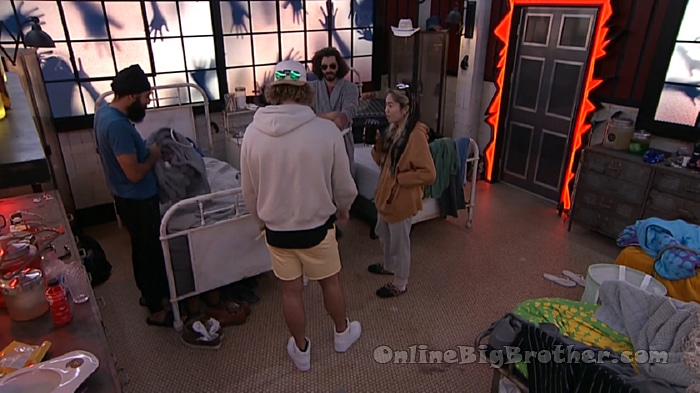 9:00 am Feeds return
Matt seems to be certain it's OTEV.
Blue – no house guest choice not one.. If Felicia had got it I think she would have chosen me. I begged her yesterday.
Cam – Cory is nervous as f***
Jag – he was excited after America got picked I don't know if you say it.
Feeds flip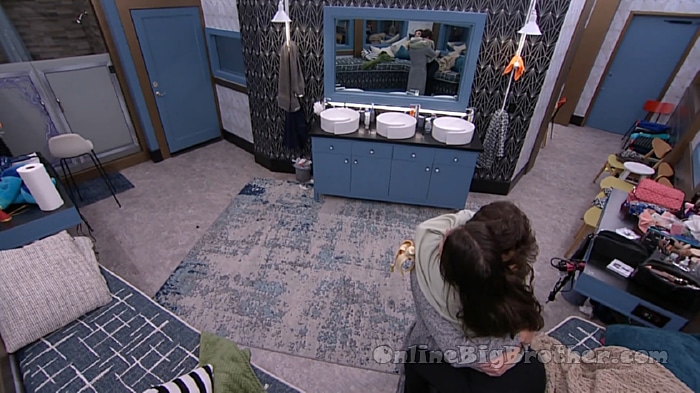 9:02 am America and Cory
America – he's such a loser (Cam)
Cory – next week I swear
America – what is he going to do about Matt and Jag? That's all he has.
Cory – His bigger problem is going to be trying to get Bowie to put me up instead of him. That will be his pitch. Once we have the veto that's when Matt and Jag need to go Mask off on Cameron. Not Go off on him. Cameron you've been lying to everyone.
Cory wants to go to Cirie and Felicia get the entire house on board.
Cory – I'm excited to host
Cory – Bowie drew Matt, Cirie drew Jag, Felicia drew America
Cory – Bowie Chose me to host.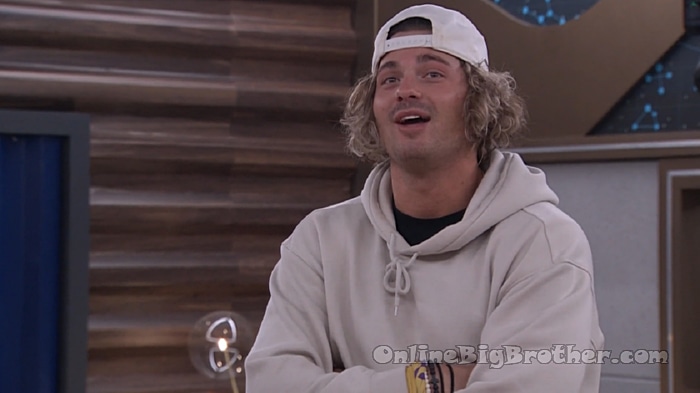 9:14 am Bowie and Matt
Bowie – that couldn't have worked out better, Cory, Cameron, Blue sitting out
Bowie – we can pick our option and determine what's best.
Matt – the only person we have to worry about is America if we want all our options
Bowie – she could be good at this
Bowie says she talked to the MOMMAs and told them this is what she wanted for veto picks.
Matt says he talked to the MOMS and they are not mad at Bowie "they just want to the veto to be used"
Matt – Me and Jag will f**ing use it.
Bowie – If we use it the mommas now will really trust us and we can bait them.
MAtt – we decide which one to take down.
Bowie – in the weeks to go they will trust us that is why it's good putting them up.
Matt – Me and Jag will make sure you don't go up they'll trust us too.
Bowie goes on about how Jag, Matt and her will call private meetings' and "Workshop" the decision once they have Veto.
Bowie – If we did Cory, America will blow sh1t up. If we do Cameron he'll blow sh1t up.
They talk about if Cory goes America will join up with Cam and Blue. She'll also make up lies. IF Cameron goes no one will believe his attempts to blow them up because he already did it when he was evicted last month.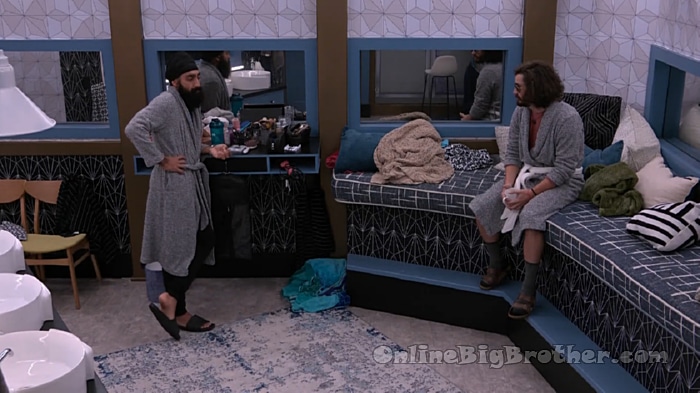 9:20 am Cameron and Jag
Cameron says if Cory isn't backdoored this week it's a major red flag for him.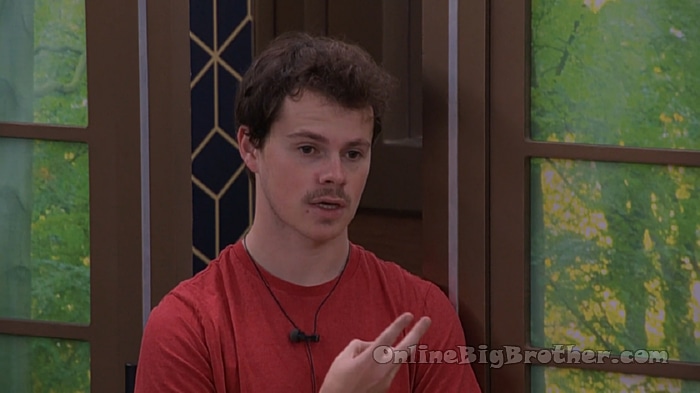 9:30 am Cory and Bowie
Cory – Izzy was talking to me about Jury votes week 2 .. how about we make it to Jury first.
Cory goes over what OTEV is about and strategizes for it.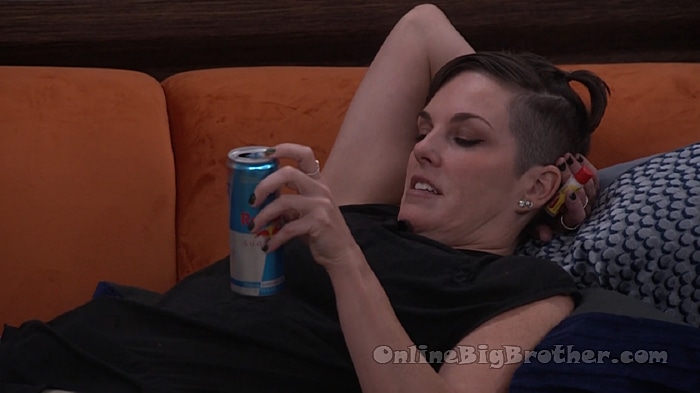 9:42 am Cameron and Bowie
Cam – I trust you that I'm not getting. Something Crazy is going on. If he doesn't go this week, Cool. If one of the go, Cool if it's blue Cool. I don't want to mess up your game.
Cam – As long as I am not a replacement I always got you
Bowie – I know
Cam – I know how quick word can go from down there in the kitchen to straight up here.
Feeds flip to America and Cirie studying dates.
When we are back
Cam – Can we keep things between me and you.
Bowie – yeah
Cam – the MEME thing has a little merit. It's so outlandishly ridiculous that it couldn't have been straight concocted by her.
feeds flip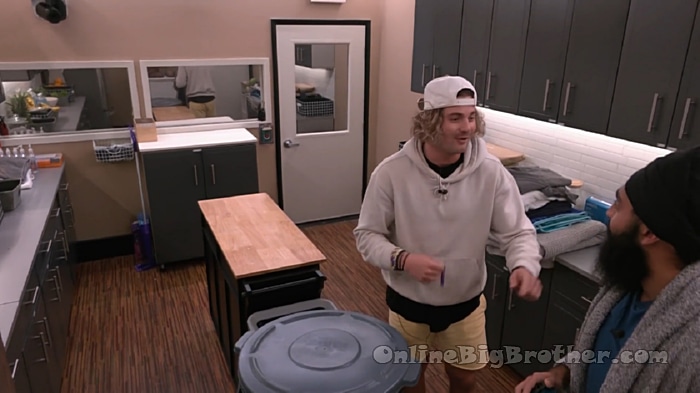 9:48 am Jag telling Matt that Cameron is SUSS about Bowie
Matt – daaaaam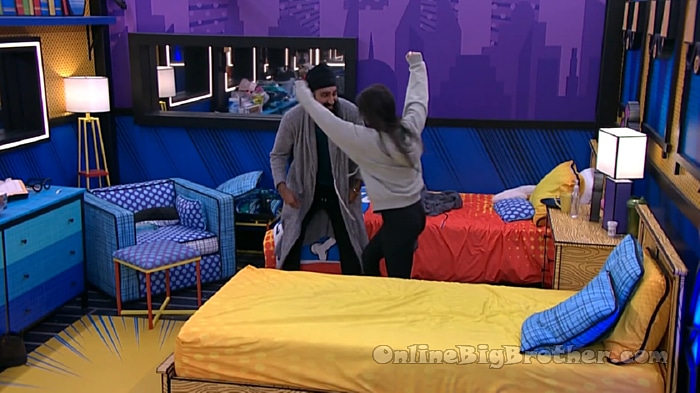 9:54 am Jag and America
Jag – wow
Jag – can't let Bowie win. Bowie might even use the veto. Best case scenario honesty you winning. In my conversations with Bowie Blue and Cam are trying to Pitch Cory to go
America – I know
Jag – If you win it and use the veto it's going to feel way too dirty for her to put up Cory. You know what i mean?
America – does she think she is in an alliance with CAm?
Jag – no. She's literally just playing a game where that feels wrong to her morally. I don't know why. If that is true best case you win worst case she wins.
America – If it's at the end and you want to throw it to me somehow.
Jag – I will, I'll talk to Matt to.
Jag – If I win it I will use it there will be people in her ear to say Put up Cory.
America says she heard cam was up there last night going on about them needing to put up Cory. "who was in there?"
Jag – Cam wants Cory gone and Blue. Both of them.
America asks if Bowie agrees to put Cory up?
Jag – right now she's more open to Blue than Cam.
Cameron walks in and America leaves.

10:04 am
Cameron and Jag
Cam – Why? WHy? Why is she being weird around me this morning. You know something tell me something.. Tell me something.. If we're doing this thing man tell me what's going on.
Long pauses.. Blue comes in at one point asks what's up with America.
Cam – I got a weird Feeling buddy. I don't like it.
Silence.
Cam – the tides are changing something feels weird TODAY. Somebody knows some sh1t they ain't supposed to know
Jag – In what way
Cam doesn't think it's coming from Bowie someone told America something. "She only reacts in that way when someone she trusts has told her something"
Jag – so what are you thinking?
Cam – I don't know that's why I come to you. I didn't use it last week because of you. I trusted out plan I trusted us and I'm with this but there is something not right.
Cam – I don't put to much trust in Blue and Cory going after each other. Right now that changed because of her (America) right now. That behaviour goes to Cory now cory shifts to us. He shifts his eyes from Blue. Now we're in the crosshairs.
Cam says if they get rid of Cory Blue moves to them America is in the wind. If they get rid of Blue they have Cory and America after them.
Jag – who does Blue Target?
Cam – Felicia/Cirie someone safe. (LOL not a chance)
Jag – You think that?
Cam – who else would she target.
Cameron – I'm with you.. We made a deal. I'm with you. I am with what we are doing. You are the only person outside of Matt that I can voice my concerns to. I am the guy that wants to stick to the plan. Take it to the guy that has had plans go to shit in his life you gotta be prepared if the plan doesn't work. Right now there's a possibility of the plan falling apart because she knows something she's not supposed to know.
Cam – if we let that last a week we're f***ed
Jag – the shift before.. going so hard after Cory why the shift in plan?
Cam – no shift from me i'm trusting in the two of you. I'm trusting in the plan. I'm just telling you my concern.
Jag – I put a lot of trust in you as well.
Cam – I would hope so
Jag – I put a lot of trust in you.
Cam – I wouldn't be sitting here talking to you if I hadn't made you my Dude
Cam – I went all in last week I put all my chips on US
Jag – Same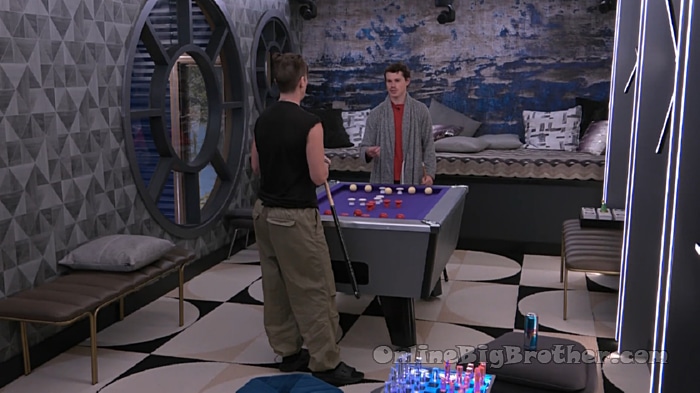 10:48 am Bowie and Cory
Cory says Cam will go to her and LIE he'll try to get Cory put up. "He's going to do a lot"
Cory – if you want we can play bumper pool all day, Jag can play chess with you or you can go study with America.
Bowie – it couldn't have been a better draw
Cory – best draw I've ever seen. So f***ing happy
Bowie – and America to top it off..
Bowie – this is why it was better for me than putting Blue and Cameron up.
Cory – 100% it was a gamble and it paid off you are 100%
Bowie – It could have been a disaster
10:52 am Awkward Chit chat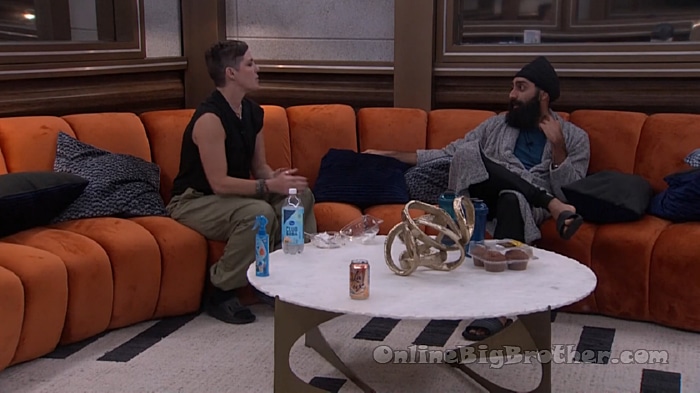 11:25 am Jag and Bowie
Jag going on about Cameron "we caught on to his bullshit. He pulled me into the bathroom told me shit about you"
Bowie – let him keep doing that
Jag – I'll never let him throw your name under the bus so I'm defending you all the time.
Bowie – He hasn't thrown you guys under the bus to me.
Jag – he knows..
Jag says Cory and America are VERY solid with Bowie. There is not a world where they put them up.
Jag – Cirie and Felicia have a very low chance of winning if it's the slip n slide. I think they put up Cory and America because Blue is in their ear. The only person to worry about is blue.
Jag – This week Cam going is not only best to keep our game safe this week it's also the fact that he's targeting us. You know what I mean. It's good for us even if he wasn't targeting us (HUH)
Jag – now that he's throwing you name under the bus.. My name, Matt's name to cory and America. Going to cory and america talking shit about you.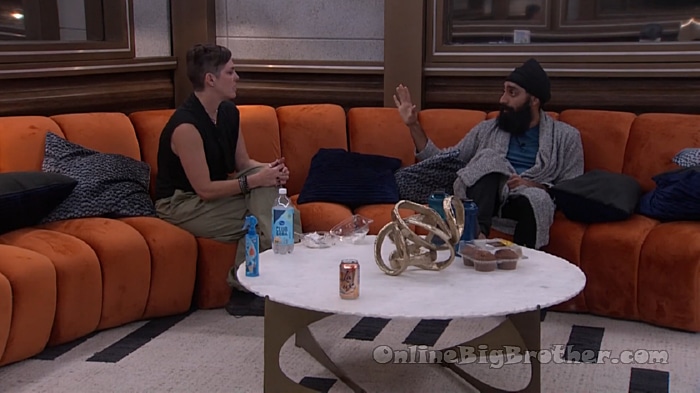 Jag – Cory and America are big with us, They want, You, Me, Matt, and them as like a 5 which could be a viable option for now.
Jag says his loyalties are with Bowie and Matt, "right now it's clear who the imminent threat is and the perfect veto draws.. you just happen to choose Matt eh person you were going to chose anyways."
Cam joins them. Jag and Bowie start "studying dates"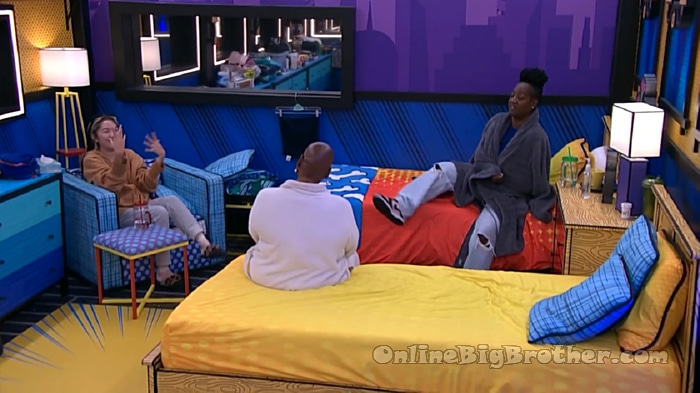 11:35 am Blue, Cirie and Felicia
A mix of studying and talking in circles.
Blue says she had speeches prepared if she would have won the veto this week.
Blue – I was going to say like… Umm… what is it. … I have chosen to use the power of veto on Felicia. You stand up I crown you whatever you sit down. Then I was going to say. Felicia last week i wanted to evict you there no denying that and I never denied that. stare at Cory. Eventually the lies catch up and the truths eventually comes out"
They Laugh
Blue – I have chosen to use the power of veto on Cirie. Cirie you and I were both blindsided on Jared's thing look at the Camera look back at you 'THIS IS FOR JARED WHAT I DO BABY'
they laugh
Felicia- he would be hollering when he watched that… he would be like that's what I'm talking about Baby girl
If you've enjoyed our updates this season and want to leave a tip you can do so through PayPal.
You don't even need a Paypal account to contribute. Any amount is greatly appreciated!