Quick Big Brother Spoilers
Head of Household: Bowie
Nominees:
POV Players:
POV Winner:
Veto Ceremony:
Havenots: ?
Lock your ranks in before midnight
The situation Cirie and Felicia are going up as of right now. There's replacement nomination plans being discussed for Blue or Cameron. Hard to see Bowie going after Cameron so likely Blue. We'll see.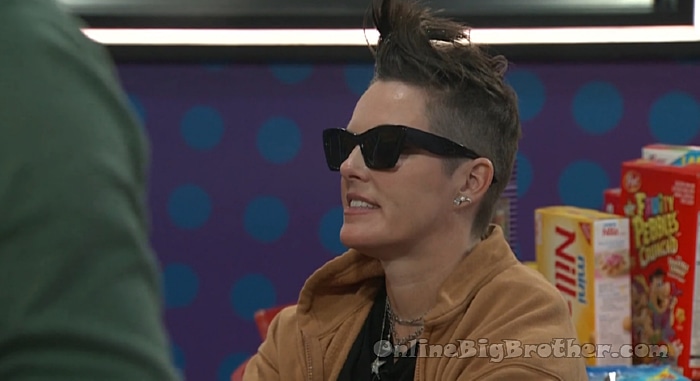 12:57 am Chilling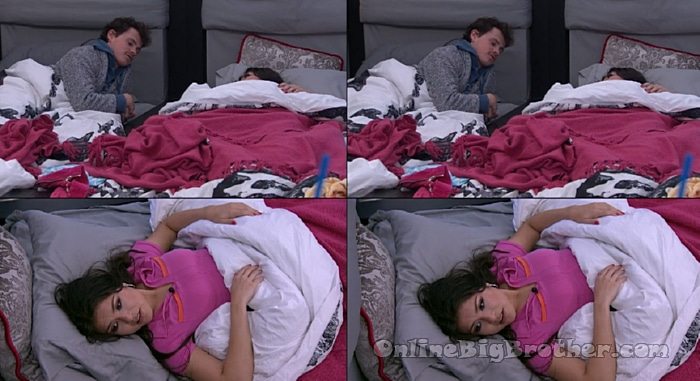 1:02 am Cory and America
Trying to figure out how they can get Cam or Blue on the block this week.
Cory – I know right now you think it should be Blue and I think it should be Cam.
America – I'm fine with Cam going up
America – how do we get Matt and jag out down the line?
Cory – at a certain point if we're here in like 7 or 6 everyone will be gunning after them because they are too big of a threat. if we are HOH we will be gunning for them.
Cory – if one of them wins HOH we're safe. If Felicia wins or Bowie wins we push for them to do something.
Cory says Matt and Jagg cannot trade HOH wins for the rest of the game.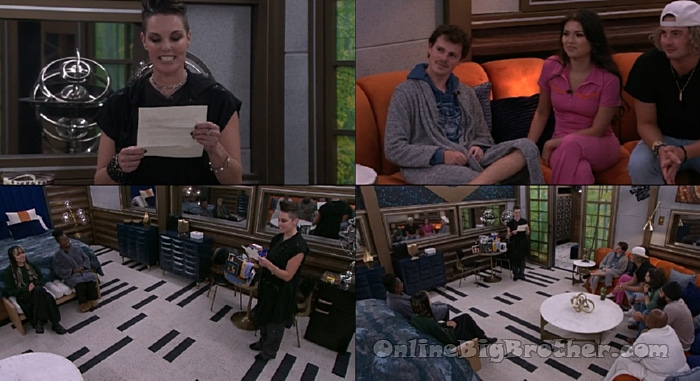 1:30 am F** Bowie Jane gets her HOH room.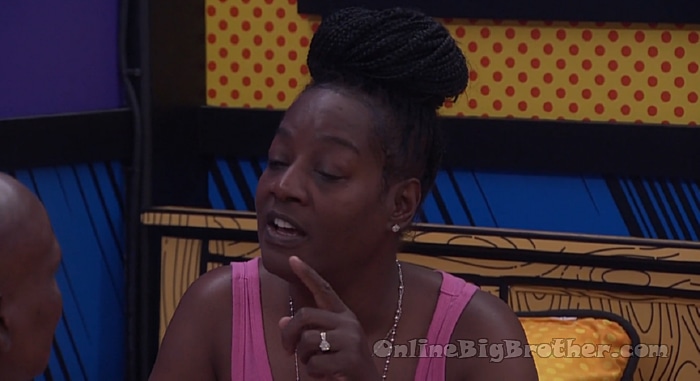 1:47 am Felicia and Cirie (hard to hear)
Felicia saying that Cory sit on the bed with his head against the wall so he can hear into the comic room.
Cirie – pisses me off.
Sounds like Cirie is saying Cory threw the HOH competition and it pisses Jag off. "he's not doing his part he's double playing"
Production – Please put on your Microphone
Felicia puts on her microphone so maybe we can hear something.
They are suspecting Cory and America went to Bowie last week asking her what she thought of MEME before going to MEME to form an alliance.
Cirie says Bowie jane probably thought it was a great idea to have a 4 person alliance with MEME and Cory/America "she claims she knows nothing that is what pisses me off about her"
Cirie – you're in 17 alliance you don't know about.
Felicia says looking at Bowie's pictures there's no way she's 30-35
Cirie – she's 40
Felicia – b1tch stop lying..
Cirie – she's 43 not 34, I'm not trying to be mean I'm just saying what I'm sayin. My son is 34 Bowie is older than him.
Cirie – I cannot connect with her nothing is real
They think the targets are Cory and America.
Cirie – if they get Cameron onboard they have, Matt, Jag, Blue.
They agree Jag is More reserved and plays more Scared.
Felicia – he's a f***ing snake can't you see that? (Cory?)
Cirie – MEME said I'm going because he knows I know he's a snake.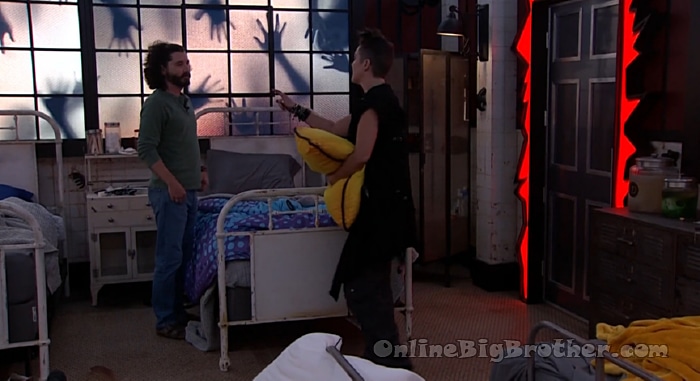 2:08 am Cameron and Bowie
Cam – are you f***ing kidding me!
Cam – I was thinking yesterday Who do I want to win HOH? I want BOWIE to win.
Bowie – that is crazy!
Cam – That was so nuts to me.
Bowie – tomorrow morning come up I want to speak with you on how I should approach this. Like what sort of information I should get from people. How am I going to handle if I put them up strategically.
Cam – this is my very first week. I've either been on the block or HOH (Damn)
Cam – I am so f***Ing proud of you
Bowie – America and I studied a lot for that. I still don't think I had the knowledge for something like that. The weird thing is some of the things I had noticed did get asked. Thank god we studied as a group.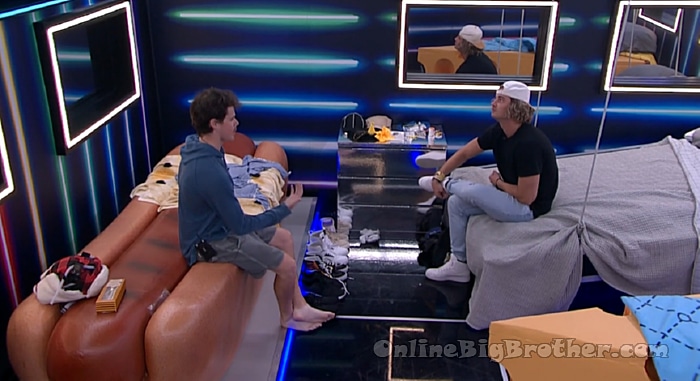 2:16 am Matt and Corey
Corey – did you see how hard he pushed for the Cirie/Felicia noms, Cam. It was weird. He wants to protect Blue and he will push for me to bae backdoored this week. It won't happen because of Bowie.
Matt says Blue use to always talk sh1t about Bowie and now she's best friends with Bowie.
Corey – It makes no sense for Cam not to want Blue on the block because last week we were all targeting Blue including Cam
Matt – I think we convince Blue
Corey says the only person that seems convinced is Jag.
Corey pushing for Cam and Blue getting put up.
Matt – we have to see how Bowie feels.
Corey – these meetings are going to start tomorrow we have to be on the same page. So if I don't get a chance to talk to him you talk to him
Corey – Cam is going to freak out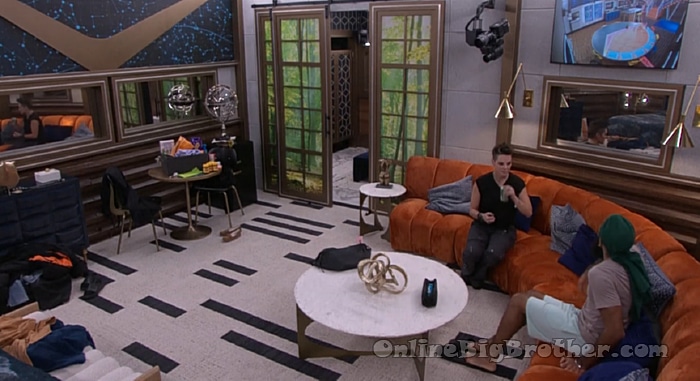 2:15 am Bowie and Jag
Jag – I don't know what the best move is it will be ultimately up to you but
Bowie – I think I'll just listen to what they have to say
Jag – go into the initial conversations just listening
Jag – the only people I care about that are bood moving forward are me, You and Matt
Bowie – me too
Jag – literally the only people. I don't care who goes home this week outside of us.
Bowie – yeah, me too
BOwie – I'm thinking that I don't even care about Jury votes. I don't give a shit. I should give a sh1t but maybe I shouldn't
Jag – Jury votes are a secondary importance. Primary importance is getting there. Secondary is jury votes. The fact that you go there is testament to your game. People will be like DAMN SHE got there. Well damn she played better than us she's there and we're not.
Bowie – yeah
Bowie – I can make a easy move.. Cirie is really connected in the house. She doesn't trust me for whatever god know why. It's dangerous for me to have her in here. I don't think she will talk about me but she's still a power person. Everyone feeds her information right. I do it to. We all want to be in her good books.
Jag – ultimately someone like Cirie and Felicia.. remember when we were talking about what is our ideal 5 or 6 .. Me, you, Matt.. and you might have mentioned Cirie. Why Cirie?
Bowie – she was not happy when I won. What was that all about?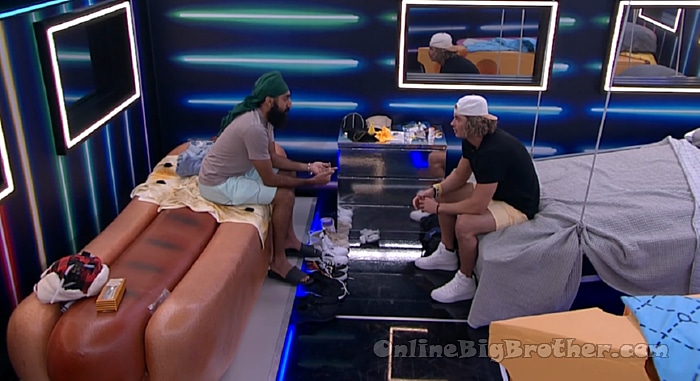 2:27 am Matt and Jag
Jag – low key it's good that she left.. Her and Blue would have paired up.
Jag – Blue was going to take a shot at us. ultimately having Felicia and Cirie is way better.
Jag – Corey threw that comp
Matt – how do we play with someone that throws comps
Jag – Cirie and Felicia are up we just have to worry about Veto. If Cam wins Veto Perfect we go after Blue. If Blue wins the veto perfect she will use it we go after Cam. If Cory wins the veto Perfect. Like either way as long as the initial nominations are Cirie and Felicia we can walk out of this week still good regardless of the outcome.
Jag – if the initial noms are Blue and Cam we are f***Ed
Matt – that is so dangerous, that's too much blood
Jag – Blue is going to be mad at us and CAM. They will know we are in Bowie's ear.
Matt – that is why they want that. They want it to make us look bad. They are so good at this game.
Jag – They (Cory/America) are not F**ing good at this game. Everybody keeps saying that and I feed into that. They're not f**ing good. WE see through that. The reason I used the veto on Cory last time wasn't to help cory's game it was to get Cam out.
Jag – Cory doesn't have any power without us
Matt says if Cirie, Felicia or Blue win HOH they're nominations will be Corey and America
Jag – Corey and America are good for us to keep in the game. They don't want to work with Cam and Blue they don't want to work with Cirie and Felicia.
Matt – they are going to work with us.
Matt – if Cirie and Felicia go up they will be really mad at us because they think we're close to Bowie
Jag – they won't be mad at us and if they are we will say look we tried.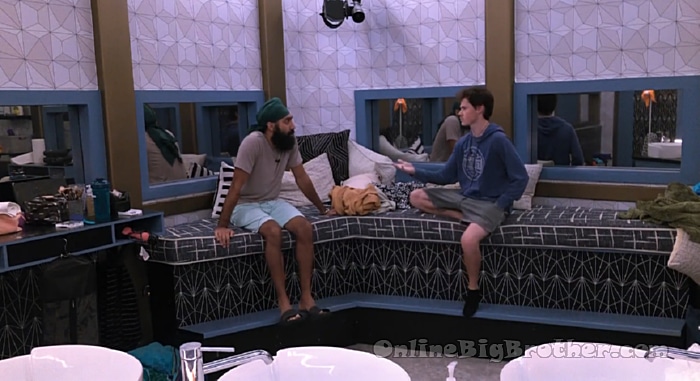 2:36 am Cory and Jag (hard to hear this conversation)
cory – it's very clear to me Blue and Cam are much closer together than we thought. Blue tells Cam everything. If Blue is on the block she might pick him (cam) for houseguest choice.
Cory – if Cirie and Felicia are on the block and Blue wins.
Cory says Cirie will pick Blue for houseguests choice.
Jag thinks it will be OTEV this week.
Cory – it will be cam this week right.
Cory wants Blue and Cam on the block goes on about how if they can get them both up their week is over.
Jag – what I think backdoor Cam
Cory – if you put Cirie and Felicia up Cam wins. He'll keep the noms the same.
They go on about who Cirie and Felicia will pick as houseguest choice in Veto. "The options are Blue, me, Matt"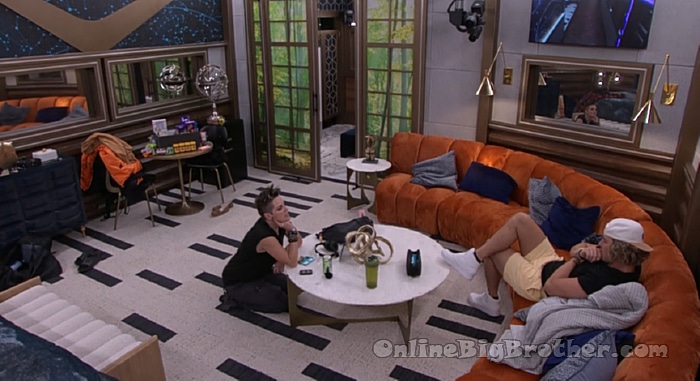 2:43 am Matt and Bowie
Matt – whatever you do I am good with.
Bowie – I want to do it with all of us
Bowie – Felicia and Cirie are definitely.. like only about four days ago when I would walk into the room no one would speak to me so why would I want people like that in?
Bowie – on the other hand they are so beatable
Matt – at the same time they are beatable you can't think personal you have to think game. I want Felicia out she's annoying.
Matt – they were mean to you
Bowie says she trusts Matt and Jag "All my eggs are in your basket"
Bowie – if Cam is gone everyone will be gunning for you two because you are the next strongest competitors.
Matt says people are going to pitch to her for Cam to get backdoored tomorrow. Matt says if Cam goes this week and next week it's slip n slide him or Jag will win they can get rid of Cory, America or Blue.
Matt says if cory and america win at that point they will go after Cirie and Felicia still.
Matt – Cirie and Felicia will still go after Cory and America because they hate them right now. They are on the hate train right now with Cory and America.
Matt thinks Cirie and Felicia will work with them next week to get rid of Cory/America.
Matt brings up their 5, Cory, America, Bowie, Jag and matt. Bowie says they never finalized that but they have voted together for 5 weeks.
Matt – double eviction is coming up soon.
Matt says supposedly the reason they votes flipped to evict Meme is because MEME rejected Cory's offer to work with him and America. "they said they would bring you in on it"
Bowie – I never heard of it
Matt says Cory and America are pitching for cam to go up "That's the worst play in the world"
Jag joins them.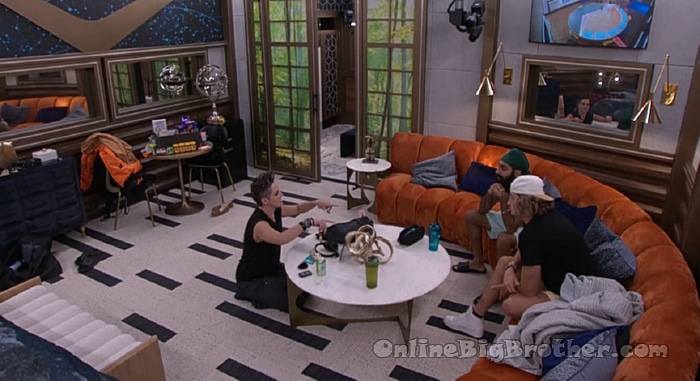 2:59 am Jag, Bowie and Matt
Bowie – I'm throwing all my eggs in this basket.
Jag – Cory and America are saying Blue/Cam
Matt – that is bad for her game and bad for our game
Bowie – I'm not doing that.
Matt – Cory and America want to do that so everyone gets pissed at us
Jag – everyone talks about how they are good smart game players. They are f***Ing idiots.
Jag says the scenario that is better is for Cirie and Felicia to go up no matter who wins Veto it will be used to backdoor cory/cam
Jag about cory – he said he's tired of this game where we throw each other under the bus ..
Jag – I said look I'm tired of this too I'm sure everyone is but this is the game we signed up for I'm not going to go with the worst option because we're tired.
Jag – Cory's little minion america walks in who didn't think about this at all at what I said.
Jag says America wants Blue and Cam nominated.
Matt – they want it to be cameron and Blue and they want us to tell you that to.
Jag says he agrees with Bowie's nominations of Cirie and Felicia.
Jag – who do we want to send home out of everyone in the house?
Bowie – I want the people on the other side need to go away. Don't you think? but they are not strong competitors.. Dammit.
Jag – there's people that are annoying but whatever. who should leave for our game who would be the best to leave?
Matt – I said this is your HOH my opinion, Felicia is annoying but she's not a threat. Felicia wants Cam, Cory and America out
Jag – Cirie also wants Cory and Cam out
Bowie – Cirie doesn't talk game to me AT ALL
Matt – she doesn't talk game every since that double eviction with Jared she's been really quiet.
Matt – I know Cirie wants Cam and Cory/America
Jag – they are not as strong having them both in the game for us three is better. the whole house is very anti Cory because the whole house is anti Cory its better to keep cory this week. Next week no matter who wins they will say get that mother f**er outta here.
Jag – who does that leave now? Blue, Cam, America.
Jag says Cory and America leaving this week is not the best for their game. "they're trying to pull all these strings. they have no strings on us.
Jag – everyone else is mad at them. Now it's Felicia, Cirie, Blue and Cam going after Cory and America.
Jag – what we need to do is not get rid of Cory once cory is gone it's just America and Us. We keep them. Felicia and Cirie there's no reason to get rid of them they're not good at comsp (Felicia almost won last night wtf)
Jag – it's Cam and Blue really that we should talk about. they can win comps. Cam is a lot better at comps. Cam is driving wedges.
Matt – he's driving wedges even between me and him (Jag)
Jag says Cam betrayed them all week one when there was no point to.
Bowie – why did he?
Jag – no one has gotten a straight answer yet. there was no reason we were going to have his back until the day we f***ing die that was it. There was one person that decided to spill the beans. It was week one no one had done him wrong. Not one thing had been said about him not one game move. He chose to do that.
Bowie – he's not very easy to work with as we discussed.
America joins them.
3:15 am America, Matt, Bowie and Jag
Bowie says she DJs' house music every week "Different places every time"
Bowie says she started 10 years ago. Originally as a singer. "I released pop songs.. now I just dj"
Matt says if he wins HOH he's going to request Bowie Jane's Album
Bowie – it will be a waste of an album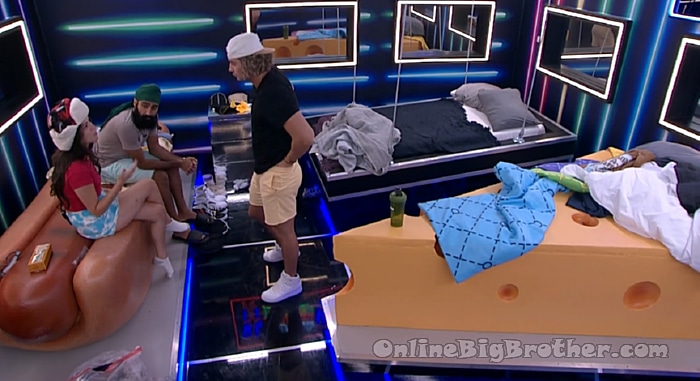 3:25 am America, Jag and Matt
Talking about nominations. Cirie and Felicia going up and saying the plan is they will backdoor cory.
Matt – so they use the veto?
America – yeah
Matt – gotcha
America – my thought process is, Cam has been really paranoid. He asked me today about Cory.
America – Cam will not use the veto he's paranoid that Blue someone in front of him will go home. She's sorta a shield for him. Cam will leave the noms the same he won't fall for the whole Cory is a backdoor.
Jag thinks Blue will use the veto
America – Blue won't use it.
Matt – she will use it to save Cirie.
Jag – she wants to backdoor Cory why not?
America – she wants to keep Cam. she doesn't want to risk cam going up. She's not stupid either.
Jag – either way I want to think about it I'm tired.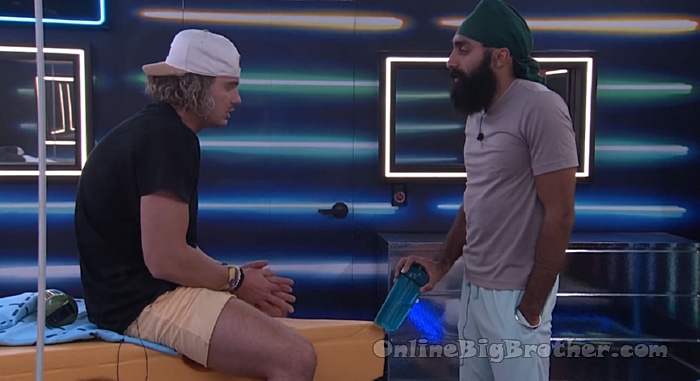 3:33 am Jag and Matt
Jag – Bowie knows it will be Blue or Cam
Matt – Bowie was like I don't want to put Cam up. She likes Cam. I said Cam is coming for us.
Matt – she feels bad. I said if Cam goes you don't have to worry we got you.
Jag – we'll talk to her tomorrow.
Jag – either way she will put up Felicia and Cirie
Matt thinks Cam should go over Blue.
Jag – yes yes I think so
Matt says if Cam goes, Cory, America and Blue still go after each other.
Matt – Lets hope that blue wins (HOH) and takes out of them (Cory/America)
Jag says right now they are helping Cory and America "you know how easy it would be to throw them under the bus?"
Jag – last week Cory's a$$ would have been out the door. This week you know how easy it would be to get rid of Cory? Cam is down, Blue is down.
Jag – We know it's better for Cory adn America to stay in this game. We're trying to make sure that and they keep running around.
Matt – as long as Cory and America are in this house they are the bigger targets.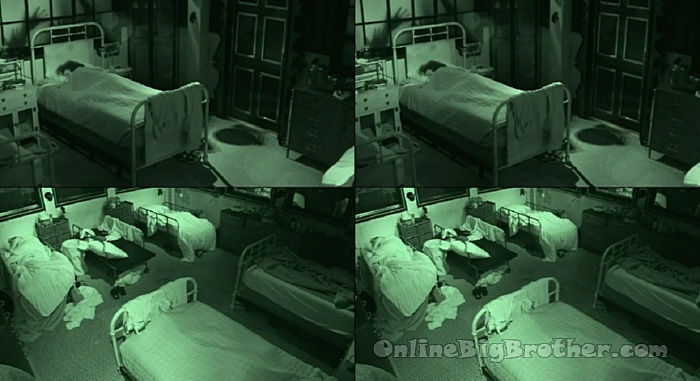 4:00 am Zzzzz
If you've enjoyed our updates this season and want to leave a tip you can do so through PayPal.
You don't even need a Paypal account to contribute. Any amount is greatly appreciated!