-Post has been updated--Post has been updated--Post has been updated-
With the première of Big Brother 17 airing tonight on CBS at 8pm, we're excited for this season to finally get going. The first of the Two-night première begins tonight with the second première airing tomorrow night. Following tomorrow nights episode the 24/7 Live Feeds will be turned on so we can finally start watching what's going on inside the house. The 14 new house guests moved into the house last week and have already started playing the game. Big Brother After Dark will also begin Thursday night at 12am on Pop TV. You can also watch BBAD promo with Julie Chen and house guest interviews on the poptv website.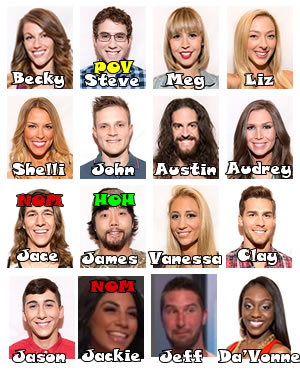 Big Brother Links
Bitchy Big Brother Blog
Big Brother attwx
Hamster Watch
Quirkydudes Archives
Big Brother Archive
Big Brother Gossip
OnlineBigBrother Forum
I Love Reality TV
Big Brother Junkies
IHateBigBrother!
Big Brother 2009
Big Brother Network
Big Brother Insider
The Big Brother Forum
yakkityyaks