Quick Big Brother Spoilers
INVISIBLE Head of Household: Jag
Nominees: Blue & Felicia America and Cory
POV Players: TWO Veto Comps (All 8 play in the first, winner doesn't play in the second veto comp.)
1st POV Winner: JAG
2nd POV Winner: BLUE
Veto Ceremony: Jag and Blue used their vetos. America and Cory put on the block.
Havenots: ?
Lock your ranks in before midnight
The Situation: Cory is going to Jury.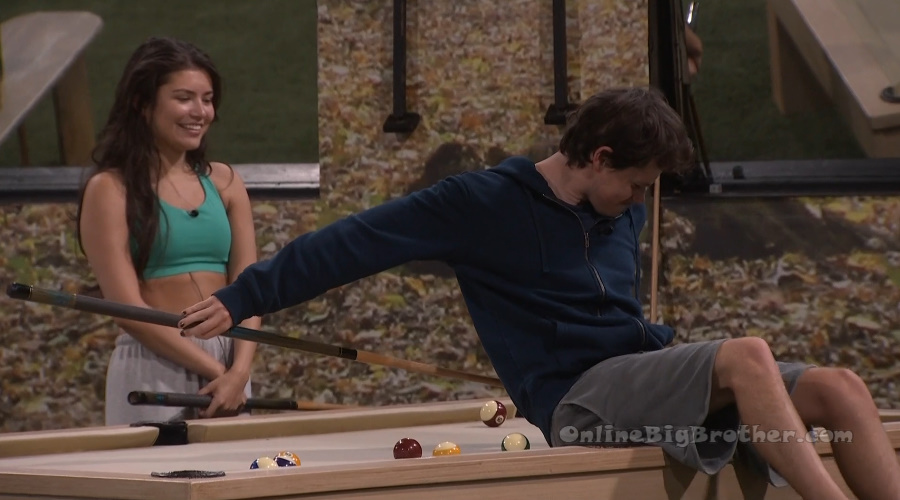 7:04pm – 7pm Big Brother blocked the live feeds.
7:34pm Backyard – Cory and America playing pool.
America – I just feel like such an idiot Cory. Cory – Why? America – I just feel so stupid. We were in a good spot and I told Blue all this sh*t and.. Cory – well you should talk to her. America – and do what? She already told them and its like .. its not like she wasn't going along with it and I didn't have to do anything. Its just so stupid! Cory – just get everything out there.. like what's the point? America – what am I getting out there? Like what do you mean? Get what out there though? Cory – You're going to regret it if you don't have these conversations.. even if they don't go well you got to f**king talk to them. I don't know what you're going to say but f**k. Cory – Blue said that she wants to talk to you .. Jag said he wants to. America – I don't want to talk to Jag.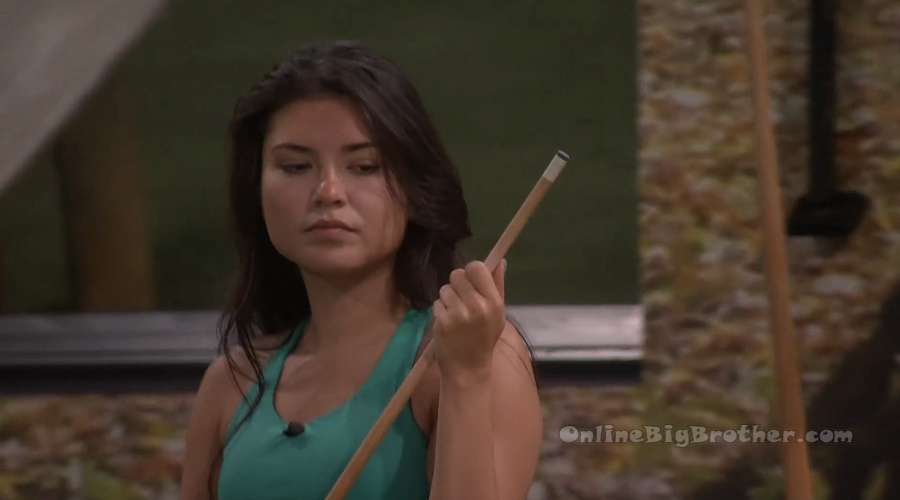 Havenot Room – Jag and Matt.
Jag – its hard to get someones trust like Felicia's unless we have an alliance. Matt – I know. We need a five to get America and Blue out. Jag – and that like is my five. Is it worth it to get, will they tell Blue or America the moment Blue or America win? Matt – I know. Because if one of them win and Felicia decides to put up Bowie though rather than us two. Jag – so then is it worth it instead of a five to have a four? Matt – we definitely have a four because Cirie is on board with that. Jag – Cirie and Bowie but what about Cirie and Mama Fe? Matt – I know that could be a four. Jag – The Mama's and me and you. Matt – we'll talk to Cirie about it tonight. Make her safe and then make sure she goes after those two the next two weeks until we get rid of them and then realize we're taking them to the final 3 and then make sure Bowie knows we're taking her to final three. Jag – Yeah. We'll talk to Cirie and see how she feels. Ultimately we have to be good with Blue too. No matter who stays this week they're going to be gunning after us. Matt – yeah we may have to win next week. Me, you or Bowie. Jag – we have to! Matt – hopefully the backyard is close tomorrow so that its a physical. Jag – they've had a lot of physical comps so it probably won't be. I am praying that whatever it is we pull out the win. Matt – that is why we have to get rid of Cory for our best chances. Jag – when we talk to Cirie today.. and just lay it out.. Our ideal final three is with Bowie and Felicia .. or Felicia or Bowie. That's the five. People are probably scared to work with us because they know we're always going to choose each other. But Bowie is down, Cirie is down. I know we can't with Mama Fe just because she is going to tell people. Matt – I know.
7:41pm Backyard – Cirie and America.
Cirie – you doing good and you're looking good. America – I know, I just want to lay down but I can't. I don't want to hang out with them. Cirie – I know. America – I don't want to be around them. Cirie – I've been like that so many times already here. I felt exactly that.. like I don't want to f**king look at these people. America – everything is annoying. Its annoying that they're so f**king good at competitions too. I said I was going to hide all the milk. Cirie – pour it all out.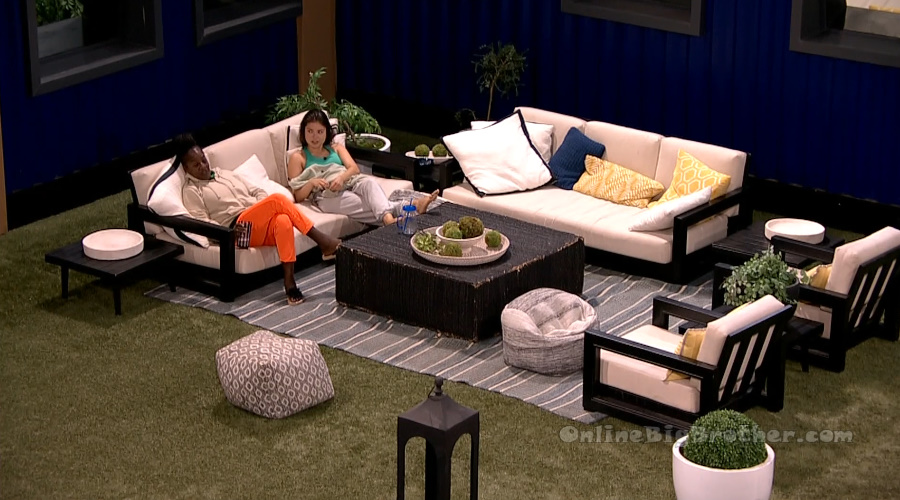 7:50pm Hammock – Cory and Felicia.
Cory – this week the plan until I was scheming against him was you were the back up but like you knew that. Truly I wish I knew what his plans were for like you later in the game. But the one I keep coming back to and I don't even know how helpful I am and I will try to be helpful as possible like how to overcome the Matt and Jag obstacle.. because its hard! They're really good. And Matt is good but Jag is a different bread when it comes to That stuff. And like you've been pushing all week for a big move and like you got one. It happened. Matt and Jag made a big move against me and America. I think there is still a big opportunity to make a big move against Matt and Jag on Thursday because I think it is very transparent who they want out. And I don't know exactly why, its not like I proved to be a much stronger competitor. Like I present myself as smart I suppose and if you talk to America as much as I do you know she is f**king brilliant. Its very clear who they want out .. and I think its very clear except for them two that everyone needs them out and I think there is no reason to believe anything other than I am gunning for them. And I guess the question is how is this different from the Cameron pitch? Well first of all I am not Cameron. Felicia – that you aren't. Cory – Cameron made the same pitch to me and what I told him was that they will gun for you next week but what if you win the veto? I am toast! And the other part of it was Cameron how so I believe anything you're saying? Its Cameron, you can't. I know you were not a fan of how the Meme thing played out and I do understand that. The benefit of me being in the house is not so much you gain an amazing Ally. Its just you make it further in the game. And I think you would believe if America is gone, who do you think is my ideal final 3? Felicia – me you and Cirie. Cory – me, you and Cirie .. and maybe if I am bullsh*tting you, maybe toss in a Bowie. Right, like nothing else really makes sense. Felicia – me being totally honest, I can't totally trust what you say so that is what scares me. I want to believe you but I know you're good at what you do. Cory – I appreciate that. So tell me what you're hesitant about? Is it the Bowie stuff? Felicia – the Bowie stuff.. because I do believe I've watched your guys behaviour… and interactions. And the one thing that I see with Bowie is she chases the power. Cory – the two times you were on the block. and I don't mean this in a you owe me sense but I campaigned really hard ..maybe not for you to stay but for the other person to go.. and that indicates something. Felicia – yeah. Cory – I am not coming for you at least. The truth is I have been targeting her (Blue) forever because she's been targeting me. The truth is I thought if you won HOH last week or this week your noms would be Matt / Jag.
8:30pm Hammock – Cory and America
Cory – Basically what people should do is whatever Matt and Jag don't want to do, you know what I mean? America – Mmmmhmmm. Cory – That's what they should do .. I am sure they want me out.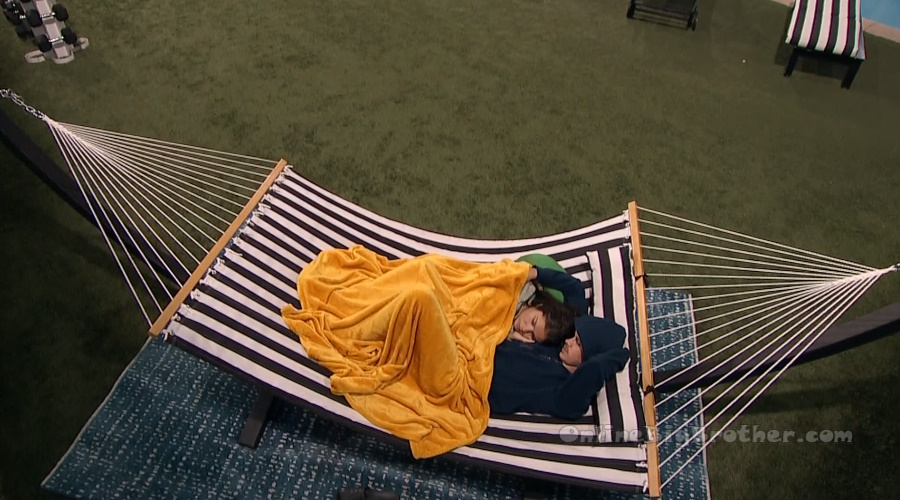 8:34pm – 9:05pm Kitchen – Felicia, Cirie, Matt, Jag and Blue.
Felicia – he (Cory) did say that if we kept him we could get you guys (Matt/Jag) out and that he would go to a final 3 with me and you (Cirie) because that would be his best chance of winning. jag – the same disrespect! Cirie – he said that to you!? Felicia – I guess I was supposed to be flattered because he said I would go to a final 3 with you. Cirie – because that would be my (Cory) best chance of winning!? Jag – the same disrespect Bro! Felicia – he said that Bowie Jane has shown that she is good at both mental and physical comps and can win. Blue has shown herself in this last competition. Blue – what's poppin'? Felicia – I just crack up at all this sh*t! Jag – he has been really disrespectful. All week he has been very mean spirited. To the point where he was self aware about that. Like this morning he said I think I've said some really mean things this week. And I was like yeah, you were an a$$hole. Felicia – I read people well. I know when people are being genuine or not and that is why I have never trusted him. Jag – yeah you're on the block because this is what happened ..at this point whatever power I had this week .. this is all I can do to fix the mistake after I saw what happened. And here it is and now they're on the block and of course they're mad at me and that is what it is.. Matt – they were going to be mad at anyone that put them up. They were going to be shocked no matter what. Jag – but its also when I am up there like I am sure ya'll felt this too ..I am up there .. Blue is up there.. we were up there for hours ..that was excruciating pain and there is no reason why this girl (Blue) deserves to go home. Felicia – right. Jag – I just see them being so comfortable. It get it, its a game but there's a right thing and a wrong thing.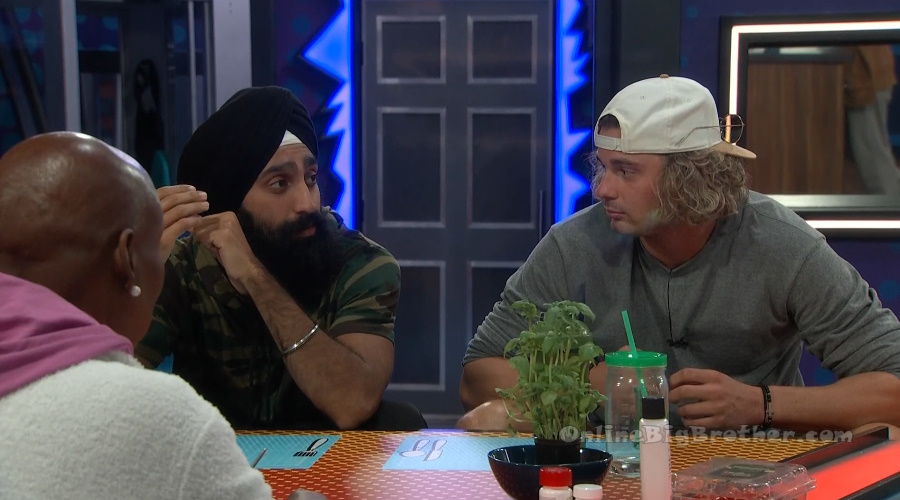 9:15pm Backyard Hammock – Cory and America.
Cory – Bowie asked if she should talk to you tonight. I said she could ask. America – no guarantees. F**K HER TOO! I'll leave you my blue shorts. Cory – you keep acting like you're leaving. If you try at all, you'll stay. America – I don't know yet. Cory – I know. America – I do want to go but I know that would be so lame. Cory – just make sure you make the decision you want to make and not the one that you feel pressured to make by society and or me. I know if you tell me Cory I want to go or stay and then you change your mind you're going to feel like sh*t. America – I can tell you that I changed my mind. That's fine. As a fan, you know what I mean. Its not even about the perception just me, myself I don't want to just give up. Cory – If you stay you just need to win, that's my conditions. America – yeah.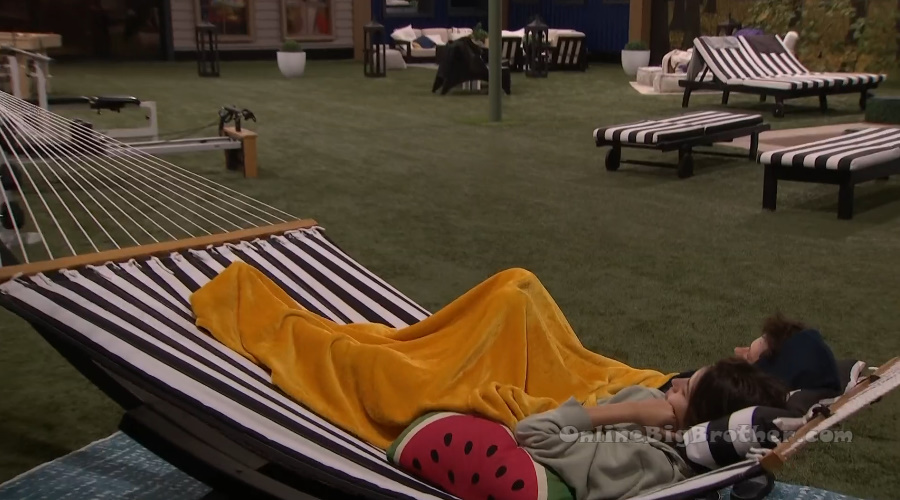 9:30pm Backyard Hammock – Cory and America.
Cory – I would rather go to the jury house than home right now. America – yeah me too. I want to see what its like. Cory – I more so want to disconnect from everything. I don't want to go on social media right now, you know what I mean?! That seems like a not good idea. America – everyone is like "Yeah, lets go Jag!" Cory – I don't think so… ah, maybe.. big move for sure. America – people don't like rats! I wouldn't be a fan of Blue. Cory – um yeah, Jags style of play is pretty f**king annoying to watch. America – nothing… just wins. Cory – yeah just the way he talks strategy is kind of annoying. The way I do it is too just in a whole different kind of way. America – no you do it like you.. you don't change up.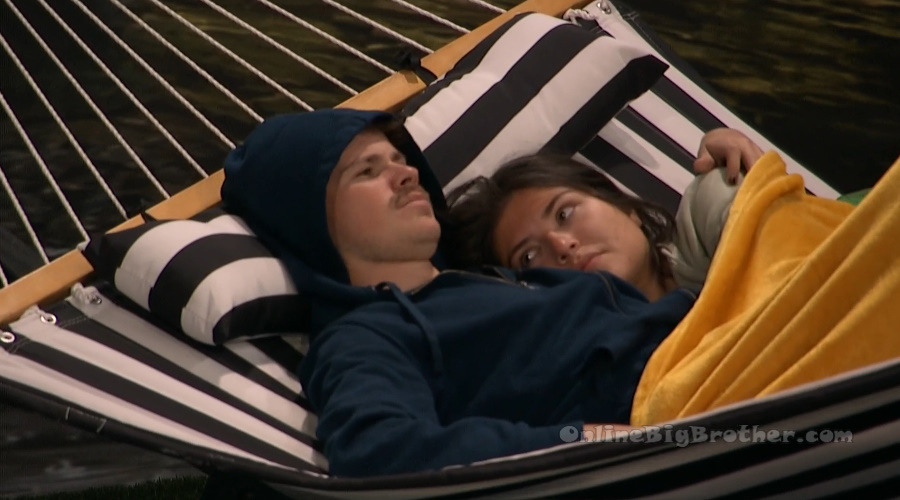 9:55pm Backyard – Cory talking to the cameras and playing pool.
Cory – I do really care about her as a human being and as a potential girlfriend and more. And I am kind of throwing up in my mouth just thinking about it .. not about her she is amazing .. just the idea of you know you go in this house and then you meet someone you really like and then you forget about your main goal which is winning this game. That has always been my main priority. I guess I just got greedy thinking I could do both. So its a tough spot because I do really really care about her and I feel kind of uncomfortable campaigning against her fully. But you guys have seen what I have done thus far, I am campaigning pretty hard. I am not pulling that many punches. And lets be honest if I did an anti-America campaign that would not play well in the house either so that is fine. Here is why I am not that pissed. I was going to nominate Matt and Jag and I was going to do it in a very theatrical way.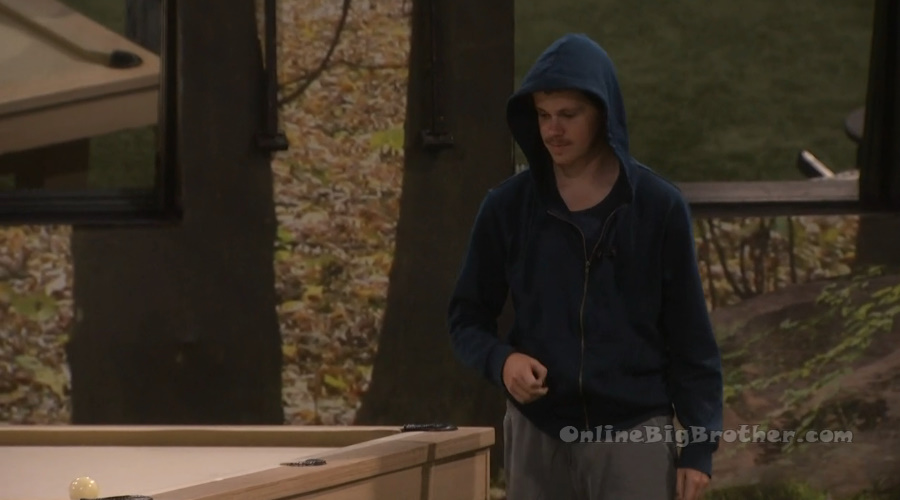 10:34pm Showmancing on the pool table..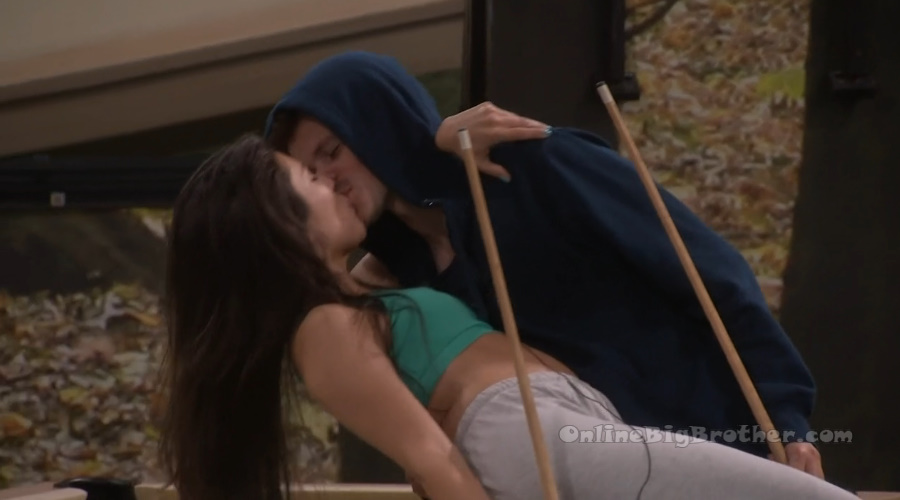 10:30pm – 11:12pm Comic Bedroom – Cirie and Felicia.
Felicia – At some point if we want to get to the final two, they have to go. Cirie – that's what me and Blue was talking about and she actually said sh*t it might now be such a bad idea to keep Cory. But then she said because he said that final three with me, you and him that he might f**k it up for her because she wasn't included in on that. He didn't say that to me. I said we got a couple more days, lets just think about it. Do you think they will continue to fight or do you think they will reconcile? Felicia – I don't think they will reconcile. They'll be so pissed we did, we'll be their first f**king target. You and me. Cirie – not Blue? Felicia – not Blue. Cirie – she already was their target… but we can't do it without her. Felicia – right. I thought about it but that is why I put everything out on the table because I wanted them to know everything he said. So we keep Cory.. this next HOH if its the slip n' slide.. Jag probably going to win that sh*t. Cirie – I don't think its going to be the slip n slide, they just broke their necks. They broke their backs the day before, the week before.. for OTEV. Now they're going to break legs? Felicia – f**k yeah its the end of the game. Sh*t its the quick turn around sh*t.. that's that sh*t that Cory could win. And if that sucker stays, he could win HOH and put them two on the f**king block. Now Jag gave me the veto twice.. Cirie – Jag only gave you a veto because it served his purpose. He put you up. Don't get it twisted. He doing what works for him. Felicia – we just have to figure out what's our best path. Cirie – I say America right off the batt .. if I had a minute to think about it I would rather be here with America than Cory. Felicia – I would too. Cirie – because I would feel like Cory is going to someway try to weasel his way back in with Matt and Jag. Felicia – she (America) is a woman scorn, she ain't never going back. He will go back and think its a path to the end. Cirie – he is not emotional.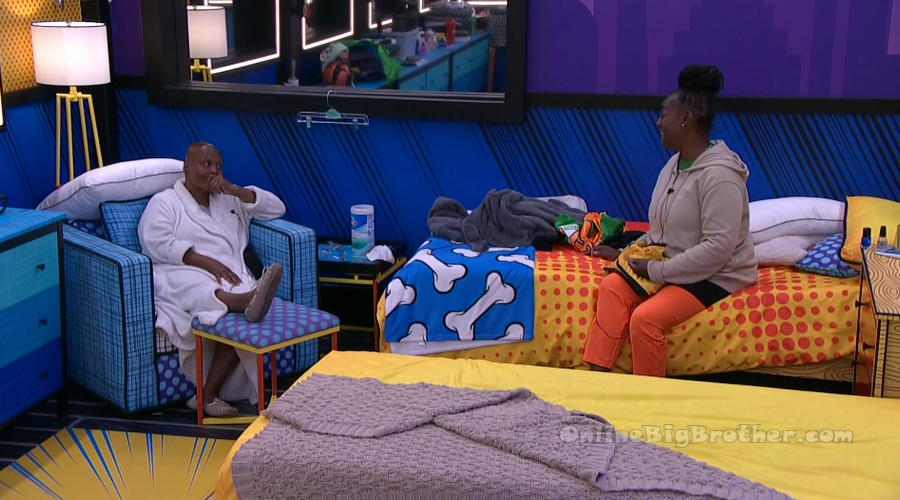 11:26pm Bathroom – Cory and America being salty.
Cory – I am going to be so inconsiderate the next couple days. Dirty dish, I am leaving it there. America – MmmmHmmmm.. Cory – F**k the system. The thing is its just Cirie and Felicia cleaning everything anyways. Cory – and Bowie.
11:47pm Bedroom – Jag, Blue, Bowie and Felicia.
Jag is telling all about when he was studying aboard.
12am Bedroom – Cory and America
America – whether I stay or go I am just going to miss you so much and that makes me so sad. Cory – I miss you… I miss you when you leave the room.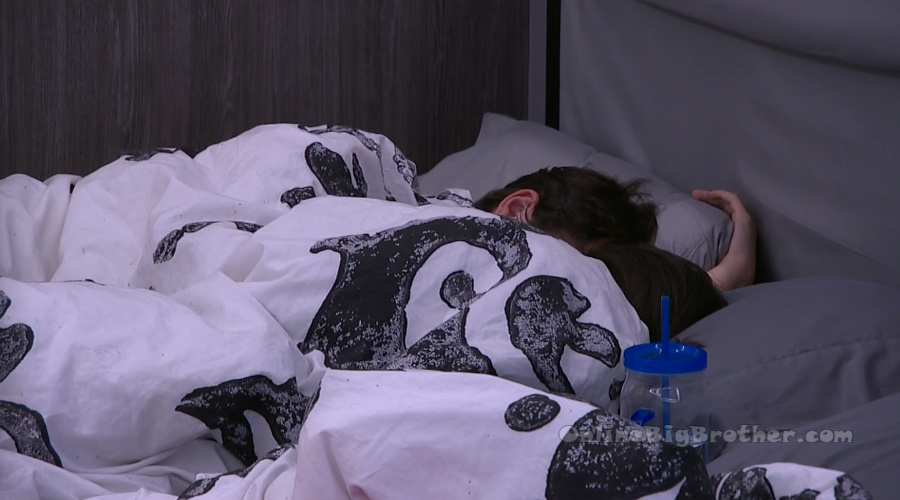 What to leave a TIP? Any amount is greatly appreciated!
Tips go directly to pay the site costs associated with running this site.
Thank you in advance!