Quick Big Brother Spoilers
INVISIBLE Head of Household: Jag
Nominees: Blue & Felicia America and Cory
POV Players: TWO Veto Comps (All 8 play in the first, winner doesn't play in the second veto comp.)
1st POV Winner: JAG
2nd POV Winner: BLUE
Veto Ceremony: Jag and Blue used their vetos. America and Cory put on the block.
Havenots: ?
Lock your ranks in before midnight
The Situation: Cory is going to Jury. America is still pissed.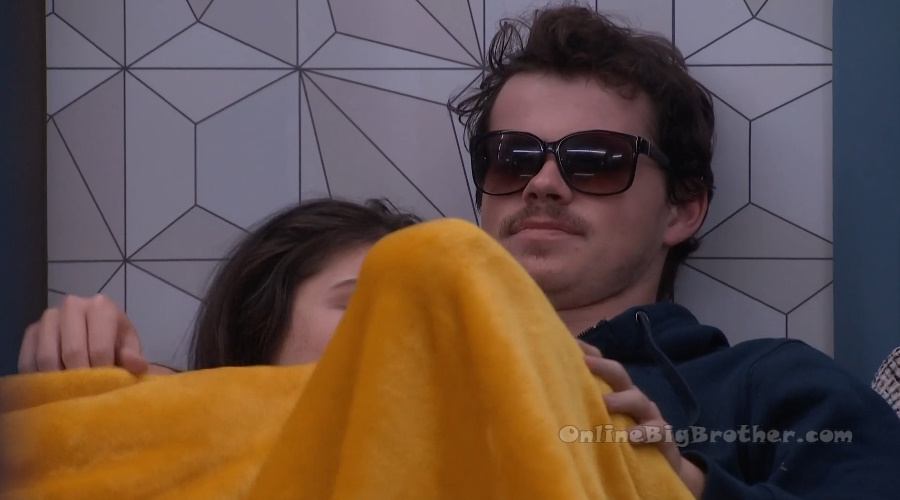 7:20pm Bathroom – Cory and America
Cory to Felicia – me and America are just campaigning to each other. Felicia – how's that working? Cory – I think I've got her vote. Felicia – you're so silly Cory. America – you silly boy. Funny boy. Cory – how about funny man?
7:20pm Backyard – Matt and Jag.
Jag – she (America) hasn't even been in the same room as me BRO! Matt – I know. Foul! I think its time to get a laugh out of this and just sit near here. Like look you got a whole other week superstar! Brace yourself!! Jag – I had a good chat with Mama Fe. Matt – yeah I talked with her. I was like if you think about it we've had the longest relationships in this house. I want to go to the end with people that I can trust. I am not going to be able to get there if I am playing the game that America and Cory said they are… you now what I mean. No, I am bringing people I can trust. Jag – yeah. Matt – I said me and Jag are on that same path. I mean I haven't won the vetos but Jag has and he definitely showing that he wants this to work. I was like I'm not playing Jags game and Jag isn't playing my game .. like we're not like Cory and America. We are a duo but we're not like them. We talk together about things and agree together about things. Its not like I am playing his game and he is playing my game. Like all four of us could work like that. Like its good to work with us because we can guarantee a lot. Jag – we need to talk to Blue as well. Matt – I talked with her. Jag – how was it. Matt – yeah it was good. She was like I know America is going to try and recruit me but she was like I don't want that B***H in the final. I don't want her getting any prize money. I was like yeah it sounded like she wanted the five of us excluding Bowie. She said after America, she would go for Bowie because she's playing the middle. I was like okay, good. Jag – so she wants me, you, Blue Felicia and Cirie? Matt – yeah. It could be good. We just have to get rid of America next. Jag – at this point in the game us being seen as a duo is probably an advantage. Its almost like I'm your shield and you're my shield. If you put both of us up.. one of us is going to survive and you know people might still do that anyway but its not just me and you versus everyone. We have Bowie. Me and you have Cirie. Sounds like we have Felicia now too. Suddenly we have the majority of the house working with us so I don't know if people will want to take that shot at us. Bowie joins them.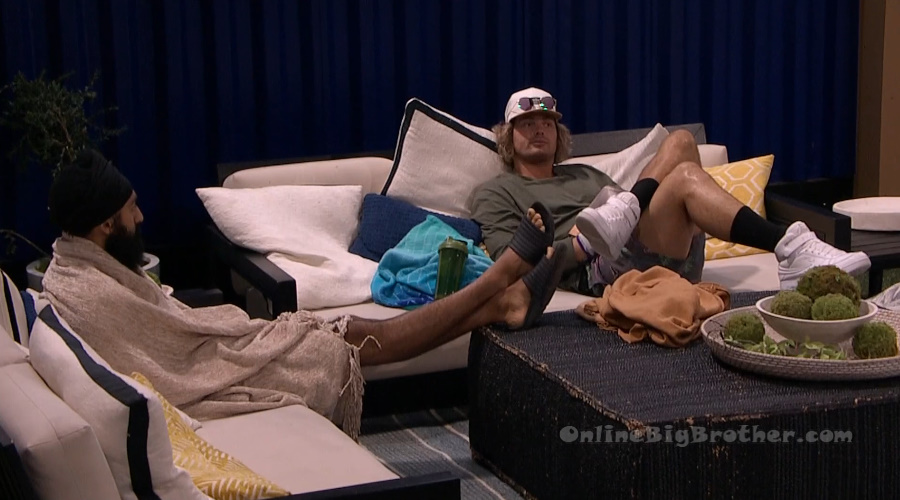 YUM! Potato Salad Hands!
Who does this!? LOL
Did BB take away all the spoons too???#BB25 @bigbspoilers pic.twitter.com/WSqt4rTUHe

— Dawg (@DawgsBigBrother) October 18, 2023
8pm Backyard – Cirie and Blue.
Blue – I had a pretty good conversation with America. We kind of worked things out. I know she's going to latch onto me and all that mess. Matt & Jag join them.
8:20pm Backyard – Felicia and Cory.
Cory – I don't know why but Bowie is freaking out right now. Felicia – she is? Cory – she followed me into the bathroom. I was like so there was a four with you and America but they're working with Blue but like what you did talk about with Felicia and Cirie? What did you talk about with America? And I was like I didn't talk to any of them, I am just hanging out. I was just telling her my suspicion that they're probably working with everyone but I don't want to just spew that kind of thing without knowing. Felicia – I haven't said anything to Bowie Jane yet. Cory – she is just paranoid because I think America talked to her and just did an anti Matt and Jag thing. Or basically all we've told her so far is the obvious like they're working with Blue obviously. And that they're keeping stuff from her when they were telling me and America stuff the whole time. Like for example the whole secret HOH thing. Like we knew about it before Bowie. And then like they told Bowie and they pretended like they hadn't told us. She to me is very skeptical of them.
8:40pm Bedroom – Cory and America
America is getting emotional and crying. Cory – crying is okay. America – no I never cry. I am not a drunk crier. Cory – everything is intensified in here, except for our relationship that's normal. That's just how it is. America – I didn't cry when I left New York or when I left my friends and family. I am just so sad right now. And I know you feel sad too right now but you can't show it because you have to comfort me. Cory – come here. America – I get Gina Marie now.
Cory – Its going to be fine. Silly game. America – I am taking everything so seriously and personally. Cory – its hard not to. America – I still think that the blindside was stupid .. what was the point of that?! To be dramatic and hurtful?! Cory – they wanted to be theatrical and they thought we were gunning after them.. because we were. America – its going to be real theatrical when i don't vote for either of them (Matt / Jag) in the end. I get bitter jurors now. I am going to hold onto this for the next 20 days. Cory – okay.
America – I don't want to be in there, f**king dumba$$es!

9pm
Cory – are you a silent treatment person? America – well I don't want to say anything mean or bad. Cory – see what I do in that situation is I just say something nice. America – I don't. I don't. Which is why I am silent treating Matt and Jag. Cory – I don't want you to pull your punches. I want you to do what you literally want to do because the truth is if you stay its going to be very hard for you to win obviously like you would really need to pop off and I think you can but like I know you will regret if you whimper out of here like an Alyssa. Like if you want to give it to them, then give it to them. You know what I mean because I know you won't regret that. America – but I don't want to right now. Cory – I am not saying right now, it could be next week. You try to win first but you also do what you want to do. I feel like this whole season I have been the anti-fun police. You know?! At least promise me that, like go all out. America – I am not doing it for your sake. Cory – no, to be honest if you did it would probably help me. I think with those two they're coming for you. I know what the viewer in you knows what you want to do. I know what the person in you wants to do. I just feel like you would feel better about your experience if you were fully you. And I know you don't like how you are theoretically portrayed as like kind of under the radar and chilling a little bit because you're like a really entertaining character.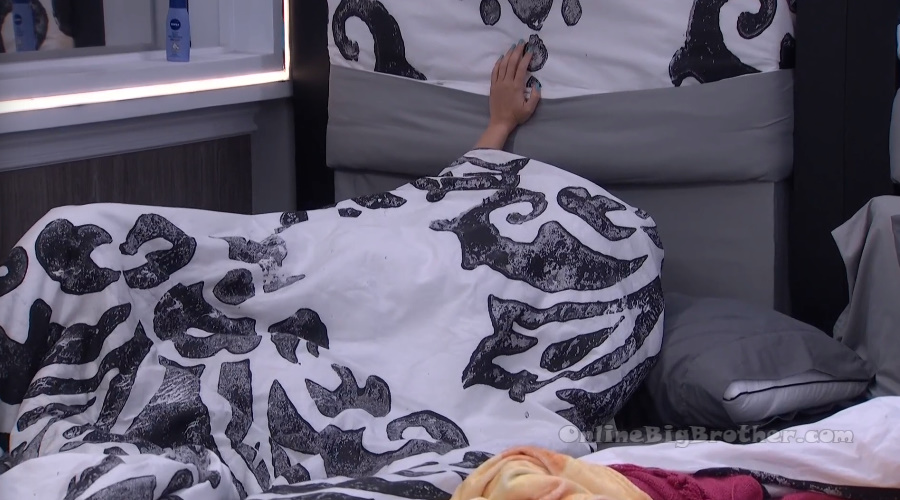 9:15pm Backyard – America and Cirie
America – I need to plan what I want to do and what I want to say. I don't think there is any dancing around the fact that I am going around saying that you're (Jag/Matt) my targets. That's the truth of it. Obviously there is a line that has been drawn. I don't know how I can redirect whatever target they have on me to someone else. Like if they win HOH this Thursday, it will be me. Cirie – I would keep the conversation as its coming from a place of hurt because you are.. and not just hurt because of Cory leaving hurt because of the relationship I thought I had with you. I would take it that direction. Cirie – because if you're any kind of person. Like I get that because if it was me I understand your hurt and then go from there. Because the starting with the GO F**K YOURSELF is not a good idea. America – I just couldn't help it. Cirie – I am just tired of it all. I am exhausted. America – its 9pm and I am ready to go to bed.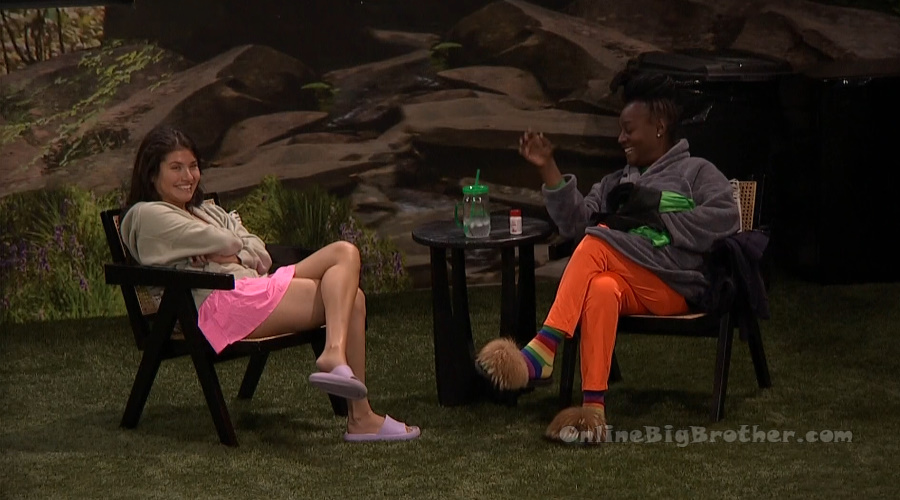 9:27pm Comic Bedroom – Cirie, Matt and Felicia.
Felicia – America is really going to be a mess when he is gone. I think he really believes he is going to stay. And I think she is okay with her leaving and him staying. Cirie – I asked her again right now.. what do you really want? And she said I want to stay. Felicia – but she knows he is campaigning hard! I think she is really falling for him. And doesn't realize to him this is a game. Blue joins them.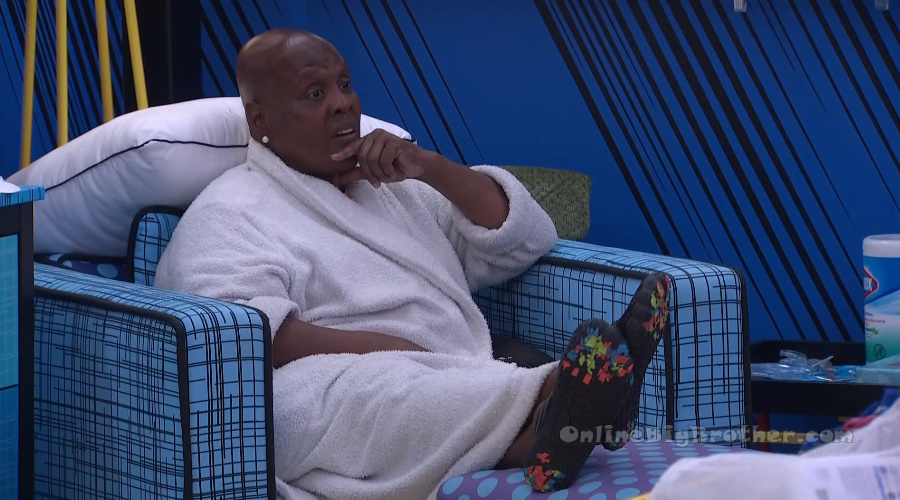 Kitchen – Bowie, Matt, Jag, Cory
Cory – my other intrusive thought .. what if I dumped out all the milk. Jag – that's an all out war. That is an all out war. But I don't know what would be the equivalent of that. Cory – Nominate me for eviction? Jag – Oh wait, backdoor!? Cory – you were like I could backdoor one of them.. Jag – bug I have the opportunity of a life time right now. Cory – the think about it is the consequences that come after the game. Jag – MmmmmHHmmmm.. are you going to kick my a$$ what is this? Is this a threat!? Cory – no. Jag – I am lucky there are so many cameras around here. Cory – You thought yesterday or earlier I was being casual.. I think I could beat Jag in a fight. BB switches the feeds.
10pm – 10:45pm Comic Bedroom – Matt, Jag, Bowie, Felicia and Cirie are speculating what this Thursday's HOH comp might be slip n slide, etc., Matt talks about swimming.
10:50pm Bedroom – Cory and America.
America – they're (Matt & Jag) on top of Felicia and Cirie now. Cory – that's good. Cirie is going to be f**king pissed. This just helps with the Bowie narrative that I am trying to make and obviously I want to stay but whoever stays this is good if my plan happens. America – do you want to tell me or? Cory – I just told you. Go to Felicia and Felicia is going to say that Jag pressured for a final four. America – do they have a final four? Cory – that Matt and Jag approached her for a final four with Cirie. America – did she say okay? Cory – she is down, she is talking to Cirie. And I was like look Cirie doesn't need to be involved. Like we could completely keep her out of it she approached you with the idea. But the whole pitch is like if Bowie is truly with Matt and Jag like we think she is the game is over because its Bowie, Matt, Jag and Blue. And if any four get HOH. Odds are you got to separate Bowie from them. So matter what like even if I don't stay Bowie will still be skeptical of them. If Bowie doesn't tell anyone then it becomes a he said she said. What is more likely that we completely made it up or they're lying. You know?! America – that's smart. Cory – it could work. Not really to keep me but just in general.

11:08pm Cory and America. America – do you want to have Christmas at mine? Cory – I was thinking about that. America – you were thinking about it? Cory – well you mentioned it. America – yeah I could do that.. I'm nervous. Cory – well you freaked me out already. America – with the whole interrogation. Cory – yeah. America – it won't be like that. Cory – okay.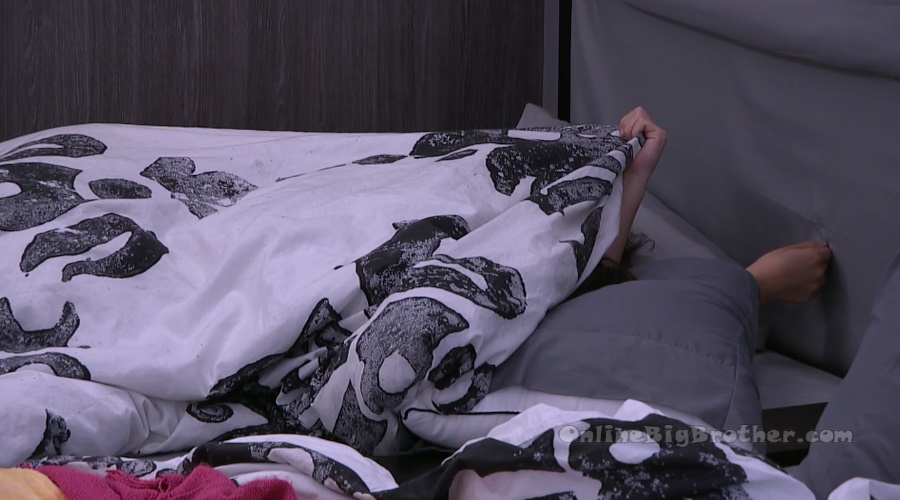 11:32pm Quad cam on the scary bedroom..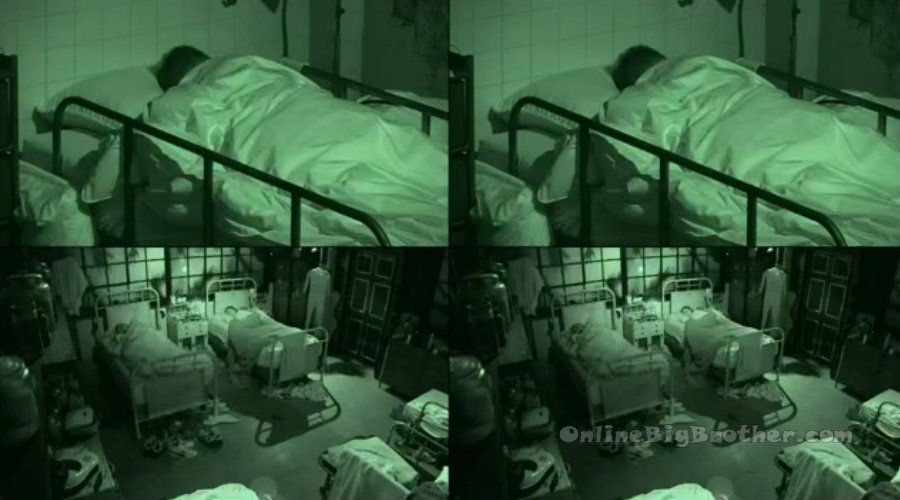 What to leave a TIP? Any amount is greatly appreciated!
Tips go directly to pay the site costs associated with running this site.
Thank you in advance!