Quick Big Brother Spoilers
INVISIBLE Head of Household: Jag
Nominees: Blue & Felicia America and Cory
POV Players: TWO Veto Comps (All 8 play in the first, winner doesn't play in the second veto comp.)
1st POV Winner: JAG
2nd POV Winner: BLUE
Veto Ceremony: Jag and Blue used their vetos. America and Cory put on the block.
Havenots: ?
Lock your ranks in before midnight
The Situation: Cory is going to Jury.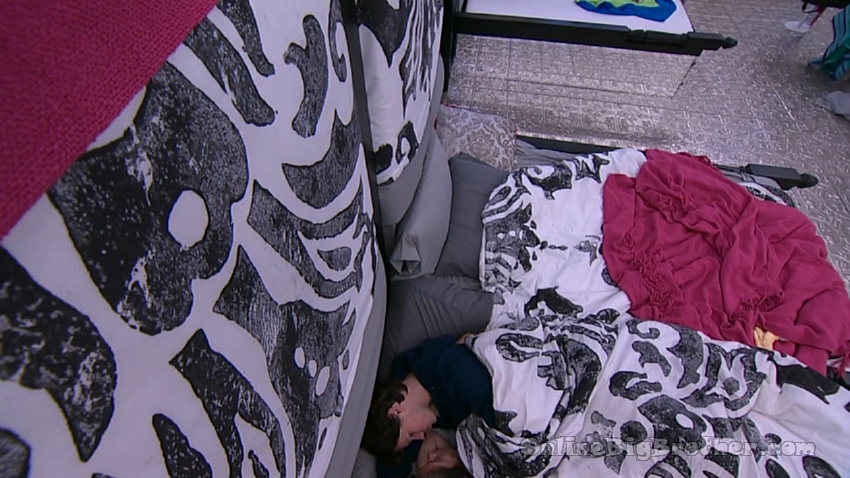 2:00 pm Cory and America
America – I know I Shouldn't just lay here and tell them to f*** off but I literally can't look at them.
Cory – it's OKay I understand, I talked to them.. I talked to all of them beside Blue, Cirie and Felicia.
Cory – Matt's putting it on you, Jag's being more cagy and Bowie is saying she had a inkling it was me last night.. She didn't know it was both of us.
America – they told Cirie why wouldn't they tell Bowie.
Cory says he doesn't believe Bowie.
Cory – I'm telling everyone I'm targeting Matt and Jag that's it, that's my pitch
America – that's my campaign too
Cory – They want to do this five person meeting. I was telling them I don't know if it's going to happen.
America – What five person meeting? Me, You, Blue, Jag, Matt.
Cory – Yeah
America – MMMMMM NO, They should have done that shit before doing it after is pointless. I don't need to clarify anything or defend myself in this situation they didn't think it's important to do it before why the f*** are we doing it now?
Cory – there's a lot of days
America – you can go off and do whatever you want. I'm still angry
Cory – yeah me to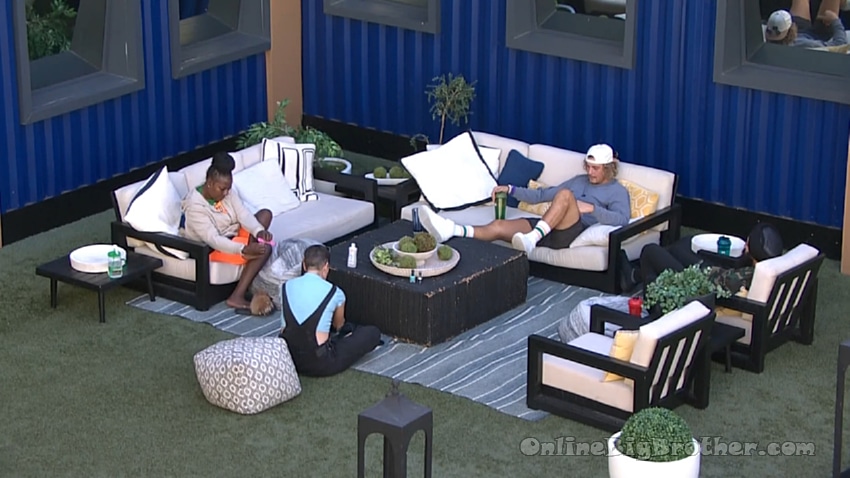 2:22 pm Matt, Jag and Cirie
matt and Jag are hoping it's slip n slide this week. They think if the Backyard is closed tomorrow it is a sure sign. (LOL third week in a row)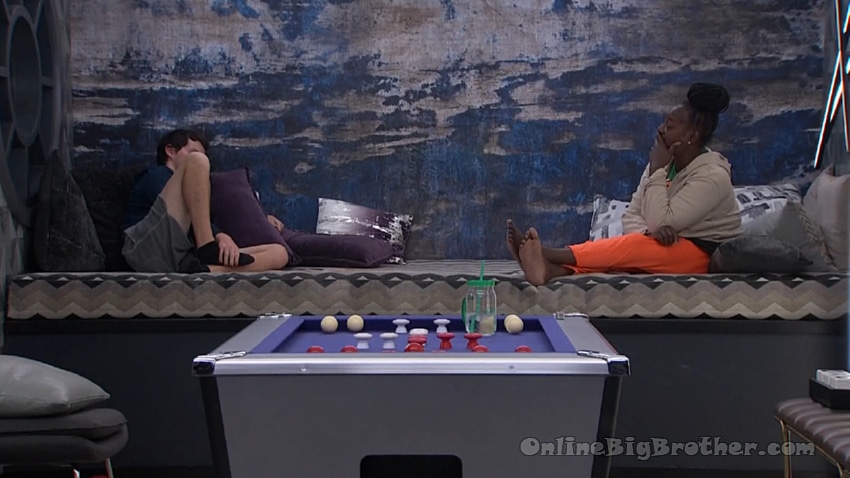 3:00 pm Cory is campaigning to Cirie. using his anti Matt and Jag angle.
He goes on about his situation and Cirie replies with "Right, Okay, Right"
Cirie – Right .. right.. Exactly
Cory – I'm going to campaign I don't know how or who or when. What else can I do
Cirie – it's expected.. it's how you go about it.
Cory – I win next week I put up Matt and Jag Obviously, Matt, jag or Blue win next week they target me. I am not likely to beat Matt, Jag or Blue in the veto. If I Somehow win HOH I target them. The rest are coming for me in the double. This buys all of you to the final 5.
Cory – I do think Matt and Jag will want to go with Bowie and Blue. that's my guess.
Cory – how do we get over the Matt and Jag Hump? We're not going to beat them on the slip n slide.
Cory says Jag has won 5 competitions the next closest is Matt, "I have one, Felecia, Bowie and Blue have one"
Cirie says it was always beneficial to have him this game. She feels like she can talk to him "like REAL"
Cirie – it's not far fetch for me to have cory stay in this game.
Cory – this week Matt and JAg made a massive move against me and America. i think there's is an opportunity to make a massive move against Matt and Jag on Thursday.. like right now.
Cory – they want me out.
Cory explains how Matt and jag Operate "They are good with everyone until the Backdoor happens then they are out the door so it's fine"
Cirie – right
Cory – this week is weird because they backdoored two people
Cory says america has more of a opportunity to slip through the cracks because she's being underestimated by Matt and Jag whereas he's going to be a lightening rod.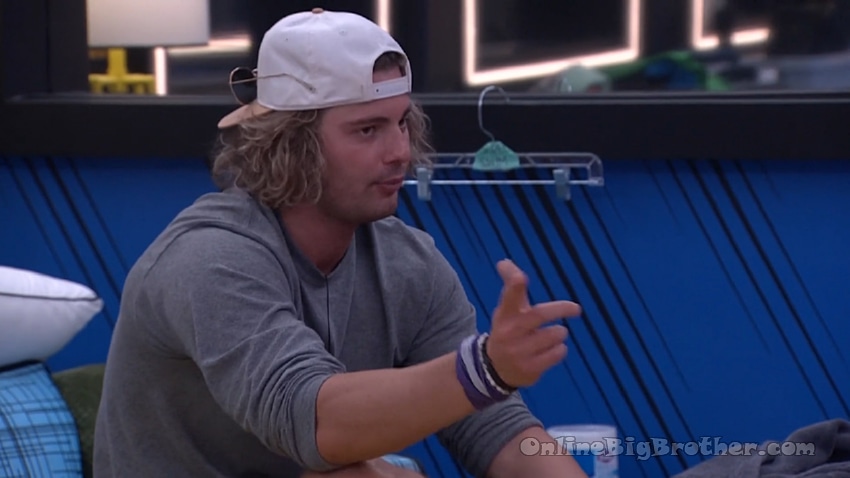 3:30 pm Cirie and Matt
Agreeing that Cory is the bigger threat this week. Mat says they can handle America. Cirie says Cory is more dangerous.
Cire says Cory is already campaigning.
Cirie – we just have to make it through the double
Matt – I know.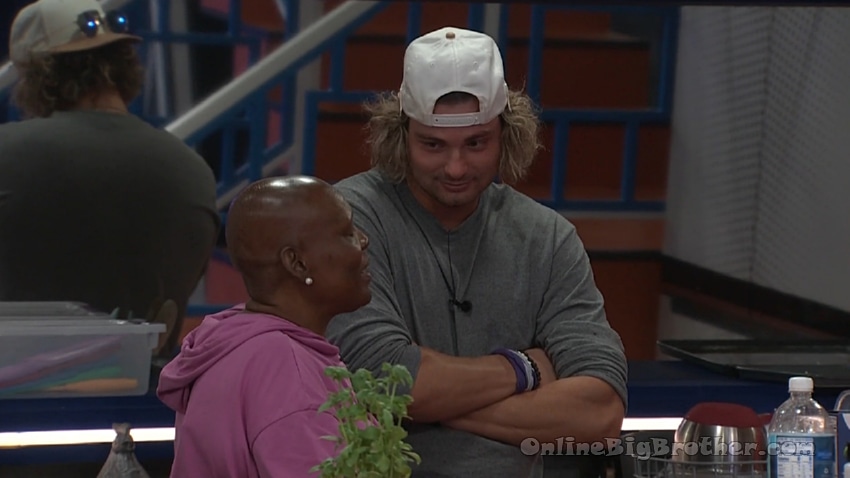 3:44 pm Felicia and Matt
Felicia says America isn't being smart alienating herself in the house.
Matt – you can't just say f*** you to everyone (Yes you can)
Matt – we have the power to.. like evict you
Felicia thinks maybe America is trying to get evicted to let Cory stay in the house. "that could be there plan"
Felicia says it's time for Cory to go.
Matt says he's campaigning hard. "He needs to the votes"
Felicia – he's not getting mine not at all.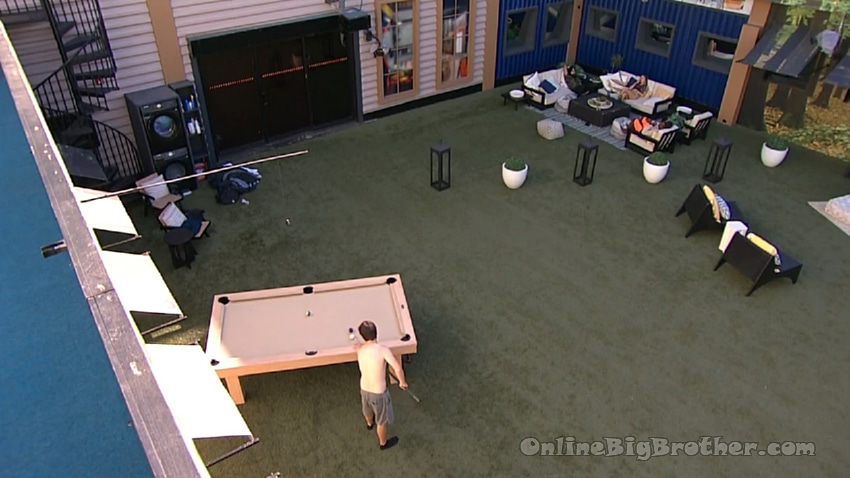 3:47 pm Cory playing pool alone.

3:54 pm Cirie and Felicia
Felicia saying that Jag is panicked that he may have lost Cory and America's Jury vote.
Cirie – He thinks he's going to talk to you, He thinks that Me, you, and Bowie might vote for him. So he's going to let me know when he's talk to y'all
Felicia – He thinks me, You and Bowie what?
Cirie – might vote for him
Felicia – ohh…
Felicia and Cirie laugh
They talk about how they will get Matt and Jag to turn on Bowie Jane. They go on about how Cory and America doing everything they accused them of doing.
Felicia – America will crash and burn
Cirie says they might want to grab her for a vote but they can't trust a word she says.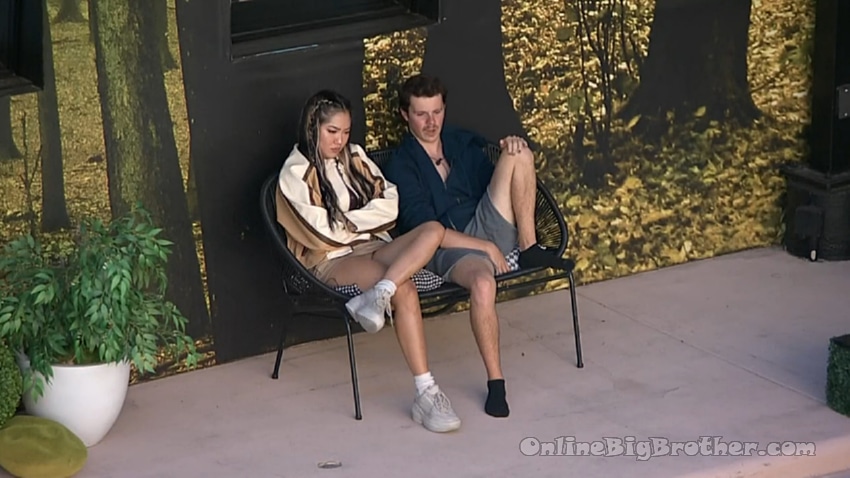 4:03 pm Cory campaigns to Blue.
Saying things like Matt and Jag have a good chance to win competitions. Matt/Jag's ideal final three is with Bowie.
He adds that Matt and Jag would tell him once Blue is gone they have a clear path to the end.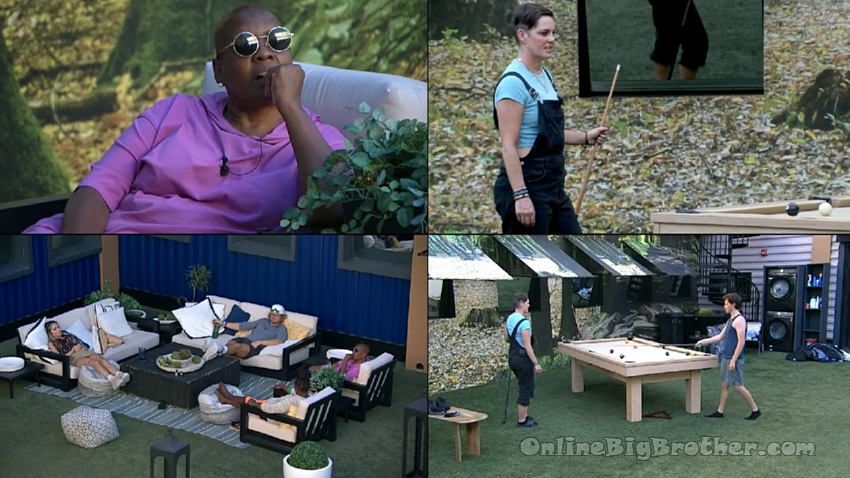 4:40 pm POol and nothing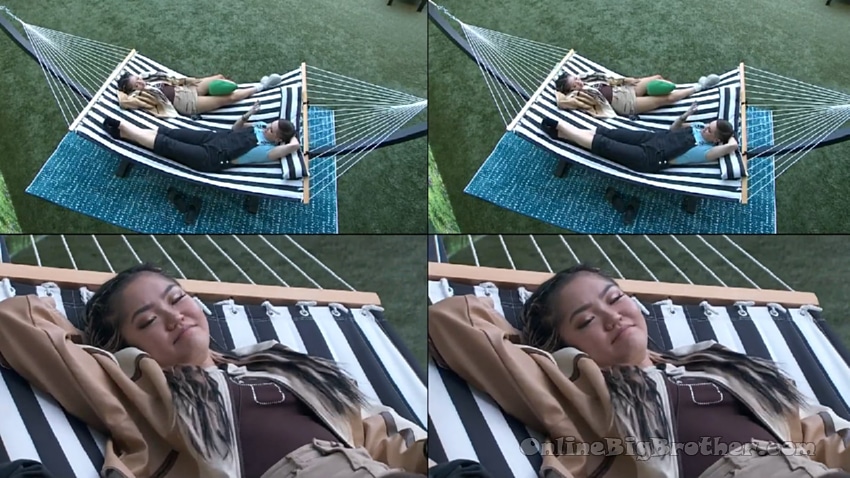 5:15 pm Blue and Bowie haven't fully decided on their vote.
Blue says with this vorte she's going with what she wants. Bowie says she's not of a strong opinion either way. She wants to hear what America has to say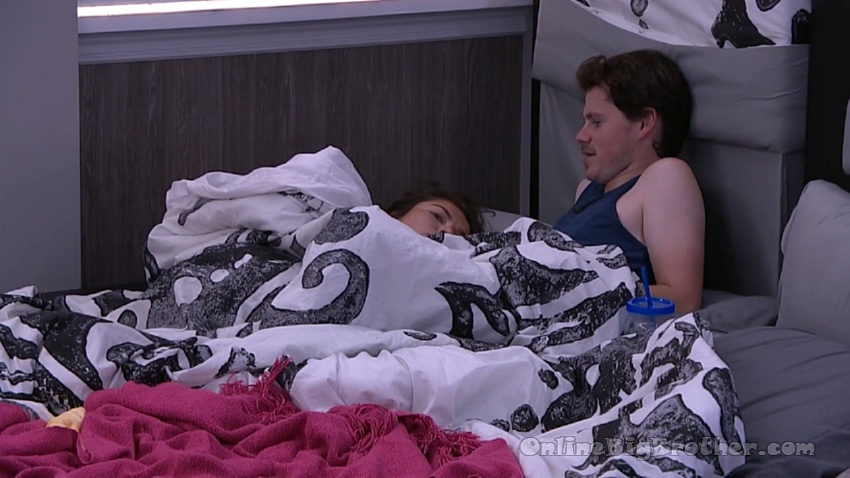 5:20 pm Cory and America
Cory tells her the pitch he's been giving to people. If they keep him Matt/Jag/Blue win they target him if he wins he targets matt and jag. Keeping him here is a guaranteed final 5
Cory – I'm sorry I know you don't want to hear about game right now
America – Yeah I'm done
Cory – I just feel gross walking around this house talking to people.
America – WHy?
Cory – in this case if do a good job you go home.
Cory – if you were throwing my sh1t under the bus I would feel great.
America – I'm not going to do that.
Cory says her blowing up on people is a bad idea it'll make her feel worse ultimately
America – I don't think so but we'll see..
They go back to kissing.
5:35 pm Cory, Blue and Jag
Joking around doing a mock Veto Ceremony where Cory and America are on the block.
For some reason Big Brother tells them to "knock it off"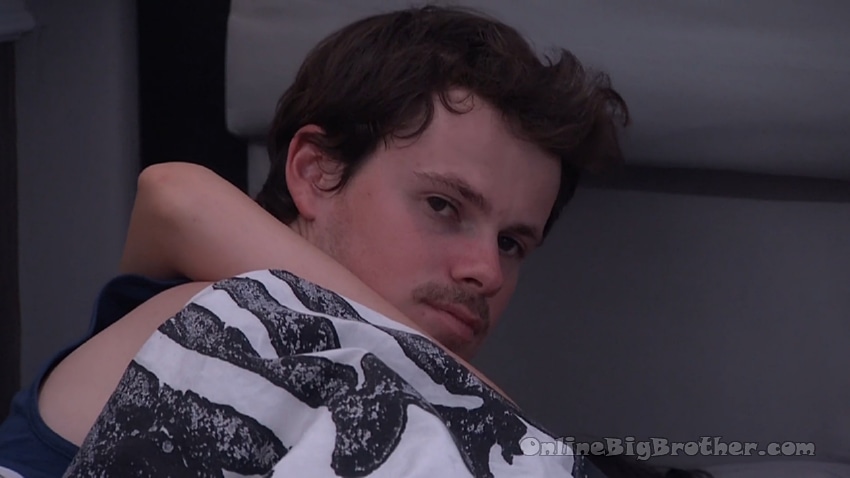 5:48 pm COry and America
Cory – I feel more fired up than ever right now. YOu just need to get fired up.
America- I'm not hungry I want to literally puke.. Don't want to talk to matt or Jag. Jag's not even voting I Don't care to talk to him
America – Matt a minion and will do whatever Jag says. Blue will to. If I stay I'm going after them they know I'm going after them. I's all I got.
Cory – are you going to campaign.
America – yeah yeah that's it. I'm not going to like go hard. I don't want to. I'm also not going to lay here all week.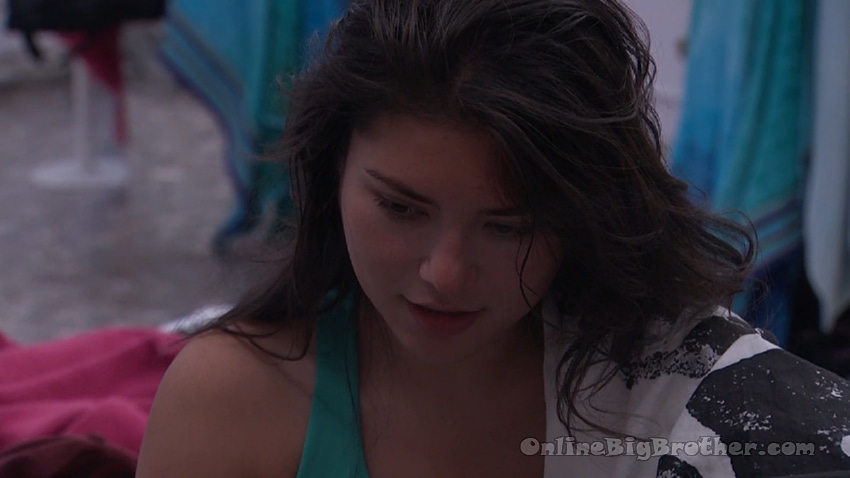 6:11 pm
America – if he thinks the f*** off is disrespectful he hasn't heard anything yet he really hasn't
Cory – as your ally I advice against this.
Cory doesn't want her to have any regrets in 5 weeks. "you know he's not going to fight back"
America – I know his dumb a$$ just stays there with those dopey a$$ eyes. F***ing Loser
Cory – Blue might fight back
America – She acts like she would
America says this is all her fault she f***ed up.
Cory – no it's not c'mon
America – you're too nice
Cory – just give yourself a break this sh1t is really hard. We've done really well to get here
America says all she's done is open her mouth and be stupid
Cory – stop
Feeds flip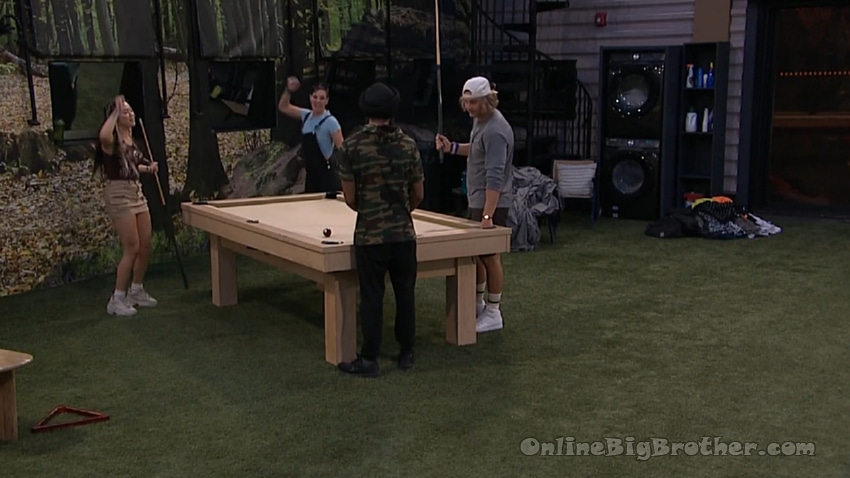 6:30 pm Group of friends are having fun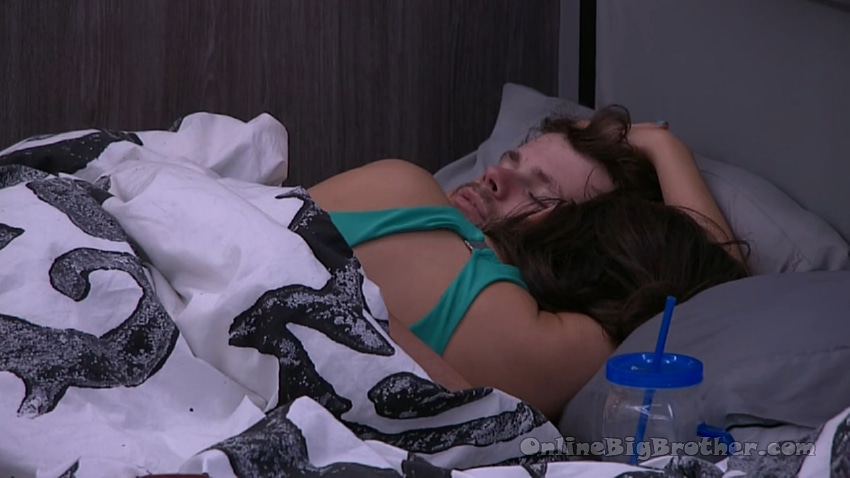 6:31 pm Big Brother – NO napping houseguests
6:46 pm Bowie, Matt and Jag
Bowie tells them that Blue talked to her and was questioning who she should vote out. She was hinting that she might keep Cory.
Jag – did she mention anything about Jag and Matt?
Bowie – no at the end she said I really trust Jag and Matt I think it was because I didn't give her much. She had to pull
Jag – I think she's just saying that
Bowie – I agree I really don't think she does
jag – She doesn't
Without your support this site and these spoilers wouldn't be possible.
Please consider a donation to keep the madness going. Any amount is greatly appreciated!