Quick Big Brother Spoilers
INVISIBLE Head of Household: Jag
Nominees: Blue & Felicia
POV Players: TWO Veto Comps (All 8 play in the first, winner doesn't play in the second veto comp.)
1st POV Winner: JAG
2nd POV Winner: BLUE
Veto Ceremony:
Havenots: ?
Lock your ranks in before midnight
The Situation: Jag won the invisible HOH. (He also gets to play next week for next weeks HOH.) Jag's new target is Cory/America.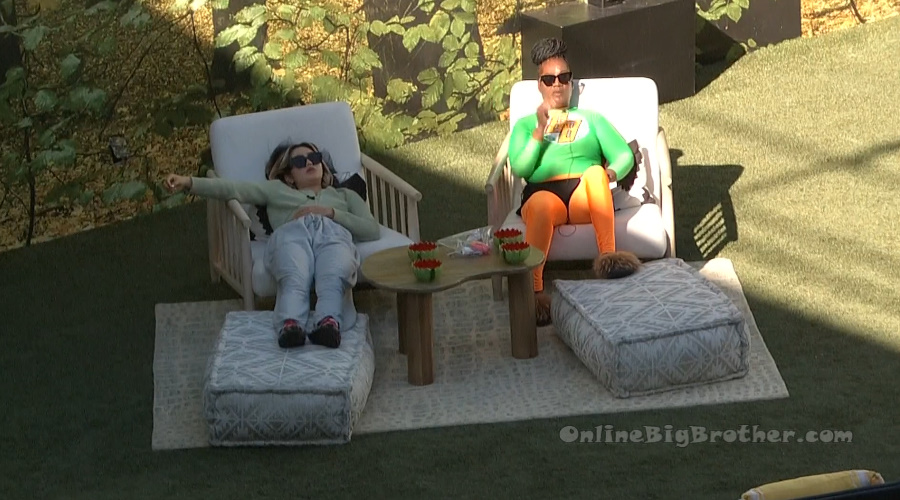 9:45am The house guests are waking up.
10am Backyard – Blue and Cirie.
Blue – DUDE I am glad I won that second veto! That sh*t was crazy! Cirie – yeah, yeah. Blue – I'll let Jag tell you because he is going to tell you but he is the invisible HOH. I was fully the target this week. FULLY! Cirie – WOW! Blue – Fully the target this week. Ah long story short, he and I had a very long conversation last night and he told me that he was the invisible HOH. That I was the target. He was sorry for putting me up but when I had a conversation with him and Matt yesterday telling him everything about Cory …umm that was me signing my ticket to stay here. Cirie – Wow! Blue – because you know how I was basically signing my ticket out of here. That was me signing my ticket here. Cirie – I think the difference was you wasn't pressing him. You was giving him information. Not saying "Did you, did you, did you?!!?" Blue – so that's what I basically said. And that was like the pivotal moment for me. When I was on the ropes I was like COME ON JAG! Like why are you not dropping. I was PISSED OFF! So what the F**K! He was staying on the ropes as long as he could so that he could prove to me that he was going to take me off. Because if I won and he told me, Oh I'm the invisible HOH he didn't know how I was going to take it. So he wanted to prove to me that he was going to take me off and that he was serious and that he wanted to work with me and not them. But they essentially they along side Cameron villainized me to Matt and Jag. Cirie – WOW! Blue – but that is why my guy is telling me to trust them but I do feel weird about it but holy f**King thank god! So I am going to take myself off. He is going to take Felicia off and Cory and America are going up. Cirie – MMmmmm. Blue – and he was like I am sorry you would be so mad at me. I basically told him this is the happiest and most secure I've felt in weeks now. AND the fact that I now have a part in Cory a$$ going home.. I cried! Cirei – oh I bet you did. And when he tells me, I am not going to tell him that you told me because I don't want him to think that we're close because next it will be me and you. Blue – not at all. Cirie – okay, so keep that up. I am so proud of you Blue! I was just looking at you. I wanted to cry! I wanted to scream GO BLUE! But and you know how I couldn't! But I know Jared is going to watch it and be like look at BLUE! And then you won the thing after. It was meant to be. You were meant to have it. Blue – exactly and I was the target and I am coming off by my own hands. Cirie – it was meant to be. Blue – was like I know you felt sh*tty for putting me up but thank god you did because that lit a fire under my a$$ and made me stay on that god damn block. Cirie – Just make sure there is no weird feeing from you and that you're 1000% with them. Okay?! Blue – YUP!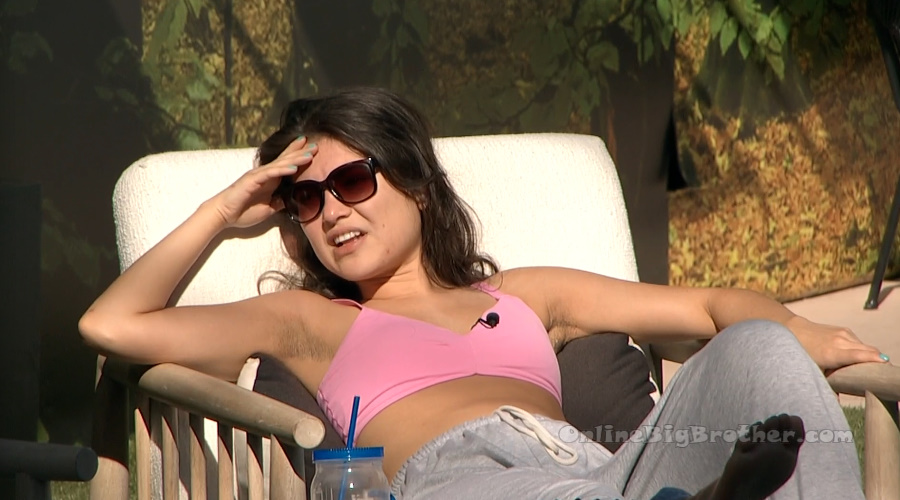 10:13am Backyard – Felicia and America.
Blue – Damn I feel bad for Felicia though. America – I know, that sucks! Blue – I feel really bad for her. That is why she is only going to have 7pm on to campaign. America – till tomorrow .. thats why she is going to campaign hard. You saw 14 (BB14) right? Dan. Cory was like do you think she is cooking in there. Blue – yeah yeah yeah, that's what I thought of. That's what I thought Cam was doing when he was in the scary room. She is going to start yelling at people. America – we were saying she is going to have a speech. Blue – I don't doubt it. Bro she is going to f**king go crazy. Whatever she is cooking up, it is going to be TV GOLD!

10:18am Kitchen – Matt, Jag and Cirie.
Jag – I talked to Bowie and Blue last night. Cirie – oh.. how did she take it? Jag – she took it well. Cirie – good, good.. I figured she would. She hugged you? I would have too. Jag – yeah. But what I was thinking she didn't ask who knows or who didn't know. I don't want her to see us as a trio or a four so.. Cirie – I won't say anything. Jag – for us you're going to find out today and I am just going to tell Bowie that too. That way she doesn't think or suspect because I want to prevent any scenario where we're on the block together and you're a replacement nom or something. Cirie – yeah of course. I have to go pretend to Cory that I could still go up.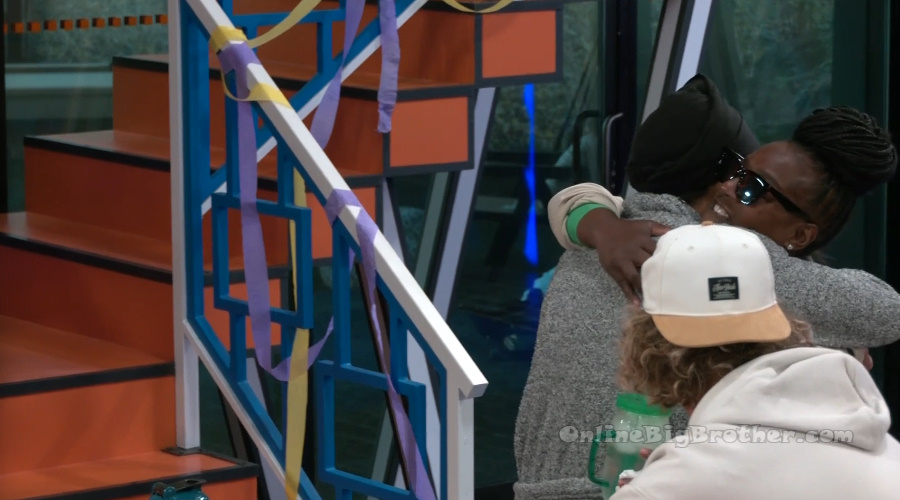 10:20am Cory and Cirie in the hammock.
Cirie – I just hate packing and all this sh*t. Cory – yeah. Cirie – I think the packing is what makes you more anxious than everything else. Cory – and I think last week was the least anxious you'll ever be. Cirie – right. Cory – do you think at this point that its you as the replacement? Cirie – well there aren't a lot of people. Cory – I think my worry for you just in terms of the nominee .. so like if you're targeting me what the hell are these Blue / Felicia noms, you know what I mean? Like its weird. Cory – there is always Bowie but she has a propensity to not go on the block. Cirie – yeah. Right. Cory – I don't know. Cirie – just being on the block even as a pawn that sh*t makes you.. its not a good place. My mother always tells me I suffer before I suffer. Cory – I always suffer before I don't suffer. I think part of it .. I mean this is just the wear of 75 days in this house I think people are just kind of over bullsh*t right now. Which I don't want to blame her because being on the block 5 times would weigh on anybody but I think people are ready. I think that people have way better relationships with you. I have a way better relationship with you, than Felicia. I think every single person in the house would say that too. But I don't know…. so Blue is going to take herself off.. I wonder if is going to be shenanigans after that. Because theoretically you could put someone up and then take them down. Which is just goofy as hell. Cirie – either way who else goes up. Cory – I think everyone would see through it though. Cirie – its another week. Cory – its another week where we all get closer to the inevitable. There is an unspoken thought of who the HOH is. Cirie – people think but you don't know. It is what it is.
10:56pm Bathroom – Cory and Jag.
Jag – What happened with her? Cory – Cirie? Jag – yeah. Cory – she is on the hammock but she is very.. Jag – paranoid? Cory – yeah. Jag – I think she thinks I'm the HOH. Cory – I asked her, who do you think it is? And she is like I have an idea but nobody truly knows. I was like at the end of the day it doesn't really matter, its the nominations that matter. When she was counting votes she mentioned Matt and you.. so if she wasn't counting you as a vote… which she wasn't saying that to me which could be the other option.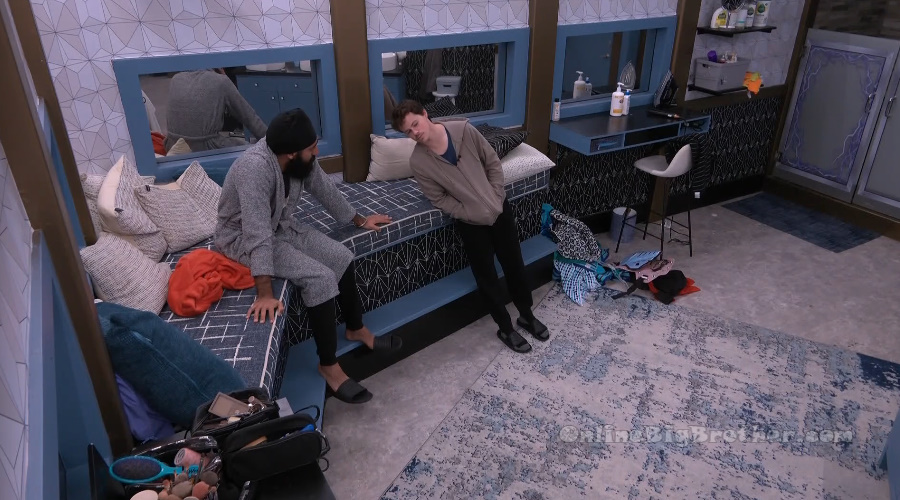 11:15am – 11:30am Backyard – Jag, Blue and Bowie chatting about the comps / other random things. Blue – you know what I was thinking .. I am the first and only woman to get a veto.
11:54am Backyard Couches – America and Cirie.
Cirie – now here I am about to be on the block again. America – is that what you're getting? Is that what people are saying? Cirie – no its like, people are saying like ..like even if… like nobody knows what's going to happen but if you ain't on the block you ain't got nothing to worry about. So you can kind of put it together. If I'm not on the block, prepare for being on the block. America – I mean I don't even know what is going to happen. Cirie – just in case. America – I know but I haven't heard that. Cirie – no I haven't heard it because nobody knows who the person is. America – yeah. Cirie – so there are not a lot of options. America – the scary part is there are options. I mean I feel paranoid right now. Its just scary still. It sucks feeling like .. like I wanted to win yesterday .. like even the chance one yesterday. Cirie – you aren't going to win with Jag. I just hate packing and sh*t up because that makes you real anxious.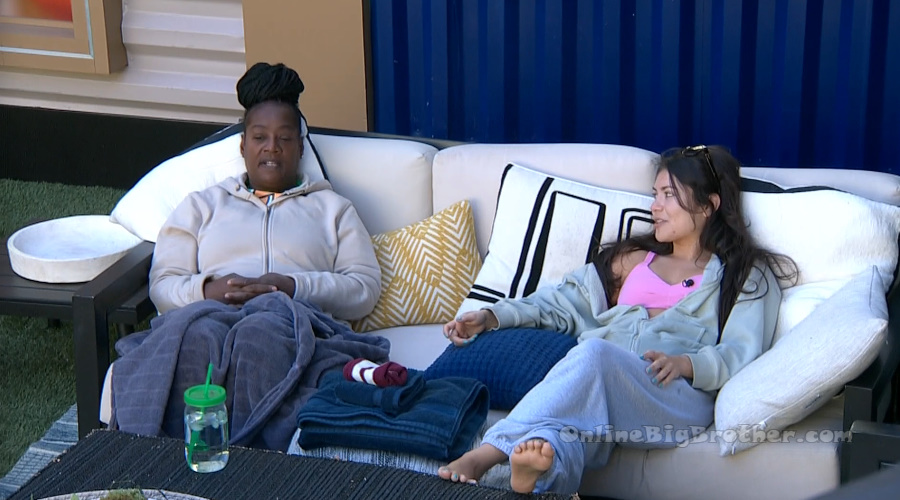 12:50pm Backyard – Cirie, Cory, Jag, Matt, Bowie are lounging and chatting.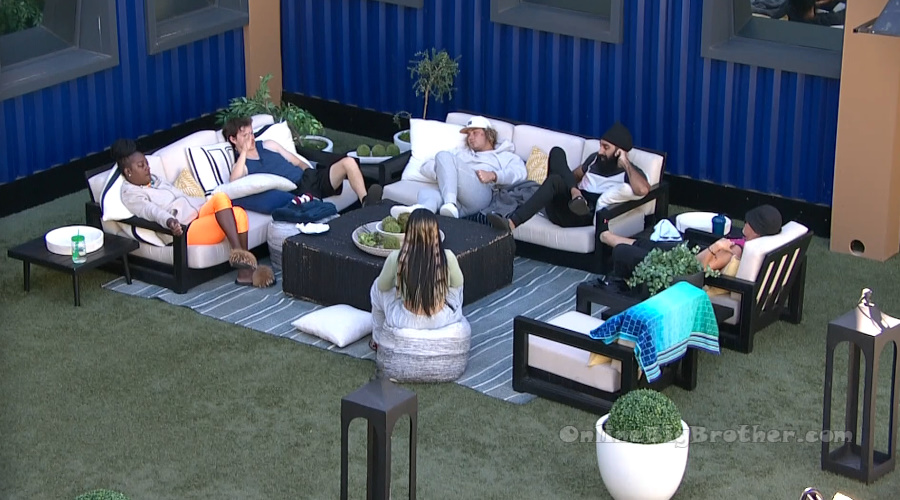 1:10pm Bikini time.
America asks Cory to put sunscreen on her butt. As he's doing it Cirie yells from across the yard – what are you doing? Cory – What's up Cirie, do you need some oil?! Cirie – NO! Cory – okay, well let me know if you do.
Cory going "hands on" #BB25 @bigbspoilers https://t.co/sLQeY1KjzC pic.twitter.com/eKJDFgLH5E

— Dawg (@DawgsBigBrother) October 15, 2023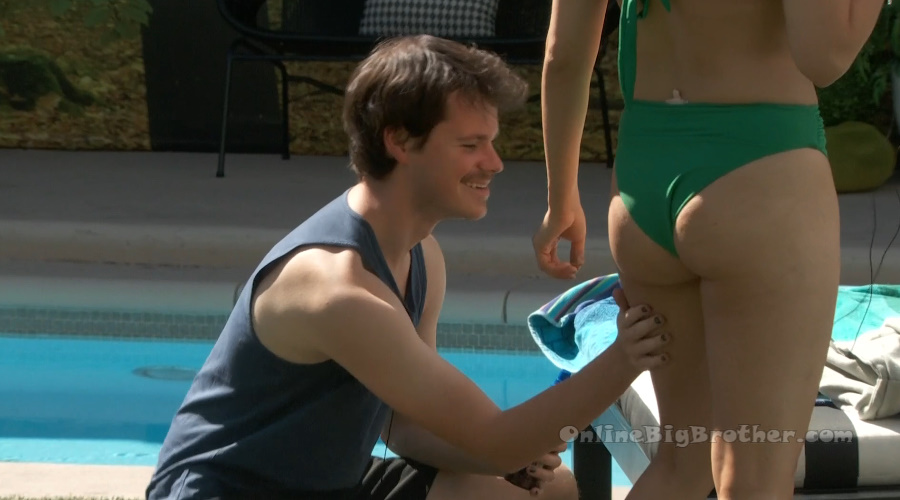 1:45pm – 3:20pm Sun tanning..
Meanwhile in the kitchen – Cirie and America are starting to cook dinner.
Matt's in the pool doing some laps (in the short short pool!) Blue – he's in his element.

Matt flexing #bb25 @bigbspoilers #BBMatt pic.twitter.com/CSxjCObh0h

— Dawg (@DawgsBigBrother) October 15, 2023
3:43pm – 3:54pm Backyard – Bowie, America and Cory playing pool. Jag, Matt and Cirie on the couch. Jag to Matt – it was cute watching you swim. Matt – I usually do 4 or 5 hours a day normally. Its been 75 days away from that. I was in my element. Jag – I'm going to go talk to Cirie.
Jag – we should chat at some point. Cirie – yeah.

4pm Havenot room – Jag and Cirie.
Jag – I just let her (Blue) know that the pivotal moment to me was when she had that conversation with me in the scary room. Which was Cory and America selling me out and all this stuff. That to me made it a lot more black and white whereas beforehand I thought I could trust them and she was the one saying all those things. Cirie – that must be their MO because today they've been saying stuff like we don't know what is going to happen but if you're on the block you'll be fine. You have me and America's votes. And then he told Blue that I was already campaigning towards them and I wasn't. Jag – yeah they did mention that to me too. Cirie – that I was campaigning? Jag – yeah. Cirie – so you know what they're going to do, they're going to tell Felicia that. Which is some bullsh*t! Wow WOW! Jag – I said to Blue I know I played a roll in all this bullsh*t. I don't know where she is really at. She might still feel some type a way. Cirie – I'll talk to her and see how she really feels. Tomorrow is going to be eventful though. Jag talks about how it will go. Jag – they're (Cory/America) will know its me as soon as it happens. Both of them are superfans. Both of them are going to try and stay. Cirie – but the whole goal is to get out Cory right? Jag – yeah. Cory without America … he is still operating. America without Cory.. who is going to want to work with America. Cirie – yeah that's the thing about America, no one trusts her.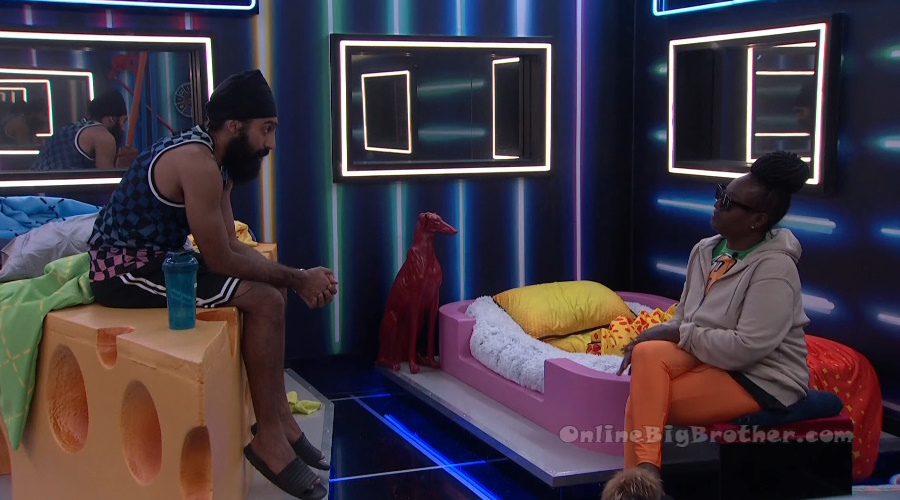 4:16pm Backyard – America and Cory.
America – how do you feel? Cory – I feel good. America – good. Cory – how do you feel? America – super paranoid all the time. Cory – really? I am not that paranoid today. America – okay good. I just need something because I am freaking out. Cory – any reason? America – no. Cory – I think its just very clear that Bowie doesn't know anything. And they wouldn't do this without Bowie. America – I talked to Matt and he said he hasn't talked to Blue since the veto… which is a lie. Cory – I mean Jag has talked to Blue. I don't know how much Matt has talked to Blue. America – up in the humiliverse yeah. She won veto but okay. Cirie is over it (her punishment). Cory – I just don't get why this is where she draws the line. Her punishment is so f**king easy. America – I think its the mask. Cory – she makes comments at every plane she sees.. like that could be me going home. If you leave, you're going to jury not home. Cory – if I win next week I am putting him (Jag) up. I've decided. America – you have to. Cory – Yup, and I might go next but whatever. I am just being realistic I can beat him in one more competition. Matt I could beat in a lot of things. Blue I could beat in everything that's not endurance.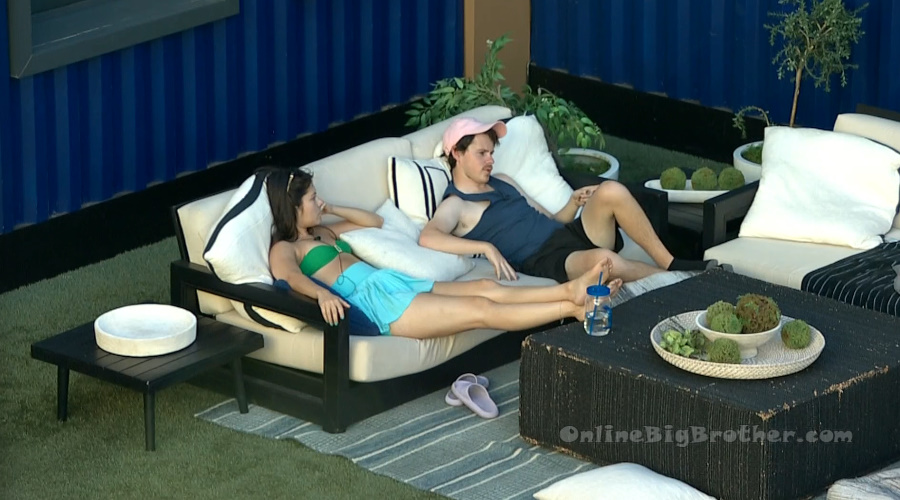 Show your support 🙂 Without your support this site and these spoilers wouldn't be possible.
Please consider a donation to keep the madness going. Any amount is greatly appreciated!