Quick Big Brother Spoilers
INVISIBLE Head of Household: Jag
Nominees: Blue & Felicia
POV Players: TWO Veto Comps (All 8 play in the first, winner doesn't play in the second veto comp.)
1st POV Winner: JAG
2nd POV Winner: BLUE
Veto Ceremony:
Havenots: ?
Lock your ranks in before midnight
The Situation: Jag won the invisible HOH. (He also gets to play next week for next weeks HOH.) Jag's new target is Cory/America.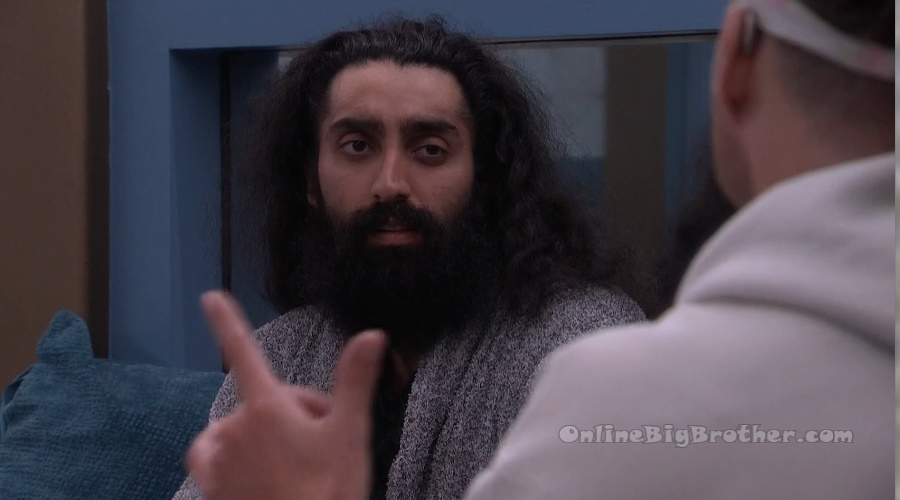 9:22pm Bathroom – Jag and Matt.
Jag – there is no world where Felicia goes home this week. What I am thinking of doing is putting America up (when Blue takes her self off), then taking Felicia down (with his veto), then putting Cory up. Matt – just put them both up.. why not. Jag – I don't give a f**k! Matt – lets f**k with them. Jag – why not. Its going to be blood on my hands either way. Why not make sure one of them goes. Matt – yeah, I want Cory though. But you control it. You, me, Bowie, Cirie. its Perfect. Jag – if you want.. Matt – well its good to have them both up so that they have no way of surviving against Felicia. Jag – they're (Cory/America) going to be campaigning against each other. Matt – but they know they're gone. Jag – because this way if Felicia is upset at me. Matt – and you'll be good with Cirie because you can tell her you would never put her up. Bowie will rock with us 100%! Jag – do I tell Cirie that anyone else knows? Matt – just say that everyone else has speculation but Matt is the only person that knows… but you have tell her that I promised you not to tell anyone because she will be like why didn't Matt tell me. We can tell her that we knew Cirie was always going to be safe this week because you had control. Jag – also Cirie told me the moment after the power said don't say nothing. She said don't tell anyone. She was like I don't even know want to know. Matt – that's good. Jag – I think I will have a chat with Blue and be like look I am the HOH. I put you up and you were the target. Matt – you're just going to be full transparent on that? Jag – yeah I'm going to say you were the target up until where she admitted everything. Saying everything that America and Cory are saying. We thought we could trust them, obviously we can't. Like that moment when she said that is when the target shifted. Matt – there was a reason why since the beginning of the game everyone hated America because she was the one that opened her mouth all the time. I believe Blue over f**king America. Because when I ask them both things about what they say … so Blue told me something that America said and she said you said this. And she is like no Blue said that. Jag – and if Blue doesn't buy it, it doesn't matter.. this is why .. next week Cory and America are going for us anyway. If we get rid of Cory, it will just be Blue and America. Next week its you, me, Bowie, Cirie… Felicia is in the middle somewhere … Cory / America, they're going after me and you no matter what. Matt – yeah, absolutely. Lets take the shot and get one of them out. F**k it! I think I am going to tell Cirie and Blue. I think I have to tell Blue the moment I take that shot she is going to know it was one of us. I think I have to be honest about how Cory and America were manipulating us. I'll talk that through with Cirie first. America is going to gun after me and you. This puts Blue in a good spot. Cory joins them and the conversation ends.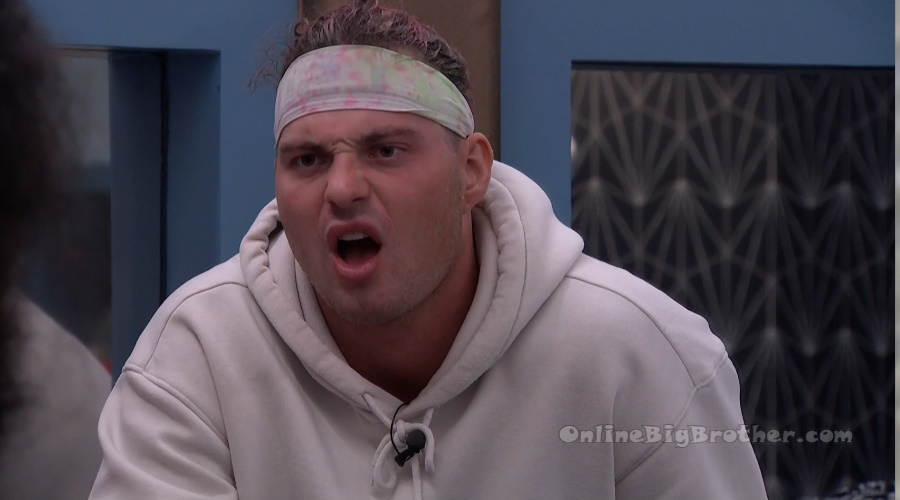 9:50pm Backyard – Cirie, Blue and America are chatting about random things.
9:57pm Bathroom – Cory and Jag.
Cory – This is going to be good. We're sending Felicia to Cameron. I mean obviously yes but that's so f**king funny. I just feel like sh*t because you fought for you life the entire time and then there were 7 people up there writing numbers and I got close. Jag – that's the thing, its a chance comp. Cory – and she was 5 seconds off. I thought I had that sh*t. Jag – you were 25 seconds off. Cory – part of me is happy because Felicia has been annoying me. I mean I am over it. Whatever.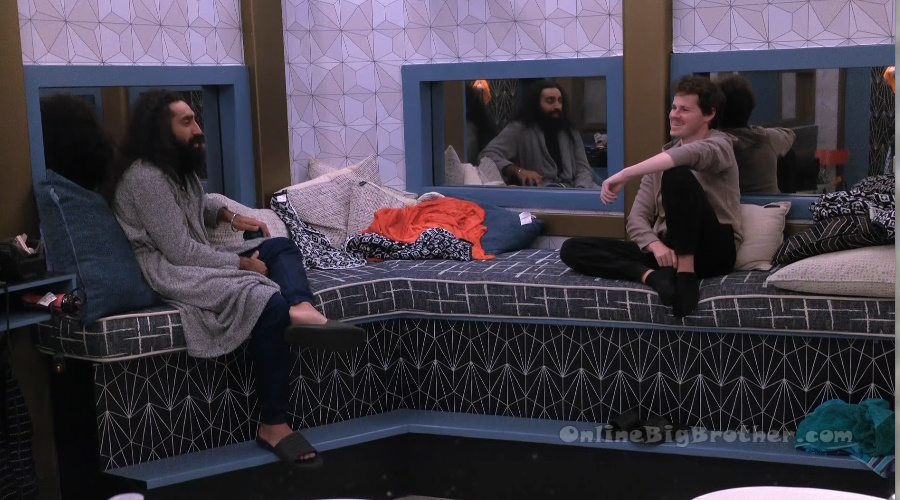 10:08pm Backyard – Cirie and Bowie.
Bowie – as for that second veto today we didn't do too well we thought Jag was invincible. Cirie – Invisible Jag! Honestly though did you want to win that veto and choose who.. Felicia / Blue? Bowie – they're campaigning. Yeah probably not actually. I was trying to win it. Cirie – no me too but hindsight. But now what you going to do!? And a hidden HOH. You don't even know what the real goal is… now .. that's a lot!
10:25pm Bathroom – Bowie, Jag and Matt.
Jag – So I am thinking I put up Cory and America. Bowie – yeah that's what I was thinking as well. What that means is that it is going to get very obvious once I put them up that I'm the HOH. I want to get ahead of that so I am going to tell Cirie. I am going to leave your name out of it. So you don't know. That way when Cory and America blow up because I put them on the block .. like Bowie knew bla bla bla.. I am going to be like no she didn't. And you're going to be like no I didn't. That way people aren't starting to associate you with me and Matt. I am going to got to Cirie and be like bla bla bla .. the only person that knows is Matt. I am going to go to Blue as well. At this point it doesn't f**king matter, I am just going to be up front with her. Look I am the invisible HOH, I will just navigate that. I put you up as the target and the reason why is because Cory and America have been saying to me for a long time now that you're coming after me. They really got into my head. Blue will also ask who all knows. Matt knows and Cory and America can assume as much. The moment Blue went on the block, they knew it was me or Matt. I never confirmed or denied. I think I should just f**king tell everyone because everyone F**King thinks its me. The moment Cory and America go up, they're going to know its me .. because its not Cory. The best part of it all is next week we are all playing (HOH).
10:30pm – 10:49pm ackyard – Cirie and Matt.
Cirie – as long as my people still safe I am happy. OOHHhh.. I was nervous! Matt – Na No, Me and Jag are rocking with you. I am rocking with you no matter what. Cirie – I know and I hope you know I feel the same way. Jag and Matt join them. They talk about the veto endurance comp.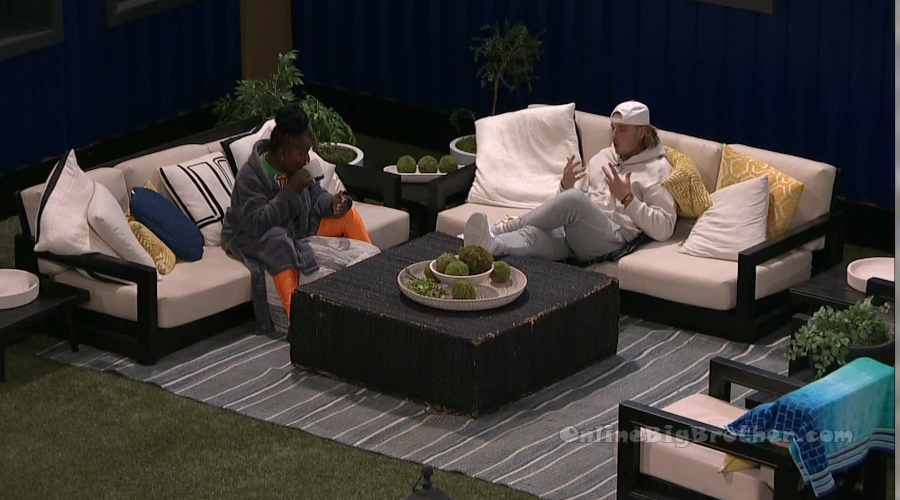 10:50pm Backyard – Jag and Cirie.
Jag – this win feels like the most special one. Like I earned this one. Like other ones people might be like ah you got lucky, this was not f**king luck. Cirie – no it wasn't, this one is for her and she is going to see it. I know she is going to be so proud. I would be too and I am. Jag – thank you. Cirie – I feel relieved like I got to keep it up. Jag – Matt is the only other one to know. Cirie – I am not saying a word to nobody. Jag – he swore up and down that he wouldn't tell .. and if he hasn't .. and if he pretended like he didn't know that's only because he being completely loyal. And he kept his word so. Cirie – I rock with ya'll heavy so I am flattered that you would trust me with that information. I need you to know that, that information doesn't go anywhere. And I am so happy that its you. Now Felicia is going to be lose tomorrow asking you to take her down. Jag – the way it looks right now you might now even have to hold down this secret for long because damn near everyone knows and they're about to know after the veto as well because he is what I am thinking. Cirie – what? Jag – I'm about to put up Cory and America. Cirie – oh my god! Jag – they're just SNAKES at this point. I thought I could rock with them for a long time and they've been feeding I'm sure everyone information about different people that they can't trust and pretending like they're solid with me and Matt. And they're saying all this sh*t about Blue going after us .. this and that. Which I don't know which things Blue said to them or didn't but they've said a LOT.. not just in the last few days but last 2 weeks and made me distance myself from Blue. Cirie – that's what they do. Jag – so I make the move that I make and put up Blue. Blue is the target and then Blue had a conversation with me earlier today before the veto .. essentially in the conversation she said Cory and America told me stuff .. some stuff.. some conversation and then Cory, America and I had had.. and they're gunning for you. At this point she probably knows I'm HOH. At this point, this far in the game .. the reason why I am like f**k it.. they are where they are because people have been protecting them. Cirie – yup. Jag – Matt and I have been literally protecting them .. we've gone out there and protected them. Cory has made that comment about Matt and I. Matt wins that veto that send Jared home that protects Cory's a$$. Like I am not a gladiator for them and neither is Matt. The things they say like so and so said this but we have your back. Like we got you. When Cory and America go up everyone is going to know its either Me or Matt. There is not point in me throwing Matt under the bus. At this point everyone is going to f**king know so it doesn't matter. That's what it is. For me, I am drawing the line in the sand and F**K it! Maybe its an all out war but I am here to play the game. Cirie – lets go! LETS GO! Jag – I ain't scared of this. Sending one of their a$$es home. We're sending Cory's a$$ home. Cirie – yeah of course. Jag – if next week whoever survives out of them takes a shot or if Blue.. I am going to tell Blue all this too. Like I put you up, you were the target. Like I am just going to own up to it. At the end of the day if Blue doesn't f**k with that and wins and puts me up .. I am fine with that. Cirie – no, Blue mess with ya'll heavy. She knows they snaked her. I think she is going to be understanding.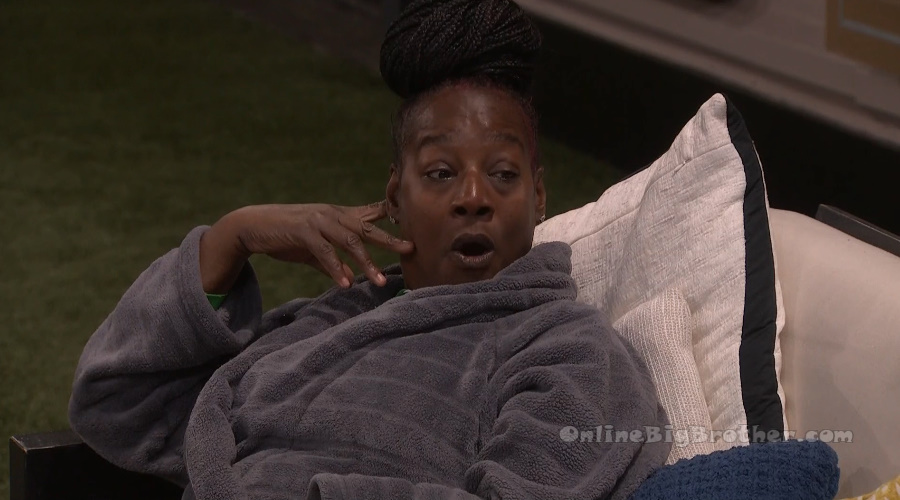 11:20pm Havenot room – Cirie and Matt.
Matt – lets go! Cirie – I was so happy. Matt – you were never in danger so I never needed to tell you. Cirie – there was no need. It was best .. the less people to know. Matt – I am so excited for Monday now. Cirie – I am so excited!! Its time! Its been time. Like enough of Cory already! You guys have protected Cory for so long! Ya'll did his dirty work for him for so long. Matt – yeah motherf**ker!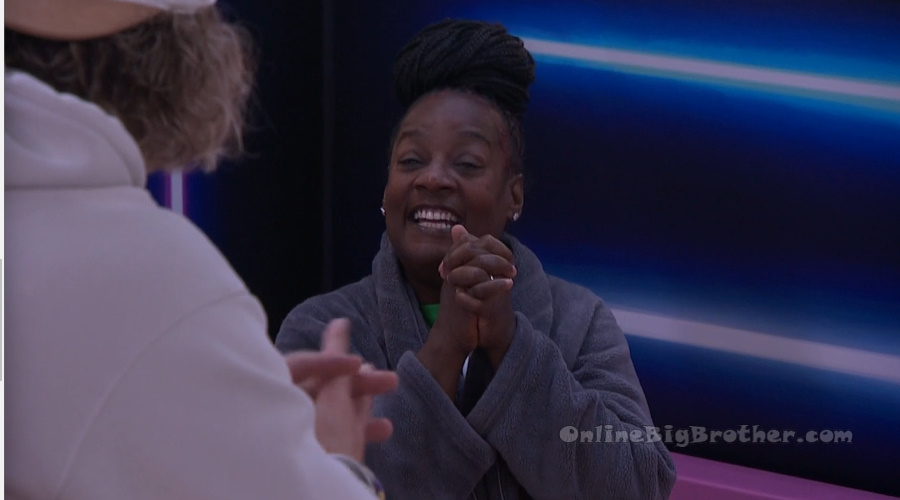 11:44pm Kitchen – Matt, Cory, Jag and America.
Jag – you know what.. I am about to .. here's what's about to happen. I put America up, and then I take America down. Cory – that will actually make it look like its me. Cory to America – you know how we were talking about how if he puts up Matt it will look so obvious that it him. So he is saying if he puts you up and then takes you off its going to look 1 million percent like its me. America – no, wait .. what do you mean? Cory – why would Jag put you up and then take you off. But mean while for me I don't want people to think its me so I'm going to put America up. Jag – Lets have some fun! Lets have some Cameron Style fun!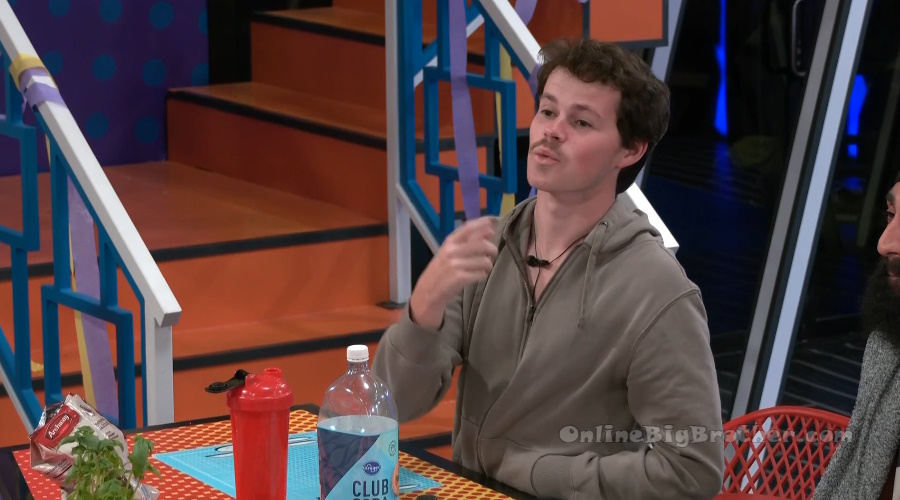 12am – 12:30am Chatting and eating..

12:32am – 12:47pm Backyard – Matt, Jag and Blue.
Matt takes his laundry inside and when he comes back out he tells them that he interrupted America and Cory dry humping. Matt – America and Cory are dry humping. He is like on top of her (thrusting). Blue – oh my god! Jag – NO, are you serious! Well how do you know its DRY?! Matt – I don't, I don't know if its dry humping. I don't think they would be actually. Jag – but why would he be dry humping? Matt – I don't know. Jag – to the camera it still looks. Blue – so you might as well.. Jag – dude you're sleeping in that room. Blue – I am going to throw up. Jag – at that point they have no shame. Blue – you're going to hear moaning at night. Matt – I'm deaf!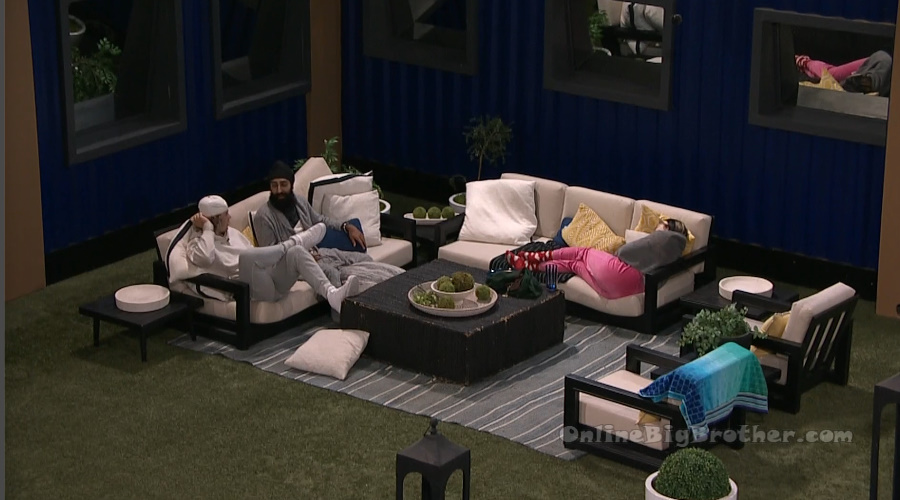 12:50am – 1:42am Backyard – Jag and Blue.
Jag – so here is the thing. I am the invisible HOH. Blue – MMMmmm.. PUT CORY'S A$$ UP! Jag – and I am putting Cory and America up. Blue – that's f**king GOLD!! She jumps up throws her blanket down and hugs Jag. Jag – and I am sorry. Blue – its okay. Its okay. I had some ideas. But its okay.. oh my god. Jag – The conversation that you had with me was the pivotal .. like them being snakes ..essentially up until now I thought that I could trust them. And for a while now .. not just the last few days… but for awhile have been saying things about you. That you are definitely going after me and Matt. Cam said it too and everyone said all these things. And after awhile I actually start to trust them. They continued to come to me with information and all that… and they're snakes! They're snakes! Because they're saying the same sh*t to you. Clearly I made the wrong move this week. I truly believed that you were gunning after me and Matt. I truly believed that and so I was like I have to take that shot because I think this is what's going to happen. Come to find out these motherf**kers are playing everyone and they're fully going to take a shot at me and Matt. Blue – 100%! Jag – so first I want to apologize. Blue – its totally okay. Jag – not only did they villainize you. Its not just their fault. I was in a position this week where I could have made a different decision and I didn't so I own up to that fully. I apologize for that. Blue – its okay. Jag – now i am putting their a$$es on the block. Blue – thank god!!! Jag – You're going to take yourself off, I'm going to put one of them up, then I'm going to take Felicia down and put the other one up. Because I don't give a damn what the other powers are this week both of them aren't going to stay safe so I am not even just putting one of them up. They've just been playing.. like I just feel stupid. They've been using Matt and I as their Gladiators. The reason why they're this far in the game is because we've been protecting them. Blue – absolutely. Jag – at this point I am not playing their game. They've been playing me and Matt .. and most of the people in the house. They had gotten into my head so much about like me taking a shot that they wanted to take and didn't.. COULDN'T F**KING WIN A COMPETITION TO TAKE and if they did they didn't have the balls to do it. I played my role in protecting them. When the f**k have they ever stepped up to protect any of us!? Jag and Blue hug. Blue – why Felicia though. Jag – I just needed a pawn. I really didn't think it through. Blue – I've been on the f**k Cory train since Jared went home. Jag – I was like dog, I don't give a f**k .. like this whole game has been the way it is but at this point I am going to draw the f**king line. I am like I don't care. People are acting bold already as is just in their own ways of being snakes and this and that. I am going to draw the f**king line and I know its going to be an all out war and this is what I signed up for. And I was like f**k it. If that's the way it goes and it doesn't get me as far or whatever happens then at least I f**king.. like that's just the way its going to go. There is no way it happens any other way. Blue – yeah. Dude, I am so glad. I accept your apology. I am glad that we could air this out because you know I've been on this Cory and America train. I am glad that I could take myself down. This worked out perfectly. And that I do have some type of part in them going home. Jag – going into next week, we just had physical comps probably going to be a mental comp … get your Jimmy Neutron MIND A$$ out of Here! Blue – and what is America going to do? Get your a$$ out of here!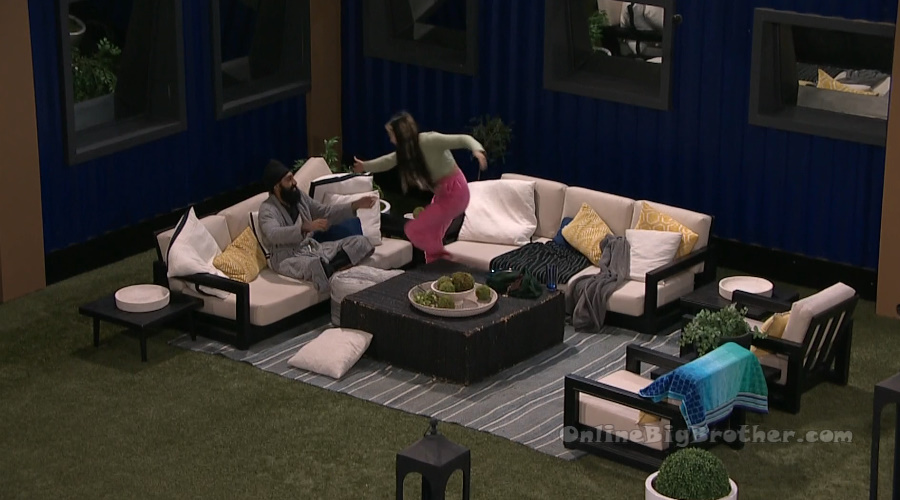 2:25am All the house guests are sleeping..
If you've enjoyed our updates this season and want to leave a tip you can do so through PayPal.
You don't even need a Paypal account to contribute. Any amount is greatly appreciated!