Quick Big Brother Spoilers
INVISIBLE Head of Household: Jag
Nominees: Blue & Felicia America and Cory
POV Players: TWO Veto Comps (All 8 play in the first, winner doesn't play in the second veto comp.)
1st POV Winner: JAG
2nd POV Winner: BLUE
Veto Ceremony: Jag and Blue used their vetos. America and Cory put on the block.
Havenots: ?
Lock your ranks in before midnight
The Situation: Cory is going to Jury. America is less pissed. Season is very Krakenish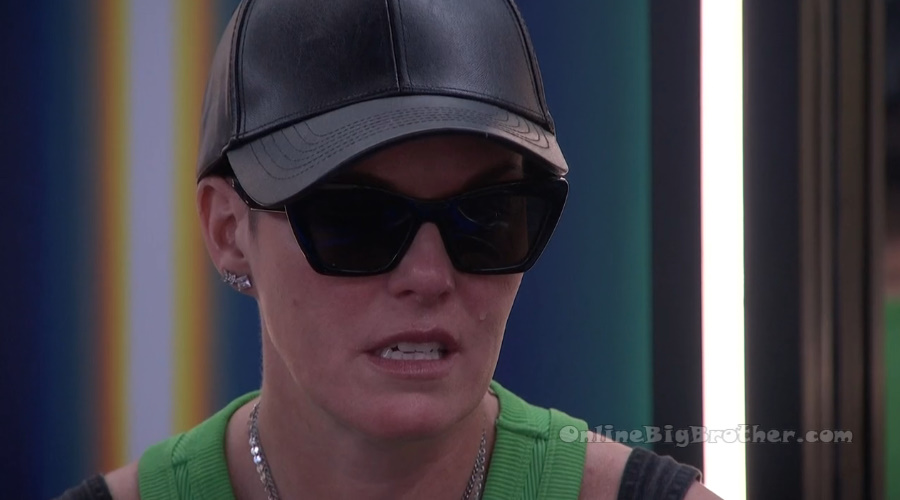 7pm Havenot Room – Bowie and Jag.
Jag – I am glad you came to talk to me. I feel so solid with both of you (Bowie/Matt). And I don't want you or Matt to ever feel as though ever even have an ounce of doubt. When someone says that I want you to know like its an immediate thing. Like yes talk to me. 100% you can always talk to me and the same thing you me and Matt should chat too. Definitely talk to me if anything comes up but at no point in this game will it ever be like I am trying to save my own a$$ so I am trying to bla bla bla.. Especially what he said where I would put you and Blue up… WHY would I want to do that in any world!? And two, why would I tell Mama Fe that? And three why would she go and tell Cory that. Like in no world would I ever do that and in no world would I even say that. Bowie – yeah. That is just so ridiculous to me. Bowie – its not that you would do it, its the inkling that you would have said it. I know you didn't but that was what was in my head. I was like I don't think he would actually do it but maybe he said it. Jag – well I am glad that you came to me because that way we can at least clear the air… and its very clear that Cory is just lying about all these things to everyone. He is lying about a lot of things. Jag – I didn't even say it. Its not even a thought that crossed my mind. Clearly next week America is going to be gunning. Bowie – she is a Biochemistry major. Jag – really? Bowie – yeah I just found that out. We knew she was smart but that is kind of extra smart. Jag – and that's the thing they're very smart at this game and they're very good at manipulating people and twisting emotions and stuff. Bowie – its just mean. Jag – Cory and America are going to get handled. One of them gets handled this week and next week we handle the other one. To me this conversation is about us. I want to reassure you with everything that I can, that like what we have .. like that squad is my squad. Period! Ride or die! Matt joins them. Bowie – Cory's been in my ear. Matt – Cory's been in everyone's ear because he's a little prick! Bowie to Matt explains when she just told Jag. Matt – What I am doing next week is I am going to put up America and Blue. Jag leaves. Bowie – I am not going to let him talk to me at all tomorrow about anything. Matt – You should be like I've had enough of your campaigns. I am sorry, that's annoying. Bowie – I am sorry I let it get to me. Matt – I don't blame you, it does suck to hear things like that.
7:20pm Kitchen – Blue, Felicia, Matt, Cirie
They studying the days / events of the season. Cirie – if I don't get that one (BB Superhero Training Academy) comp day .. just bring my bag to the comp and send me home.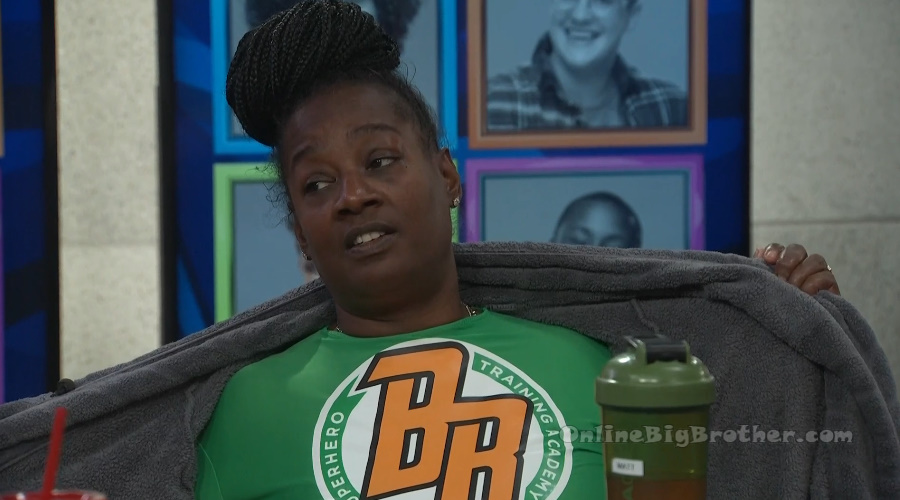 7:30pm Kitchen – Jag joins Felicia, Cirie and Blue.
Jag – I am sick and tired of Cory's bullsh*t. I am sure you heard of it. Jag explains why Bowie is upset. Obviously she is feeling some type a way because she just gets scared more easily but Dawg, in what type of world would that ever happen!? In what world do I not target… Can I be more clear about what is happening here. I literally just put them up! They're trying to cook me. In what world do I not cook them?! I literally told them that I will not let you win HOH and you guys are going home next week. Like I told them that! They know that. Also why would I put Blue and you (Bowie) up. And why would I go and tell Felicia that?! And why would Felicia go and tell Cory? Do you not see what is happening here? Felicia – exactly! Jag – he is pulling everything out of his a$$! I just put them both up. There is no coming back from that. He will keep talling all the way out the door.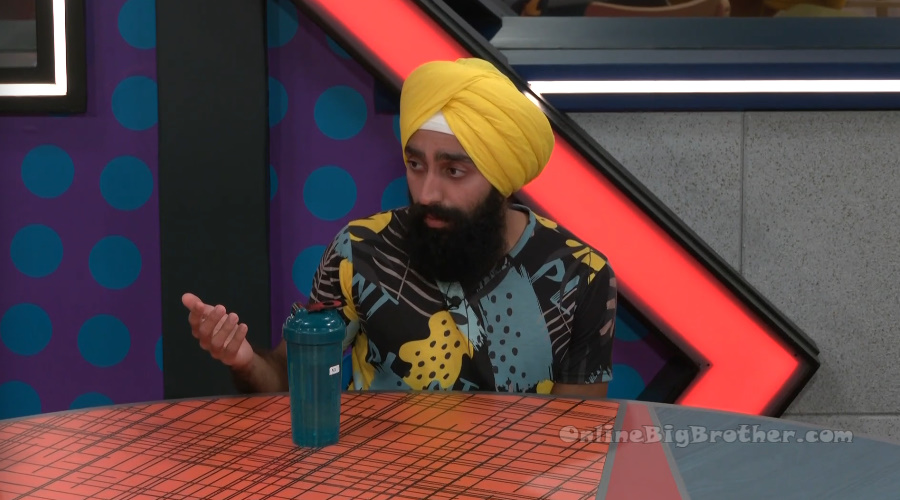 8pm Big Brother opens up the backyard.
8:17pm Comic Bedroom – America, Felicia and Cirie.
America – she (Bowie) is freaking out a little bit. Feliciua – OH she is freaking out a lot! Cirie – a lot! But they're talking her down so… Cory pops in – I'll leave this with you guys now. I did what I could Bowie. Felicia – she is freaking out a lot. That's just Bowie Jane! I ain't paying attention to that. Cory – I just don't think that she is a lost cause really .. I think she will flip. You know.
8:13pm – 8:20pm Bathroom – Felicia and Cirie
Cirie – if you (Jag) are going to prove that Bowie Jane that, that ain't happening. Then who the f**k is going up!?? Felicia – I am leading through all that. Cirie – hold on.. no, no… you are going to show her that he is lying. That it ain't her and Blue WHO'S LEFT!?! America and who else!? Matt? Felicia – listen, listen… I know what you're saying but I think all he is doing is trying to appease her because she thinks she is going up this week. Cirie – OKAY! And if she don't, WHO IS?!???? Felicia – that is what we are going to ask Jag in the room tonight. Cirie – he is like as a matter of fact I am going to show you that is not the case .. because what the case was her and Blue was going up. SO IF THAT AIN'T THE CASE… If her and Blue ain't going up.. Who going up? MATT? Next to America? Felicia – right and I am going to say Jag .. I've been on the block 5 times, you cannot keep using me as your god damn pawn. Cirie – in that case why can she (Bowie) not go on the block? Felicia – She was okay with everyone else being a PAWN!!! Cirie – the second she hears her name is going on the block .. she is crying. And mean while you prove to HER! And if he do that will tell something to you. Felicia – there you go. Cirie – it better because it damn sure going to tell me something!!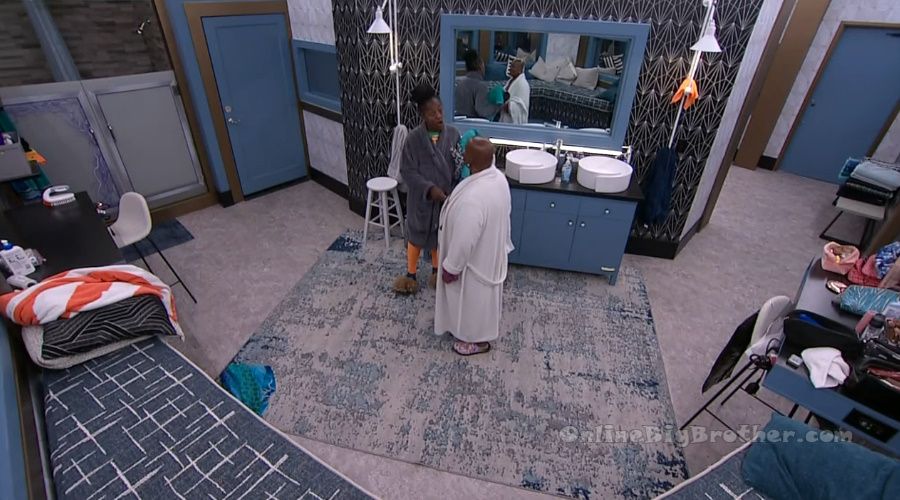 8:45pm Backyard – Cirie, Felicia and Bowie.
Felicia tells Bowie about Cory's comment saying "I think Bowie will flip" and how strange it was him saying it in front of America. Bowie – I think we can flip Bowie!? There must be some ulterior motive behind that one. Felicia – I have no idea. Do you think I should go to him and say hey stop saying that? Felicia – I don't know that I would say anything because when you talk you kind of feed into it. Bowie – I just won't say anything. Felicia – well he has until 5pm tomorrow.. Cirie – pull a rabbit out of his hat. Felicia – no, that is not happening .. not on my watch. 5-0, that's what it will be.
9pm Bedroom – Bowie, Cory and America.
Bowie – I just want the campaigning to stop. I appreciate you giving it a good whirl but I am not going to change my vote. Cory – oh trust me, I have been done for hours. Bowie – I have just heard more stuff happening so I was like.. Cory – oh no, I don't know about that. Bowie – I am not allowed to say where I am voting but I am not going to change it. Cory – I know exactly where you're voting so you're fine. I appreciate you giving it a good whirl. Cory – you're completely fine. Bowie – yeah so I don't want to be mean about it. Cory – no you're good. Bowie – I think you're both awesome. Cory – no you're great, don't even worry about it. Bowie leaves. Cory – she's got some bad timing. America – I am so sorry. I'm so sorry. America starts crying. America – I just really want to win tomorrow. Cory – you will. America – please, please, please. It would be great for the plot. The plot for the show. You're a great player. Cory – I'm flawed.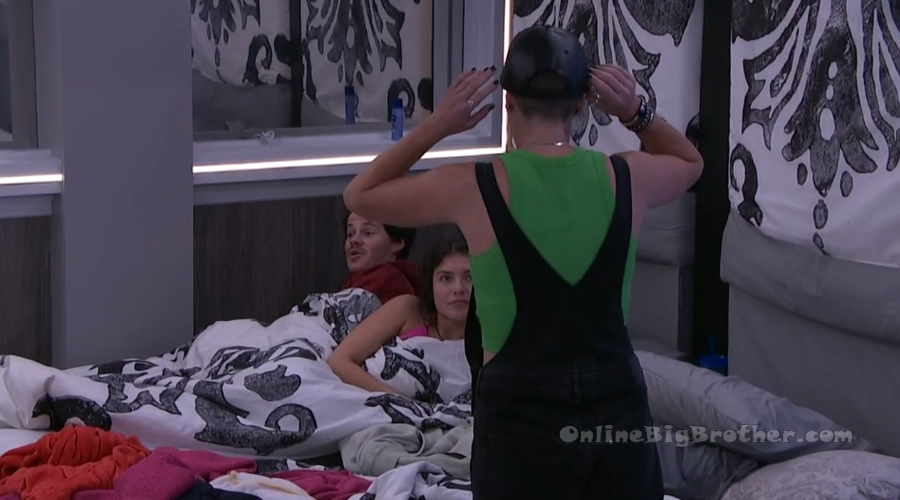 9:15pm Backyard – Matt, Cirie, Jag, Felicia, Blue and Bowie.
Bowie tells them about how she just told Cory / America to stop campaigning / talking about her. Matt – I might be a d**k but his (Cory's) jokes aren't funny. Bowie – what a strange campaign. I hate to think about if he was just up. What will be interesting is if he doesn't stop.. he should try a different angle. I mean he's got no chance! Blue – we'll see tomorrow! Bowie – lets see what he cooks up for the lockdown. That's what he did last time. Felicia – Well Cory and America will be remembered. Matt – R.I.P Showmance. Bowie – they will definitely be remembered.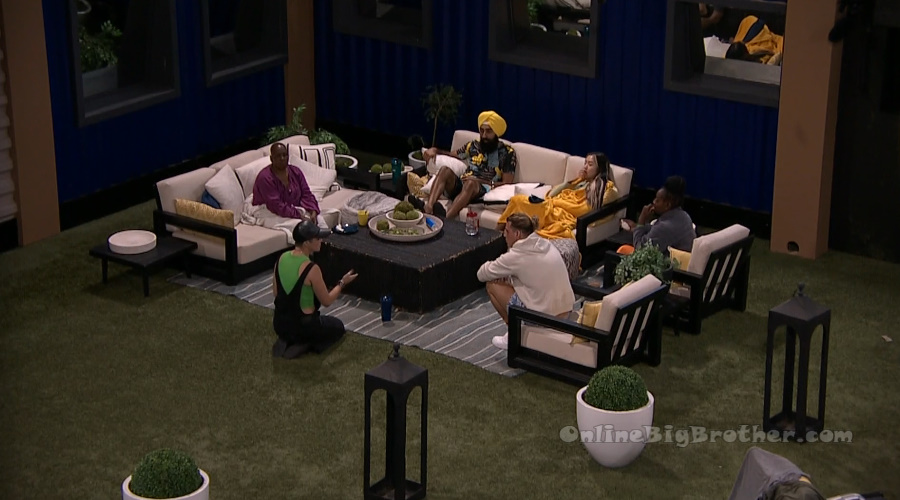 10:12pm Kitchen – Jag, Matt, Bowie, Blue and Cirie are making food / talking about skydiving.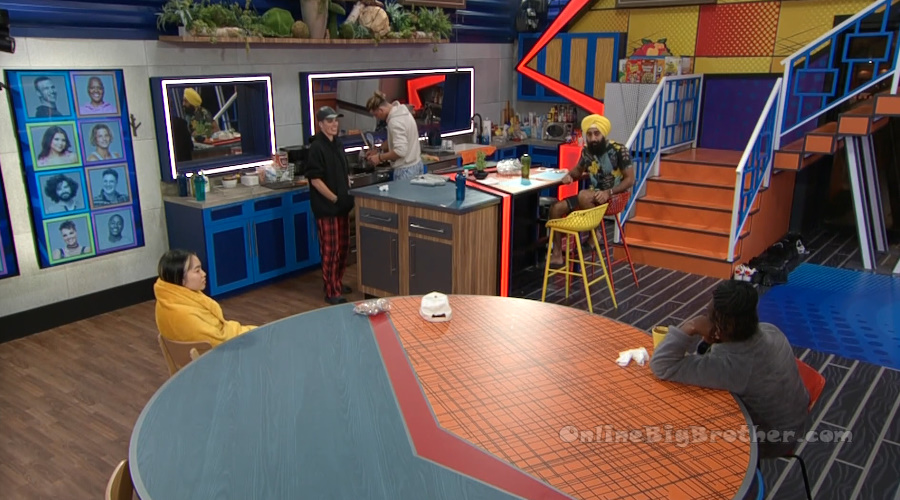 10:19pm Bedroom – Cory & America.
Cory – I literally couldn't have done anything without you, thank you. Cory start crying. Cory – this is going to destroy my cool guy reputation. America – and its not over, like you have the jury house .. that's a whole other.. Cory – I am not crying because its over, I like am relieved. Its just been so hard for me. America – I know. Cory – And I know you know its been hard. America – no it hasn't been easy. You were nominated day 1. Cory – I could have been coasting to the finale .. its just too hard for me. I'm a person that needs to shut down sometimes and you can't in here. I am just so tired. I know Cameron did this every week but he is also a whole a$$ adult with real life experience. The way I compete is not sustainable. It doesn't work over this period of time. I just feel like broken. America – you did so good. I am so proud of you. You did amazing. Cory – thank you!
10:34pm – 11:14pm Comic Bedroom – Cirie and Felicia.
Cirie – so I asked Matt… who goes up if Bowie Jane ain't going up? With America.. He said Blue. Felicia – so they're going to put Blue up? Cirie nods. Not Bowie Jane? Cirie – that's what he said. That's what he said. I didn't talk to Jag. I said Matt I appreciate you not putting me and Felicia up but who is going to go up? America and who? And he said Blue. Good! Felicia – as the pawn or the target? Cirie – I didn't ask him that. Felicia – so see that worries me if they just did all that and then told Blue how she is good with them.. and then put Blue up .. and Bowie Jane a$$ sit down.. that tells me that they really do have a tightness with Bowie Jane. And Bowie Jane's a$$ got to go! Cirie – I agree. And that is when they're going to have to show their hand. If Blue or America win the veto .. you going to have to choose us or Bowie Jane. Felicia – and if one of us go up as a f**king pawn …we'll know they're playing us. And then next week with that god damn double eviction your a$$ is going on the block! I am not even going to play that sh*t with you. Cirie – MmmmHHmmm. Felicia – If I go on the block one more time, your a$$ is going on the block. Cirie – me too. And Bowie Jane ain't never been on the block. Why is she special!? Felicia – right!? Cirie – because she gonna cry?! Felicia – right. Cirie – but we don't have to worry about all that if we win. Felicia – right! Cirie and Felicia start studying the days/events of the season..
11:14pm Backyard – Matt, Blue and Jag.
Blue – I really wish this week was going to be double eviction because then it would be Cory then America.. like its written but now that its not going to be double… then when it goes 7 to 5 after America.. that's going to be smoke.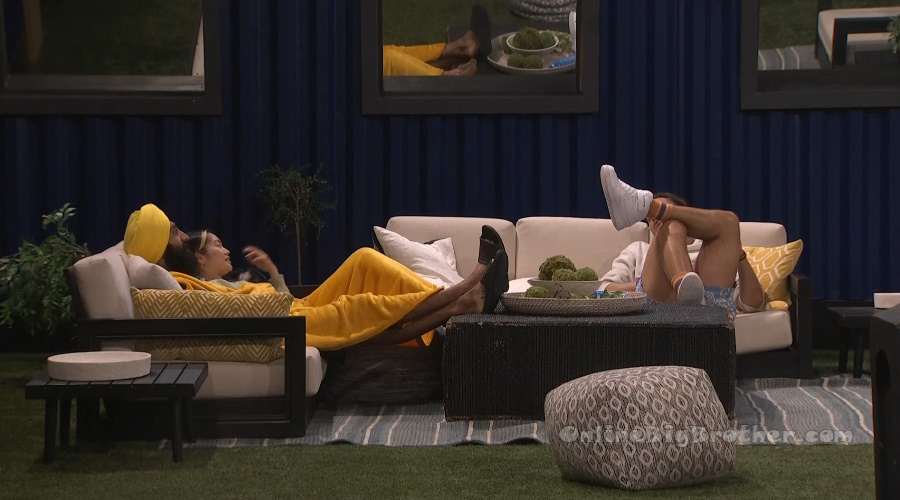 midnight zzzzzzzzzz
6:21 am Zzzzzzz
Feel like leaving a TIP?
Simon & I could use some Kraken to survive the last few weeks listening to these jokers!
Any amount is appreciated! Thank you in advance!