Quick Big Brother Spoilers
INVISIBLE Head of Household: Jag
Nominees: Blue & Felicia
POV Players: TWO Veto Comps (All 8 play in the first, winner doesn't play in the second veto comp.)
1st POV Winner: JAG
2nd POV Winner: BLUE
Veto Ceremony:
Havenots: ?
Lock your ranks in before midnight
The Situation: Jag won the invisible HOH. (He also gets to play next week for next weeks HOH.) Jag's new target is Cory / America.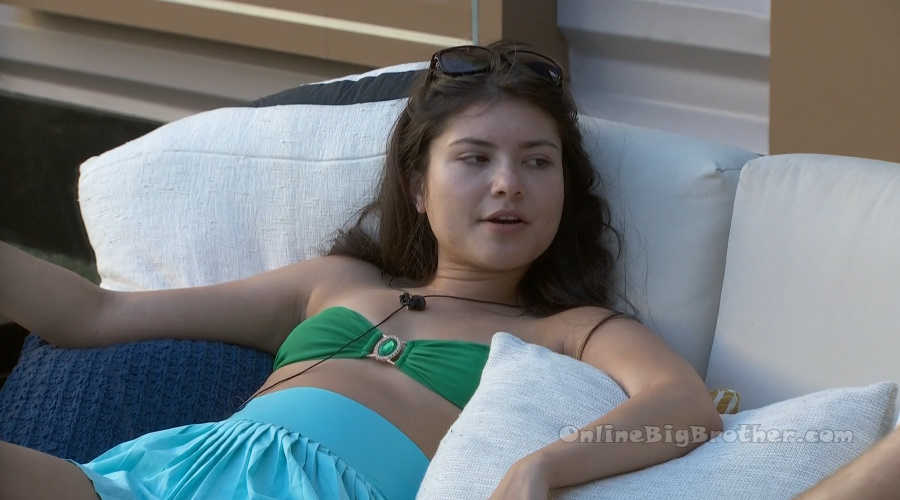 4:16pm Backyard – America and Cory.
America – how do you feel? Cory – I feel good. America – good. Cory – how do you feel? America – super paranoid all the time. Cory – really? I am not that paranoid today. America – okay good. I just need something because I am freaking out. Cory – any reason? America – no. Cory – I think its just very clear that Bowie doesn't know anything. And they wouldn't do this without Bowie. America – I talked to Matt and he said he hasn't talked to Blue since the veto… which is a lie. Cory – I mean Jag has talked to Blue. I don't know how much Matt has talked to Blue. America – up in the humiliverse yeah. She won veto but okay. Cirie is over it (her punishment). Cory – I just don't get why this is where she draws the line. Her punishment is so f**king easy. America – I think its the mask. Cory – isn't this a fun goofy thing.. its not embarrassing. She makes comments at every plane she sees.. like that could be me going home. If you leave, you're going to jury not home. Part of me is like YO, stay or leave. Like you can't want to go and still fight to stay. I wouldn't be surprised if she was up next to Felicia and she was like I want to go. And then we would keep her. America – I would rather have Cirie here than Felicia. Cory – If I win next week I am putting him (Jag) up. I've decided. America – you have to. Cory – Yup, and I might go next but whatever. I am just being realistic I can beat him in one more competition. Matt I could beat in a lot of things. Blue I could beat in everything that's not endurance.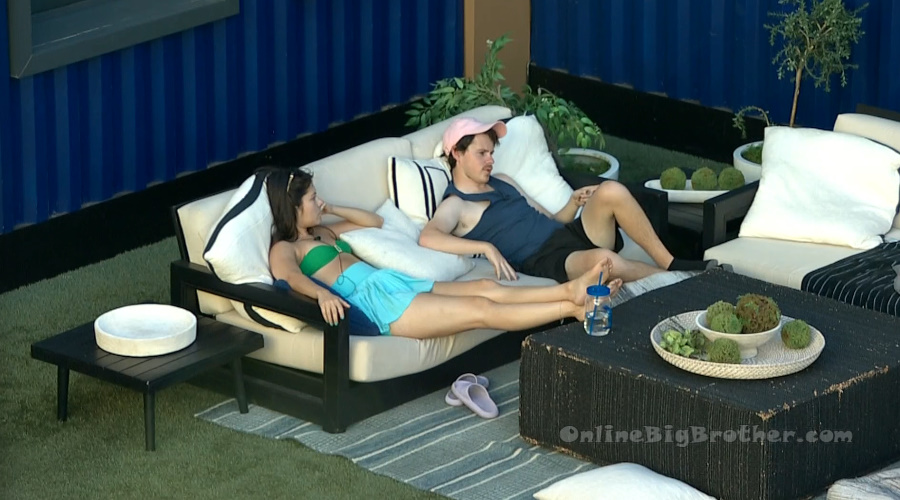 4:33pm Bathroom – Jag and Cory.
Cory – are you still thinking of about this Matt stunt? Jag – Probably.. I mean I am thinking. Maybe, I don't know. Cory – I think worst comes to worst its you pulling a stunt and best maybe they'll be confused. Jag – yeah but.. I guess it doesn't really .. I don't know, maybe I won't. I will just see how it goes. It doesn't really matter. Cory – Matt is down. Matt is excited. Jag – it doesn't really matter. yeah, I'll see. Cory – it doesn't matter. I think if its Cirie and Felicia. I think Cirie might be like YO, vote me out. Jag – vote what?! Cory – When Cirie is talking and she sees a plane she is like I wish I was on that plane going home. And if she campaigns I want to go home, we are voting out Felicia. Jag – nods. That might be the craziest..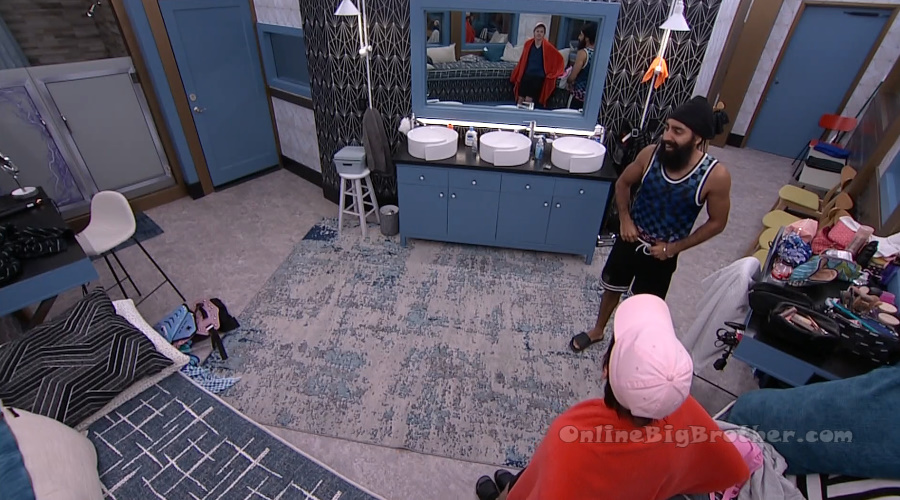 4:34pm – 4:47pm Backyard – Cirie and Bowie
Bowie – I think Felicia is going to come out hardcore campaigning for someone to go up against her that's difficult. Cirie – I wonder if they're going to campaign against each other? Bowie – Cory and America? Cirie – yeah. That's going to be crazy! That is going to be weird to me. Bowie – yeah I mean, maybe not. And they got no idea! Cirie – they keep telling me I'll be fine if I go up. And at the same time put her up, put her up, put her up. Bowie – One of those two or both of them said that to me. Cirie – Unbelievable! Just the fact that he is so comfortable. Cirie leaves. Jag joins Bowie.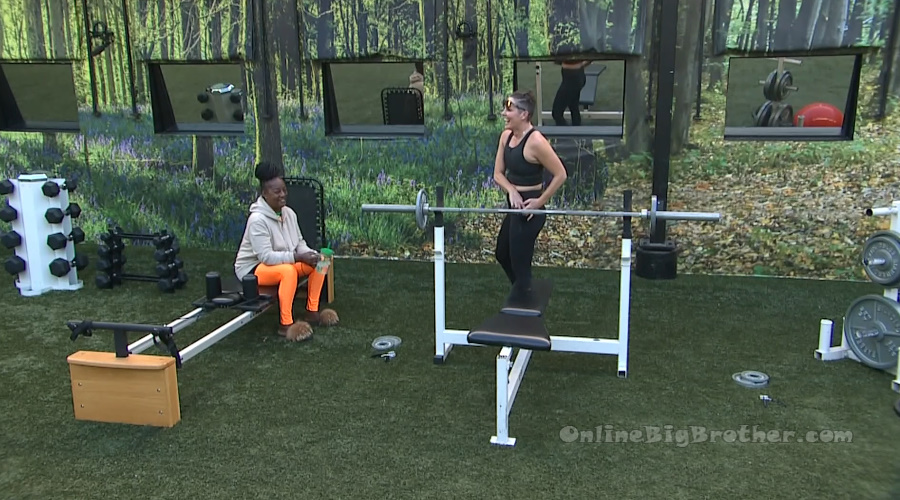 4:55pm Backyard Couches – Cory and Blue.
Cory – have you thought about what you're going to do with the veto yet? Blue – ah yeah I am not going to use it. Cory – you don't want to make waves. Blue – no blood on my hands. Cory – Jags got you, don't worry. You use the veto on yourself, he also uses the veto on you… you become the HOH. Blue – cancels it out, I am actually back on the block. Cory – oh no! Hey you got my vote!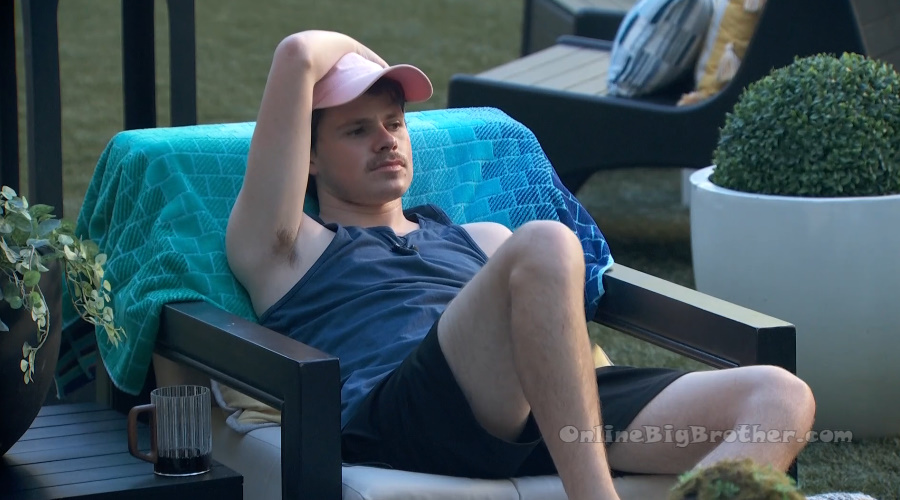 5:20pm Cory and America playing pool. Matt, Jag, Bowie are working out.
5:39pm Kitchen – Cirie and Jag.
Jag – I am going to quote unquote tell Bowie Jane now. Cirie – okay. Jag – have you talked to Blue or anything? Cirie – I haven't talked to Blue yet. Not that you told me. Jag – I'll let her know that you.. Cirie – she only talked about how nice Cory and them are being to her and how the energy changed since she won the veto. That's the only thing that Blue said. Jag – yeah. Jag leaves. Cirie to herself – how does she know already. That's weird. Matt told her.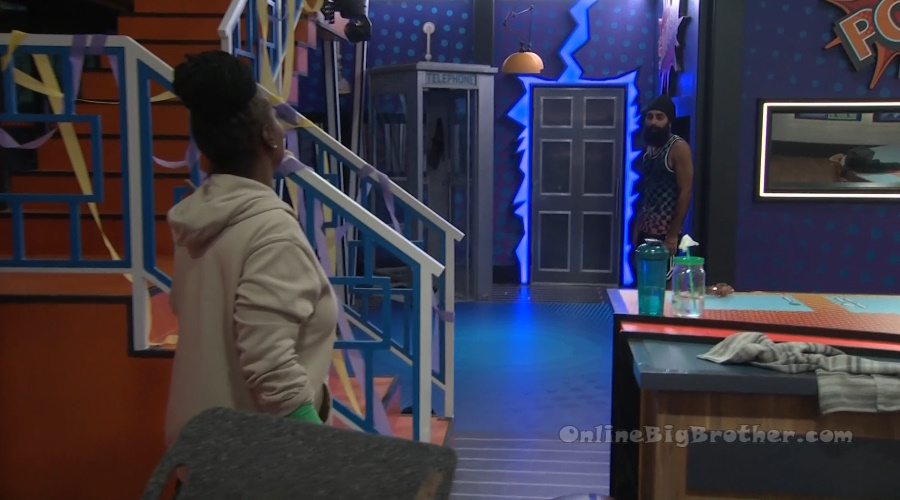 Exercise Room – Bowie and Jag.
Jag – keep it a secret and obviously don't go around saying anything because you know that I'm the HOH and you know that my plan is to put up Cory and America. Bowie – yeah okay. So I know that or I don't know that? Jag – you do know that. Cirie – yeah okay. Jag – so you just found out right now. I'm going to let Blue know and be like hey just so you know I chatted with Cirie and Bowie Jane.. so they know and are super on board with the plan to get Cory out. Bowie – what was her opinion when you told her both are going up? Jag – she jumped up and hugged me. Jag tells Bowie about his conversation with Blue. Bowie – she's (America) a good competitor, she knows her sh*t memory stuff as well. Jag – ultimately next week we have to win and we cannot let America win. We cannot let Blue win. We cannot let Mama Fe win. We just really have to win. Each of us have to go hard. America winning is worst case scenario. Next case is either Blue or Mama Fe. Blue might take a shot too. If we win and take out one more, we're suddenly in a good spot.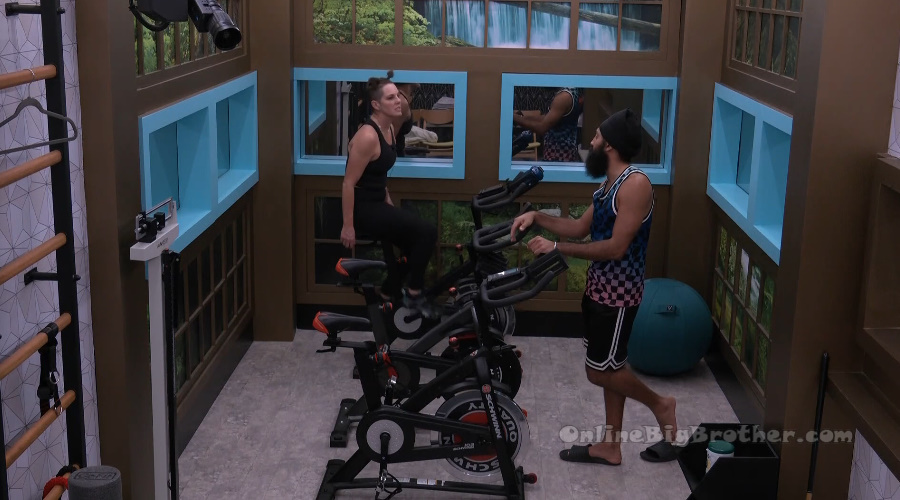 5:52pm – 6:11pm Bedroom – Blue and Jag.
Blue – America thinks Cirie is going up. Jag – yup. At this point I am just so disgusted by her because the fact that they.. BB switches the feeds. Blue – I don't know how tomorrow is going to go. Like we both just stand there like.. (Smiling with thumbs up). Jag – because you think about it, its the invisible HOH doing it so there is no speech. Jag – I think its going to be more of a blindside if America goes up first. When America goes up, she will immediately have to give a speech for me to use it on her. Its so funny to advocate for yourself to use the veto on you 2 seconds after you were put on the block. Then Mama Fe will say why I should use it on her. Bowie joins them. Bowie – its going to be another interesting MONDAY! She (Mama Fe) is going to come flying out of there. Blue – I know, I know.. that's what they've been joking about. Like oh do you think she is cooking something? She is going to come out saying a lot of stuff like campaigning. I am not going to lie, I am excited for it. Whatever happens I am excited for it. BRO they've just been saying so much bullsh*t. not Cory but America. Like Mama Fe I've telling you the truth for days now I am so glad we talked like I really want us to work together. Jag – she exposed us. She is so FAKE BRO! I cannot. Blue – they've been weaponizing you (Jag). They've been villainizing me. And they still think you're (Bowie) in the middle. Bowie – they're not very loyal. They're all over the shop.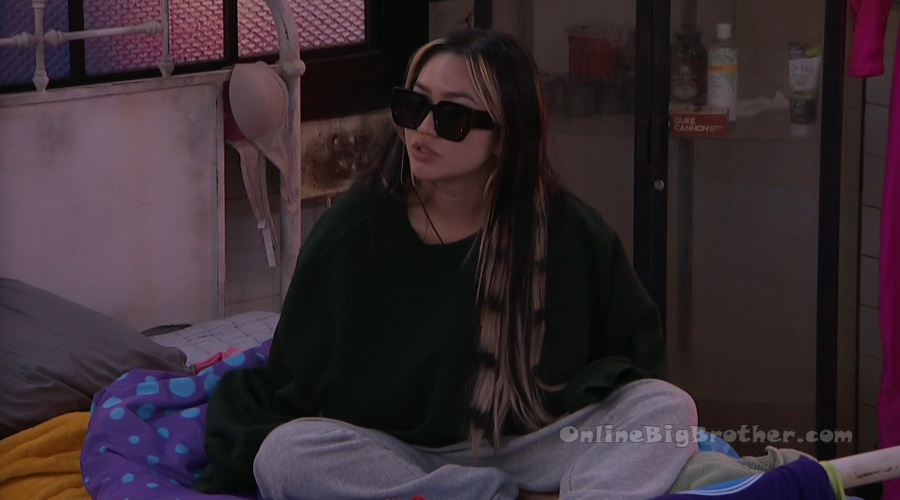 6:18pm Dinner time .. (not even waiting for Felicia)

6:50pm Blue doing it all for the gram.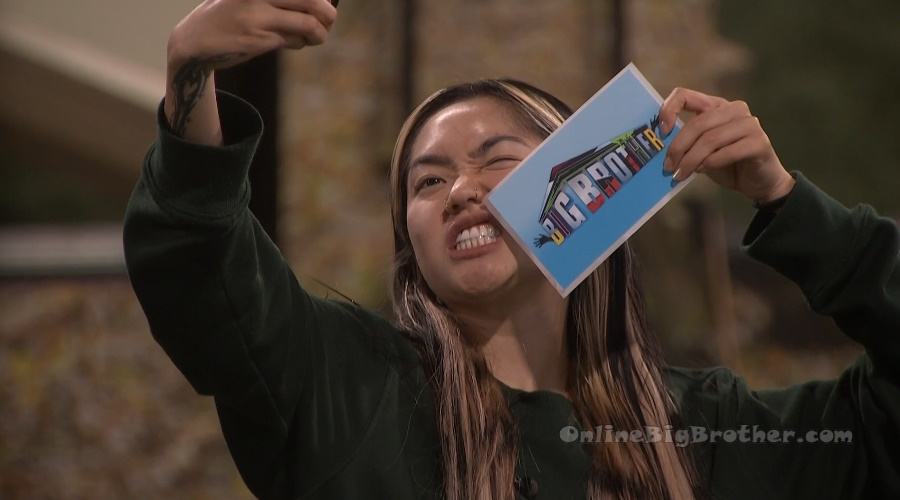 6:52pm Backyard Couch – Cirie and Cory. Cory is grilling Cirie again about Survivor.
7:23pm – 7:48pm Big Brother blocks the feeds. The feeds return to Cory and America are getting into the hot tub. Bowie joins them.
7:55pm Felicia is finally finished her 24 hour solitary confinement.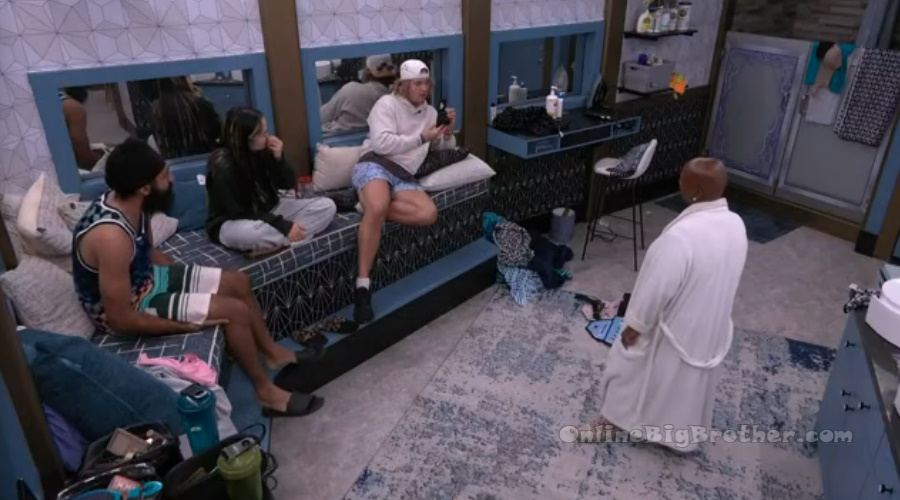 Bathroom – Felicia and Jag.
Jag – how are you feeling? Felicia – you know as good as I can feel. Blue is coming off and I am still up and its like oh my god!! Jag – well here is the think, I am the invisible HOH. Felicia's face lights up – are you serious!? Jag – and I am going to use the veto on you and I am putting up Cory and America. Felicia smiles jumps up and says oh my god! She give Jag a big hug. Jag – obviously they don't know. Felicia – I sat in the room last night.. read / prayed and all this kind of stuff.. I said I know in my right mind this is Jag. I was like I know, that's what my gut tells me. I said Blue is going to take herself down. Is he willing to take me down and put up Cory and America. Come on God! Jag – come on god! In no world were you going home. Blue was my target. Jag then tells Felicia about the conversation he had with Blue that changed his mind and opened his eyes to needing to target Cory / America. They are so comfortable right now. And we have all especially me have put them in that position. I told Cirie… Matt knew.. I told Bowie Jane. They are about to get blindsided.. its about to be a double backdoor blindside. They will do whatever they can. Felicia – they might go silent because they know one of them are going. Jag – that's the line in the sand. Next week, it is what it is.. if one of them win you better pray for me. Felicia – you good with me Jag. Jag – you good with me. Felicia – I am thinking about who going to get that 750K and you my boy!
Jag "I'm going to use the veto on you and I am putting up Cory and America." #BB25 @bigbspoilers pic.twitter.com/nylL6SgZcP

— Dawg (@DawgsBigBrother) October 16, 2023
8:18pm – 8:30pm Bedroom – Blue and Matt.
Blue – Jag was like I am so sorry I put you on the block. I was like its fine! Its literally fine because this is poetic justice. This is so good for me because I have been wanting them out for 3 weeks!! Matt – I've been wanting them out since Seven Deadly Sins to be honest. Blue – Literally! Now I was the target, I won veto.. MYSELF, take myself down, Cory goes up, Cory goes HOME! I was like Jag you have no idea how happy I am. Because they don't deserve SH*T! they don't deserve SH*T! Matt – I don't want to see either of them close to the end. Blue – I am so excited for both of them to campaign to me. Matt – I hope they talk sh*t about each other. Blue – tomorrow when this whole thing happens I am going to tell her (America) straight.. girl I don't trust you. If you want my vote you got to f**king earn it. Campaign to me B***H! What the f**k you mean! Matt – she is probably going to be cocky and be like I know Cory is going home. Blue – I going to be like no you don't have my vote.. campaign to me! What are you going to give me!? A comp?! No you're not, I'll beat you in anything! I can't wait to hear her and Cory pitch to me.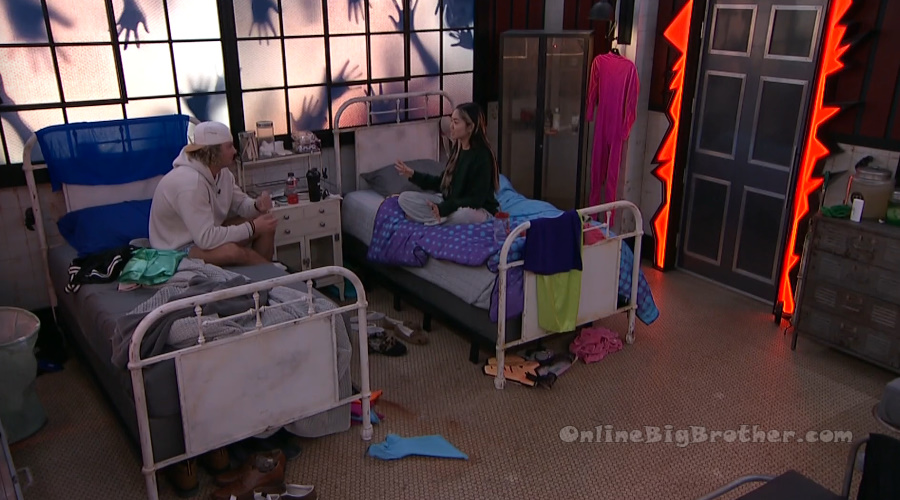 8:30pm Comic Bedroom – Blue and Felicia.
Felicia – you fought for that veto and you deserved that veto. Blue – it was poetic justice! Felicia – it was poetic justice. You deserved that all day long. Blue – and I don't know how much Jag has told you but obviously I was the target. I was the target so I am really glad that him and I were able to talk because I told you they're f**king CRAZY!! I F**KING HATE THEM!!!! Felicia – I've been saying since the very beginning. I meant everything in that .. these two have been using everyone else to play their game the whole time. Blue – I thought it was just you and me on that train. I was like I can't believe people aren't seeing this. We both have the same problem we can't shut the f**k up.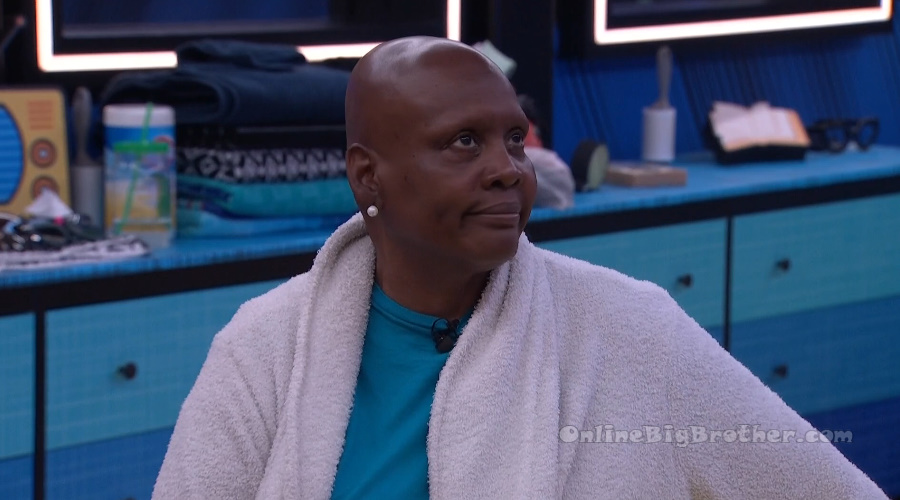 8:56pm Big Brother gives the house guests wine and beer.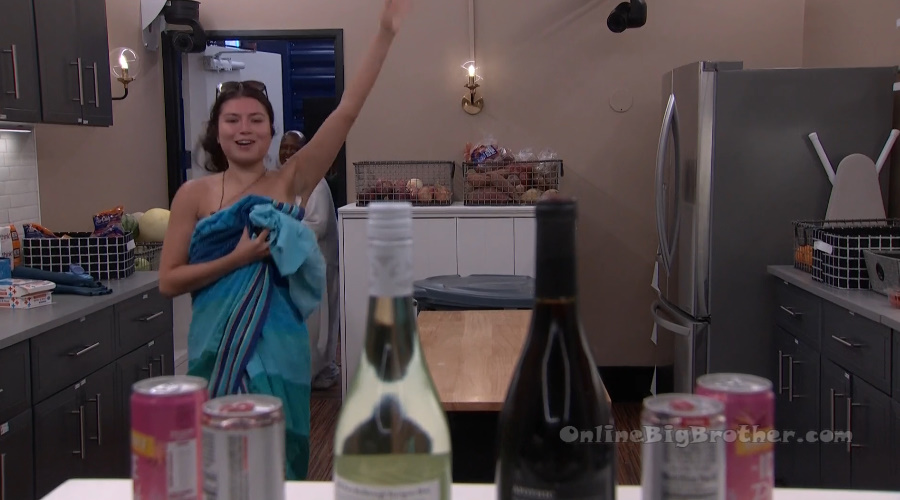 9:12pm Backyard – The house guests are enjoying the alcohol and chatting.
9:13pm – 9:25pm Backyard Hammock – Cory and America
America – I feel like the feeds were a lot more exciting.. Cory – when Cam was here? America – no, no, no just the seasons I've watched have been a lot more fun than this season. But is that just because I am in here .. everything is just so boring. Cory – the wrong people have won competitions recently. America – what do you mean? Elaborate? Cory – For a while the season had good competitions outcomes .. Cam winning pressure cooker.. Hisam winning Revenge of the whatever. America – I didn't know everyone was so against Cam. I was out of the loop. I had no idea. Cory – I really hope I win the next HOH because it will be really fun. It will be a sh*t show but it will be fun. I've been thinking about how it plays out because it would be much deeper than Matt and Jag. America – what do you mean? Cory – oh there would be schemes and lies and bullsh*t. It would be a very uncomfortable week though. Finish your alcohol so that we can get crazy.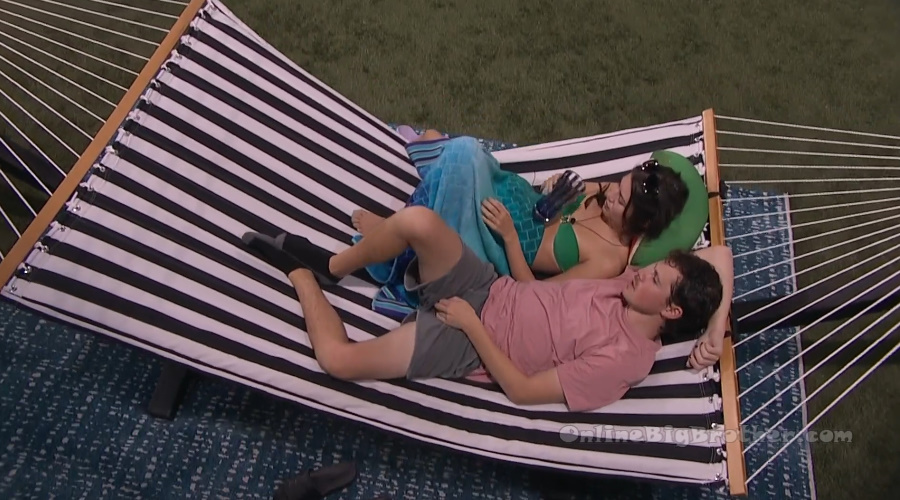 9:50pm – 10:10pm Backyard – Blue and Cirie
Blue – I fully accepted going to the jury house. That is why I was super at peace. I was like f**k it. I was like I am really proud about what I did today being on that rope. I was really proud about the game that I played. I am not leaving here being a f**king America .. "I played my Boyf's game". I played my own damn game! I had my own wave where I was a pawn, a threat, underestimated.. this whole thing. And then obviously my right hand man left earlier. Cirie – that sounds like me. You just told my story. Blue – 100%, we've both been through the ringer! Cirie – I just want to see it. Blue – me too. Cirie – I want to see it. I want to open the door and hold it for him (Cory). Blue – I will be right front and centre.. I am pushing America's B***H A$$ out of there. What the f**k! They're too comfortable .. its disgusting! Blue – One down, One to go! Its going to be so good for all of us! You, me and Felicia. Cirie – I can't wait for Miss Jane to go either. She's been awfully comfortable and she ain't touched the block either. BB blocks the feeds. Cirie – where does he think he would have to votes to stay? Blue – he thinks he would have enough votes over America to stay. Cirie – I hope he still think that. Blue – I hope he still think that too.. that is going to be fun! I am going to soak in this week. I don't care if I am the next to go… well I do care if I am the next to go. I got to see that play out. Cirie – I want to see them campaign against each other. Isn't that your man?! Aren't you official!? I don't think they will do it. I'm giving them too much credit. Blue – I don't put it past him. He's selfish.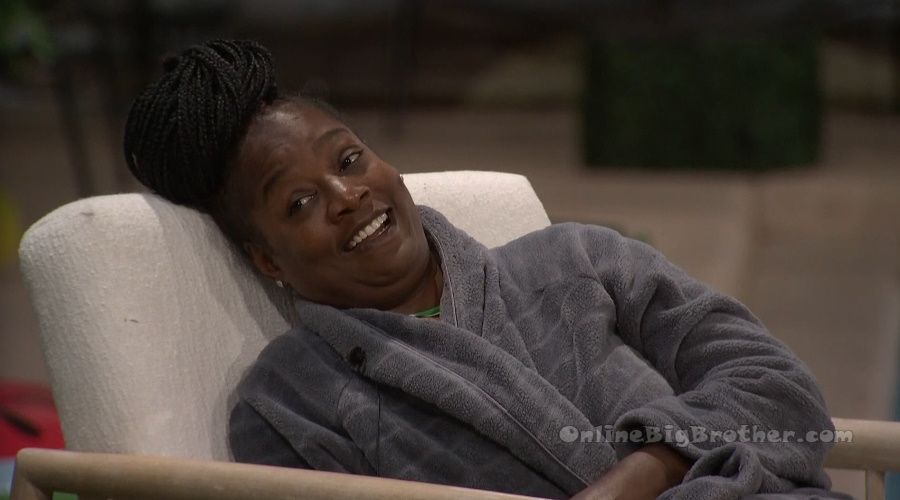 10:17pm – 10:22pm Hammock – Cory and America
Cory – I really like Matt and Jag and I want to be good friends with them after this and I don't know if I can be if I f**king… because the reality is if I make a really strong move against them that's me acting without any reason. And then didn't do anything to me first you know?! And I know its a game. America – and Jags got a good one. Cory – and I wish I cared less. I am surprised how much I care. America – if you want me to do it I will. Cory – no I'll do it. I will just be very sad about it and you're going to have to console me. America – its not a big deal, they'll be fine. Cory – as much as I am hesitant to do it for human reasons I am so excited to do it for so many other reasons. It is going to be so f**king extra. Do you want to know how I would do it? Basically calling him and Matt out at the nom ceremony for sh*t they didn't do. America – like what? Cory – Calling Blue in like everyone wants you out right now. I am going to call them out for a ton of sh*t and you're going to have to validate everything and we're going to pull in Bowie. Then it will be basically a he said she said and its going to be a sh*t show. That's the idea.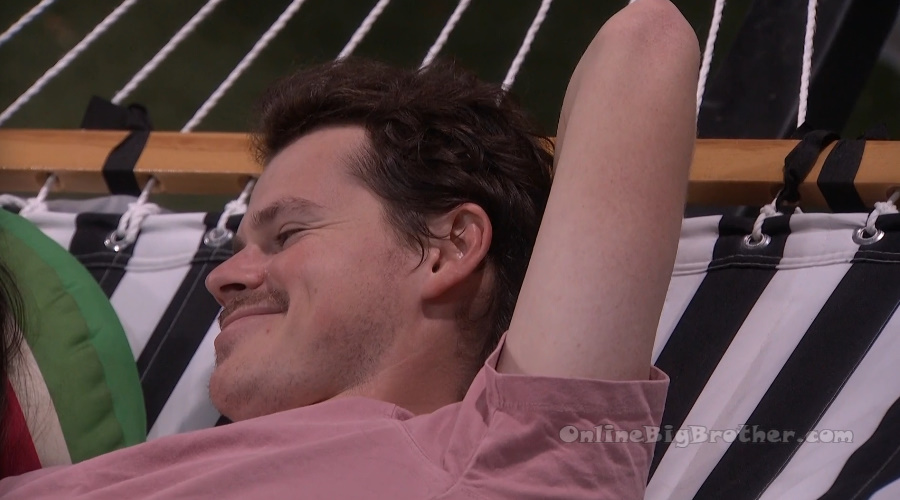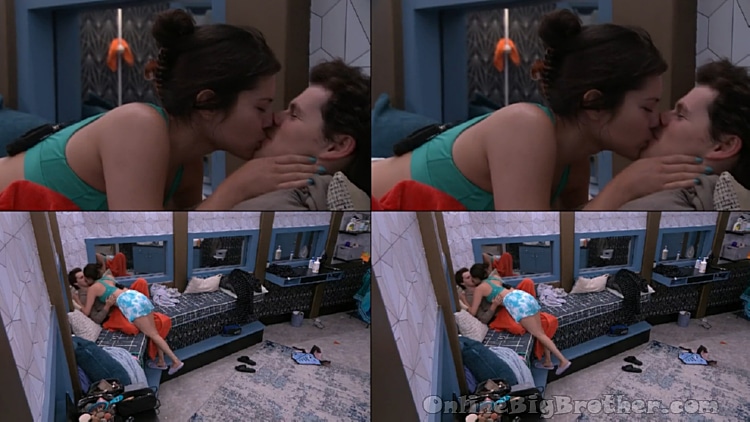 11:10 am Cory and America
Cory is nervous nobody has told him the plan for tomorrow. America hasn't had a one on one with Jag in days.
They start smooches before bed.
12:30 am Zzzz
Show your support 🙂 Without your support this site and these spoilers wouldn't be possible.
Please consider a donation to keep the madness going. Any amount is greatly appreciated!