Quick Big Brother Spoilers
INVISIBLE Head of Household: Jag
Nominees: Blue & Felicia America and Cory
POV Players: TWO Veto Comps (All 8 play in the first, winner doesn't play in the second veto comp.)
1st POV Winner: JAG
2nd POV Winner: BLUE
Veto Ceremony: Jag and Blue used their vetos. America and Cory put on the block.
Havenots: ?
Lock your ranks in before midnight
The Situation: Blue used the veto on herself. Jag used the veto on MOMA Fe. Cory and America are replacements.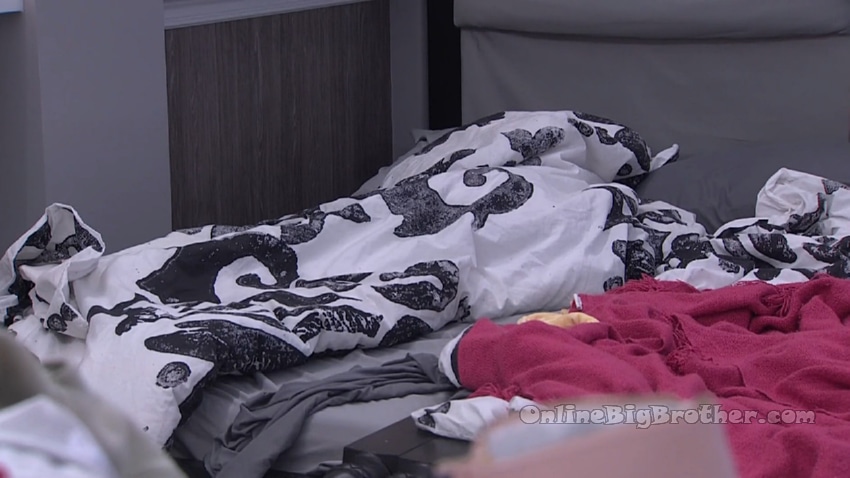 1:00 pm Feeds return to this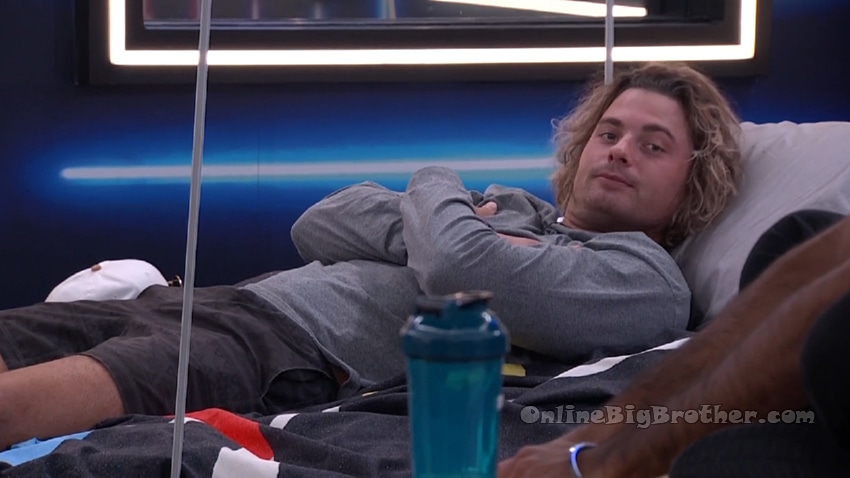 1:02 pm Matt, Jag and Jag
Complaining about Cory and America being surprised.
Jag – he was like 'was this the plan all along' I was like 'no'
Matt – BRO like…
Jag- It happened the way it happened
Blue – I'm going to tell them that To! Y'ALL were close Y'ALL almost got Jag to get me out Because I was getting Y'ALL too (LOL what the f**)


Blue – You were damn close.. you were so close you just f***ed up and tried covering up too much of your base.. You were trying to get me to go after Y'ALL two if I were to win HOH. That's where they F******ED up..
They yap about how Corey and america were trying to get them against each other.
Jag – my god
Matt points out how A/C always go straight to the HOH.
Blue goes on about how America denied "Shit"
Jag – she came in HOT I looked at her for 5 seconds
Jag – now they have to pick who they will be honest to.
Blue – If I were to win HOH it was their a$$ess it's been their as$es for me for week now. I DON'T give a sh1t

Felicia joins them and Hugs Jag
Fe – I love you
Jag – I love you to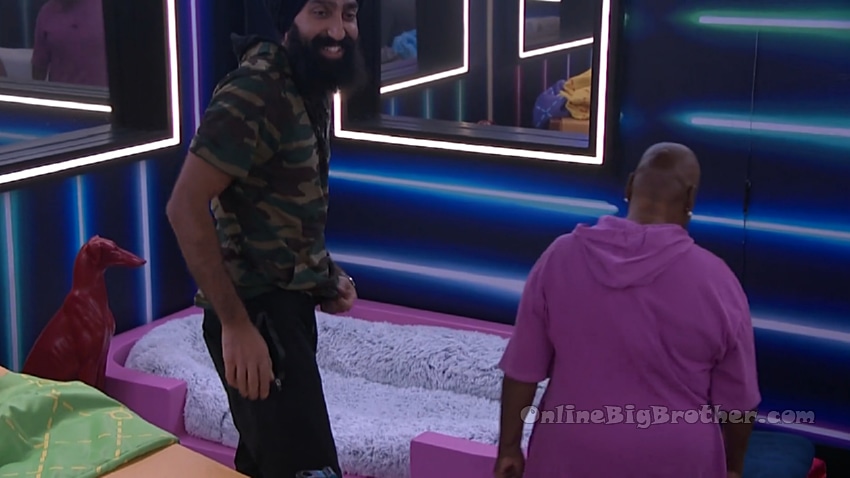 Jag is happy.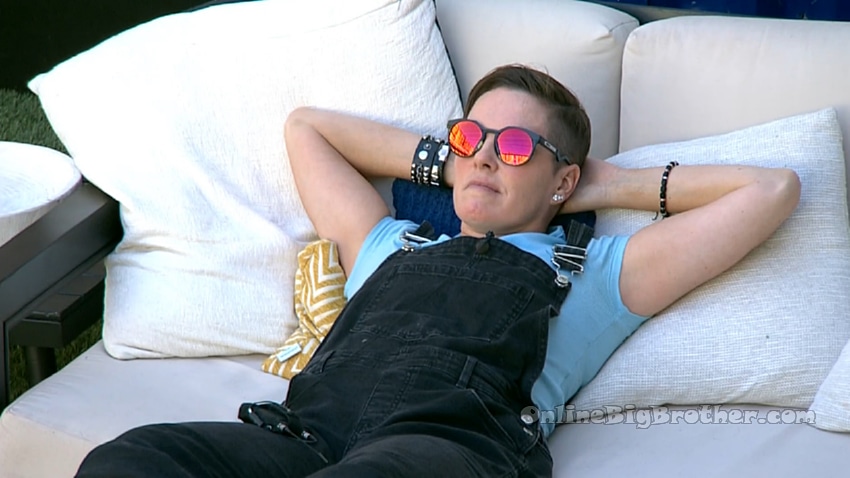 1:07 pm Cruising to 3rd place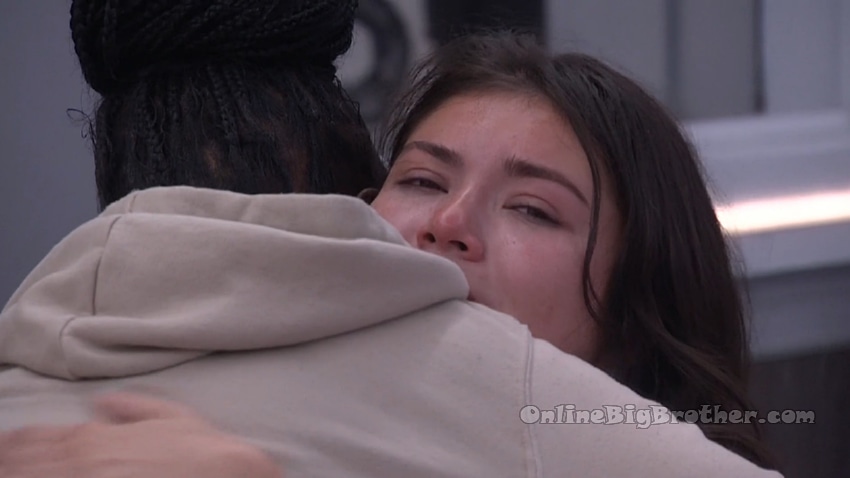 1:13 pm Cirie doesn't want to see America upset like that "Shake it off"
They hug
America cries "I appreciate it"
Cirie leaves
Cory joins her "What to do you want to do?
America – DIE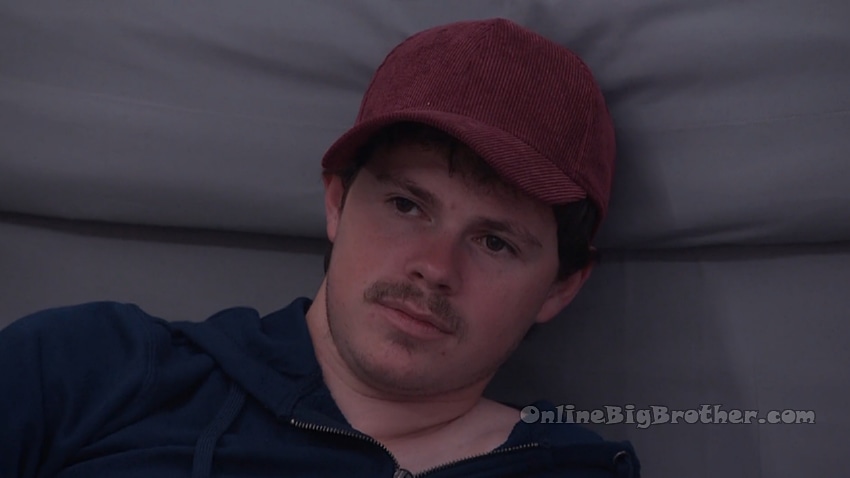 1:17 pm Cory and America
America – I want you to stay
Cory – I want you to stay as well
Cory – I'm not having you fall on the sword.
America – this is my fault. You know whatever Blue said to them.
Cory – I'm going to talk to someone probably Bowie
A – Well she knew she just lied to me
Cory – it's okay.. I'm going to go talk to her I think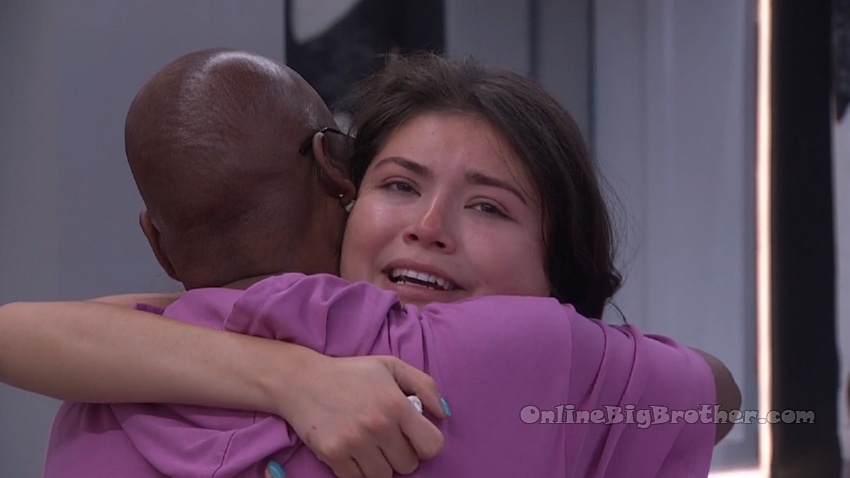 Momma Fe comes and gives her a hug
Feeds cut.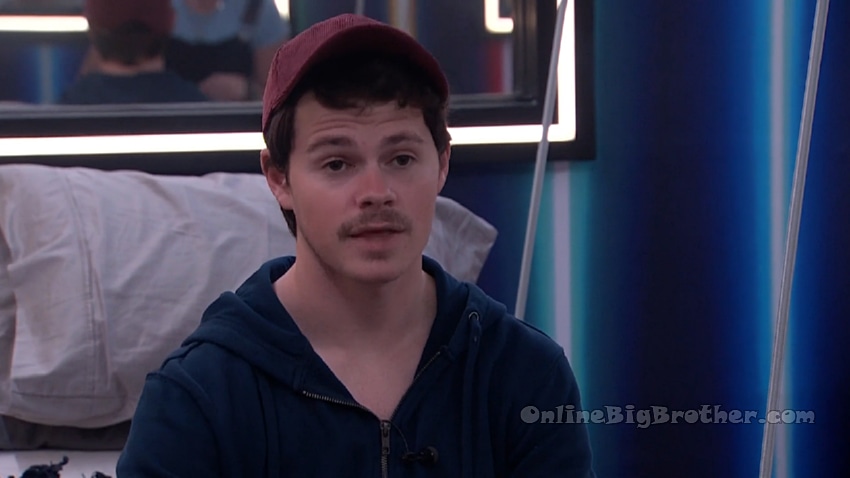 1:22 pm Cory and Bowie
Bowie claims she had inklings that Cory was going up but she wasn't sure
Cory – Yeah so did I it was really awkward this morning with you and Matt
Bowie – OHHH right
Cory – the part that upsets me my plan this entire this .. since Izzy was final 5 with you five and FInal three with you and America
Bowie – I never took that too seriously
Cory – I'm bummed out because I'm next to America but I'm also confused. The people I'm close to this house is you and America.
Cory – Obviously I want to stay but I care more about America More than I do the game Obviously (Is cory's word Obviously ?)
Cory – she tells me she wants to go which obviously is not going to happen. I'm put up this week I believe I am the target. It feels that way.
Cory says if he's in the house whoever wins HOH their target will be him.
Cory – me being here next week guarantees everyone final 6
Cory says if he wins HOH it's matt and Jag. If Matt or Jag win it's him.
Cory points out Matt nad Jag will keep Cirie around before here.
Bowie says Everyone is going to want to keep Cirie and Felicia around before her.
Cory points out that Jag is a comp beast.
Cory – the votes I'm trying to get to be clear are you, me and Felicia
Bowie – Yeah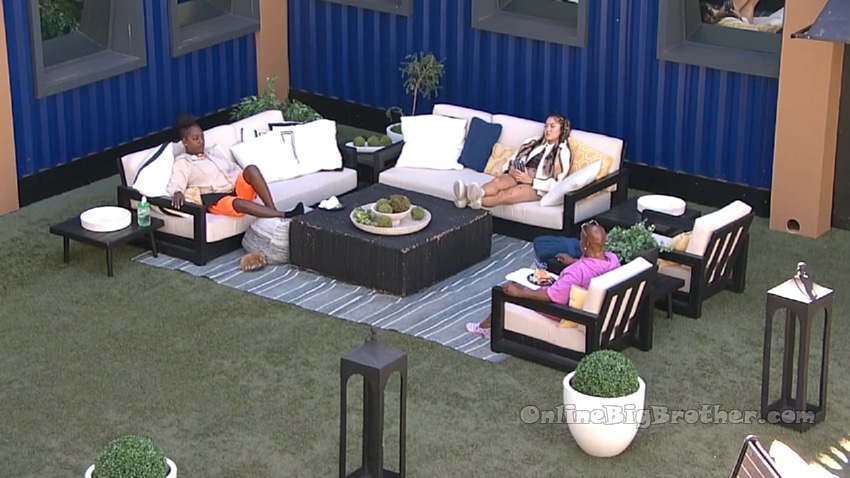 1:23 pm Felicia, Blue and Cirie
Felicia is going on about Cory talking to Bowie jane while America is crying downstairs
Blue – They do not like each other Boyfriend and Girlfriend my a$$
Felicia – MMMMMhmmmmmmm
(Kraken)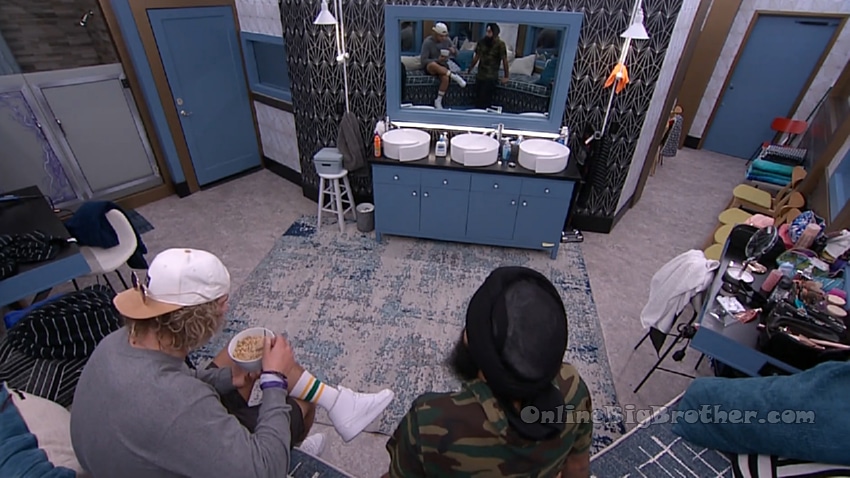 1:31 pm Jag and Matt
Jag – at this point my, You, Blue, Cory and America just talk.
Jag – if we don't have that conversation they will stay upset and confused at me.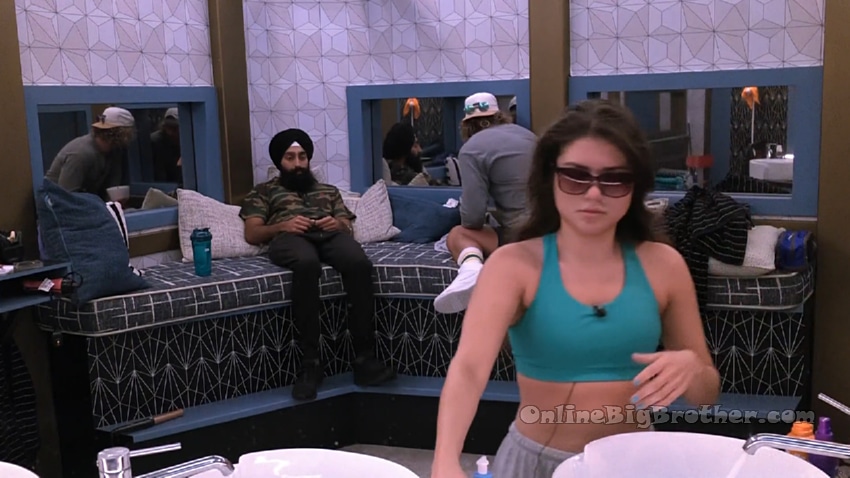 Jag – let me know when you want to talk again
America – Literally f*** off
America leaves..
Matt – Grow up
Jag -now I need to f*** off.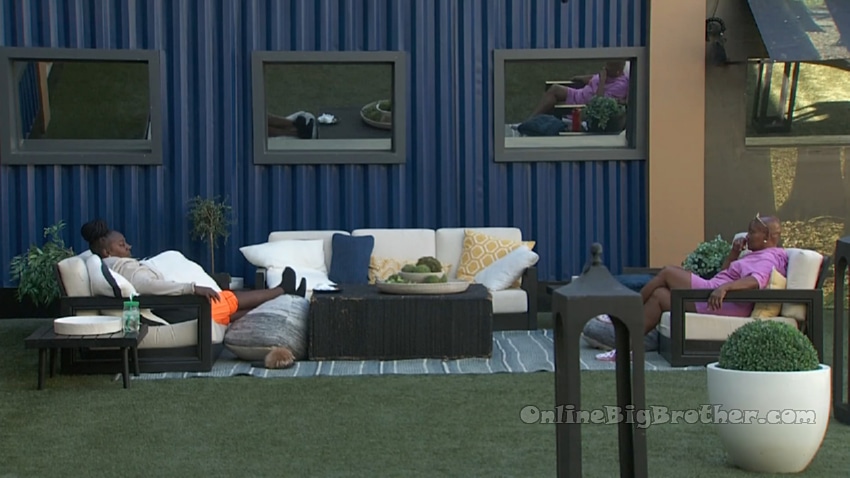 1:37 pm Cirie and Felicia
Laughing that the other side is turning on themselves leaving them coasting .
Felicia says if America wins HOH she's going after Jag, Matt or Blue.
Cirie- MMMhmmmm
Felicia says Bowie is a "sacred a$$" She'll put them up if she wins HOH again.
Cirie – mmmmhmmmmm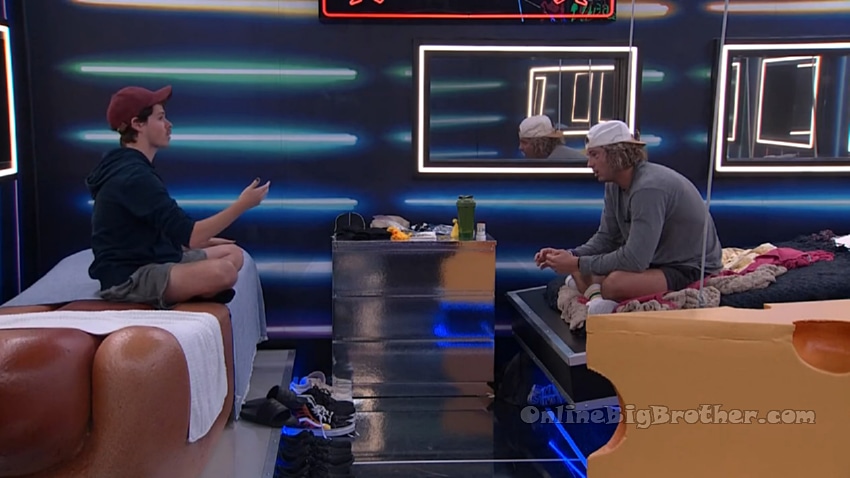 1:51 pm Cory pleading his case with matt
Without your support this site and these spoilers wouldn't be possible.
Please consider a donation to keep the madness going. Any amount is greatly appreciated!