Quick Big Brother Spoilers
INVISIBLE Head of Household: Jag
Nominees: Blue & Felicia America and Cory
POV Players: TWO Veto Comps (All 8 play in the first, winner doesn't play in the second veto comp.)
1st POV Winner: JAG
2nd POV Winner: BLUE
Veto Ceremony: Jag and Blue used their vetos. America and Cory put on the block.
Havenots: ?
Lock your ranks in before midnight
The Situation: Cory is going to Jury. America is still pissed.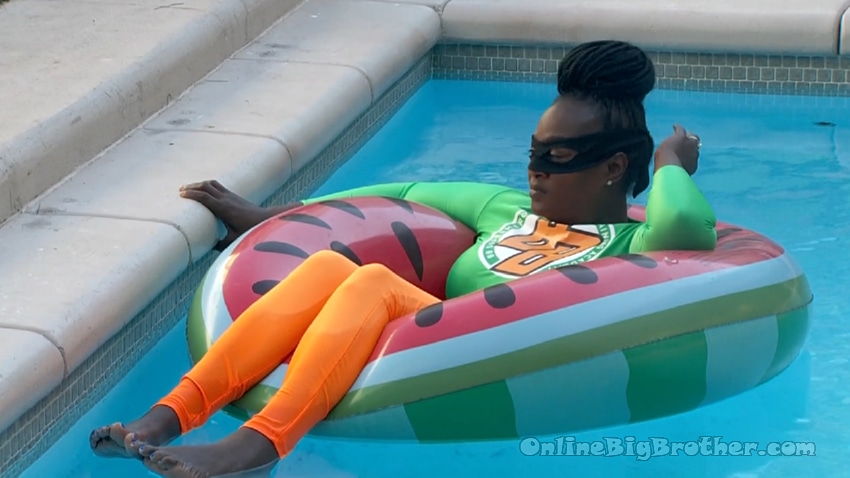 3:28 pm Cirie has to sit in the pool for a couple hours as per her punishment.
Matt, Jag and Bowie are on the side.They're chit chatting about Kevin Costner movies.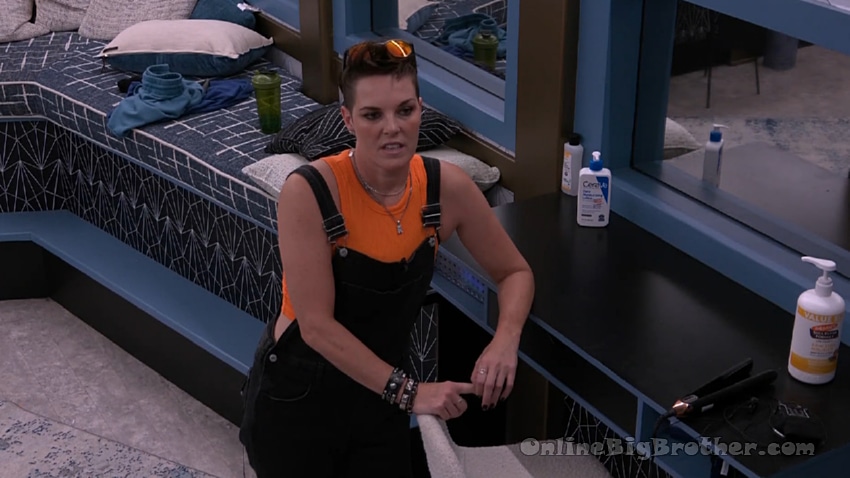 4:20 pm Cory and Bowie
Cory is campaigning to Bowie while in the shower. Says there's something Funky going on with Matt and Jag.
Bowie – Funky how?
Cory – like they are pulling a Izzy. Obviously they have Blue, Obviously they have you in these separate kinda things. They had me and America. There was talk they had a thing with Cirie and Felicia too
Bowie – right
Cory – trying at least. Felicia was hinting something to me. For now it's nothing but if I hear more I'll tell you.
Bowie – I'll keep it in my head.
Cory says Felicia has no reason to lie she's not on the block.
Cory – Felicia and Cirie recognized Matt and Jag as the hill they have to overcome.
Cory points out that they were a team of five "I didn't to anything to this team"
Bowie – I was just going off what was on the grapevine. Nothing was direct. I had heard once this decision had been made someone had said..
Cory – what I keep hearing is someone talked to Blue. That's what Matt is telling me that's what Jag is telling me. I'm sitting here wondering why the f** was I being targeted.
Cory – This season I have been so loyal to America, You and Even Matt and Jag.. To this point. I'm confused by that part. I talked to Matt and Jag and was like what did I do.. Well America talked to Blue.. Well sh1t that's not me I didn't so that I didn't know about that.
Bowie – I think I knew shots would be fired at some point between… BUT I also heard you guys were a four so I didn't know what the hell was going on. I knew you wouldn't tag me.
Bowie – the thing I heard and I know you guys said you didn't say.. you were going to target Matt and Jag when I heard that I was like AHHH that's understandable.
Cory says he's been targeting Blue for 8 weeks he's not talking game to Blue. "I felt horrible because America in the scrabble room crying"
Bowie – yeah she feels bad.
Cory says he thinks Matt and Jag truly thought he was targeting them.
Cory – now I'm stuck I have to. I Get you want to take me out cause I'm a threat but don't act like
Feeds cut… When we're back
Cory – when it comes down to who can beat them in competitions
Bowie – I can't
Cory – Blue is probably the biggest threat than you, Followed by Cirie and Felicia. (I think Felicia has a better chance to win Comps than Cirie)
Cory – If they have alliance with everyone you might not be next.. Whoever stays me or America will go next.
Bowie – all of that Is correct
Cory – If I leave this week which is what I am expecting right now, I'm still trying. I want you or America to win.. Like Truthfully.
Cory – the last thing I want to do is start a big fight in the living room.
Cory – it makes more sense to me that they're trying to get rid of me and America right now. They have to start picking off their alliances. If they can get rid of me and America without making you mad. That's what I am gathering and am trying to not get mad about it.
4:30 pm America, Felicia, Blue and Matt.
Matt's eating the rest are sitting their in silence. America doesn't look to happy
4:55 pm Feeds have been cut for the last 10 minutes.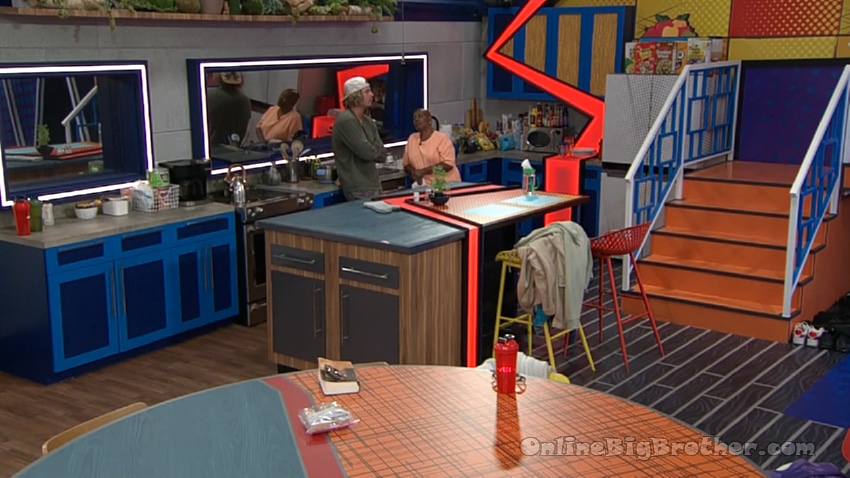 5:21 pm Felicia and Matt
Felicia talks about Jag proposing a final 4 with matt and Cirie. Felicia adds that him and Jag are the only two people that that she trusts.
Matt says the only people he trusts are those 3, Jagg, Cirie, and Felicia. He claims they've been working together the longest.
Matt points out that Jag has been winning veto's taking Felicia down because he trusts her.
Feeds cut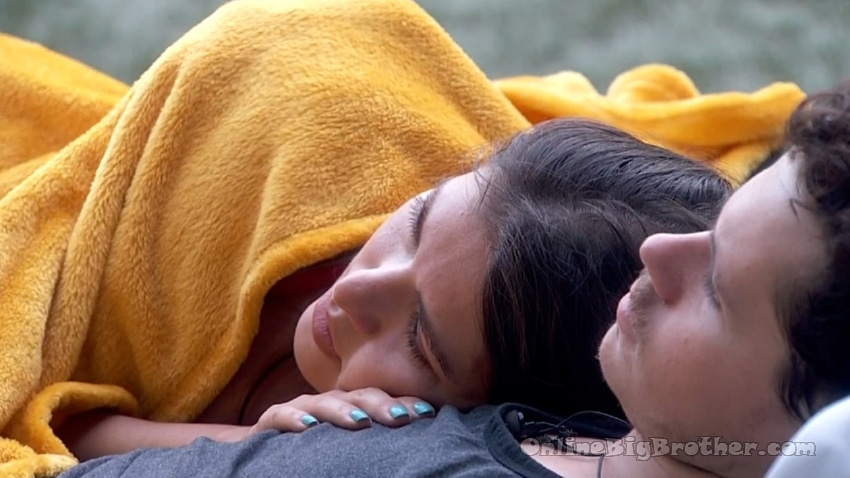 5:26 pm Cory and America
america going on about her talk with Blue where Blue told her she's been talking sh1t abouther. America says she only talks sh1t about Blue to Cory.
Cory – this entire season people have been overestimating me.
Cory – if I stay it'll because I was able to convince Bowie that Matt and Jag are playing her. which is not true. That is what I've been trying to do.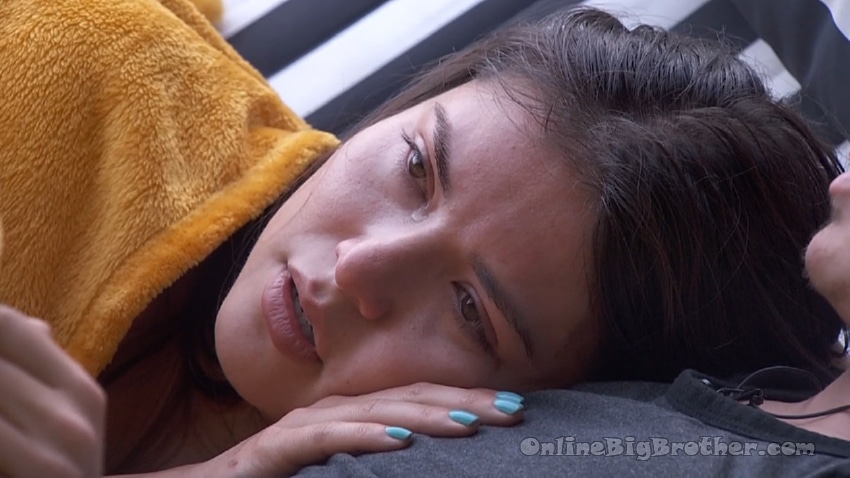 America cries "I just feel so bad"
Cory – I want you to win the game. In this world I'm your biggest fan. I just need you to believe in yourself like I believe in you.
Feeds flip to the rest of the house in the kitchen chit chatting.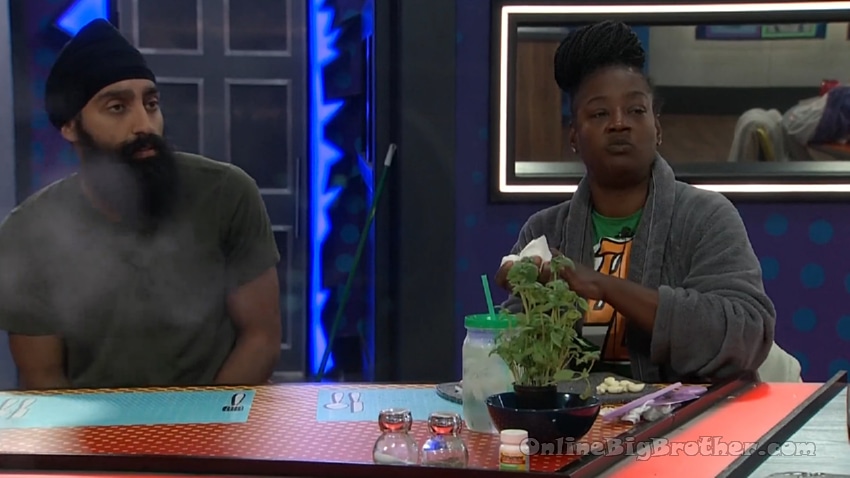 6:00 pm Blue and Cirie
Blue saying that America is denying everything. Jag and Felicia walk in.
Blue says once Cory is "DONE" she'll be the person America runs to. "I think what she hopes if her and I are on the block people see me as more of a threat than she is and it's my a$$ gone not hers."
Blue – that is her game the entire time.
Cirie – she's nuts
Blue – She keeps denying.. I'm not buying it.
They start shitting on America..
Jag laughs that America is saying she hasn't lied to Blue in the last few days..
Blue goes on about how America lying is "A pattern it's a habit"
Blue – I don't love Cory's pitch either… oh I'm so innocent..
Jag – Cory I would like to believe that but I don't
Cirie – you said that?
Jag – yeah when we were upstairs
Felicia start in "he comes to the bathroom and he said I know you love this game like I do you're the only other person in this house that loves the game like I do"
Blue – He said that to you?
Fe – he always says that sh1t to me. he said.. here's my plan you know.. if we can get Bowie to understand that she's at the bottom with Matt and Jag we can get her to come over to this side. If you keep me then you, me, Cirie and Bowie we can take out Matt and Jag. He said I can help you do that you need me. BLAH BLAH BLAH
Fe – after I looked at him what do you want me to do? he said well I didn't approached Cirie she doesn't reveal your hand like that. He said I want you to go to Bowie and tell her that Jag came to you and said he was going to do a final 4 with you and Cirie (LOL he did do that!)
Blue – OHHH MY GOD..
Jag – he is scheming
Blue – that shit is crazy. (Lik 2 hours ago Jag/Matt did that)
Jag – BRO… THat mother f***Er on the block for lying and sh1t.. that dude.. what is he cooking bro he BEEN lying
blue – I told you so..
Jag – ohh that's crazy.. he's so convinced .. he's trying to convince everyone on this whole Bowie, Me and matt thing too.
Jag – BRO what the F*** BRO.. He playing the game… (Jag turning into Jared)
Matt brings up something along the lines of saying something to Cory.
Blue barks "Don't stoop to their level"
(They will probably keep going like this for the rest of the night)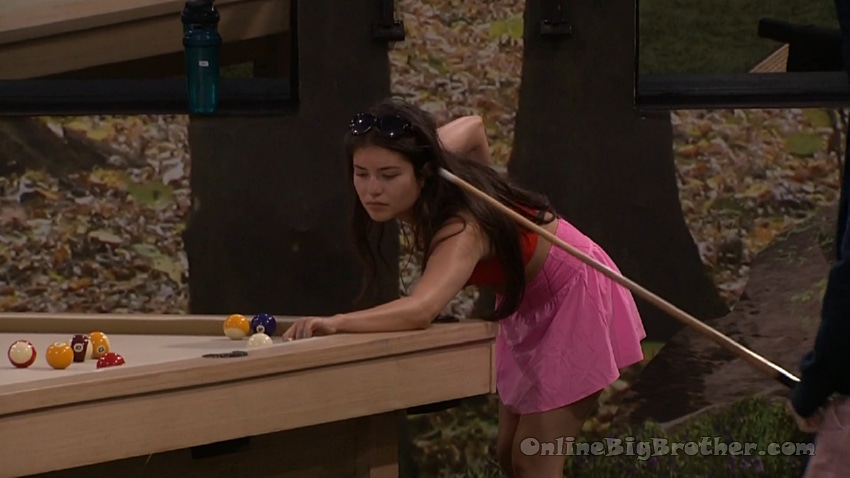 6:33 pm Cory and America
Cory says he made an interesting pitch to Felicia. Explains it would be her and Felicia lying to Bowie. She told him she needs to think about it.
America – I hope she agrees to it
Cory – Yup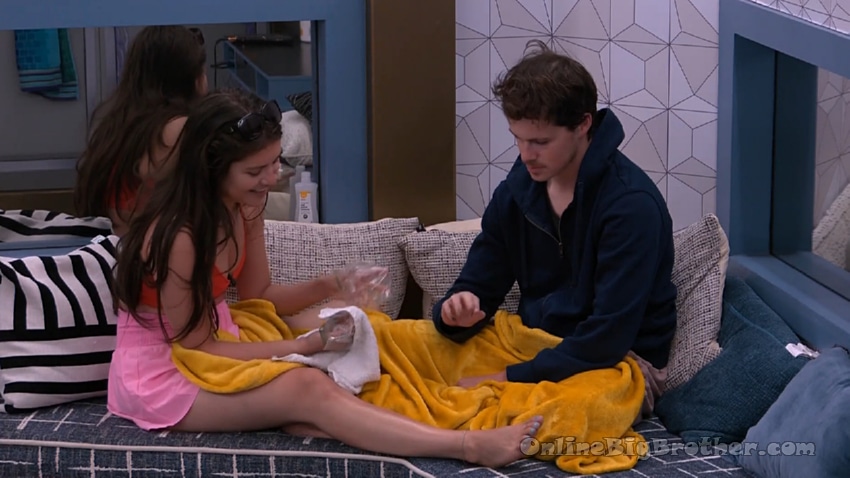 6:44 pm Cory and America
America was saying that his mom will hate her for ruining his game. Later when they go into the bathroom Cory says "You know why my mom will hate you? The mustache"
America tells him to campaign hard against her. He says it's hard he doesn't really see him staying.
Feeds flip to the kitchen crew who are taking a break shitting on Cory/America and are studying.
Without your support this site and these spoilers wouldn't be possible.
Please consider a donation to keep the madness going. Any amount is greatly appreciated!