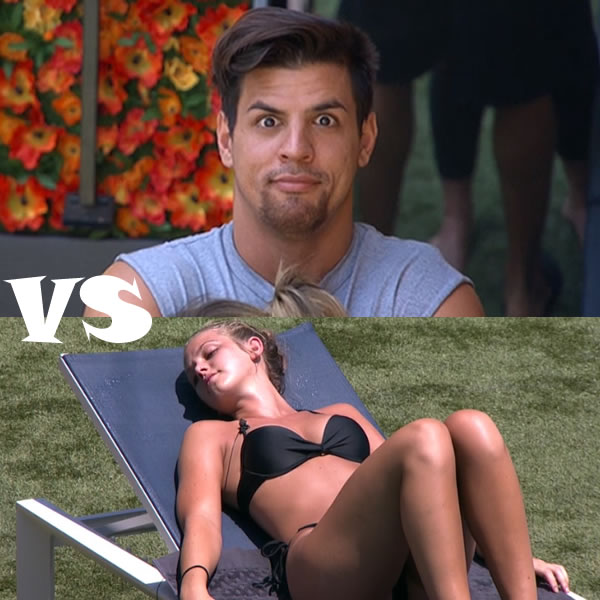 Week 9 with still a month to go.. Holy cow these seasons are real marathons. Lucky for us for the most part this is a killer season. I'll sum this week up in three posts titles..
Fes – If Sam goes home this week I look like a f*ing genius
Fes-  "F**k Man! We suck at this game. You sent home Rockstar & I sent home Scottie!"
Haleigh to FES – "You can't sleep for 48 hours"
It's a pretty big night tonight we have Fes getting evicted followed by a Juror Battle Back and a Head of household. Should be a full weekend of getting foutte'd.
CBS sent up this.. confirming the head of household on the feeds..
Tune in the Live Feeds after tonight's Big Brother 20 episode to see how the House guests react to the juror who battles their way back into the game. Plus, keep your eyes peeled because later tonight, the Head of household competition will also happen on the Live Feeds!
Posts of the week
Part 1: Catch Up From the previous Week + any new powers
Scottie was evicted by his alliance and Angela won the Head of Household. All the powers have expired from the game. A jury battle back was announced for today.
Part 2: Nominations
Last week Fes decided to make a bold move and offer Angela/Tyler a final 4 deal with him and Haleigh. This was before he made his nominations. In private tangela decide to keep the ruse going with Fes until they knew they've secured the HOH for this week. They question why would they want to work with someone whose been on the opposite side of the house for 60 days and who just turned on his alliance member. Angela slaps Haleigh and Fes on the block..  not in the final 4 with them.
Part 3 Power of Veto
The power of Veto competition was one that catered to Fes and Kaycee's athletic attributes. Kaycee wins the veto. Fes gives up trying at Big Brother 20 and starts his slumber. Haleigh begins moving closer to Angela, Kaycee and Brett. Rubbing Angela, Laying on Kaycee/Brett, saying DUDE around Kaycee. This urks Fes. He demands she sleeps in the have not for the rest of the week like he does. She demands he spend time with the other houseguests in the event he stays. He's figured it out finally he's not staying. Angela and Tyler start snuggling in the HOH.
Part 4 Power of Veto Ceremony
Kaycee doesn't use the veto. Fes lays in his room like a slug. Haleigh continues to work herself into the other houseguests's level6 alliance. She makes impressive progress. (makes you wonder how foutte'd her game was by being in the foutte alliance)
Part 5 Pre eviction
Fes does nothing but sleep and pout. He tells Haleigh he doesn't need to talk to anyone in the house. If he comes back he'll communicate with them through Tyler (sweet baby bird) . JC starts to tell Tyler they need their final 4 to be him, Tyler and two people that hate each other. JC selects Haleigh and Sam for those two people. Tyler won't flip on level6 this early and keeps telling JC he can't do it, YET. JC talks to Brett tells him how dangerous KAycee and Angela are… JC tells Fes he has to make sure Sam does not target haleigh and Haleigh does not target Sam. He stresses that its the only way for any of their three to survive this game. Brett is in the background being awesome. Sam is grumpy as all heck then they up her dosage and she's as happy as a pig in sh1t. she's still hasn't smoked and still loves Brett.
Where does this leave us?
Fes is getting evicted. There will be a battle back. My money is on Scottie or Fes to win it. I believe it will be an physical type competition as the houseguests are told to wear athletic clothes for the show.
Head of Household and Eviction results
FEs – hi mom and dad check out fessy fitness.. (OUCH) you've been spoon fed your whole life you drive a range rover .. and wear a fake ring when you go to the grocery store..
Fes goes on to destroy Angela telling Sam, Brett and Tyler some dirt about her..
Haleigh – Grateful i am
Tyler votes to evict Fes
Brett votes to evict Fes
Sam votes to evict Haleigh
JC votes to evict FES
Kaycee votes to evict FES
Hugs everyone. Angela remains on the couch. FEs gets to meet Julie Chen..
BATTLE BACK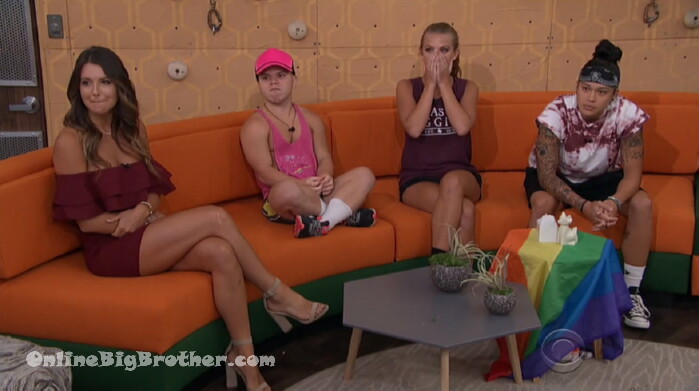 Current players find out about it..
THE Jury is shown.. it's full of HIVE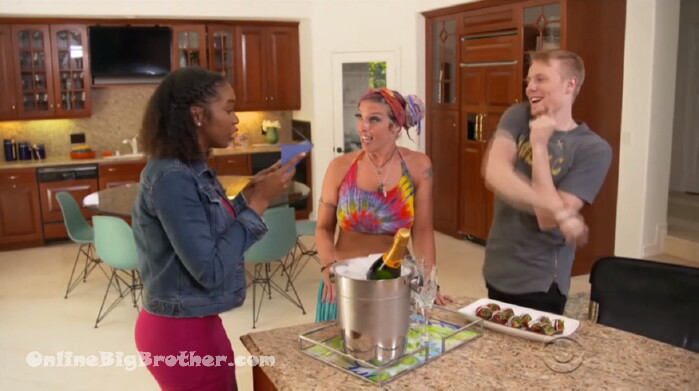 They find out they can come back into the game.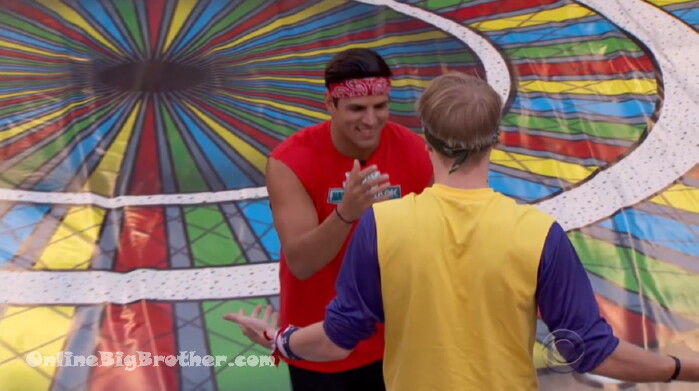 FEs apologizes to Scottie.
Bayleigh – "Why is the whole hive here"
Scottie wins the battle back … HAHAHAHAHHAHAHAHAHAHH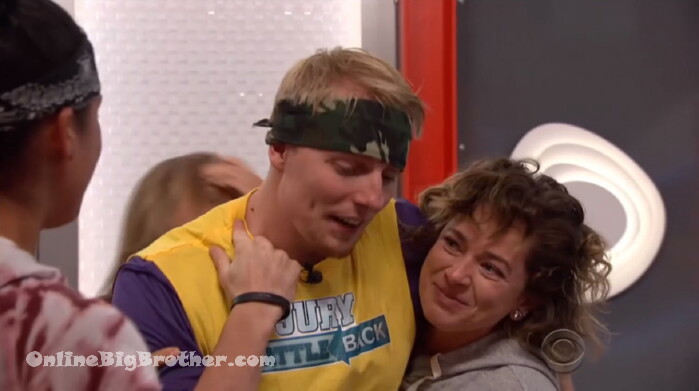 SCottie says he's going to get in with Tyler and go after Angela (BOOO)
FEeds back…
Scottie just running around having fun… everyone asking him questions about the jury house.
Scottie says that FES was taking his time making sure he got the ball in the tube whereas Scottie would be as fast as possible..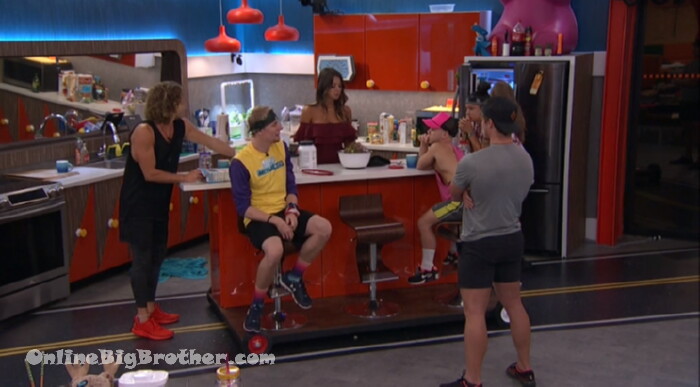 Angela tells him about FEs' speech he said he was trying to get Sam put up during his HOH, She drivers a rang rover, wears a fake engagement ring..
Scottie tells them the jury found out about the BATTLE BACK this past weekend.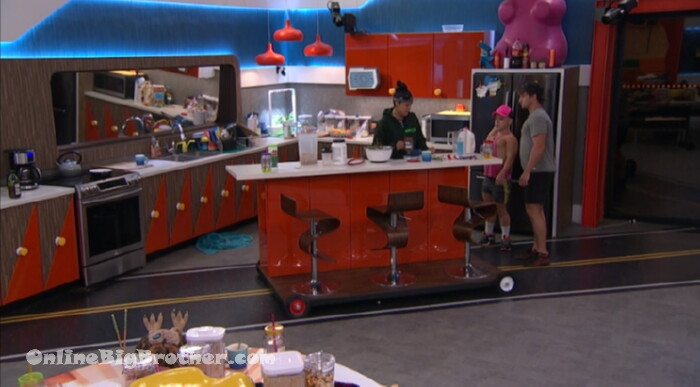 7:26pm Kaycee, Brett and JC
JC saying that Sam is going try and go with Scottie and Haleigh.
Brett mentions how that was the first eviction speech that went personal..
HOH will be on the feeds at 10:30pm
7:40pm Haleigh apologizes to Angela for Fes' speech..
Angela says she told fes once that she was hit on at the grocery store so she put her other ring on her finger.
Kaycee says Fes was biter and Salty… "it was poor sportsmanship.. "
Angela points out that FES must be pissed that SCottie won the Battle back because last week Fes sent SCottie out..
Haleigh goes on about how she didn't know about FEs' speech, "it;s like SCottie and Fes traded places"
H – I would have tlkaed him out of it if I had known..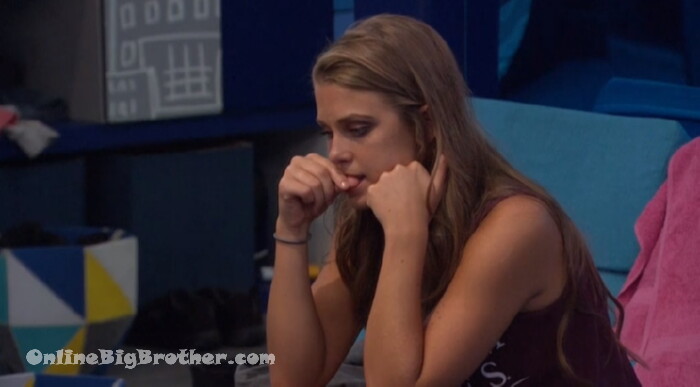 Haleigh still chewing her hands.,.. .
A easy way to support the site if you are an amazon shopper is to make your purchases through our link. You pay the exact same thing but we get a small % commission. It doesn't cost you anything and helps us out.
Amazon Canada
Amazon USA
Rank the houseguests!
Easiest way to Rank the house guests use link below