| | | | |
| --- | --- | --- | --- |
| POV: | Kaycee | Next POV: | Aug 25th |
| POV Used | NO | POV Ceremony | Aug 27th |
| HOH: | ANGELA | Next HOH: | Aug 30th |
| Noms: | Fes & Haleigh | Have Not | Fes, Haleigh, Kaycee |
Big Brother Spoilers What can I say.. Fes has been sleepin like a hibernating bear most of the day and the rest have been mostly chit chatting. They are all convinced tomorrow will either be a double or Battleback.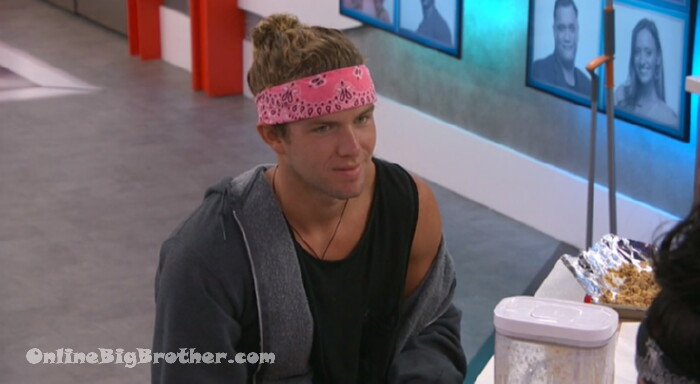 2:20pm Tyler and Kaycee
T – Everyone thinks it's you and Angela final 2 .. yeah everyone thinks it's you two final 2 and you want me final 3
K – how they know
T – they don't
K – Is that just JC saying that..
T – Brett..
K – ohhhh
K – he's trying to do something with you..
T – yeah
K – little do they know
Tyler – no one sees it it's amazing..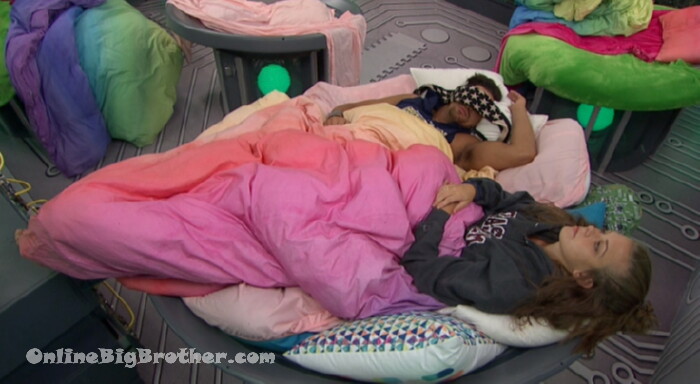 2:25pm Haleigh and FEs
H – you can't sleep for 48 hours
Everything she offers to do with him FEs says no to.. he lays there like a lump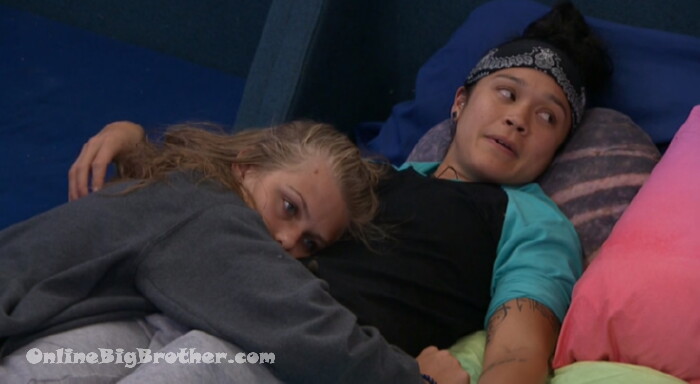 3:04pm Haleigh, Kaycee and JC
Kaycee – how is fes able to sleep..
H – he puts his bandanna over his eyes
Kaycee – let me try that..
JC points out that when Fes was HOH he spent hours and hours up in there sleeping.
JC says if they have only 8 people they shouldn't have any have nots. Points out that it brings the energy down.
JC leaves..
YHaleigh says for her to come back and play this game they would have to pay her more, "whoever they brings back will obviously bump their ratings" (OMG NO bringing people back is killing this show.. this season is proof of that)
Kaycee mentions how much stress this game puts on your body
H – Fes sad.. I don't know why he won't talk to me
Kaycee – theres only so much you can do
H – I'm getting so nervous
Haleigh asks her if she still has the votes. Kaycee says "mmmhmmm you should be good girl.. I know it's scary because it is"
Kaycee – I can't believe I was on the block twice..
Kaycee – has fes talked to you about the votes..
H – we haven't talked about it at all .. what are you going to say
K – you going to do a rockstar
H – no
they impersonate Rockstar trying to get votes for Bayleigh when the two of them were on the block, "This is how many you need (Bayleigh)_ we need just one more" (LOL rocks ohh rocks how I miss you… )
Kaycee – like she really did that. you where there?
H – JC and Bayleigh were and Bay was the one that told me about it
H – I asked Rockstar and she said I didn't want her to get down
K – I wonder if they played that.. I betcha they did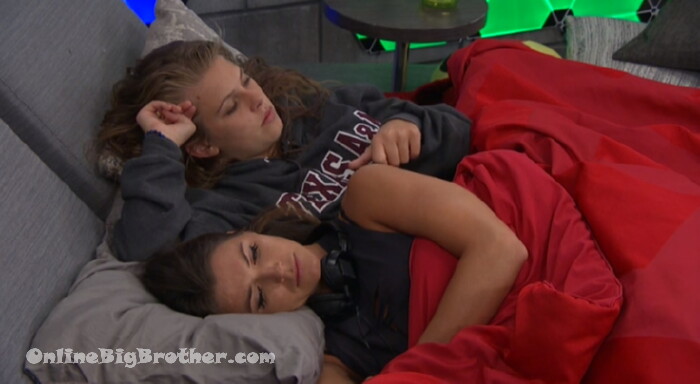 4:03pm Haleigh rubbing Angela's arm. Angela is thrilled.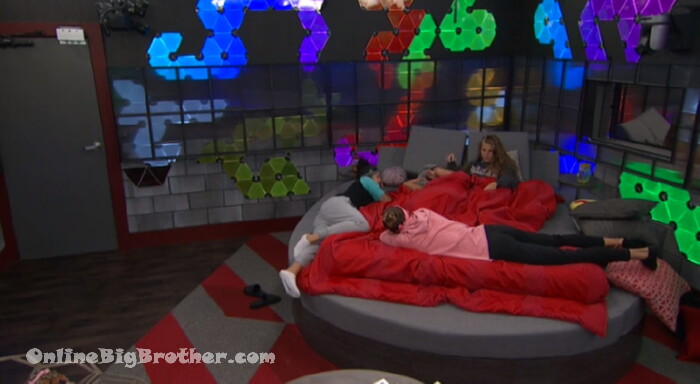 4:30pm Chit chat..
(The two things Haleigh has been doing is a) play and pet Angela's shoulders and Hair b) say DUDE whenever talking to kaycee) (She's doing an alright jonb though)
4:48pm Fes and Brett decide to do something and they jump on the climbing wall..
Bretts – going to do 10 or 15 the last time he did 20 his forearms were sore and it was right before the tree comp. (endurance)
Brett says doing 10 with workouts in between is good, "Burpees
Fes – burpees f* that I'll do jumping jacks..
Fes – wish we didn't have to wear these helmets.. (it's that attitude that has FOUTTE'd Fes)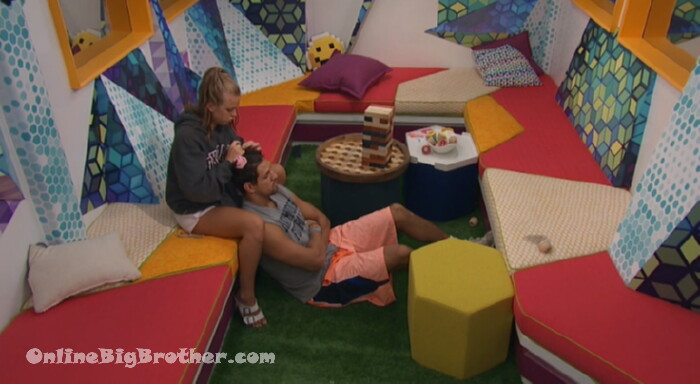 5:49pm they're not talking..
5:59pm fes speaks
Fes – I don't know haleigh I spent that last 74 days with you .. that sucks..
feeds go to fish ..
when they come back
H – are you about to shower..
FEs – where are you going
H – somewhere else..
Fes – come here
H – what fes you want me to stare at you in silence..
Fes – you want to talk e
h – You aren't in a talking mood
F – this is our last day together
H – look If I leave you need to go make friends.. that's what I am telling you you can't just sit around all day..
f – It doesn't matter
h – What doesn't matter … this game
f – they don't matter to me
H – you think this game you can play completely by yourself
F – I don't know how to play this game obviously
H – I don't either but I know sitting in a room by yourself for 48 hours isn't a good start
F – I don't really care about that right now
H – this game doesn't matter
F – one of us is going home tomorrow
H – and one of us is staying.. i'm telling you to get your sh1t together
F – I'm not staying
H – we don't know but I'll tell you this you will be next with your 48 hours seclusion


H – for you to be giving up pisses me off.. you've stayed quiet in a room for 72 hours
F – now it's 72 hours (damn need to change the title)
H – are you doing the math in your head … 3 days is 72 hours
F – everyone is upstairs i'm not going upstairs you gotta be f*ed up … I don't understand why you are upstairs.. why are you hanging out with just Angela.. she's the one that put us on the block she doesn't have a vote
H – I'm not just hanging out with Angela..
Fes says she ran up into the HOH to see Anegla because she came out of the Diary room crying. "I saw she was upset"
H – have you seen the show
F – I don't think you are supposed to hang out with the HOH that put you on teh block I haven't seen that on teh show have you ..
H – I'm not just hanging out I'm hanging out with everyone else in the house..
Haleigh tells him everyone is against them not just Angela.. "Only one person can win"
Fes tells her if he leaves tomorrow that he'll never have to talk to these people in the house again. If he stays he still doesn't have to.
Fes – if I stay i'll have Tyler talk to them what I say(this right here is why you wear your damn helmet)
H – Fes I am not winning this game..
Fes – anything can happen
H – I'm already against a group of people that i'm trying to get in with ..
Fes – if they don't vote me out they are so f*ing stupid..
H – Brett could see you as a asset, JC likes you and Sam hates me..
FEs – I don't know anything about this game.. I didn't know it was like that people flipping sh1t ..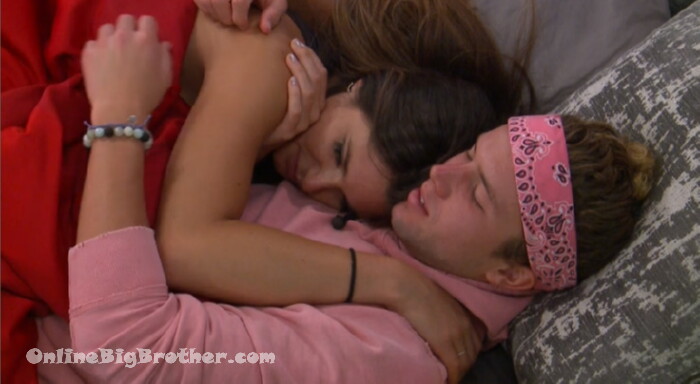 6:10pm cuddling
at 6:31pm Angela says the only people she cares about what they think is Kaycee and BRett (and Tyler) everyone else can go F* themselves.
T – yeah
T – I feel like you and I would pick each other over them that's the problem.. they can't feel that way
A – yeah, I told Kaycee one of my twitter questions was who is your best friend in the house.. I let her know she's my best friend in the house
T – that's really good
They talk about who to get rid of next Haleigh or Sam
T – they are both loners after this..
Angela says they need a person to stay that wants to put up JC (next week).. or they take out JC with the knowledge that Sam and Haleigh will take out each other.
A – at the same time I f*ing love JC and being without JC would be so said
T – I think he'll put up Haleigh and Sam if he won next week.. It'll be too early for him to do that..
Tyler says Haleigh is more likely to go after JC
A – then we have to get rid of SAm.. we need whoever stays to put up JC and I don't see Sam doing that
T – Sam would put up Brett.. (no she won't she loves Brett)
T – Haleigh has already done stuff to us but Sam hasn't..
After thinking that they realize that Halegih has put Kaycee, Angela and Tyler up
Tyler points out Haleigh is trying to get in with them
A – she's doing a good job.. I can see right through it
T – you can see it in her face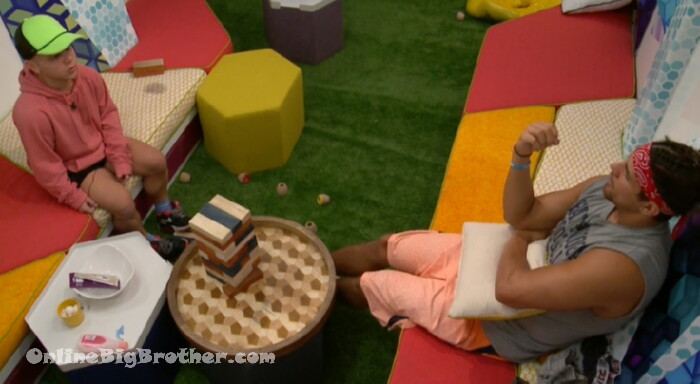 6:48pm FEs and JC
JC mentions that the house is getting paranoid about the potential of a double or a battle back tomorrow.
Fes know Haleigh told him they were all upstairs saying "Do you think it's a battle back do you think sits athletic" Fes laughs..
Haleigh comes in..
JC says last week "they" were saying SAM SAM SAM SAM and she never say the block ..
FES says the numbers are small they can win HOH
JC – I don't want Sam to go after Haleigh
FEs – as soon as they get out Haleigh they're coming for you
JC – if Sam wins she's not coming for her (Haleigh)
FEs leaves..
JC – how do you feel
H – do you think i'm staying
JC – I think you are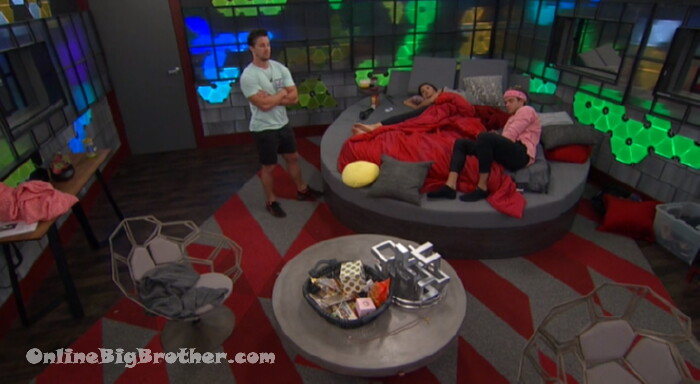 7:35pm Brett, Angela and Tyler
They talk about Double eviction strategies. Haleigh first.. if Veto is played on her Sam.
Brett – I love the little f*er I really want to take him to top 5 .. I would feel better in my gut
A – I feel like he's done a lot of work for us .. damage control getting people to flip vote s
T – if we cut him too early he'll be bitter ..
B – I agree 100%
They agree JC is not good at comps
B – he's a non threat.. I don't want to do that to him send him into the house with ROCKSTAR
Angela mentions they need JC in the house to entertain them
Brett – all I can think about is the jury house faces when FES walks in
Tyler mentions how happy Scottie will be.
7:45pm Brett gets to work on the massages..
A real easy way to support the site if you are an amazon shopper is to make your purchases through our link. You pay the exact same thing but we get a small % commission. It doesn't cost you anything and helps us out.
Amazon Canada
Amazon USA