| | | | |
| --- | --- | --- | --- |
| POV: | Tyler | Next POV: | Aug 11th |
| POV Used | YES | POV Ceremony | Aug 13th |
| HOH: | Haleigh | Next HOH: | Aug 16th |
| Noms: | Kaycee Rockstar and Angela Kaycee | Have Nots | |
Big Brother Spoilers Rocks thinks she's staying.
A real easy way to support the site if you are an amazon shopper is to make your purchases through our link. You pay the exact same thing but we get a small % commission. It doesn't cost you anything and helps us out.
Amazon Canada
Amazon USA
8:20pm HOH room. Rockstar, Haleigh and Scottie. Rockstar talks about her boyfriend Chris who doesn't like parking or people. Rockstar talks about her friend Lars who's just like JC except he isn't short, isn't gay and isn't Hispanic.
Bedroom. Kaycee, JC, Tyler and Angela. Tyler, JC and Angela dress up in Kaycee's unitards. Brett and Scottie then put one on each.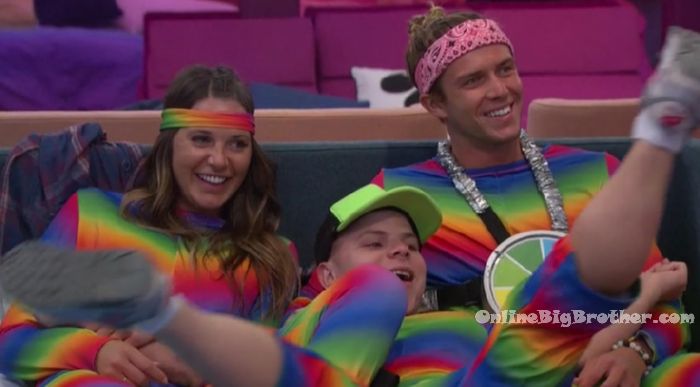 8:30pm Lounge room. Haleigh and Fes. Heleigh – what's wrong? Fes – Nothing I just feel out of it today. Haleigh – something is wrong with you. Fes – nothing. I just don't feel like playing big brother today. Haleigh – you're not going to talk to me about whatever is wrong? Okay, well I tried. Are you serious? What is wrong Fessie?! Fes – nothing is wrong. Haleigh – okay, go to sleep and I hope you're in a better mood tomorrow. Look at me, what is wrong with you? Did you talk to JC? No you didn't, when you said you were going to. Or did you talk to him and tomorrow isn't going to go the way I want it. Fes – no I didn't talk to him. This game just does weird sh*t to you, like it f**ks with your head. Haleigh – I can't fix it whatever is wrong with you if I don't know what it is. Fes – I don't want you to fix anything. Haleigh – you're being very strange. Fes – I don't know what I believe anymore. Haleigh – like what? Fes – what I see, what people tell me. I don't know what is real and what is fake anymore. Haleigh – are you talking about other people or you and I. Fes – just everything. Haleigh – so you and I too. Okay! Fes – what does that even mean!? Haleigh – well I guess I will see you tomorrow. I need to go get the votes Rockstar needs. Haleigh heads up to the HOH room.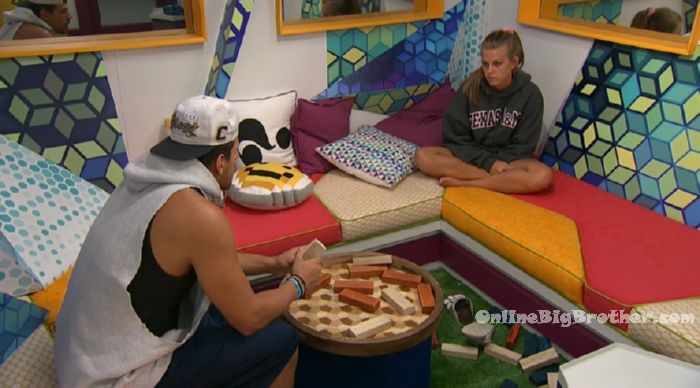 Bedroom. JC – tomorrow is going to be the same.. as Rachel. Tyler – that's awesome. JC – she (Rockstar) really thinks she has 5 votes. Scottie, Fes, me (JC), Brett and Sam.
9pm HOH room. Fes, Rockstar, Scottie and Angela. Haleigh – have you talked to Brett? Scottie – The only thing that he is worried about is that he is not convinced that Sam is voting for you (Rockstar) to stay. Brett is like a scared little kid. He doesn't want to get left in a scenario where is vote gets cancelled. Haleigh – so how do we let him that know that Sam is voting to keep Rockstar. He needs to just come up here so we can talk about it. Fes – I haven't gotten one pitch yet. Rockstar – Since Bay and I decided who should go out this week I think you and I should decide who should go out next week should I not be here even though I would really like to be here. I think that everyone should put up Angela next to Tyler and send Angela … Those would be my wishes. Haliegh – Ideal! Rockstar – I don't know what it is about me .. like why?! I just starting to get sad. Sam – don't do that. It won't help a motherf**king thing. Rockstar – I did not do good on my mission to burn this motherf**ker down. Haleigh – Fessie will you talk to JC tonight? Fes – yes.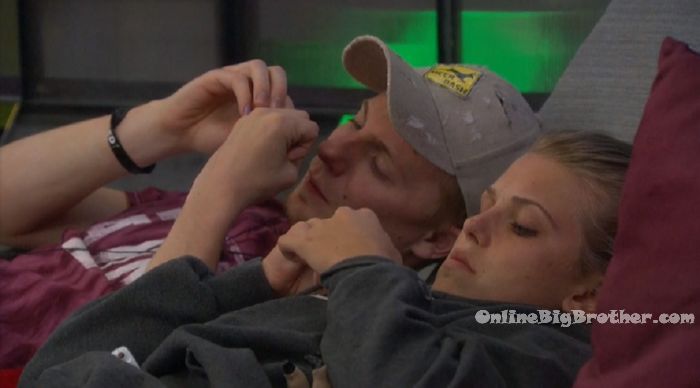 10:15pm Kitchen. JC and Fes. JC – Sam is going to go for Rockstar? Fes nods yes. JC – she told you? Fes – I am pretty sure yes. JC – because Sam told me that she was pretty much on this side. Fes – when was that? JC – it was Monday. Fes – During Angela's one on one she threw Sam under the bus. JC – what did she say? She was about to go up so she was telling Haleigh that Sam is always complaining and wants to go home. She is miserable, you might as well just put her on the block. That's what Angela was saying to Haleigh. So Sam definitely doesn't like Angela no more. JC – I don't want to say who I am voting for because I don't want my vote cancelled. Fes – you can tell me. I'm not the hacker. If we're working together, I am not doing this sh*t. If we are supposed to be a team and working together. JC – no, no, no I told you this yesterday you don't tell me what to do. You know I don't like this bully sh*t. Second of all don't give me a team. Fes – this is a decision that needs to be made. JC – you're asking me right now when I am sleepy. You're giving me information that I didn't know before so let me think about it. Fes – I am just saying if you want to work with me that's what people who work together do. Look at what happened last week, you got paranoid.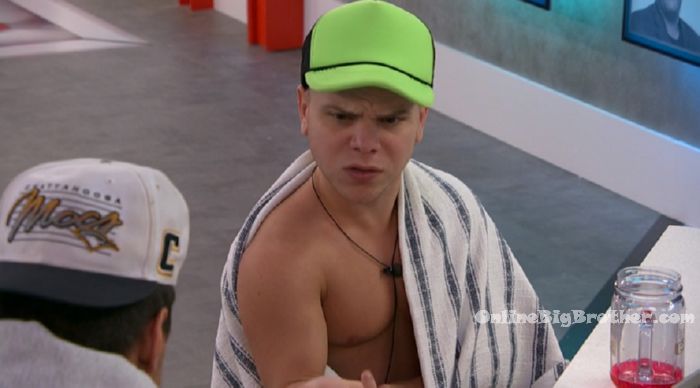 10:30pm Fes and Brett in the bathroom. Fes – here is my theory. If you and Scottie are on the same page, then he (JC) will jump on that page so that is five and they cancel one… so that's like four. Technically you only need three because Haleigh is going to break the tie. I assume they're going to cancel my vote. Brett – that's pretty safe to assume. Fes – I assume mine because I haven't gotten a pitch. They're not even worried about it, you know what I'm saying. It's not like I tied down Rockstar.. I mean give me a pitch! Its f**king big brother, you know what I mean? That's why I am saying they didn't even pitch so I am the one being cancelled. Could be wrong but.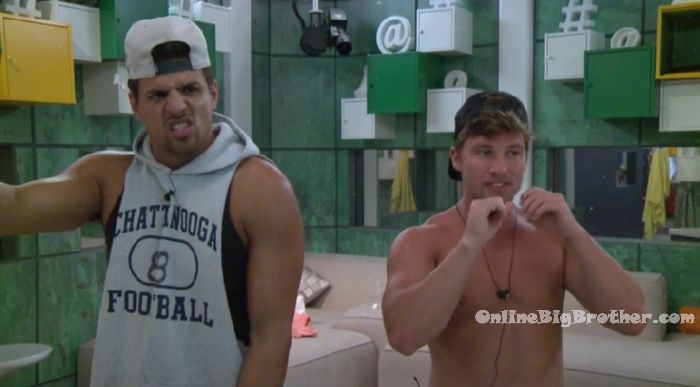 10:38pm Bathroom. JC and Fes. Fes – I would bet my left nut that Sam is voting to keep Rockstar. JC – so Sam, Scottie and Brett. Fes – and me. JC – so four and me five. Fes – and I get cancelled. JC – why would you get cancelled. No one listens to you. Fes – yeah but Kaycee didn't pitch to me. JC – you really think that when I tell you stuff. Big Brother switched the feeds to the bedroom.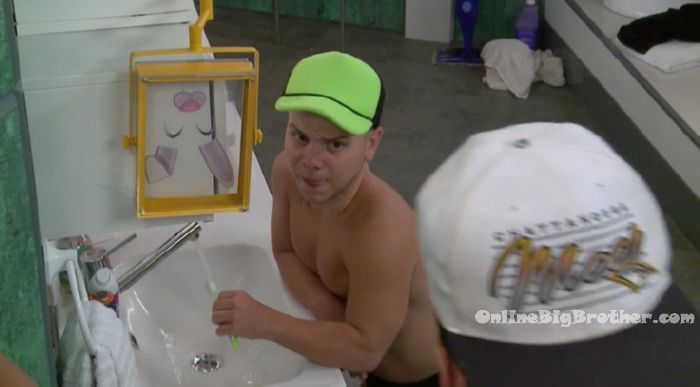 10:39pm Bedroom. Brett, Tyler, Kaycee, Angela. Kaycee – I was still debating whether I wanted to talk to him or not. But like I never talk to him. I don't give a sh*t. Brett – whatever. It doesn't matter at the end of the day. Target the people that you think you could get. Kaycee – what are you telling Haleigh and them? Brett – I just keep saying I don't know who the hacker is. At first I was saying yeah, yeah, yeah I would vote for her and now I'm just like I don't know. These votes are crazy. Everyone is all over the place doing different things. I said I just don't want to end up on the wrong side. Honestly Sam, I know she's been tight with Rockstar but I don't know. Sam keeps saying that she doesn't vote with vote with Angela any more. And that Angela and Kaycee are like this. I just keep saying I don't know. Depending on how the vote turn out I will be like dude I literally heard Rockstar's last pitch that she was gunning for me. So why the F**k would I keep someone like that. Brett – when she pitched to me. Her one on one was literally her breathing in my face like coffee. Second off she goes .. soooooo. And I was like so, this is your pitch. Not mine! Talk. She was like I've been thinking a lot and I think a lot of people want us to work together. And I was like who are a lot of people? And she was like (points up). And I was like sick! She was like and I've been thinking we would call ourselves the survivors. No, no, no honey we are going to call ourselves Mr and Mrs Smith. This is going to be the craziest season ever. And she was like ..good talk. That was it.

10:44pm Havenot room. Sam and Tyler. Sam – what am I supposed to do tomorrow? Tyler – what do you want to do? Sam – well you picked Kaycee. You two became this thing and then I agreed. But I've always just wanted you. So you tell me what to do. Tyler – I don't want to tell you what to do, I want you to do what's best for you. Sam – what's best for me is whats best for you. Tyler – I mean I met Kaycee early on because she is a trustworthy person and has never said a bad word. Sam – If I keep my word. You're the only person I've said anything to. Tyler – do you say it to Kaycee? Sam – nope! Tyler – you haven't told Rockstar you would vote to keep her? Sam – nope. You're the only person I've told. Do you want me to keep with that or do you want me to do something else. You're the one that had all these talks today. The numbers are so small now its hard to make a decision. Tyler – of course I would much rather Kaycee stay over Rockstar because Rockstar wants me out. You know, its easy. Kaycee doesn't want me out right now. They never talked to me until I won the veto and then they wanted me to use it on them. Just like they never talked to you until they saw their numbers dwindling down. Sam – That's Rockstar and I think they see my potential now whereas before they didn't. The people that I really care about are who I want to vote with.

Sam – why are there still sides of the house .. there are only 10 of us! What is the majority of the house doing? Tyler – I don't know it depends a lot on what you want to do. But as far as I know Kaycee is going to stay whether you vote her out or whether you keep her. Sam – then I will veto to keep her. Tyler – I don't want them to manipulate you to thinking bad things. Sam – nobody can manipulate me. No matter what. Tyler – Rockstar literally said that she has done that to you. Sam – how many times do I have to tell you this .. if it doesn't come out of my mouth, its not true. Tyler – they're already saying you've said it. Sam – they're lying. I am telling the truth. I love Rockstar. She is the only reason I am half way sane in this house. Right now I am sure they think I am going to vote for her because she smoked cigarettes with me and because she is older and uglier and whatever.. Tyler – it shouldn't matter. Sam – I am voting to keep Kaycee. Person-wise yeah she (Rockstar) is a lot easier but game-wise you want her so we will keep her. I don't f**king care. Tyler – and I swear there has never been a bad word spoken of you. Sam – you are literally the only loyalty I have in this entire f**king house. Tyler – everyone wants to put me up with Angela because they think she's my closest ally .. then I get the votes to stay .. and everyone thinks they got out my closest ally but they don't know my closest ally is right here (points to Sam). Sam – okay. Tyler – that's why its a good thing. They hug. Sam – I am always going to do what I say I am going to do. Tyler – and if Kaycee stays you have her and Angela protecting you.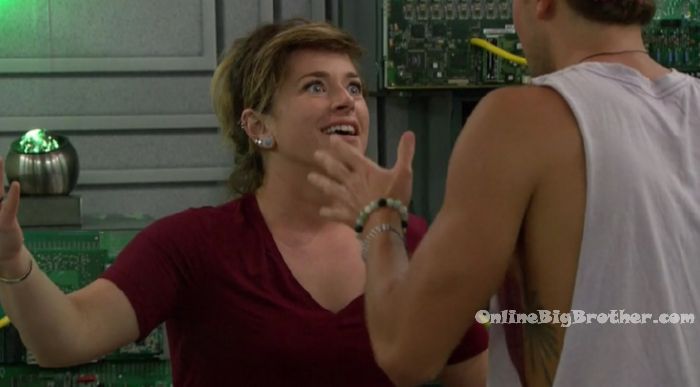 11:15pm Bathroom. Fes and JC. Fes – I know Sam is voting for Rockstar because Angela threw Sam under the bus so bad to Haleigh and Haleigh told me. That's why Sam was crying all week. Scottie isn't keeping Kaycee because Angela put up Scotte. SO who goes with Angela.. Kaycee. Kaycee does whatever Angela does. If Kaycee wins Scottie is going up and Scottie knows that. Brett thinks that Kaycee is a more physical competitor. He is looking for a team. JC – I'm trying to think outside the box. its only going to get worse. It would be very good if we have something secure. Angela and Kaycee fall out first in competitions. Tyler is good at physical competitions but he is f**king stupid. Tyler is the less of my worries right now. Fes – I don't think Tyler would come after me. JC – I think Brett would come for you. Sam comes into the bathroom to unplug the hair curler and then leaves. JC – I can't deal with that. Fes – she is getting paranoid as f**K! Rockstar is a shield for me and you. Kaycee isn't.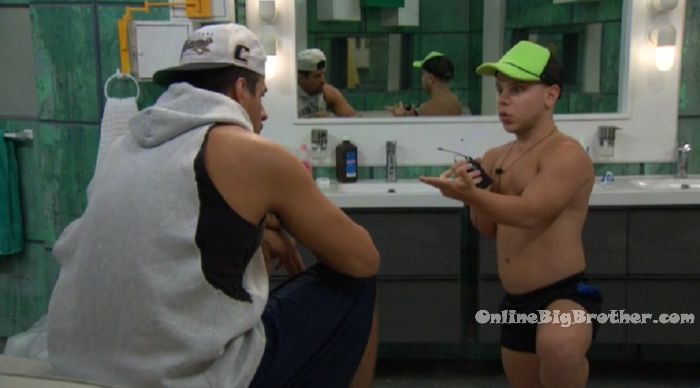 11:36pm HOH room. Haleigh and Scottie. Scottie – what is your exact deal with Rockstar? Haleigh – I just know that she is not coming after me. She thinks that me, you, her and Fes are in an alliance. She still thinks the HIVE is in tack, which I would agree. We are just missing a bee. Its not even that I want to keep Rockstar as bad as I want to get rid of Kaycee. Because if Kaycee stays that trio is very strong. Very, Very strong. Kaycee, Angela and Tyler. If we could get rid of Angela, then Tyler would be a good transition with you.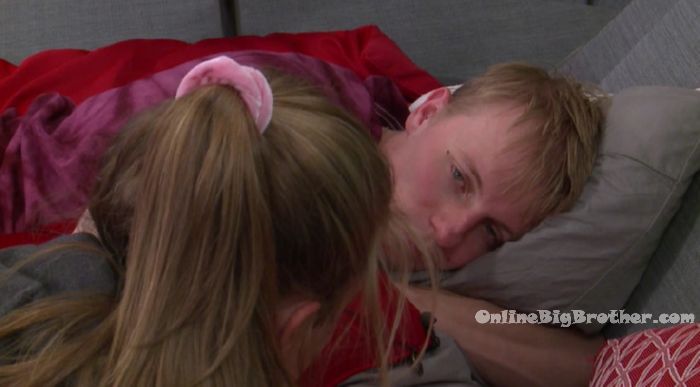 11:45am – 12:08am HOH room. Fes joins Haleigh and Scottie. HE tells them his conversation with JC. Haleigh – what was he saying? Fes – he was receptive. Rockstar joins them. Fes – I think the fact that I told him that Sam is going to vote for Rockstar.. that's what's sketching him out. Haleigh – Sam is sketching everyone out. So you are sure on this Rockstar? Rockstar – yes. Haleigh – why are you so sure? Rockstar – because she told me. Haleigh – she looked at you and said I am voting to keep you? Rockstar – yes. She said it after the veto. Haleigh – is that the last time she said it? You understand why its hard to believe it? She put you up and then didn't give you a vote last week. Rockstar – she didn't give me a vote last week because she couldn't let Baleigh go home. She asked me what to do last week and I told her I'm not going to ask you to vote for me. Haleigh – if you're sure on Sam, then everyone else is 40%.. but that's better than zero. Fes talks about his conversation with JC. Haleigh – what did JC say? Fes can't remember – he just rambles. He is concerned that we're supposed to be a team but we don't talk together. He brought you that how you were the hacker but didn't tell me (Fes). He says if we had talked about it we could have done something with it. Haleigh – first of all he never tells me anything so why would I tell him anything. Haleigh – in the event that you stay we need to establish this four and we need to pull in one. Fes – you think Brett is voting to keep you. Rockstar – its possible. Fes – you just said he was and now you're saying its possible? Rockstar – he is. Rockstar – do we not have JC 100%? Fes – no, not yet. His thing is he doesn't want to show his cards and then get caught on the wrong side. You can't blame the kid. Rockstar leaves. Haleigh – why can't we all be on the same page!? She then gets up out of bed annoyed and says – UHHHHGGGG.. I have to do everything! She storms out of the room. Haleigh comes back and says that Brett is bring up tea. Scottie – what happened last week is exactly what is happening this week. We don't know JC's vote and we don't know Sam's vote. Its the exact same scenario. Fes is listening to music and starts singing. Haleigh – Stop singing! Stop singing! Fes continues. Haleigh – SHUT UP!!! Fes takes off the headphones and walks out of the room. Haleigh – he annoys me so much!
12:18pm Kitchen. Fes and Haleigh. Fes – so you're not coming back up? Fes – no. Haleigh – what is your problem today? Fes – Don't tell me to shut up. I'm a grown a$$ man, I don't know who you've been telling to shut up but it ain't right! Don't tell me to shut up! Haleigh stands there looking at him and then head back upstairs and says goodnight. Fes – goodnight.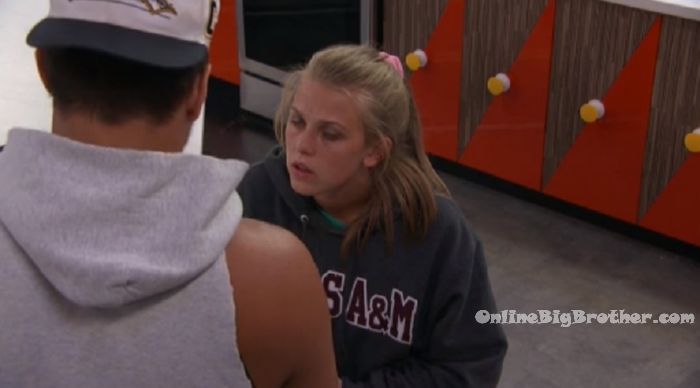 12:30am – 3:35am HOH room. Rockstar, Brett, Scottie and Haleigh. Brett talks about how he thinks JC is America's player. Haleigh – if he asks me to do anything I am saying no. They talk about super random things. Brett and Rockstar head to bed. Scottie and Haleigh lay in bed talking with the lights out. Haleigh – I will get her (Rockstar) to trust you. Scottie – the point of our relationship is not to let everyone else know about us. Haleigh – but I want her to trust you. Scottie – she doesn't need to trust me, she needs trust you. And through you she can trust me. You just have to believe in yourself more. Scottie tells Haleigh to stop asking him in front of Rockstar if he is voting to keep her. It makes it look like she can't trust me. Scottie tells Haleigh that he agrees that Rockstar should stay. Haleigh – if JC sees that you and Brett are voting to keep Rockstar, he will go that way. He doesn't want to be on the wrong side of the vote.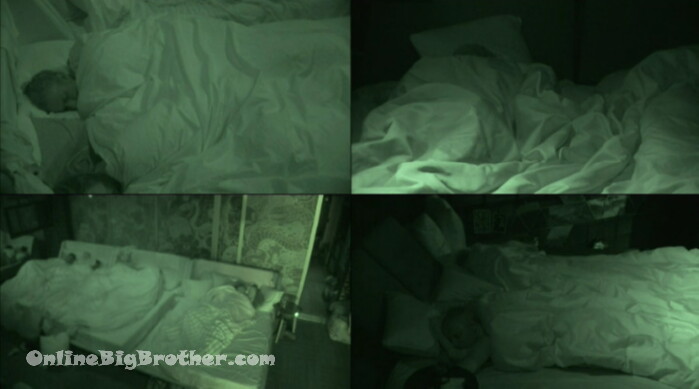 9:44am they're still sleeping yo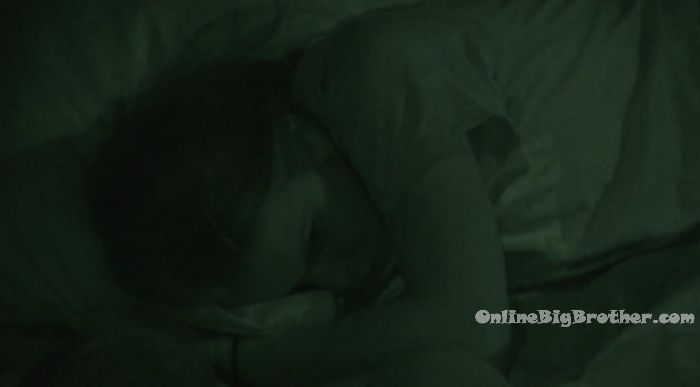 Donations Really do help keep this site keep running round the clock. If you like our content please consider supporting us. Any amount is greatly appreciated!
Rank the houseguests!
Easiest way to Rank the house guests use link below