| | | | |
| --- | --- | --- | --- |
| POV: | ? | Next POV: | Aug 25th |
| POV Used | ? | POV Ceremony | Aug 27th |
| HOH: | ANGELA | Next HOH: | Aug 30th |
| Noms: | ? & ? | Have Not | ? |
Big Brother Spoilers Haleigh/fes are going up.
12:53am HOH room reveal..
12:57am
Angela's HOH letter..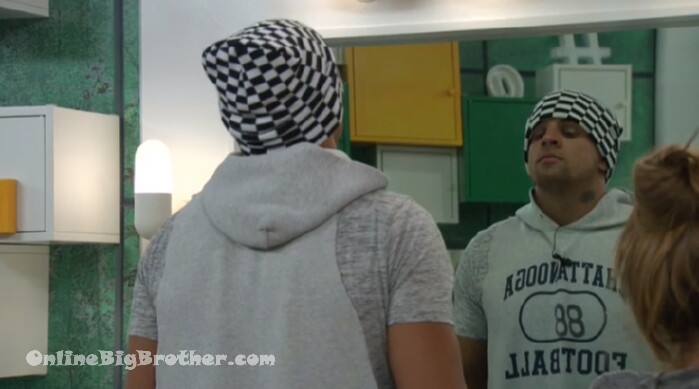 1:39am Fes and Haleigh
Fes – what you tell Tyler.. just now
H – he told me to sleep easy.. I was like I'm freaking out
H – he told me she's thinking about and to come up in the morning to talk about it
H – I don't want you pushing because that is another thing she said to me before I said any of that she's like I don't want to feel like I'm being pressured to do something
H – I really don't appreciate the way you spoke to me in front of Tyler (Baby bird)
Fes – why are you interrupting
H – I don't appreciates it.. Are yo hearing what I am saying.. I don't appreciate the way you spoke to me
F – I'm sorry..
Halegih tells him he's making Angela and Tyler feel like they owe her something
Fes says they owe him something
Fes – you try and make the house happy right.. I'm trying
Fes goes on about how if they put up Sam there's no way Sam isn't going home.
Fes – that is why I didn't put Sam up .. Smooth ..
Fes – Angela that is why I didn't put you and Tyler up because I wanted to build trust.. It would be a smooth 4 weeks if we stick to the plan Angela..
Fes going on and on about Sam and Haleigh going on the block and how there would be so much blood on Angela , "It doesn't make any sense"
H – I want another week in the room ..
Fes – I thought you were going to win it you did the best .. .I thought you had a strategy
FEs goes on about how Angela would be stupid p put Haleigh up because she knows Fes will win the veto and take her down.
Haleigh is certain that Brett will vote her out.
H – I want Sam gone I want her gone so bad..
H – SHe is Crazy.. She's f*ing crazy.. I cannot wait to see her face when she goes up I can't f*ing wait.. I'm going to vote her out so badly.. I can't be next to her.. F* I can't be next to her I will go home..
Fes – I should have never put Brett up that would have been a way to gain his trust..
Fes going on about if Sam is the target Angela needs to put up a pawn she knows for sure will stay.. "HAve this week go smooth.."
FEs – If Sam goes home this week I look like a f*ing genius
Haleigh – he's (JC) really bothering me today.. telling me to leave the room
Haleigh- She (Angela) is going to be scared.. because she thinks JC Is going to turn the whole house against her.
FEs points out there's not house any more..
FEs – there's no way after I talked to him if she puts yo up I don't understand.. she's not setting herself up for success…
FEs says JC is freaking out because he played the entire game being good with everyone in the house and now that the numbers are small he doesn't have solid loyalty with anyone.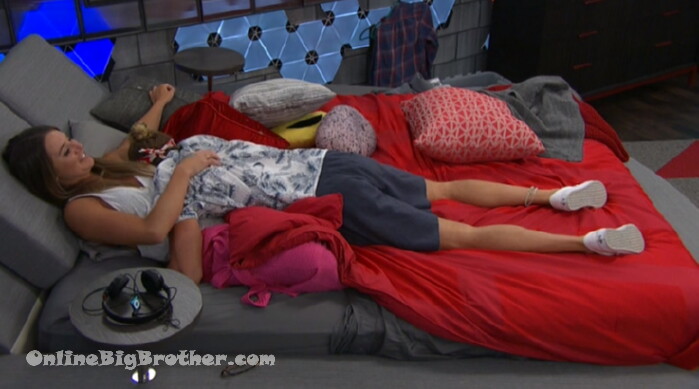 2:10pm Angela and Tyler
T – they are freaking out down there they think they are going up
A – good.. I don't know what to do
They talk about Fes/HAlegih campaigning attempts..
A – it would be so easy to send Sam home
T – do you want that.. do they want that?
A – you and me are the only people that got blood on their hands.. I'm not going to do anything that benefits Brett..
T – if we do this whole thing with Haleigh and fes they will honour it back..
A – I don't want to look stupid and not take a shot at them when we had it
They agree FEs/Haleigh will honour their deal
T – would you rather have me you that were sweet at competition that have actually done something or JC..
A- I was thinking's Haleigh and SAm up tell Haleigh she's a pawn..
Angela says they have to be on Sam to talk her down..
A – hopefully one of us wins the veto and we backdoor fes..
Angela goes on about now wanting to win the HOH she wanted "peanut" (KAycee) to win
A – I don't want Halegih up my a$$ all day long..
Tyler says she was talking to him before his DR "Can you push it"
Tyler- remember when you put us up haleigh
Angela – she put both of us up.. remember that Haleigh
T – Fes thinks he's a genius.. Day 65 and you know you can't play next week and your dumbass is getting rid of you own numbers..
T – they are freaking out the most..
T – you have a reason to put Haleigh up you know.. maybe Fes won't play in the veto
Angela goes back and forth if Fes/Haleigh will honour their deal "we're safe.. JC is safe.. that means Kaycee and Brett.. there's nobody left.. that's assuming they win power (haleigh/Fes)
They talk about how stupid Sam is acting "she wants to leave" "it's so stupid she acts like that after every HOH"
Tyler brings up how Level 6 was set to put Fes and Haleigh up they will have to selll that Fes is the backdoor to them.
A – the reason we decided to put haleigh and Fes up because we thought it was double eviction..
Tyler mentions the possibility for a battle back.
Angela agrees points out that if they get rid of Sam the battle back will most likely be physical meaning Scottie would come back in and target Fes.
A – if we can trust them this week.. get Sam out it'll be an easy week.. I think if Sam wins HOH I will be going up
T – I think so to
A – that is why I want to get Sam out.. If I am playing for myself and nobody else it's the move I should take
T – I trust Fes.. he hasn't done anything I just don't trust hasleigh
A – ne neither
T – she put me on the block..
A – she put Kayceee on the block twice..
T – Fes put kaycee on the block
A – put up Haleigh and Sam if Sam wins the veto put up haleigh and Fes if she doesn't send one of them home ..
Tyler thinks Brett and Kaycee will vote out Haleigh and JC/Fes will vote Sam out.
T – it's so tough as it goes on
A – I know Brett want Fes out.. Fes has never done anything to me ..
T – he hasn't.. just don't want to give him a chance..
a – I know
T – he's been straight up this whole time buit he's also been a f*ing idiot.. her does stupid thing.. I'm worried if he's going to try and win make a big move.. take me out or take you out befire the final 4 because he knows she's better at competitions.
A – what does JC want.. to keep FEs..
T – he told me that he would vote Fes out because he's better at comps..
T – if there's a battle back and Rockstar/Bayleigh come back then there goes me and you..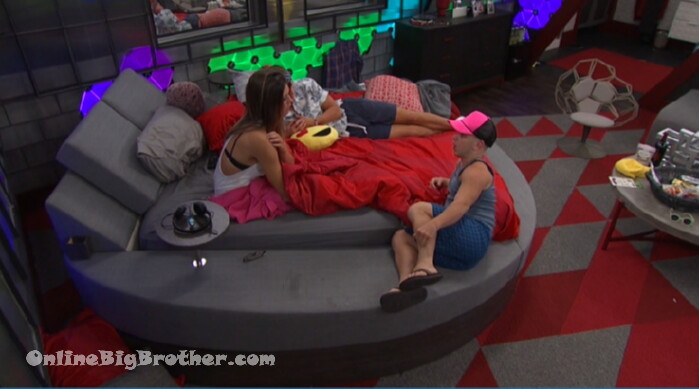 2:28am JC comes in … Angela asks him what she should do
JC – this is what i am thinking..
JC goes on about how Haleigh is getting on his nerves..
JC says Haleigh and Fes are going crazy ..
JC – if Fes wins the veto.. he'll use it on Haleigh and one of us are on the block.. If I were you and I was in your place I would put up Fes and Haleigh .. I talked to Brett and he would do the same thing
JC – If he wins the veto then you put Sam up ..
Angela says Haleigh and Fes came at her so aggressively, "You know we can be a four"
JC – I was just talking to Brett.. They're going to try and make a deal.. (Fes and Haleigh )
A – would you be ok with voting Fes out.. I know you are close
JC – I literally was getting close to Fes because it was for our team.. I've been working with them for pretend.. I'm like a spy
THey chuckle about how they got Scottie out on Fes' HOH.
JC – what Got SCottie on the block.. I told him Scottie loves Haleigh .. that was the pitch after that he was putting her out.. so Haleigh got out Rockstar and Fes Scottie..
Angela asks if Haleigh and fes win HOH this week would they have put up Angela and Tyler
JC – H woudl put you up
A – he's trying to tell him I owe him a favour..
JC – that is what they do
JC brings up Fes and Haleigh wearing SwaggyC shirts..
JC – that guy didn't do anything in this house..
JC points out if Haleigh wins HOH next she would put him and Sam
A – what if Fes doesn't pull himself off.. does Haleigh go home than me an Tyler go up next week
JC – worst case scenario you put Sam and Haleigh tomorrow.. lets say Fes uses the veto and you put Brett up..
JC implies that they've lost Brett's trust if that happens.
JC – he's been loyal to us
A – he has.. we've saved him a lot though he should vote with us
JC says Brett was going to come up but Haleigh cornered him
Angela says that pisses her off about Fes and Halegih she calls it bullying how they corner people
JC – if they dare to put you on the block they don't have teh votes (next week)
JC adds Brett, Tyler and him will vote to keep her over Sam.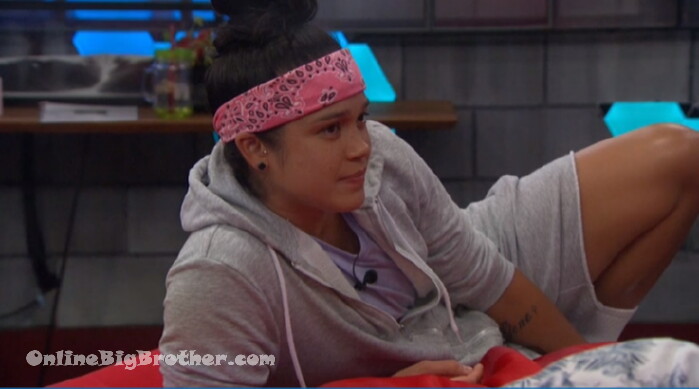 2:46am Kaycee comes in
A – kaycee what do we do
kaycee says Brett was going to come up but Haleigh is petting his head..
Angela says the two options are Sam/Haleigh or Fes/Haleigh
KAycee doesn't like the idea of keeping Haleigh and Fes in the game they're competitors.. they are dangerous.. Sam I don't know what do you think
A – if Sam stays I am a target
T – if you put up FEs and Haleigh one of them will go home. .they will target me and you.. if we play if up that we're not on the same page with Fes and Haleigh we get into tan open argument
Aneggla – this is all banking on if he wins..
Tyelr says Fes might put up Angela and Sam and Tyler will win the veto take her down, "that might be a way to cover that base" (prevent both of them going up together)
Kaycee wonders if Sam will really win the HOH
Tyelr thinks Sam would have put up Sam and Angela this week
Angela now saying if she doesn't put Sam up this week she could build something with er.
KAycee – I don't see her winning.. (HOH)
KAycee – Haleigh and Fes are WAY bigger threats.. Fes wins Competitions and Haleigh knows the game more than any of them. (on that side)
Angela – how could I justify putting them both up
Kaycee – have they said anything to you
A/T – they are scrambling hardcore..
Angela – the deal we made was in case there was a double eviction so I'm not going back on my word .. that is huge for me
Angela says she can't go back after 60 days and start working with Fes/halegih. She brings up they only mad a deal with them because Fes knew he was in danger the week after the HOH>
Kaycee – you for sure putting haleigh up
Angela – she put you up twice.. Tyler and I once if we don't put Haligh up we look like f*ing idiots.. Fes i guilty by association
Kaycee – is there anything you could say Scottie told yo about Fes
Tyelr says Brett told him that Fes was planning to backdoor Tyler, "He didn't tell him until after the veto"
Tyler – we could say Scottie said it
A – what did not come out of Scottie mouth before he left.. fake or real
T – he said he's guilty by association that is all you need..


Angela – I do think it's best for us as a whole
Tyler says everyone has her back.
Angela says she made a pinky promise with Sam to not put her up she can say that..
Kaycee adds that if Veto is played then put Sam up
They agrees Fes and Haliegh are going to lose their sh1t this week
Kaycee points out that Haleigh put both of them on the block together
Angela mentions that Scottie told her Haleigh hated her all along.. She was pissed that they were cooking for Scottie.
Angela now saying she has to put Fes and Angela up.
KAycee points out that Haleigh tried to pin her HOH noms on Rockstar .
Angela says the only reason they made a deal with them is because Fes knew he couldn't play in the HOH this week.
Kaycee – He hasn't been on the block yet
Angela – I know
Kaycee – him and JC..
Tyler – theres justification
KAycee who will put JC up
Kaycee again tells them that one of Fes/haleigh have to go home this week. mentions how haleigh tried to backdoor Tyler on Angela's HOH
Angela – we will always have the votes now.. always..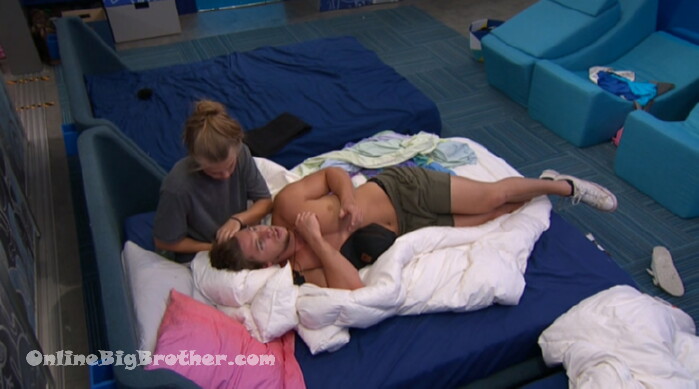 2:28am Haleigh and Brett..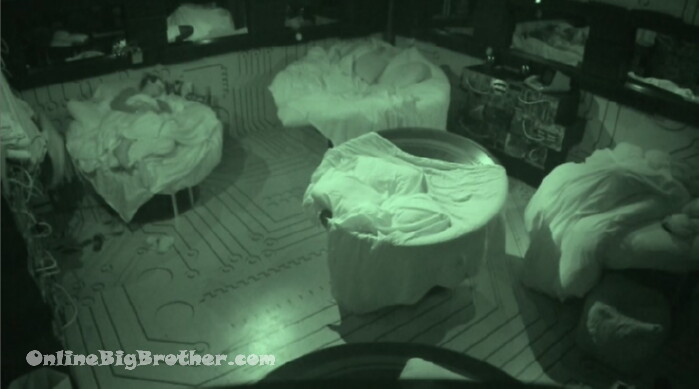 3:06am Sleeping on cam 3-4 HOH chatting cam 1-2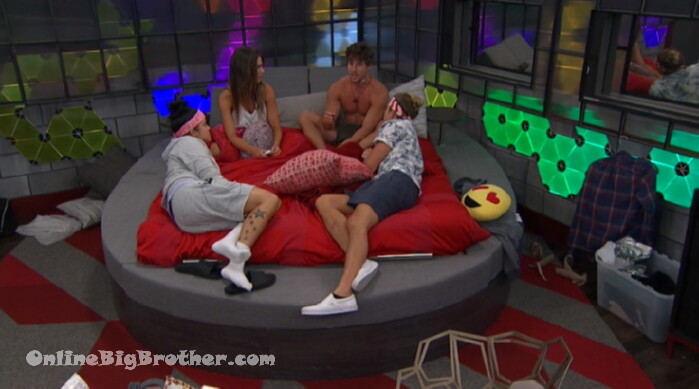 3:16am Brett, Kaycee, Tyler and Angela HOH
Brett – dude I've been going out of my mind with those people.. dude Sam is driving me insane.. she's a f*ing b1tch I don't know why..
Angela says Sam likes Brett
Brett – she has a weird f*ing way showing it
Brett says he's heard Sam "Going off" on her self in the bathroom (talking)
They agree Sam is losing it
Brett – I think a lot of it is a show.. I'm not buying it
A – how does that benefit her
B – she's less of a threat
A – she's crazy.. who wants to work with her ..
Brett says Sam is trying to gain all the jury vote.
Brett – is everything still as planned
Angela – Fes and Haleigh what do yo think
Brett – it makes me nervous Haleigh next to Fes because she might go
Angela asks if it's better for Fes to not go up
Brett says fes could win the veto, "it's not worth the gamble.. she sucks at comps.. honestly"
THey tell Brett that Sam told Rockstar she likes him. Tyler says Sam would flirt with him as well saying that he had nice ankles.
Brett says Sam cornered him in the storage room making no sense.. "I don't know what is going on.. I just want to bring up the fact I called you hogan."
Level 6(4)
Brett – I'm so happy to hang out with you guys #BB20 @DawgsBigBrother pic.twitter.com/oFdykgBaUU

— OnlineBigBrother.com (@bigbspoilers) August 24, 2018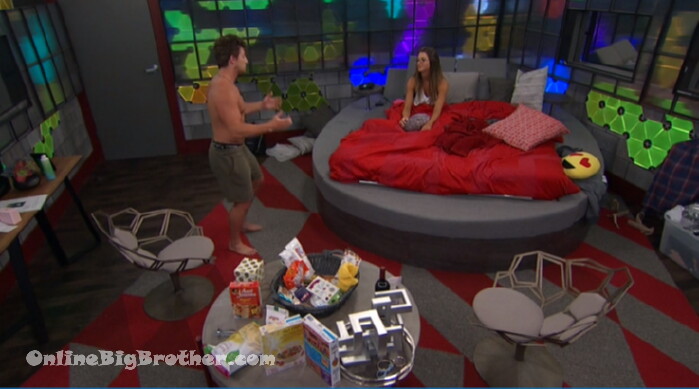 3:38pm Level 6 meeting over.. sounds like they are going to put up Fes and Haleigh.
Brett – how many back massages do you want
Angela – a lot
Brett – whenever you want me to sneak up here just let me know .. I Promise you 3 meals.. 1 can be breakfast, one can be lunch one can be dinner or they can all be Dinner..
Brett – it's a way smarter move to take Fes out
Angela – I do to.. it makes perfect sense..
Angela – at the end of the day there's four of us.
Brett Fes legitimately thinks he's the king pin running this game.. he was bragging about being the only HOH to have a unanimous vote
Brett – You dumb-ass you got someone out in your own alliance..
Anegla – of course it was unanimous
Brett – he thinks he's the puppetmaster
Angela – really .. I didn't know that I find that funny..
They laugh at Fes thanking them for their vote. anytime that Fes wants them to vote out a member of his alliance they will.
Angela – the stupidity of some people it blows my mind..
Brett – stupidity is fine.. but Stupidity and arrogance ..
Brett says if you are stupid you better be nice if you are arrogant you better be smart.
Brett says fes is bragging that he took Scottie out
Angela – Haleigh got Rockstar out.. Fes gets Scottie out.. What how does this even happen..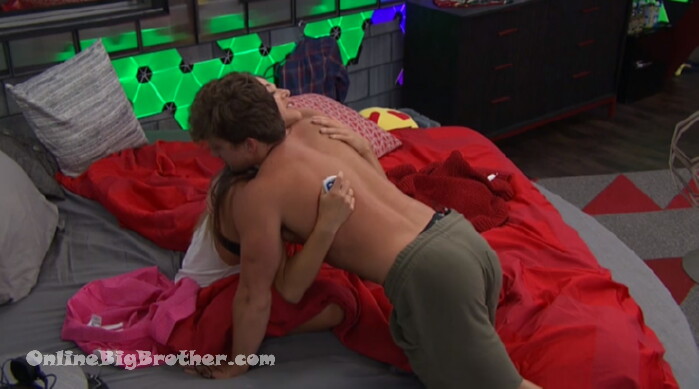 they hug it out..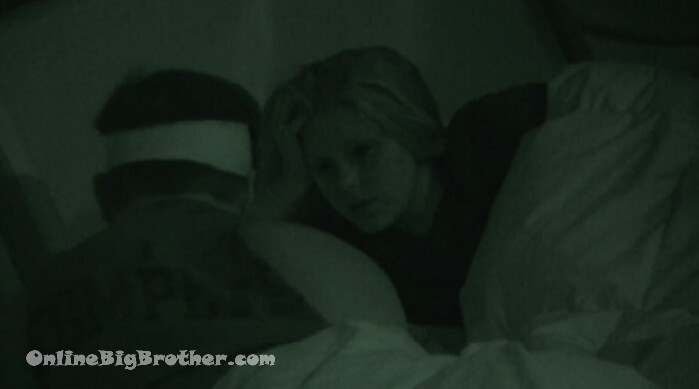 3:42pm Panicking because he feels safe celebrating with "them" (HOH)
Haleigh – it makes me nervous because they're all upstairs right now
Fes can't understand why Angela would put HAleigh and Sam up because that would mean both HAlegih and Fes will be gunning for her, "Why would she do that.. "
Haleigh – I'm just telling you what is going to happen she's putting me up I am going to stay there and I'm going home..
Fes – if Sam is your target she will not put you up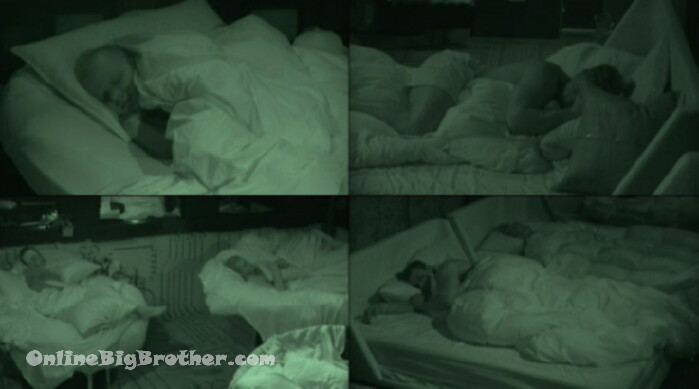 4:22am ZZZZZZZZZZZZZZZZZZZZZZZZZZZZZZZ
10:04am
we got movement..
Sam brings her breakfast.. "Whatever you do it'll be fine.. "
Sam offers to do her nails..
A real easy way to support the site if you are an amazon shopper is to make your purchases through our link. You pay the exact same thing but we get a small % commission. It doesn't cost you anything and helps us out.
Amazon Canada
Amazon USA