| | | | |
| --- | --- | --- | --- |
| POV: | ? | Next POV: | Aug 25th |
| POV Used | ? | POV Ceremony | Aug 27th |
| HOH: | ANGELA | Next HOH: | Aug 30th |
| Noms: | Fes & Haleigh | Have Not | ? |
A real easy way to support the site if you are an amazon shopper is to make your purchases through our link. You pay the exact same thing but we get a small % commission. It doesn't cost you anything and helps us out.
Amazon Canada
Amazon USA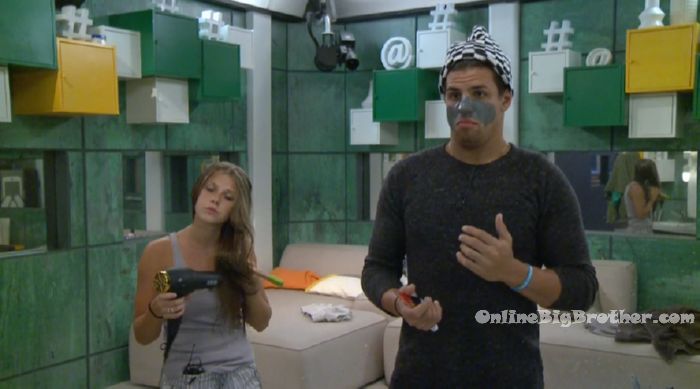 7:35pm Bathroom. Fes and Haleigh. Fes – best case scenario if one of us pulls ourselves off .. then we've got the other one, JC and we have to convince Brett. That's the only thing. Brett is at the bottom of the totem pole over there. If he jumps ship and comes over here. (to the bottom of your side?) That's the only one. And even then I don't know. F**k Man! We suck at this game. You sent home Rockstar and I sent home Scottie! We should have f**king kept Scottie. Maybe they'll like us for being so dumb. (LOL) Like look they're making the dumbest moves but at least they're winning HOH's and doing it together. I look like such a f**king idiot. Haleigh – why? Fes – because of the f**king deal we made.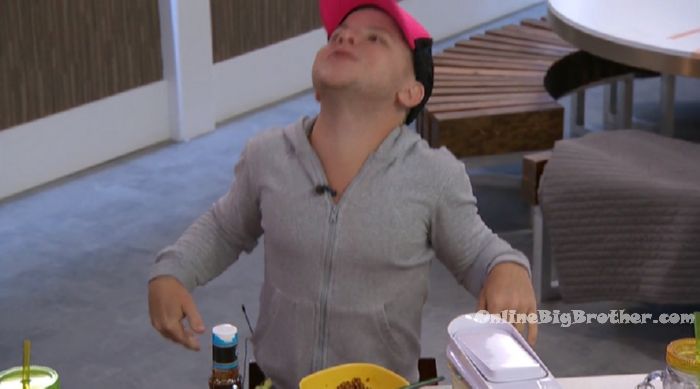 7:45pm Kitchen. Tyler to JC – have you been to a foam party? JC – yes. Tyler – did you disappear? JC – yes. But my friends are really protective. He says it was over his head and he had to make a space to breath. He had to look for a way out and his friends were trying to find him.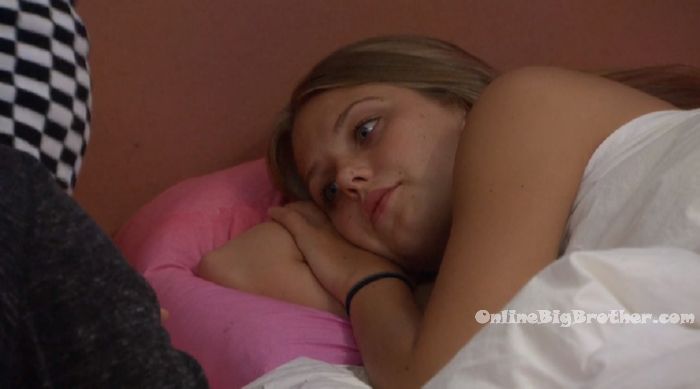 8:15pm – 9:10pm Bedroom. Haleigh & Fes. Haleigh – if you win the veto she will probably put Sam up. Fes – I hope so. Haleigh – I am going to talk to her tonight .. just in case you do pull yourself off then maybe she will reconsider. Fes – best case scenario I win the veto, she puts up Sam and she considers getting out Sam because she doesn't want me coming after her. Haleigh – they won. Fes – so you think during my HOH when Brett was like f**k it I did it. Haleigh – he did it so that Scottie would go up. Brett knew that if he didn't do that, Scottie wouldn't go up. Fes – Scottie never flipped the Swaggy vote. Haleigh – it doesn't matter. Fes – if we're on the block together What should my speech be. IF we kiss how would that f**k things up? Haleigh – this isn't what we should be worried about right now. Fes – its a tv show, come on. Its a game. At least if we do get out at least we get to be bitter a$$ jury members. Haleigh – I am so bitter. The only person that has my vote in this entire house is JC. Fes – and Kaycee right .. and she hasn't done anything! Fes laughs. Haleigh – or Sam. I wouldn't give it to Angela. Fes – at least the last 3 weeks are all about us. You win HOH, I win HOH and we go on the block. I want to win the veto but I am also ready to get the f**k out of here. Haleigh – I am over it.. at least I get to hang out with Bayleigh and Rockstar. Imagine if I get evicted and battle back and get back in. Then you win HOH. If you win HOH I want you to get your HOH room and then lock them out. Fes – no, I was thinking of having one on ones with everyone but Angela. Haleigh – maybe there's a twist .. America gives us a power because they feel sorry for us. SEND US A POWER! Fes – and not a crap app we already got two of those. Haleigh – we need to find a new game to play.
Haleigh – do you like me? Fes – Duh. I won in my books. Haleigh – I am a bitter a$$ jury member. Fes – She (Angela)isn't getting our votes, Rockstar or Scottie's vote. She isn't winning the game.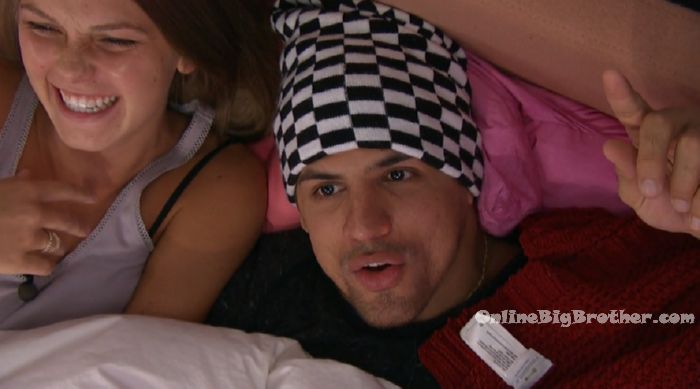 8pm – 9pm HOH room. Brett, JC, Angela, Kaycee and Tyler are studying the days / events of the season.
9:20pm Bedroom. Brett, Haleigh and Fes chatting about how they didn't think they would make it this far. (Brett is working on jury votes) Fes – if we both end up in jury we don't need to defend our cover any more. What do you think people will say? Haleigh – nothing. Scottie will be shocked. Fes – really, why? Haleigh – yeah, no one will be shocked really. Fes – I think if I make it to the end, I would have the jury votes. Haleigh – you would. I think that's what they're thinking because if I make it to then end I would have the jury votes too. Fes – watch it be JC and Kaycee… f**king floated all the way to the end.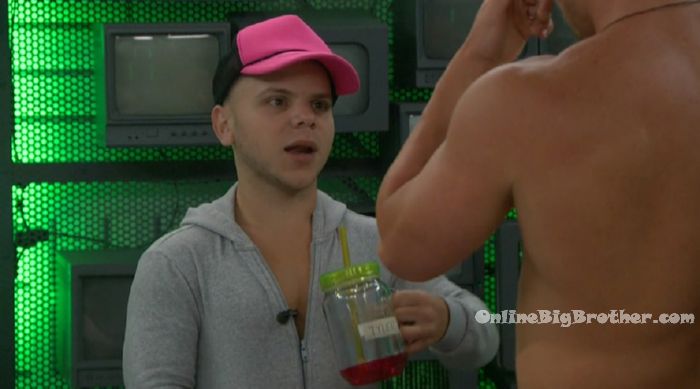 9:50pm – 10pm Havenot room. Brett and JC. JC – right now we're top eight.. we need to be top 5, top 4. Be extra charming. Be in a good place with her (Angela). And she is someone that you can totally get. Brett – but at the same point I feel like she is closer to Tyler and Kaycee. Tyler has a better f**king game than you. You're working out and sh*t and he waits for the opportunity to go up there. In the morning where is Tyler .. up there saying good morning .. telling her how good she looks. Its not that complicated! Brett – I understand what you're saying. JC – that is someone that can 100% have your back and a vote that we can use. You know that you and me aren't really linked so we're not going to see the block together. You could use my vote, her vote, Sam's vote. I could use yours and hers.. you know what I'm saying? Brett – you're saying because they're already paired people will target them together? JC – yes, you don't need to talk game with her. Go up and have fun. Tell her how good she looks. You're the only person that can do this. Brett – why? JC – because she has a small crush on you. Brett – I will try but there's too much of a gap. JC – don't mention game. Tell her something private like how a girlfriend died or something like that. JC – you need to step your pu$$y up. (LOL) You need to make sure someone has your back. Right now you are in a good spot but as the numbers get down it will be harder. She is the only one you could get. Try to get Kaycee.. no. Try to get Tyler.. no. Brett – I know. Kaycee and Tyler both want to get Angela as well. JC – but they have her. Brett – the thing with Angela is she is so hardcore about loyalty. Remember when Rachel tried to do a final 2 with Angela and Kaycee.. Rachel got busted because Kaycee and Angela already had a final 2. JC – I love Angela and them .. I just want to set up the pavement.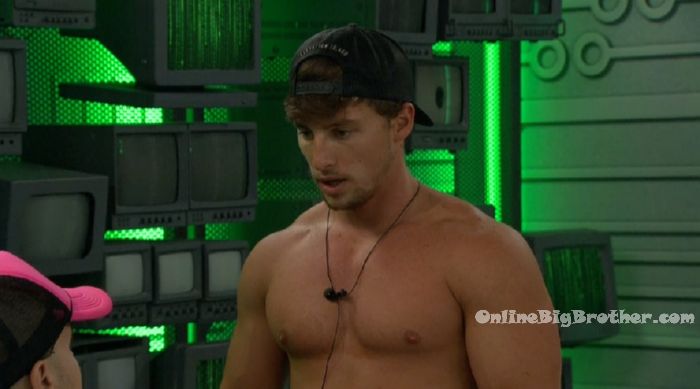 10:27pm – 10:35pm Bathroom. Fes – they're picking you off next week.. Tyler, Angela, Kaycee, Brett… its Sam and You (going up next week).. Or whoever one of us stays .. first and then you .. Unless we win HOH. JC – who would you send home? Fes – Angela, Kaycee, Brett.. ..Who is going to beat me in the veto! Fes – Angela sucks at vetos. Kaycee sucks at vetos. You .. eehhh. JC – Tyler. Fes – Tyler is good. JC – think about Rockstar she got second and you got fourth. You didn't even get bronze… you didn't even get a medal. JC about Angela's nomination speech – did you even hear the speech?? Fes – no, I was too busy looking at my damn picture. (LOL)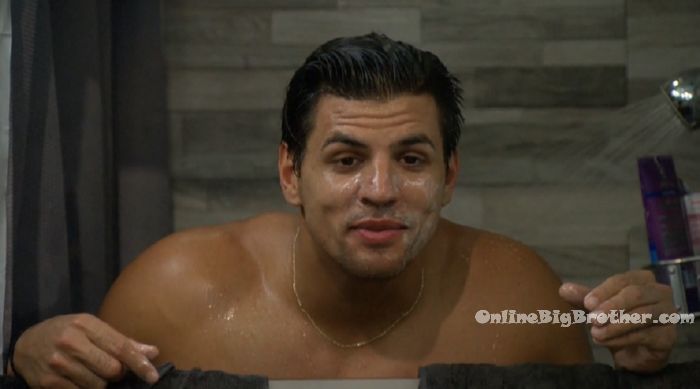 10:50pm Bathroom. JC and Tyler. JC – at least if he (Fes) stays I can make sure he doesn't touch you. Tyler – tell him that I am in a weird spot because I can't go against Angela. JC – yeah, yeah, yeah.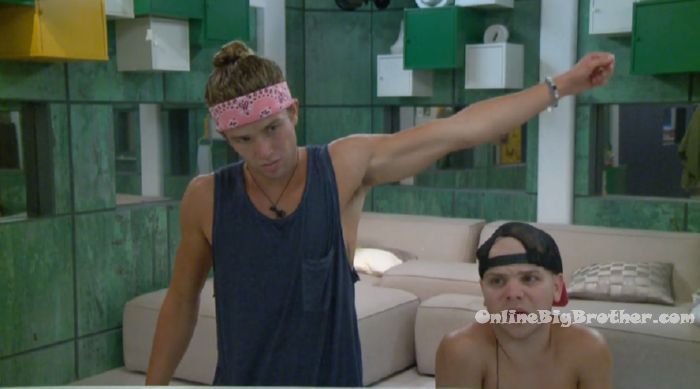 10:55pm – 11:20pm HOH room. Brett, Kaycee and Angela. They talk about how emotional the game is. Brett – at the end of the day it is just a game and you're not in any real danger. Kaycee – its a f**ked up game. Brett – I have grown a lot and learned a lot about myself. I have to win HOH. I would feel so bad if I come out and haven't won HOH. I want to show you guys photos so bad. We have to make sure Fes doesn't win the veto. I just hope they don't do a twist like press the button because they (Fes and Haleigh) would press it. Kaycee – I think America loves L6. Brett agrees. Brett – we have to get Fes out .. because JC loves Fes.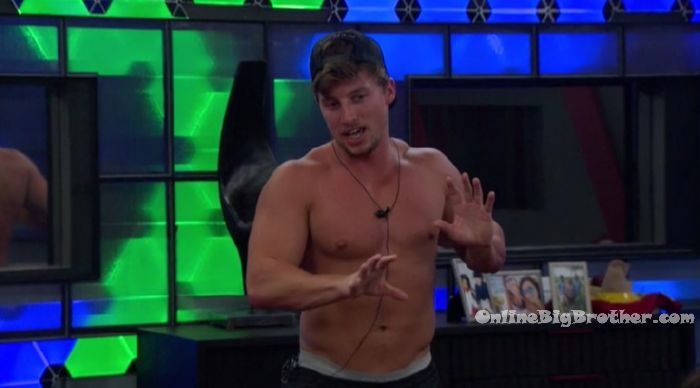 11:25pm Bedroom. Haleigh and Fes. Haleigh – I don't blame you ..so stop apologizing because I did this, well most of it. Fes – you're the only thing I care about in this game. Haleigh – Well you need to care more about winning and less about me. Fes – not going to happen. Haleigh – go to sleep. Fes – you know what I'm waiting for. Haleigh – a kiss. She kissed him. Fes – you're my parent. Haleigh – someone needs to be. Go to sleep.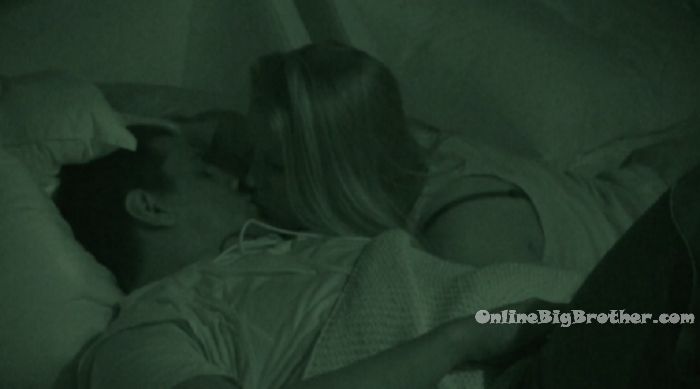 11:40pm – 12:20am Angela – I think we fast until the veto and then no food or water and us four share that bottle of wine. Brett – If you're offering, I'll take it. Angela – I don't want to share with people that haven't shared with everyone else. Haleigh and Fes both didn't share their wine.
Kaycee tells them that Fes is going out this week as long as Sam or Fes don't win the veto.
KAycee says Sam doesn't know the game and JC is just playing around..
Brett goes on about how much he likes JC now, "I don't think JC liked me at first.. to be honest he hung out with Rachel and i just avoided Rachel"
Brett – JC and I would probably not in the wild be friends.
They comment how JC doesn't have any girls or straight men as friends.
Brett – I have never been near a gay guy that's like JC
Brett says he had a lot of gay girls as friends in high school and 1 gay male friend in college.
Brett – he's nothing like JC is flamboyant..
Brett tells them he's a cyber security Engineer..
Brett – I'm an externally facing engineer.. I handle sales..
Brett – troubleshooting any problems they have depending on the scale of the business..
Brett says he minored in Computer science and worked IT at Alabama .. "I hated that job so f*ing much.. "
Brett says he quit his regular IT job and was going to become a body building but then landed this cyber security job..
Brett – I focus on endpoint security software..
Brett – I have to be an IT specialties.. a social hacker.. a Technical hacker.
Brett – my brother actually sells the software.. I work very tightly with the sales guys.. they bring me out too talk about installation requirements.. All the technical questions..
Brett says casting found him through Instagram..
Brett goes into details about his work life.. for about 40 minutes,… .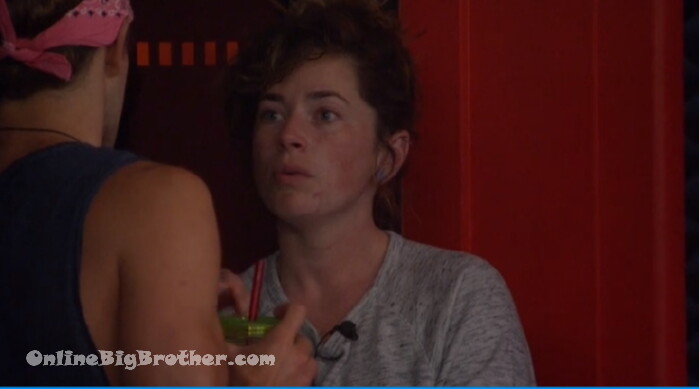 1:14am Tyler and Sam
Tyler tells her that Fes and Haleigh really tried hard to get Sam on the block.
Tyler says Haleigh and Fes though it was going to be Sam and Haleigh on the block
Sam – win veto keep noms the same..
Tyler- yeah.. if one of them wins the other goes out..
Sam wonders if Haleigh and Fes really like each other says if they do that would be sad.
Sam – baby steps
Tyler – we're top 7
Sam – no I mean I will stop smoking then start working out and stop eating sugar.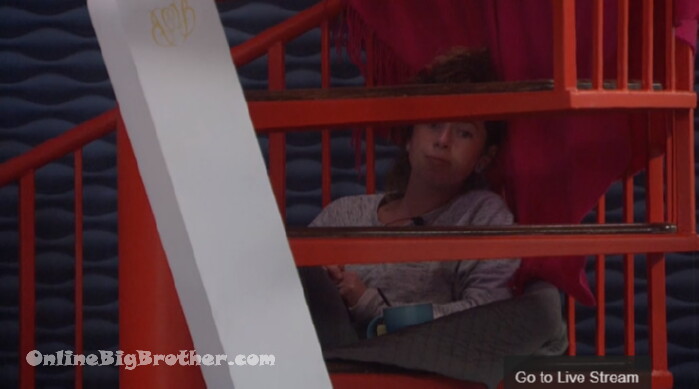 1:40am Sam is hanging out on the stairs tonight.. She talking about Cats to BRett.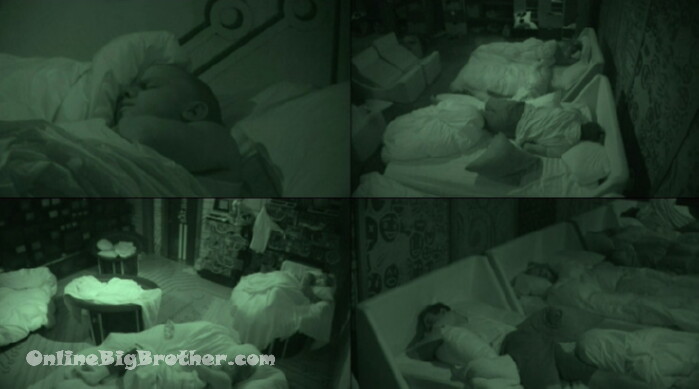 2:27am Zzzzzzz
7:12am Zzzzzz
Without your support this website wouldn't be possible. Please consider making a donation. Any amount is greatly appreciated. All donations go directly to paying the considerable costs associated with running this site.
Rank the houseguests!
Easiest way to Rank the house guests use link below