| | | | |
| --- | --- | --- | --- |
| POV: | ? | Next POV: | Sept 1st |
| POV Used | ? | POV Ceremony | Sept 3rd |
| HOH: | ? | Next HOH: | Tonight |
| Noms: | ? & ? | Have Not | ? |
A real easy way to support the site if you are an amazon shopper is to make your purchases through our link. You pay the exact same thing but we get a small % commission. It doesn't cost you anything and helps us out.
Amazon Canada
Amazon USA
8pm Bedroom. Scottie is unpacking. The others are sitting around asking him questions. Tyler – I feel like he expected. Scottie – I thought he was going to win it (battle back). I got the last three in. Tyler – and you saw Rockstar and Bayleigh make some? Scottie – yeah they were right there. JC – was Rockstar talking sh*t? Scottie – she was super relaxed. I mean she was still going around like B***HES! But she is relaxed. It was nice. Kaycee – how was Bayleigh feeling? Scottie – she is feeling fine. Angela – She's cooled off now. Scottie – yeah she's cooled off. Actually they were really mad when Fes said in his speech this is for Swaggy. They were like that was week f**king two! What the f**k are you talking about dude!! Brett – oh you saw that?! Scottie – yeah the veto speech. Brett – I just want to hug you man! I am so glad you're back. They hug. Scottie – you had the best GBM (goodbye message). Brett – really? Scottie – yeah by far man. Angela – what did he say? Scottie – he made a comment about the quick connect.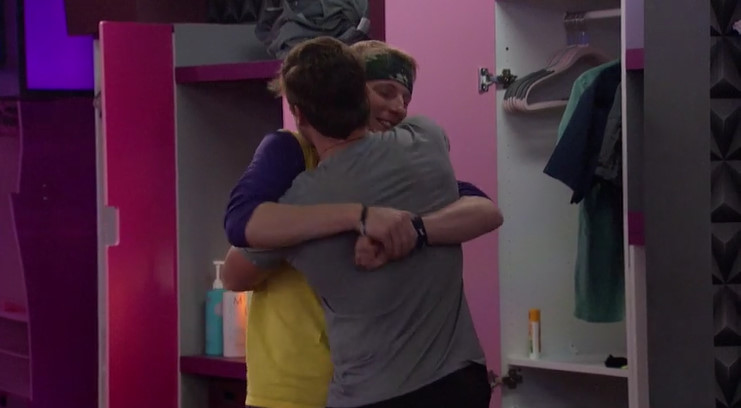 8:30pm – 9pm Kitchen. Kaycee and Haleigh are talking to Scottie. Kaycee tells Scottie about last veto competition. Kaycee – it was insane. It was so cool. Scottie stares at the memory wall and comments his photo is colour now. Scottie – you can't write that .. its reality tv. You can't write that. Blindsided by him (Fes) and then I trade spots with him. Kaycee – yeah, its crazy dude. He is probably furious. Scottie – you think so? Kaycee – yeah he was just salty all week. Brett tells Scottie all about the last HOH (the one that Angela won).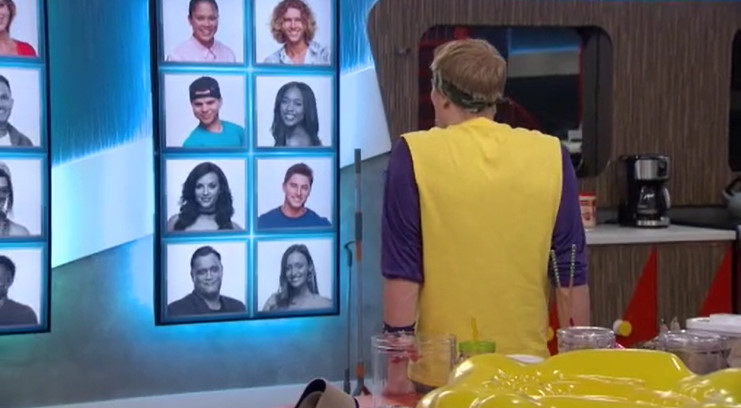 8:30pm – 9pm Bedroom. JC, Tyler and Angela. JC – I am so annoyed. All this battle back bullsh*t! Angela – I know. JC – no matter what happens we have to vote him back out. We have to win .. we have one, two, three, four. F**K! Worst case scenario .. Haleigh or Scottie (win hoh). I am so f**king annoyed! I am trying so hard to put a smile on my face. It is really hard for me to pretend. Angela – I know and Scottie is better than the other 3. I don't know what Scottie is going to do. He can not win HOH. The good thing is we need to get Scottie and Haleigh coming for each other because if Scottie wins HOH .. Haleigh convince him to put Sam up. Brett – if he wins HOH, I think he would put me up or something. JC – why would he put you up? What did you do to him? Brett – the Rockstar vote. Its not personal Scottie is awesome. JC – oh yeah. I forgot about that. The good thing is we have the numbers.

9:01pm Angela and Sam. Sam – what is going to happen? Angela – what do you mean? Sam – was Fes just lying about everything? Angela – yes. Everything he said is a lie to driving a range rover, to the grocery store thing. I have never talked to Fes before. Everything that came out of his mouth was a lie to the point where it was slander towards me. It was lying about my character in front of millions of people. Sam – because I feel like we've always been friends and if I win this HOH… I am not going to put you up. Angela – exactly, I've been HOH twice and I've never considered putting you up. Sam – you're my friend. Angela – why would I ever do that. Never! No! I would never do that. The fact he said that .. why would he do that. Sam – it was going to be a unanimous vote and then he said that .. it hurt. And then I voted to keep him. Angela – its okay. Sam – I feel like everyone does that and I am so emotional and I just f**king ate it. Angela – it worked but it doesn't matter. Sam – I love you. And I look up to you in a lot of ways. Angela – the only thing he could do was try to make anyone mad at me. Telling all these boys that I think I have them wrapped around my finger. No! They came up to me after and said they don't think that. Sam – I think he did that because you were the only one that didn't give him attention. Day one he tried too… (hit on her). Sam – I know. I think that if it came down to it you would pick me over her. Angela – absolutely. Sam – and same with you over all of these people.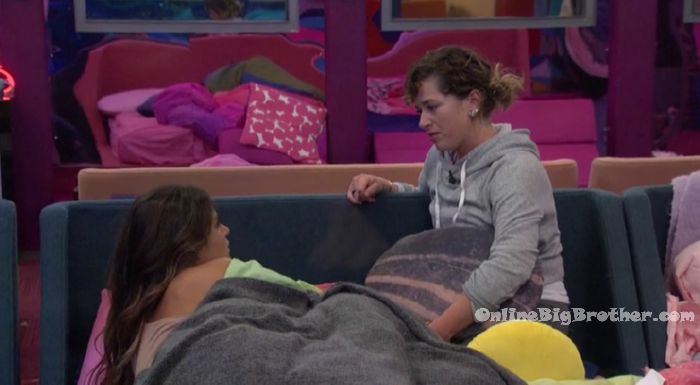 Sam – I know I am an easy target to make fun of me. I have never said anything negative about anyone. If that's what sends me out of here then fine. I would rather lose for what I am than win for what I'm not. Angela – leave with your dignity. Sam – just to clear the air personally and housewise I don't feel any differently about you. Angela – Fes has no idea who I am and how I got to where I am today. Sam – if I do win or even in the future if I win HOH .. you are not my target, you are my friend.
9:30pm Brett and Haleigh getting comfortable with out Fes attached to Haleigh. Brett – that was the first speech that was personal. Haleigh – its cheap, its un-necessary. I was not expecting that from him. The beining part was what bothered me. Brett – he has no idea how she was raised.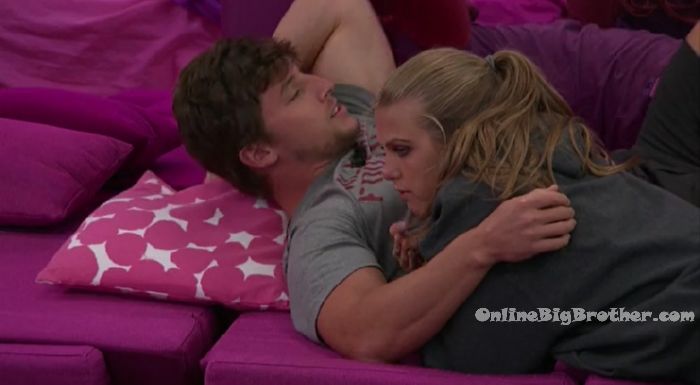 9:50pm Big Brother switches the feeds to the BB re-runs.. They're getting ready for the HOH competition to start. It will be shown on the live feeds so sign up and watch the rest of big brother 20 for free!
1 Month Free Trial! Use promo code BINGEITALL
Without your support this website wouldn't be possible. Please consider making a donation. Any amount is greatly appreciated. All donations go directly to paying the considerable costs associated with running this site.
Rank the houseguests!
Easiest way to Rank the house guests use link below