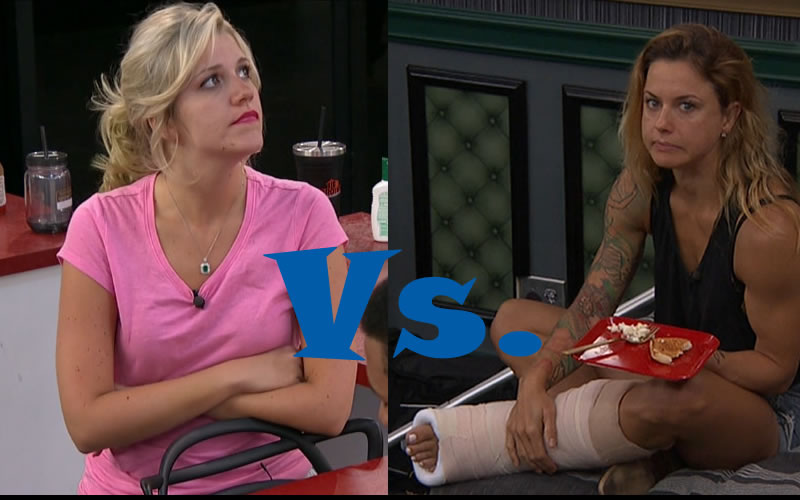 Big Brother 19 Spoilers Week 1 WOWSER what a week!
A fun first week and a good start to a Big Brother season. (Reminds me a bit like BB14 when Willie had HOH and went insane)
HOH competition is endurance, watch it on the feeds.. Watch it play out LIVE around 10PM ET on CBS All Access with a FREE trial.

Pre-feeds Spoilers
The premiere had Cameron getting evicted after less than 12 hours in the BB19 house. Replaced by Big Brother 18 "fan favorite" (even though Victor won it last year) Paul. Followed by the first Head of Household being won by Cody who nominates Jillian and Megan.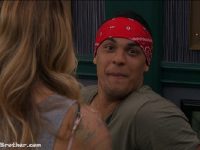 First day of Live Feeds
When the feeds came on Thursday Night we learn that Megan had quit Big Brother 19 the day before. Reasons were PTSD and with all the guys yelling at her she couldn't take it. Cody is now forced to nominate a third person for eviction, he picks as Alex.
First week of Live Feeds
Friday morning rolls around and the house seems pretty divided up. The showmances seem to have congealed (Jess,Cody, Raven, Matt, Mark, Elena and Dom as the 7 person ) with some side alliance. The other side called "the outsiders" are led by Alex and Jason, with the exception of Paul and Christmas they contain the rest of the house (more or less). At this point Paul has won the temptation meaning he's safe for eviction for the next 3 weeks. (convenient I know) As is the twist this year every temptation comes with a curse. Paul gives the curse to Ramses. He has to be nominated for eviction 1 in the next 3 weeks. Some houseguests voice their suspicions about the timing of Paul's safety but for the most part it goes unnoticed.
The power of Veto is played and Alex wins it, there is speculation from a few houseguests that COdy threw the POV to Alex. Forcing Cody to nominate a fourth person this week. At this point everyone on Cody's team thinks the plan is to put Ramses or Jason on the block.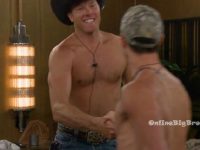 The Deal that Killed the showmance alliance
Cody makes a deal with Jason where he would give Cody and his group of 7 safety next week. In return Cody won't put Jason/Alex up as the renom. Jason agrees to this. This deal doesn't last long as Cody's group of 7 dissolves on Sunday therefore the deal defaults to just protecting Jess and Cody.
The Power of Veto Ceremony rolls around and Cody shocks the house by nominating Paul. Paul pulls out his pendant of protection forcing Cody to nominate a fifth person. Cody picks Christmas. Everyone loses their shit. Mark, Raven, Elena and Matt all have a hissy fit that Cody didn't warn them first. Paul/Christmas freak out and pandemonium ensues.
What happens now is a big toss up of the alliance makeup that defined the first 4 days of feeds. Cody is pissed that the original 7 alliance isn't grateful for the deal he made with Jason. The 7 Alliance is pissed that Cody would do something they hadn't discussed. As a result Cody and Jessica essentially leave the showmance alliance and join the Outsiders.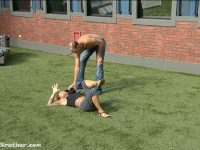 The Fall
During Monday morning Christmas is riding on Jason back in the backyard. Riding him like a bull. He slips causing Christmas to hurt her foot. As a result her foot is in a cast and she's on crutches. An MRI showed that the foot is indeed broken. SHe's allowed to stay in the game but the competitions will not be adjusted for her. She tells her group to let her make it to Jury then she'll volunteer to be the first one to go.
THe period of time between the Foot injury and the show is filled with Paul/Christmas frantically moving around trying to secure the votes to save Christmas. So much in fact that many people in the house question why Paul is fighting so hard to save a person so early. They wonder if perhaps he's getting paid to protect her. Many people in the OUtsiders now seems convinced that this is a twist. THe showmance side seems blissfully loyal to Paul.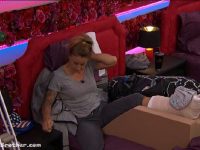 On Tuesday afternoon Ramses makes up a story that there was a banner plane with something about Mark, Dom, and Elena written on it. There was no lockdown and many houseguests thinks Ramses was now lying.
Xmas foot
On Monday they said she had torn some ligaments. She had the MRI on Wednesday and was it was broken. SHe's allowed to stay in the game but the competitions will not be adjusted for her. A doctor will make the call before every competitions to determine if it's safe for her.
My predictions and Vote Breakdown
It's very freaking close
To Evict Christmas = Alex, Jason, Jessica, Kevin, Ramses = 5
To Evict Jillian = Elena, Mark, Paul, Matt, Raven, Dom = 6
It really all hinges on Josh. He's told the SHowmances especially CHristmas that he's keeping her but a conversation last night to the cameras shows he's very much on the fence and may be leaning towards voting out to evict Christmas. This morning however he chatted with Christmas and told her he's voting to keep her. He sounded convinced. I would say Jillian is going home this week.
My Opinion of the season thus far
Hard to gauge how the season will be first week. Especially one that almost lost 2 players unexpectedly and has some big twists on the horizon. With that said I am very optimistic about this season the cast is some of the best we've seen in a long time. Two things that can ruin this season
Paul controls the entire season and it becomes a bore like season 16
Production fills the temptations to save the showmances
Let me know your opinion in the comments.
Check out our BB19 Ranking Grid. . rank your houseguests here
Christmas' final speech calls Cody and Jessica out for being liars.
Jillian's final speech ______
Show results
Alex Votes to evict = Christmas
Jason Votes to evict = Christmas
Jessica Votes to evict = Christmas (Says "this is going to be a hard one" when she walks to vote)
Kevin Votes to evict = Jillian
Ramses Votes to evict = Christmas
Elena Votes to evict = Jillian
Mark Votes to evict = Jillian
Paul Votes to evict = Jillian
Matt Votes to evict = Jillian
Raven Votes to evict = Jillian
Dom Votes to evict = Jillian
Josh Votes to evict = Jillian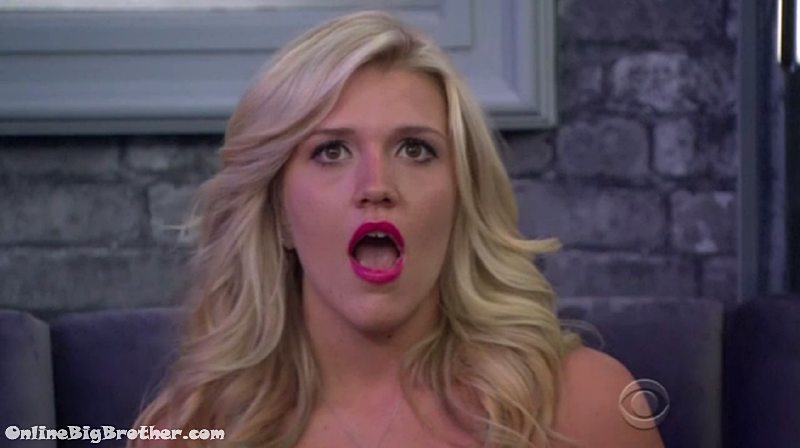 Jillian was evicted
She tells Julie she thought the vote was going to be a tie.
Christmas and Jessica get in a fight…
HOH competition is endurance, watch it on the feeds.. Watch it play out LIVE around 10PM ET on CBS All Access with a FREE trial.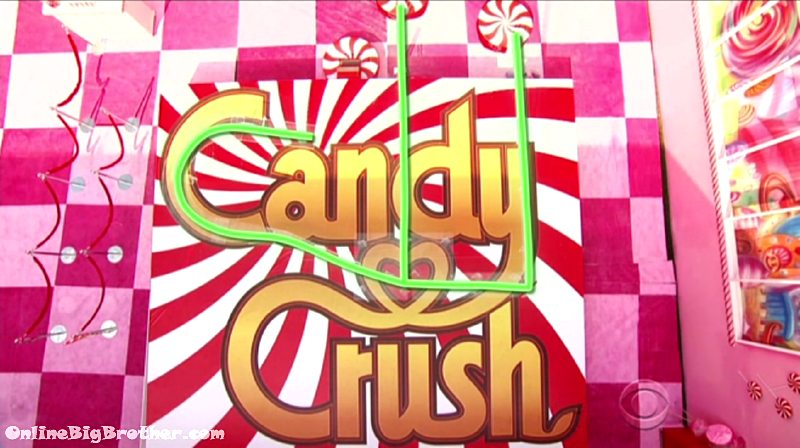 Head of Household
Some candy crush game.
Paul wins HOH
Check out our BB19 Ranking Grid. . rank your houseguests here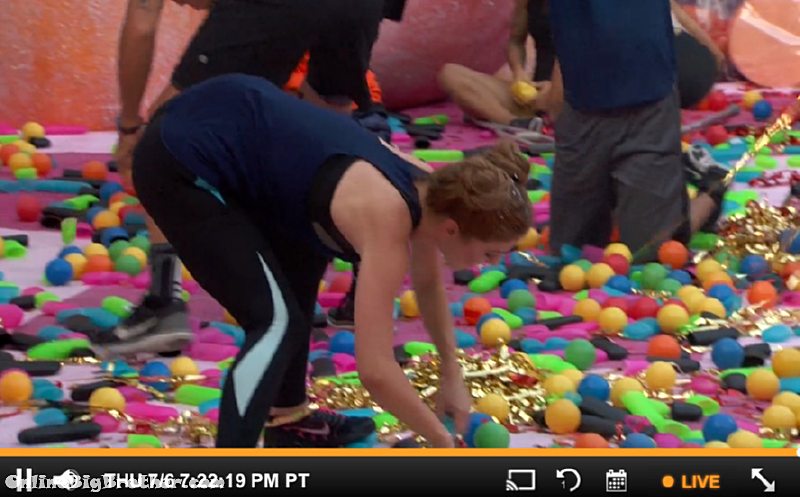 Feeds BACK!
Amazing what a week of feeds can do to your popularity. #BB19 https://t.co/S663KKldQF pic.twitter.com/mfR3GdsFBQ

— OnlineBigBrother.com (@bigbspoilers) July 6, 2017