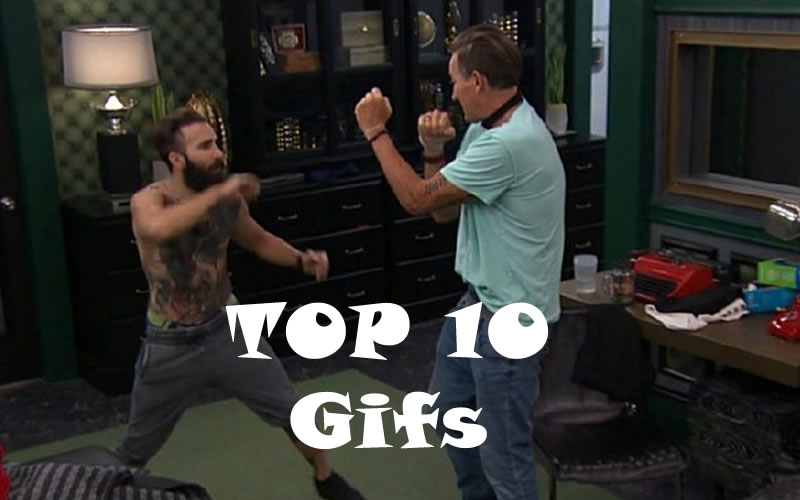 HOH competition is endurance, watch it on the feeds.. Watch it play out LIVE around 10PM ET on CBS All Access with a FREE trial.

Every week we go through our list of Gifs and pick the juiciest 10 for your viewing pleasure.
Let us know which one is your favorite in the comments below.
Typically Gifs always go to our Twitter accounts and sometimes they make their way to facebook.
If you like this type of content please help us out and share.
Thanks!
Check out our BB19 Ranking Grid. . rank your houseguests here
I'll include just a like to this one it might be NSFW for OBB https://twitter.com/bigbspoilers/status/882352104685289472
Presented in no order.
Another injury in the #BB19 house @DawgsBigBrother pic.twitter.com/iqMavxJq9I

— OnlineBigBrother.com (@bigbspoilers) July 6, 2017
Jason shows the route he took while Piggybacking Christmas "she went out on a bull ride" #BB19 pic.twitter.com/swbTN2cCnO

— OnlineBigBrother.com (@bigbspoilers) July 3, 2017
Kevin plotting… #bb19 @bigbspoilers pic.twitter.com/cGD4F9BNQF

— Dawg (@DawgsBigBrother) July 2, 2017
Mark working on his squat #BB19 @DawgsBigBrother pic.twitter.com/VutvrzC2HX

— OnlineBigBrother.com (@bigbspoilers) July 1, 2017
Houseguests starting to wake up #BB19 pic.twitter.com/VZeD8ntBgx

— OnlineBigBrother.com (@bigbspoilers) July 1, 2017
Jessica helps Elena find Marks d*ck #bb19 @bigbspoilers pic.twitter.com/BxWXZlI7qg

— Dawg (@DawgsBigBrother) July 1, 2017
wipe out #BB19 pic.twitter.com/umsbGn6WPb

— OnlineBigBrother.com (@bigbspoilers) June 30, 2017
Raven and Matt #BB19 @DawgsBigBrother pic.twitter.com/8Pb1eqZ3yy

— OnlineBigBrother.com (@bigbspoilers) June 30, 2017
Christmas and Raven #BB19 @DawgsBigBrother pic.twitter.com/t0q7PU80ZI

— OnlineBigBrother.com (@bigbspoilers) June 30, 2017
HOH bed this morning #BB19 pic.twitter.com/OrUhL1CMbG

— OnlineBigBrother.com (@bigbspoilers) June 30, 2017
Kevin and Paul sparring #BB19 @DawgsBigBrother pic.twitter.com/n3bDceD2Uw

— OnlineBigBrother.com (@bigbspoilers) July 6, 2017