Check out our BB19 Ranking Grid. . rank your houseguests here
9:30am Houseguests waking up. Some of them stayed up until 4:30am so it's not pretty. Kevin complains that he hasn't had a good nights sleep since he's been in thehouse.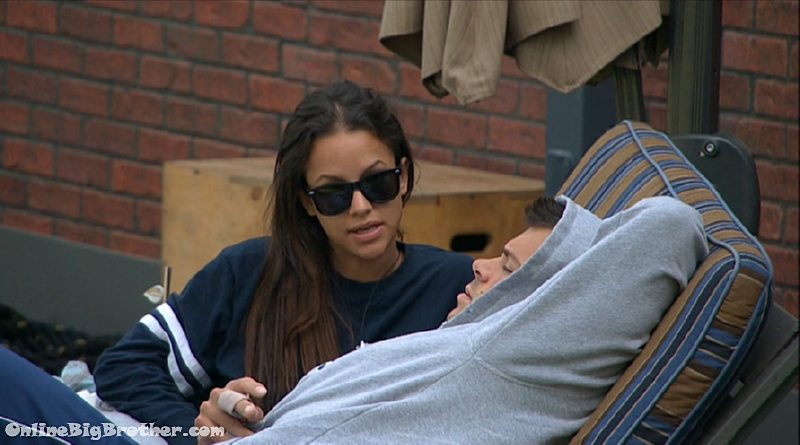 9:39am Jessica and Mark
Jessica says Cody is thinking "Long game past getting us all to Jury"
Mark – All six or all nine
Jessica thinks all 9
Mark – OK good
Jessica – he's got contingency plans and there's people more expendable..
Jessica adds that Cody is closest to their 6 of them
Jessica – I trust him
Mark – I trust him
Jessica – I feel better than I did yesterday
Jessica thinks Jason is going to be nominated she cannot understand why Cody would put someone else up.
Jessica – "What would we get out of anybody else going up"
Jessica brings up that Jason is going to talk to Cody right before Nominations. She doesn't think there is anything Jason can say before nominations to sway Cody.
Mark – I really like you, I like Cody, Elena.. Matt and Raven
Jessica – the goal is to get to Jury.. after that there's another next step
Jessica -I love Paul and I don't see him go anywhere I told Cody the way you feel about Alex is the way I feel about Paul
Mark – I'm so glad you said that so do I
Jessica – I will do anything and everything to keep Cody in this house but I also don't want to see Paul go anywhere at all
Jason's workout attire #BB19 @DawgsBigBrother pic.twitter.com/SRMhC5A7mG

— OnlineBigBrother.com (@bigbspoilers) July 2, 2017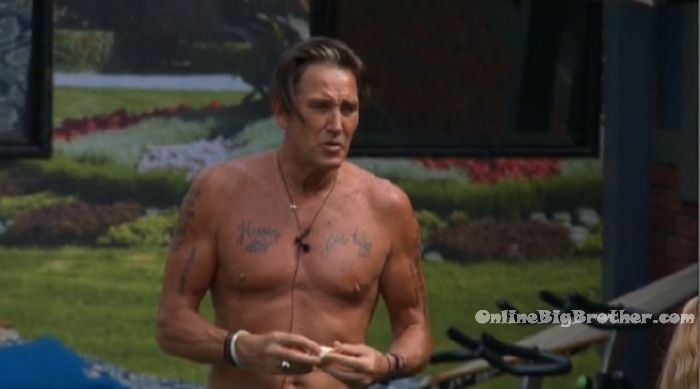 10am Backyard – Jason is working out. Alex comes out to suntan. Alex – Paul came to me last night and asked me if he was the target and I said I honestly don't know. So now everyone is starting to think it. I think Cody is but he isn't going to tell me unti 10 seconds before I go. Which is f**king useless. Kevin comes out. Jason asks him if he knows whos going up. Kevin – no one tells me anything. Jason – What's your gut telling you? Kevin – it ain't no one in his click. That's for damn sure. Alex – I don't think its Jason anymore. Kevin – who would you guess? Alex – I think he's going to backdoor someone .. I just don't know who yet. Kevin – put it this way I feel bad for the little girl (Jillian) but at this point no one is going to vote her out because no one is worried about her. Jason agrees. Kevin – she can ride that for awhile. Alex – why does Josh always come up and be nosy. Kevin – you know what I think .. you make your bed you lie in it. You can't come out flipping everyone off and then try really hard to over compensate. I feel bad for the cat. Jason – then you try to hard and force the conversation. Alex – he shouldn't have gone all crazy again after everyone was ready to forgive him. Josh joins them.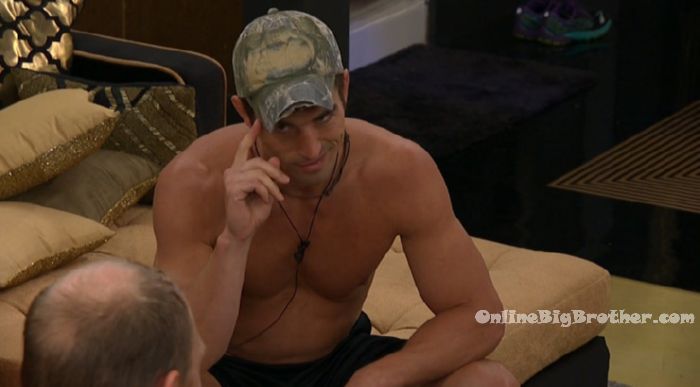 10:20am HOH room – Jason & Cody.
Cody – What's on your mind son? Jason – Nothing, I just think things are about to get real. I'm kind of like you. I'm not going to tell my moves before I make them but I'm going to ask questions. Just to see who aligns with what I'm thinking. I really feel like I don't want to devulge the information that I have if you're thinking about sticking me up there. But at the same time I want to tell you what I know to see if we are thinking the same thing. If you put me up there, there's no coming off. Cody – If I put you up there you're going. Jason – no sh*t. Whoever goes up next to Jillian is going home. Cody – You and Alex are the closest to my personality. Jason – That's what I was thinking. That's why it sucks that you're on "the opposite side of the house". Jason – but that's good because that means we can influence votes for that side of the house. Cody – that's what I think. You're on my side. Here is what I'm thinking. My interests in this game… I haven't made an alliance in this game .. There are certain people I want to protect. You, Alex. Everyone thinks that I'm going to put you up. But I need you if you win HOH, if I don't do this. I won't anyways but I need you to not put up Dom and the couples. Matt and Raven, Mark and Elena. Jason – yeah but I think that's a bad move for me. Josh is always going to go any time of the week. He is an easy f**king target. Cody – if you go after these people … then I can't protect you. Jason – F**K! Cody – its your game if you want it. Just to get to jury I need Dom. Jason – why Dom, she isn't in the 6? Cody – she is closer to me than anyone thinks and I need her protected. But I need you to realize the names I didn't f**king mention. I didn't mention Christmas. I didn't mention Paul. I didn't Ramses, Kevin. And its not like I don't like these people but they don't have my interests in mind. Who else Josh, obviously. Jason – I wanted to… Cody – make a big move. Jason – not really a big move but level it up a little bit. Cody – by having me on your side, you have those people on your side. If you think about it but if you take one of them out… Jason – alright.. then fair enough ..then if Christmas is off the table .. then I'm taking Christmas.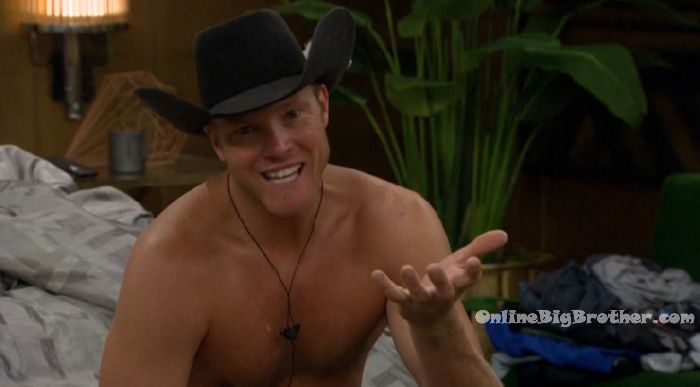 Try the Live Feeds FREE for 7 DAYS! Click here for your: Big Brother 19 FREE Trial
Cody – I'm not going to say anything. I will even do something to even up the numbers this week. Jason – the pairs are 6 that are never going to split. Cody – my forward thinking right now is jury. I just need to get to jury. Jason – okay so this deal is just tied to jury? Cody – correct! Then we can go head to head. There are 11 people we need to protect. Me, Jessica, Matt, Raven, Mark, Elena, Dom.. that's my closest circle. Jason – I feel like you're giving Dom a free ride. Cody – I need to protect her. Jason – okay till jury. Cody – that's 7 people including me. I'm saving you this week. That's Alex, you and two more. Who do you want to stay? Jason – I think Kevin is f**king funny. I think Rmases has to go. Cody – he gets intel and bounces side to side. Jason – I feel like he threw that HOH. Cody – I'm going to do something that protects your numbers and takes one away from mine. And it sounds so counter intuitive but I just know information that other people don't know. It will be cool. Till jury. Jason – till jury, then we can battle it out. Cody – cuz I need that stipend .. my truck is broken down. If you need to use me as a pawn to take her out, I'm down. (WTF?!) I am 1000% for that! And you won't hear a f**king lick from me. I will even reassure you before hand. She is another one on my mind. That way we can both be in the POV and ensure she goes home. Cody – no one is going to see this coming. Jason & Cody shake hands and leave the HOH room.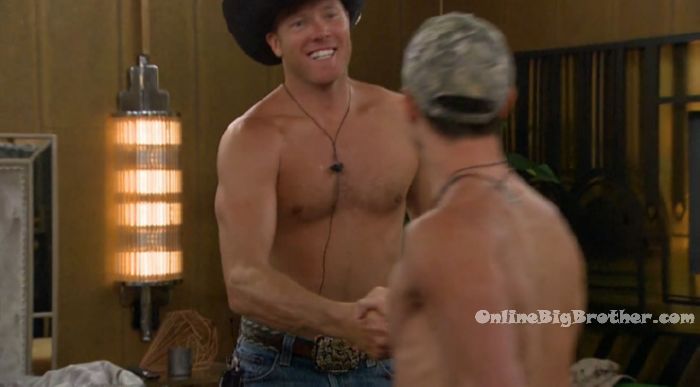 10:35am HOH room – Cody calls Alex to come up and talk to him.
Cody – your interests in this game are Jillian and Jason right? Alex nods. Cody – I wanted to be the one to win HOH so that I could be the one to take you off. I just wanted to solidify that trust after putting you up. So.. you want Jillian safe and I think I know how to do it and its going to be big. Alex – I think I know who it is because that person asked me last night if they were going up. Here's the deal, I'm going to put up someone from this side that will be juicy enough to take out over Jillian. Next week if you get HOH, I have a circle of people that I want to protect. Me, Jessica, Matt, Raven, Mark, Elena and Dom. Alex – shhhhh. Cody – This is just till jury. I realize I'm asking a lot by wanting to protect 7. You want to protect Jason and Jillian right? Alex – I would need to think about that because I only want to keep 2 people safe. You need to trim the fat. Cody – what I can do .. this week the strong target is also on my side .. not on my side but this side. The person I want to take out wants you out and it bothers me. I don't think people realize how strong my loyalty is to you. Maybe they do. I don't know. Alex – okay. Alex – maybe keep Kevin too. Cody agrees – All we need to do is make it till jury. They we can go all out. Wait until you see the move I'm going to make. Alex leaves the HOH room.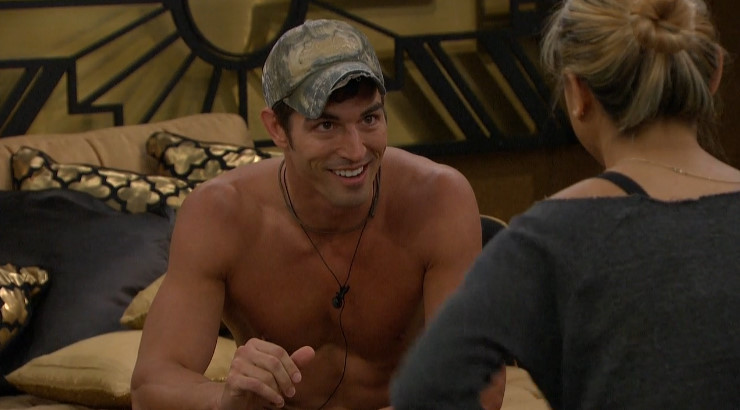 10:50am Alex goes to the havenot room and tells Jillian the deal / conversation she has with Cody. Jillian – are you sure. What if its just to get me out. Alex – he said he is going to put up one of his that wants me out. Jason joins them. Alex – do you trust him? Jason – I don't know. Who ever goes up today is going home. Alex – what did he tell you? Jason – he didn't tell me anything.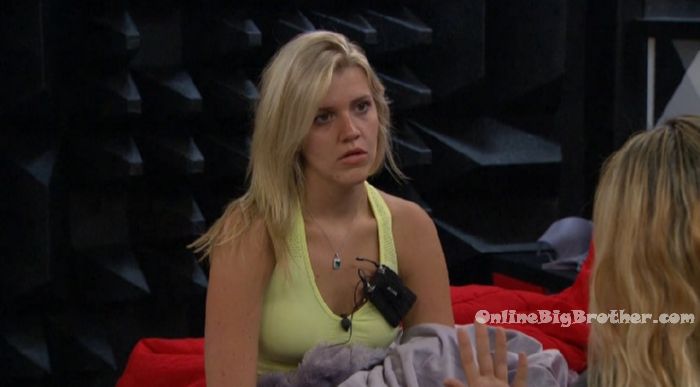 11:30am
Big Brother switches the feeds to kittens…
12:30pm
Still kittens .. it looks like the POV ceremony is happening now..
Links to the ranking system
Rank your house guests here
For those of you that like Statistics here are some expanded reports.