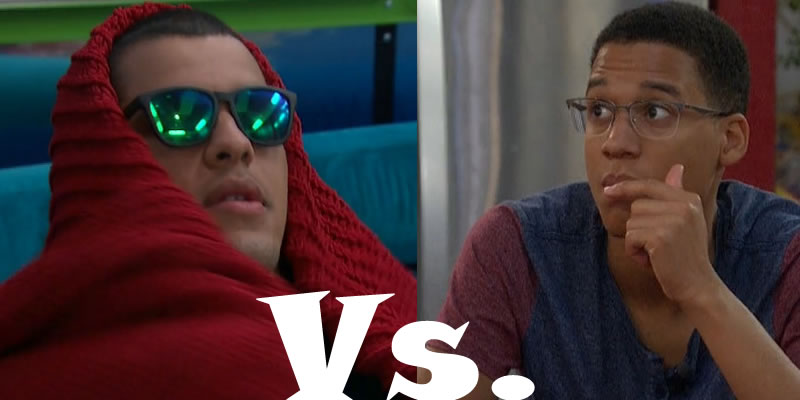 This weeks Big Brother Spoilers summary is a bit short on game, not much really happened. There was a epic blindside planned but  Kevin spoiled that. Some might say it was a bit of snooze this week but under the surface (covers) there was some action. On Thursday morning Josh started terrorizing Mark reminiscent of Evel Dick BB18 and Dallas BBCAN5.
I encourage you to take a look at our ranking grid  and participate in the ranking here. It's been pretty neat seeing the ebb and flow of the houseguest popularity.
How the week 4 started
Dominique was evicted by a unanimous vote followed by a Battle Back competition featuring the last 4 evicted houseguests. Cameron, Jillian, Cody and Dominique were given the opportunity to battle back into the game. How the Battle Back worked is: the 2 winners of the first competition compete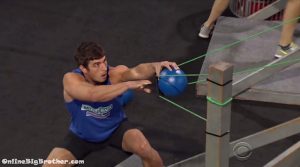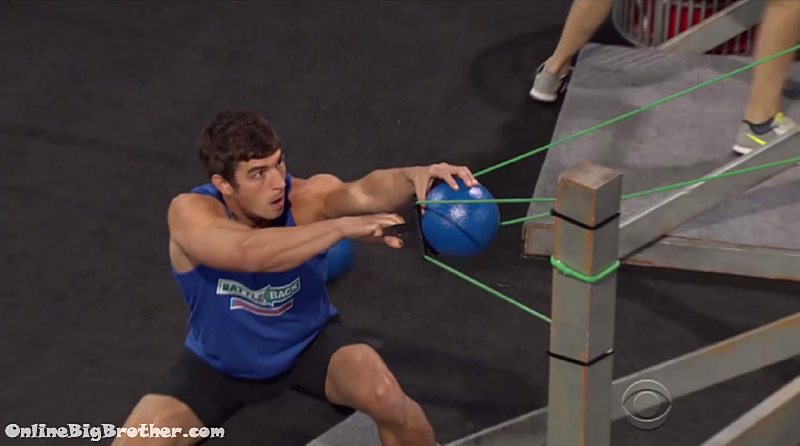 in a second competition, The winner of the second competes in a third challenge against a champion voted on by the house.
Cody and Cameron won the first round. Followed by Cody winning the second. Via a unanimous vote the house picked Paul as their champion. Cody was given the option to select either the first or second competition to challenge Paul. He picked the maze and off they went.
Cody pulls out the win and is back in the game. Dominique, Jillian and Cameron are freed from Big Brother. Some our on twitter if you care.
The Head of Household
Jessica pulls out a head of household win. She nominates some low hanging fruit, Josh and Ramses. Josh is her target of course.
Power of Veto
Jessica wins the Power Of Veto and for some reason decides not to use it. Trusting the people that backstabbed her week 1 on week 4.
Meatballs, Stromboli, Linguine, Gnocchi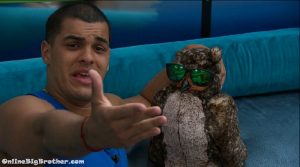 The entire house minus Mark, Elena, Cody and Jessica are going to keep Josh and evict Ramses. The rest of the players think Josh is the target and that everyone hates him. This is partially true Josh isn't well liked but the other side see him as a weapon against Cody/Jessica/Mark/Elena. People also dislike Mark,  Cody and Jessica. Josh was given orders to act depressed all week.. He did a pretty good job and give us a lot of good dance moves with his friend Orwell. Check out our BB Top Gifs of the week they are chalked full of videos of Josh dancing around calling Cody, Jessica and Mark all sorts of Italian foods. Made me hungry.
No Blindside for you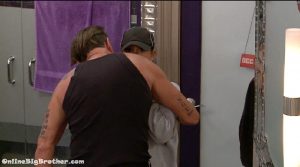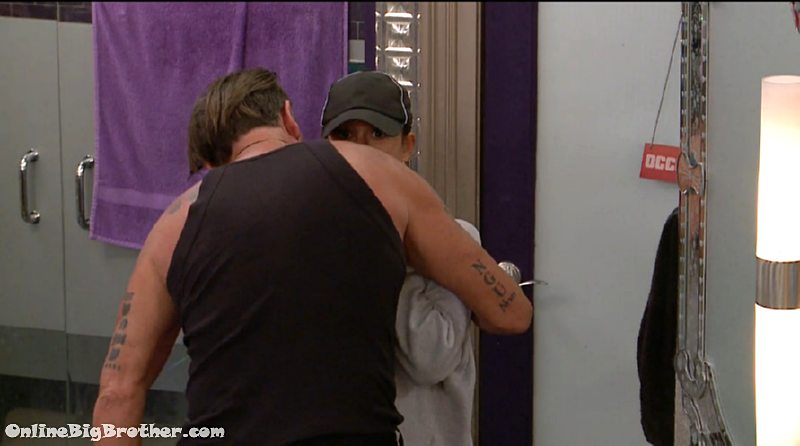 Kevin ruined the blindside. It happened Wednesday night. He went up to Jessica and whispered that "they" are trying to flip the house on her. Kevin's reason to disclosing this is that Jessica is from Boston and she told him about having the Hex. If she trust him enough with that information he can trust her with this information.
It goes without saying Jessica is PISSED. She regrets not listening to her gut and making the BIG mistake by not putting Raven or someone strong up against Josh. Jessica knows it was Paul's doing to flip the house. Points out to Cody that Paul is the leader to all sides of the house.  Once it was realized that Jessica is wise to the blindside. Josh was been given a new set of orders from Paul. He is to start terrorizing Mark, Cody and Jessica immediately to throw them off their game. Josh complies and the drama is nicely set for following week.
Mark did you not hear the alarm this morning.. WAKE UP WAKE UP 7 hours of HELL buddy…. @DawgsBigBrother #BB19 pic.twitter.com/0Hw4B7QfeT

— OnlineBigBrother.com (@bigbspoilers) July 27, 2017
Big Brother Spoilers Under the covers
Lots of love going on.
Bangmance
Jessica and Cody are banging what I would assume is regularly now. She requested birth control from the house doctor.
Grossmance
Raven and Matt the most boring people in the game are still make things exciting for themselves.. under the covers. Raven was doing you know what to Matt.. Matt made a mess on his stomach. Matt wipes himself off with a dish towel and puts it back for other people to use. Pretty much one of the grossest things I've seen on Big Brother Feeds in a long time. Maybe since Rachel was complaining that her and Brendon's sheets were stiff  from the… dried you know what. Either way I built this handy chart showing you the entire disgusting affair.
Friendszone
Mark and Elena on the rocks. Elena told Jessica on Wednesday night that Mark is more interested in her than she is of him. Something we kinda already understood, but we're now starting to see it manifest on the feeds.
My predictions
Ramses goes home.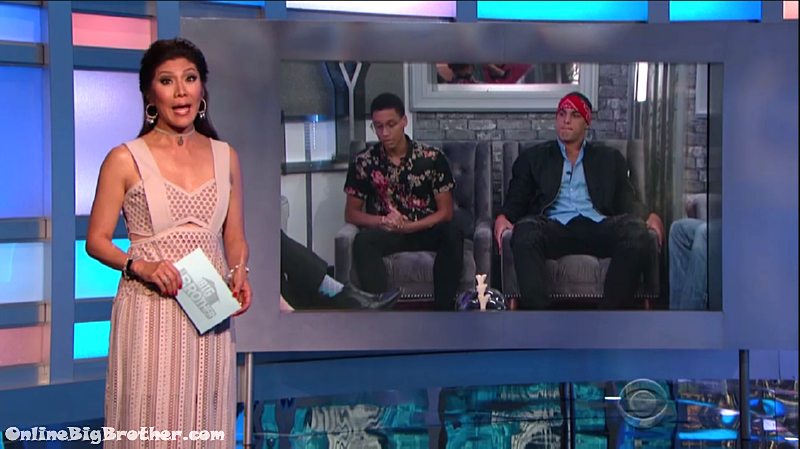 Results from the show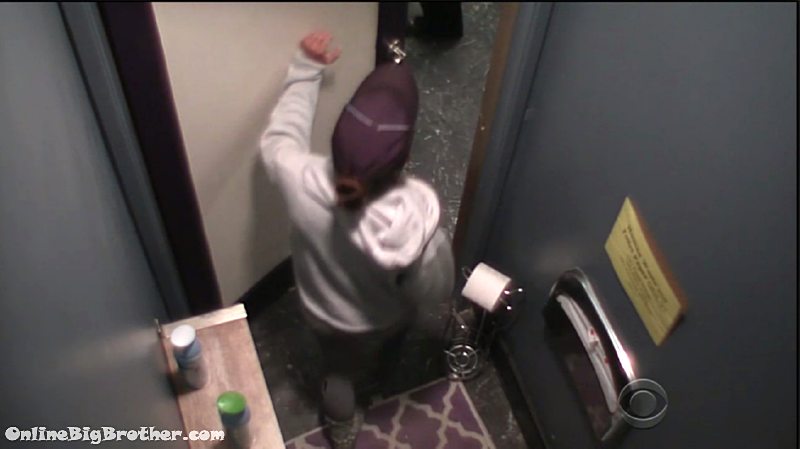 A shot from inside the Big Brother Toilet..
The two nominees give their speeches ..
Ramses his time in the house has been "Lit"
Josh – Meatballs
Cody Votes to Evict Josh
Jason Votes to Evict Ramses
Alex Votes to Evict Ramses
Mark Votes to Evict Josh
Elena Votes to Evict Josh
Kevin Votes to Evict Ramses
Boyz2men Votes to Evict Ramses
Raven Votes to Evict Ramses
Christmas Votes to Evict Ramses
Paul Votes to Evict Ramses
Ramses is evicted.
Surprise surprise Josh says Meatballs..
Practice for the HOH is shown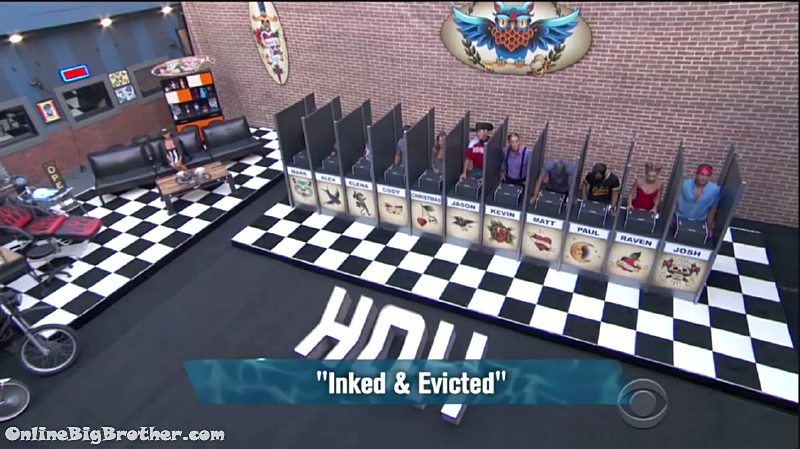 The HOH is played.. "Inked and Evicted"
Question 1 – Elena out
Question 2 – Mark, Alex, Cody, Kevin, Josh out
Question 3 – All of them got it right
Question 4 – All of them got it right
Question 5 – Jason and Christmas out
Question 6 – Matt and Raven out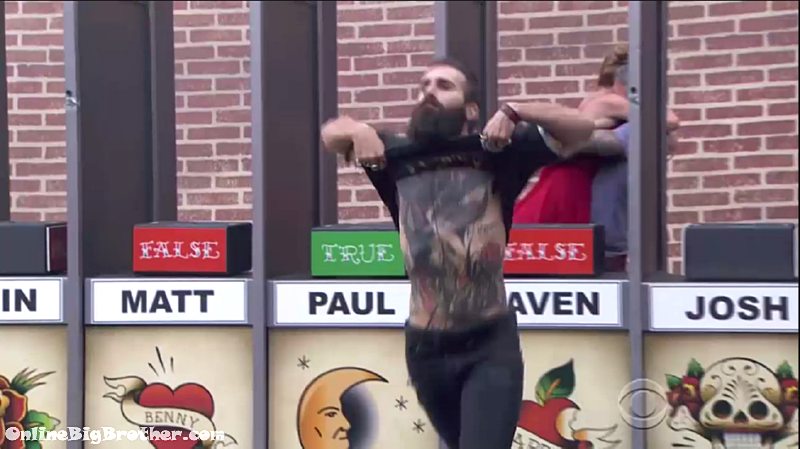 Paul is the Head of Household
(the Paul show continues)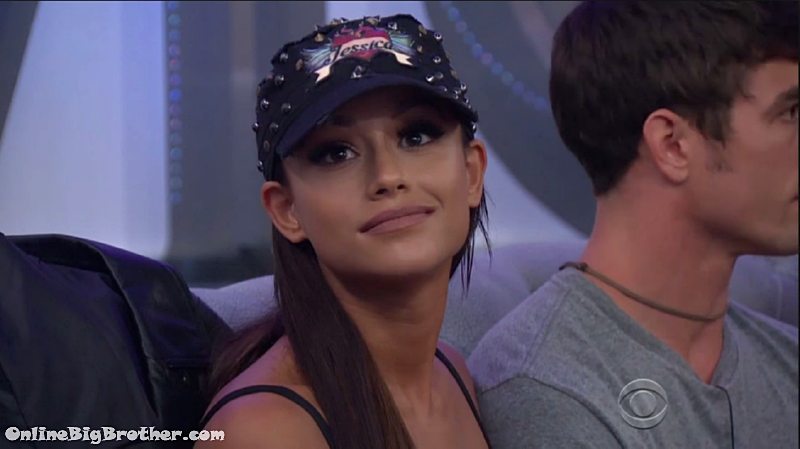 Jessica Drops on the live show that she has the final temptation to keep her and Cody safe for the next few weeks.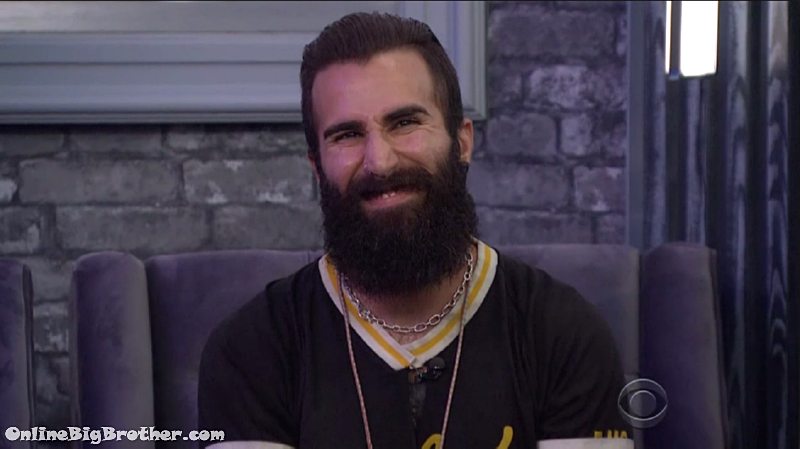 The temptation competition
For the next 3 weeks BEFORE nominations the houseguests will be tempted to participate in this challenge. For the First time in Big Brother History The Houseguests will get to choose whether or not they want to compete. The winner of this competition will be safe for the week but like all temptation participating com,es with consequences. The houseguests that finishes last becomes the third nomination