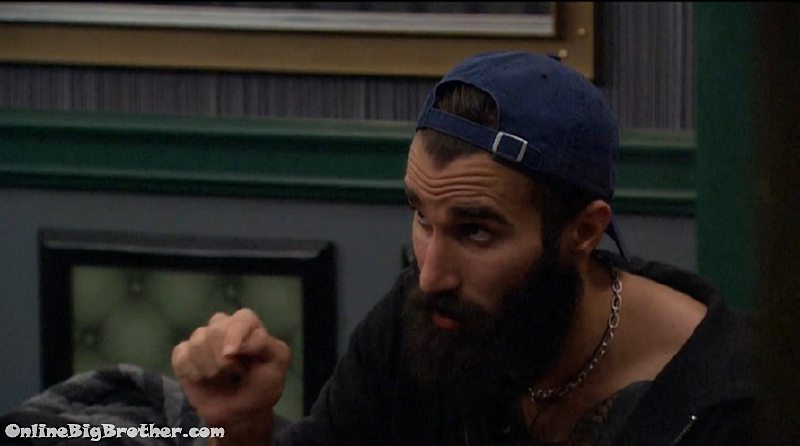 Feed subscription lets you go back and re-watch everything we post here CBS All Access Live Feeds with a FREE 7 DAY trial.

2:23pm Paul and Jason
Paul – Elena and Mark walk in on every conversation and just sit there
Paul – at least we have Josh now.. He said if he wins he'll sh1t on mark and Cody all week long and take all the heat..
Jason – sit back and relax..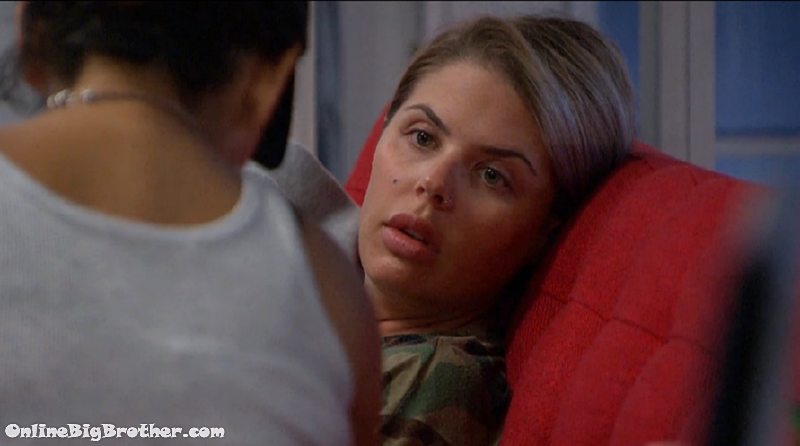 3:20pm Elena and Jessica
Elena – Not that there's no interest, I see potential (in mark)
Elena – I don't do that often, Honestly if we were at a bar and he approached me, I would have turned him down that's my style
Elena – that leaves me with no one ever.. We'll see I'm open
Elena – I hate to make promises to him, being realistic he's like way more into me than I'm into him
Elena – that's an OK thing, I'm faltered and honored.
Mark joins them..
Jessica telling them after this week there's now "house targets" so whoever they put up someone will be pissed off.
Elena says there's no sides anymore it's all blurred.
Jessica says Josh knew about the anniversary of her dad's passing and he still "acted like that" during the POV ceremony.
Elena – what day was it
Jessica – the 21st
Jessica brings up how pissed Cody is at Alex for putting Jessica on the block.
Elena – I'm surprised she wasn't your target this week
Jessica Josh is the bigger mouth.. When he's insulting you that takes precedence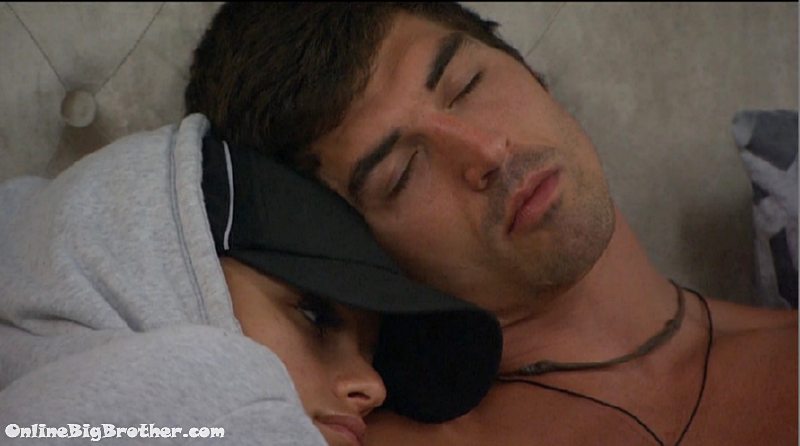 4:24pm HOH Cody and Jessica HOH
Jessica says she's asked production about what she can and can't say about the temptation.
Feeds cut..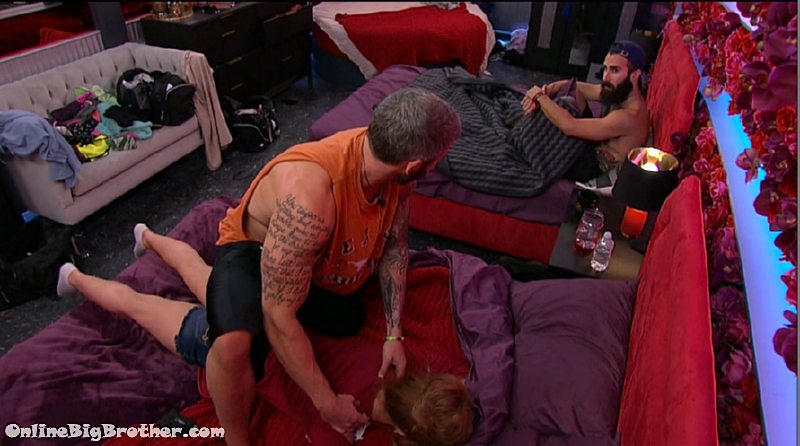 4:43pm Paul, Matt and Raven
Paul mentions mark telling him about this conversation he had with Cody this morning.
Paul – in my head I was thinking how much more stupid can you be..
Paul explains that Cody is looking for a BIG move again but mark told him as long as it doesn't involve Elena and Paul Mark is on board.
Paul – he has his back no matter what..
Paul – I genuinely think the guy is stupid (Mark)
Matt – Clearly he's scared.. he's terrified..
Paul says he use to talk to Elena but now Elena tells Mark everything, "they've solidified"
Matt – if we can win HOH tomorrow we're set up dude..
Matt – just for this week if I win HOH I'm putting up Mark and Elena.. and if one of them wins Veto Cody goes up..
Matt says in the POV "I won't be playing my hardest"
Matt – if we get Cody out of this game I don't see how the 3 of us makes it to final 8
Paul tells him he's the shield.
Matt – what does Cody do if he wins HOH.. I just don't see Mark and Elena winning..
Paul – If Josh is still here he's putting Josh up.. I don't see a world where he doesn't put Josh up
Paul – Cody can't f*ing win dude… i'm hoping it's a mental comp we can beat him dude
Paul starts saying he doesn't believe some of Cody's war stories says some of them are unbelievable. Paul questions if Cody really did go to war.
Matt and Raven think Cody did got to war.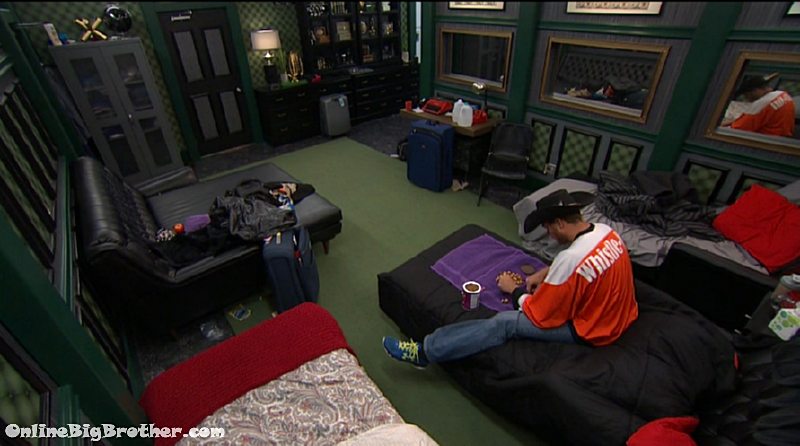 4:47pm Jason counting the mixed nuts..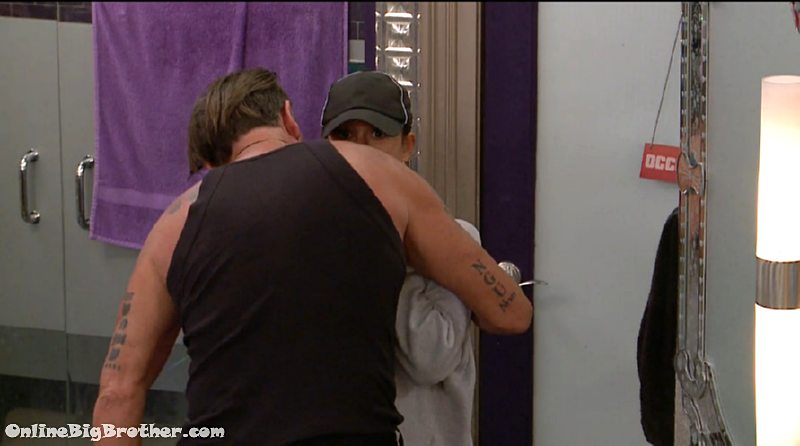 4:48pm Kevin and Jessica bathroom
Kevin – they're trying to flip on you..
listen the only reason I'm telling you is you're from Boston and you told me (I think he said the hex)…. just keep cool.. don't freak out.
Kevin – you have the thing so it doesn't matter right..
Kevin – you guys are good players I need you as much as you need me..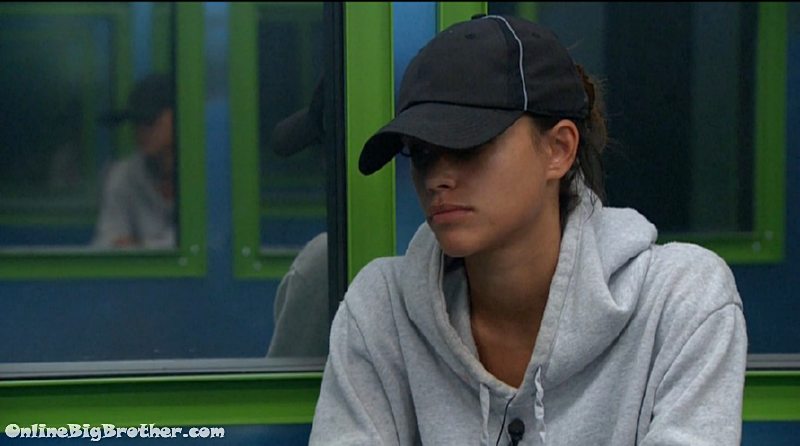 4:53pm Jessica, Christmas and Elena
Jessica pleading with them to vote out Josh tomorrow. She has a feeling the house is going to flip.
Jessica warns her that Jason and Alex might be trying to flip the vote.
Christmas says Ramses is tight with Jason and Alex
Elena says she's not voting Ramses out.
Jessica is asking Christmas for her vote.
Jessica – Alex controls JAson's week
Christmas – have you talked to Kevin
Jessica – I don't know what to believe I've walked in on conversations.. .
They talk about how pissed Jason was at Josh last night.
Jessica – Tonight I can't go to sleep because votes are going to get rallied..
Links to the ranking system
Rank your house guests here
For those of you that like Statistics here are some expanded reports.