Want to watch the Big Brother Canada 5 live feeds but live outside of Canada?
Bypass the geoblocking with HideMyAss VPN and be Canadian Anywhere: VPN Help Guide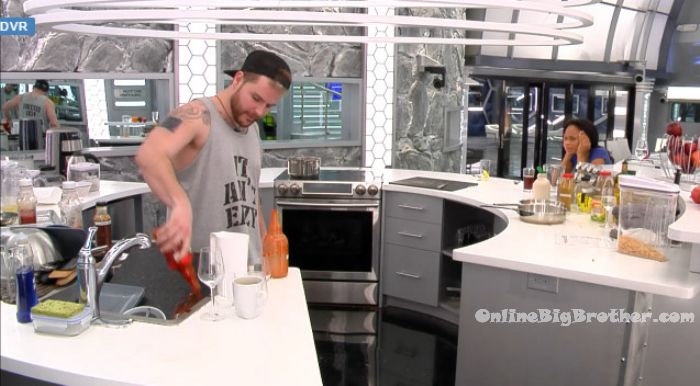 2:30am Dallas and Ika in the kitchen. Dallas – I'm going to put some condiments on the shampoo bottles… so don't have a shower tomorrow. Ika and Dallas laugh. Dallas – I'm thinking about putting Cindy on blast too. She's about as real as a 3 dollar bill. I'm going to grab some steak sauce. Ika – get rid of all the ketchup.. they love ketchup. Dallas – f**k em! F**k em all! I'll wait till you go lay down for a bit and then I'll do the pots and pans.. so that you can be like what the heck is going on. Ika – I think if you hadn't done that thing with the French Connection .. you would have been fine. Dallas dumps a bunch of condiments out in the sink and then throws out the bottles. Ika – this is so cool. I'm actually watching this live. Get rid of the salt. Dallas – I already did. Ika – get rid of the garlic, they love it. Dallas dumps the garlic and a bunch of other things out in the garbage. Ika – we're going to hell for this. Onions, they love onions. Get rid of all the black pepper. I've been hungry all week, I'm loving this. Dallas empties the rest of the spices into the garbage. Ika – this is some petty sh*t. Dallas – f**k em! Ika tries to go into the storage room. Dallas – they (production) locked it on me because I was in there dumping things out. Ika – they are going to DIE!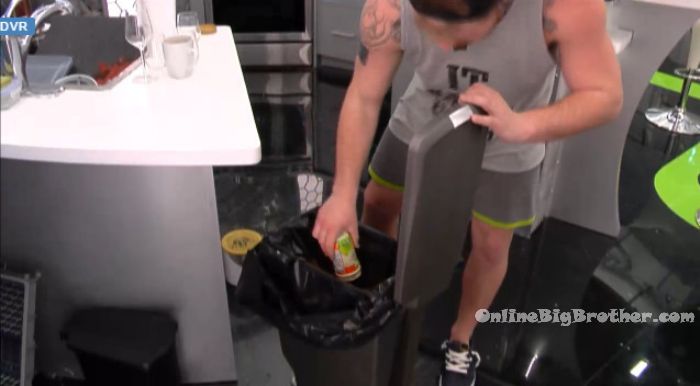 Dallas and Ika head into the bathroom. Dallas empties a bunch of the shampoo bottles out and then fills them with condiments. Ikay heads to bed. Dallas continues to empty out shampoo bottles and fill them. He then heads down to the kitchen and says I'm going to hell for this. He heads out to the hot tub room to smoke.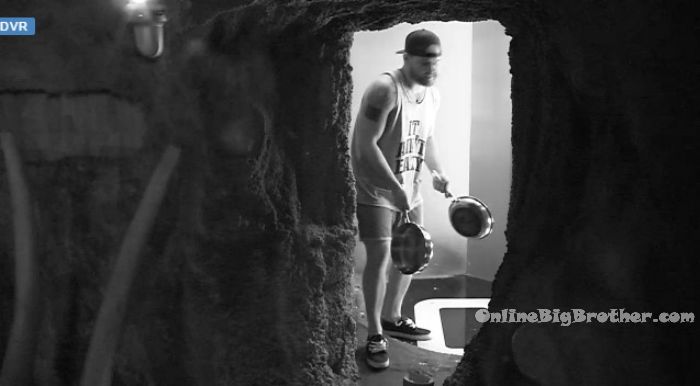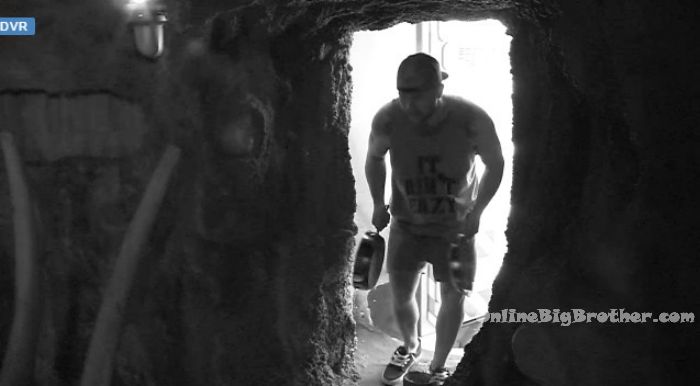 3am Dallas then heads the kitchen – He grabs some pots and pans and then goes into the havenot room. He starts banging them together singing "It ain't easy being big deezy! It ain't easy being big deezy! It ain't easy being big deezy! It ain't easy being big deezy! cock a doodle doo!!" He then heads to the other bedrooms and continues to bang the pots and pans while singing. Told you Canada I wasn't going to leave without a big bang!
Dallas "IT AIN'T EASY BEING BIG DEEZY! IT AIN'T EASY BEING BIG DEEZY! COCK A DOODLE DOO!" #BBCAN5 @bigbspoilers pic.twitter.com/pnqKN5orl2

— Dawg (@DawgsBigBrother) March 23, 2017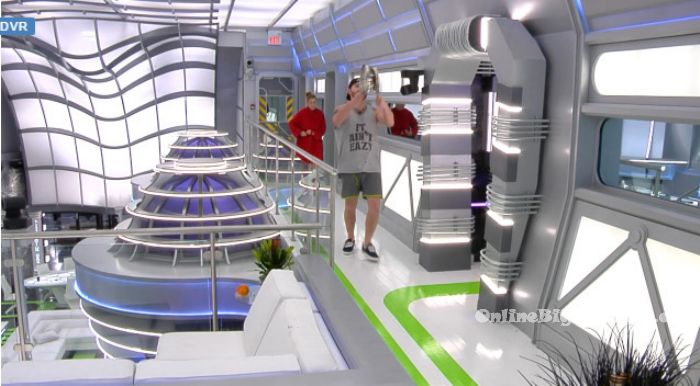 Ika and Dre late night
IKa says they are getting rid of Dallas to get rid of EMily next week. Ika says Dallas bumped the shampoo, hot sauce etc..
Dre – I want to save Dallas.
Ika says Kevin, Bruno are in an alliance with Dillon and Emily.
Ika – if we keep him he's going after Dillon.. Why are we sending home the guy banging pots and pans
Dre – I always wanted to keep him
Dre – we're getting rid of Dallas because everyone is scared of Cassandra
Ika – right now Cassandra isn't coming after us
Dre says they just don't have the numbers to keep Dallas.
Ika – not even if twe tell them about the alliance the wise guys.. Or do we keep that to ourselves..
Dre suspects that Neda is working with Emily and Dillon.
Ika – Cassandra is a snake but are we willing to keep that snake..
Dre – could she pull this off (keeping Dallas)
Dre says if there's a way they can keep Dallas she'll execute it.
Ika says the only votes they have are her, Dre, Cassandra, Gary, Jackie, William.
Ika – the house is split it's 6 – 6
Ika – I wish this was yesterday.. will this be a trend flipping votes on Thursday.. we still have time
Ika points out that Kevin and Bruno were in an alliance with Dallas and they are willing to cut him out week 2 'That's ruthless"
Ika is going to talk to Demetres see if she can convince him to keep Dallas, "I think he does trust me"
Ika says Neda had a big influence in getting Dallas on the block.
Dre says that is the one disadvantage that the newbies have in the game because the vets can influence them.
Ika agrees, says Neda has a lot of pull.
Dre says if she wins HOH she'll put EMily and Dillon up and if POV is played Sindy goes up.
Dre – I'm not giving hugs to anybody i'm done I'm giving kisses.

(Dre and Ika late night Part 1) 393

(Dre and Ika late night Part 2) 752

(Dre and Ika late night Part 3) 583

(Dre and Ika late night Part 4) 504

(Dre and Ika late night Part 5) 705
Ika – Dre says she's on board, JAckie's on board, I'm on board, William's on board, You're on board.. I'm not sure about Gary..
Ika – how do we send a legend like that home
Cassandra scoffs that Emily thinks she's safe
Ika says Cassandra needs to get KAren.
Cassandra can't get Karen they need to convince Gary to get Karen

(Ika and Cassandra Have nots)
Demetres asks Ika is he's in the position to break the tie should he keep Dalals.
Ika says they need to convince the house that is what the majority wants. Adds that right now there's only 2 people that want Emikly to stay and it's Dillon and Emily.
Cassandra joins them says she want's able to talk to Gary but he'll vote to keep Dallas.
Ika – all the newbies want him to stay
Demetres – I totally agree we should keep Dallas
Cassandra – we should keep Dallas
Cassandra – that is the best TV I've seen in all 5 seasons..
Ika says they can't speak to Karen because if they do she'll tell the whole house that you tried to flip the house.
Ika called to the Diary room
CAssandr a- what should I do
Demetres – Gary said he's on board?
Cassandra – we have 6 votes we need at least 7 because we don't want you to break the tie
Demetres – If I have to I will
Cassandra – Emily is being so cocky.. she's so rude..

(Ika Cassandra and Demetres HOH)

(Ika and Demetres HOH Part 1)

(Ika and Demetres HOH Part 2)
3:25pm Feeds have been down all day 🙂