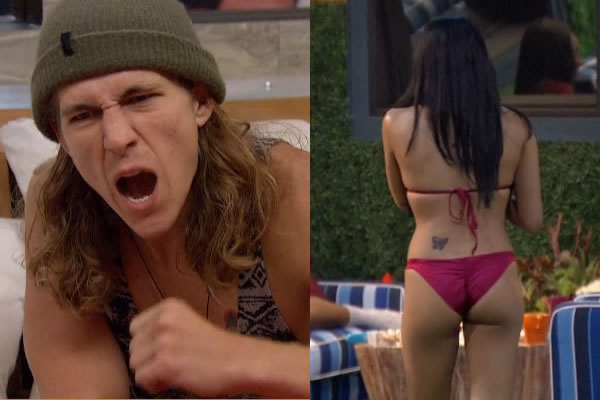 First week of the Live Feeds felt like 6 weeks, mostly thanks to Audrey and in some part Jeff, Austin, Da'Vonne and Jace. Audrey tried to play the entire house she had woven together this web of alliances then started getting those alliances to fight. For example she created this super alliance containing, Herself, Day, Jason, Clay, Shelli, Jeff, James, Meg with Jackie on the side. This alliance was going to take out the other side you know 5 easy weeks "We control the votes". Instead she created a couple more side alliances with Austin, Jace, Clay and Sheli. Plus a multitude of final 2's and final 3's. She got both main alliances against each other. Not happy with this she went one step further and got the members of these alliances to fight among themselves. She tries to get her main alliance to turn on DAY, then she tried to get them to turn on Clay, then Jason, then Jeff.. etc etc.. Until she was outed in some explosive moments on the feeds. After being outed she hid in the bedroom for days wearing her shades and surviving on good brought to her by Sheli and Steve. This didn't stop Audrey though she buried the hatchet with Jace/Austin and started trying almost every conceivable angle to flip the house. If you want to see the definition of too hard too fast look at Audrey's game week 1 Big Brother 17. As a feed watcher I appreciated the effort it was a fun week of feeds and a good sign we might have a great season.. finally.
Audrey dominated the week but Jace also got in it. He did fight very hard to stay. Trying almost every angle in the house looking for a crack to exploit. For the most part executing it went well except for maybe his blunderous encounter with Steve in the Hammock room. He finished campaigning attempts off with a Rap for votes during the Prom talent show last night. All in all he's going home tonight his early douchebaggery leaving too big of a stain on the house. Jackie on the other hand did nothing apart from wearing a bikini and smiling a couple times.
Watch the first week of the live feeds for FREE with the 1 week trial!
Click here to ensure your live feed subscription supports OnlineBigBrother.com at no extra cost to you.
(You can go back and re-watch everything you missed!!)
Summary of events
[envira-gallery id="118388″]
Results from the Show
Votes are as follows
Austin Votes to evict Jace
Liz Votes to evict Jace
Jeff Votes to evict Jace
Jason Votes to evict Jace
Da'Vonne Votes to evict Jace
Shelli Votes to evict Jace
Clay Votes to evict Jace
Becky Votes to evict Jace
Meg Votes to evict Jace
Steve Votes to evict Jace
John Votes to evict Jace
Audrey Votes to evict Jackie
Vanessa Votes to evict Jace
Evicted Houseguest is Jace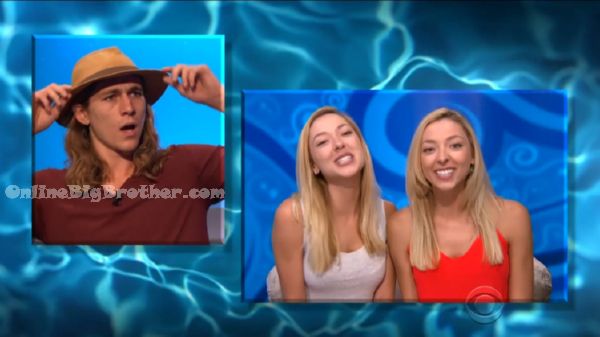 Jace finds out about the Twins twist
[envira-gallery id="118408″]
First HOH Winner is Becky
[envira-gallery id="118416″]
Second HOH Winner is Shelli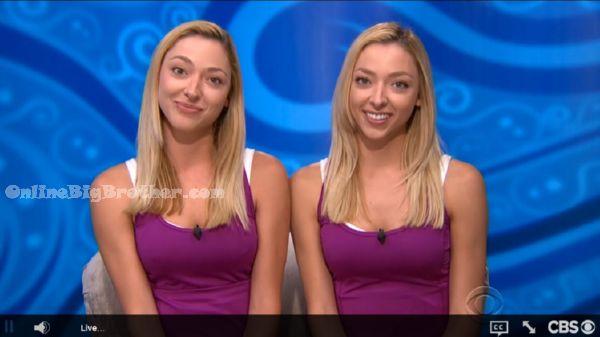 [envira-gallery id="118381″]
Twins revealed Liz and Julia have entered the game and have switch places 4 times. They will cast a single vote to evict and swap places Live
BBtakeover
A telephone will appear in the house the person that answers the 7th call will be given the power to prevent 3 people from voting.
Predictions
Jace is going home
HOH Competition is physical they were given running shoes
TOP Gifs of the WEEK ENJOY!
Jace and Austin having a tough time —> This day isn't getting any better for Jace
Sheli and Clay Showmance —> SHLAY
More HoneyCutt showing off his tongue—> Clay being Clay
James and becky —> TRust FAll
Honeycutt @bigbspoilers #bb17 pic.twitter.com/PAoa7pVtgL

— Dawg (@DawgsBigBrother) June 28, 2015
Clay hugs DaVonne @bigbspoilers #bb17 pic.twitter.com/IBUpxiDxQF

— Dawg (@DawgsBigBrother) July 1, 2015
JohnnyMac is Smooth #BB17 @DawgsBigBrother pic.twitter.com/iUwomPuF8w

— OnlineBigBrother.com (@bigbspoilers) July 2, 2015
Live Feed subscription gives you CBS All Access thousands of archived shows. Live Shows like Big Brother, all the Big Brother Seasons, and 24/7 coverage of what is happening inside the Big Brother House. Plus there's flashback that lets you go back to any second of the feeds and rewatch what happened. Simon and Dawg will index the season just watch the parts worth watching.
All this for $5.99 a month try it out 1 week free. Support our efforts and get your feeds via a link on this site. Live feed subscription Sign up

[polldaddy poll=8961340]