POV Holder:
Steve
Next POV
July 3rd
POV Used
Yes
POV Ceremony
June 28th
HOH Winner Team 1:
James
HOH Winner Team 2:
Jason

1


Nominations 1 :
Steve, Jackie
Nominations 2:
Becky, Johnny mac
Battle of the Block Winner
Becky and Johnny Mac
Next HOH/ Next BOB
July 2nd / ?
Original Nominations:
Becky, Johnny, Steve, Jackie
Current Nominations:
Jace, Jackie
Have Nots
Austin, Da'Vonne, Liz, Vanessa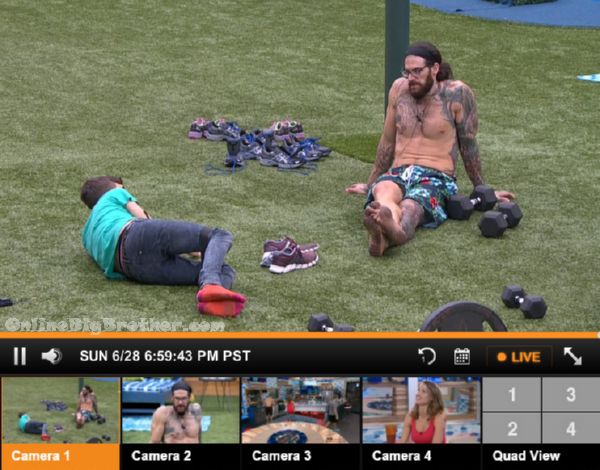 7:00pm Jason and Austin
Austin is helping Jason work his glutes.
Thy are agreeing some people are playing way too hard.
Austin says he wants to get to know JAson better he thinks they have a lot in common and he feels they haven't had a chance to talk much. jason wants to start talking more with Austin.
Jason says it doesn't take a blind man to see some people are really playing others are not playing at all.
Jason recommends Austin lay low and talk little game.
Jason says this season reminds him of season 15.
Austin – He's (Jace) is the david
Jason thinks David was dumber than jace
Jason now recommending Austin makes sure Jace doesn't explode, 'that will drag you down with him"
Austin – He's going out like Willie
Jason – Some of these players are playing really hard they think they're about the crown a winner tomorrow
Jason tells him there's people that can cook to the end Austin might be able to work out to the end.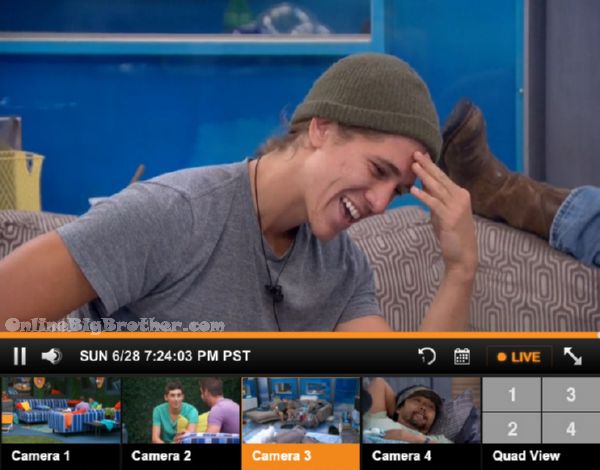 7:00pm HOH Jace and James
JAce asking if there's still a way for james to help him. James says it's all in motion.
James says the information he got was last minute he had to act on it.
JAce – it was bullshit james.. it was not true.. I've been onboard with you since day one I have never thrown your name under the bus.
Jace says she knows Audrey was the one that lied to James and said Jace was targeting him.
James says it was literally at the veto ceremony when everyone was in his ear. that is when he made the decision to put JAce up.
JAce – WOW man.. that's Big Brother..
Jace tells him if he had lied to James like they lied to James he would be save now.
Jace – I'm not mad at you it's OK someone lied to you to get me out.
Jace says he's not upset that james never came to him to talk to him but he's not upset for people lying to james and being in his ear. Mentions how ridiculous it is for someone to say they are coming after the HOH when the HOh as all the power (This was the story james is given that he found out Jace was targeting him)
Jace will swear on the bible that he has james back if James helps him out, "You have a very powerful ally on your Side.. No one will expect me to be working with you after this.. I consider myself a strong player."
Jace – those people that were in your ear could potentially bite you in the a$$
James tells him if he goes home week two he'll hold his head up high.
Jace is going to smoke out the rat
James – you'll need a lot of cheese bro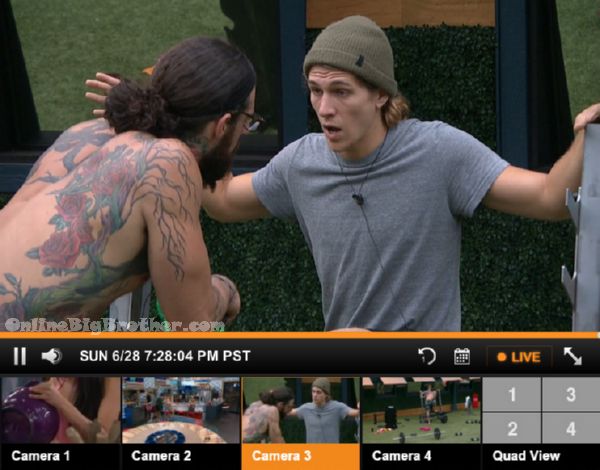 7:27pm Jace and Austin Backyard
Jace – you'll never believe what I found out now.. I just talked to James for 20 minutes
Tells him someone came to James right before the nomination ceremony and told him Jace is going to back door him
Austin thinks that is a made up thing
Jace knows that Clay and Audrey are playing James. When he pulls his meeting he's going to tell everyone to that he's going after Clay and Audrey.
Austin says Jace needs to keep his cool though that is what jason told him, jason said if Jace blows up he's done.
Austin recommends JAce cries when he pulls the meeting that will work better for him than blowing up. 'iI think you can work yourself into it that will be a emotional moment"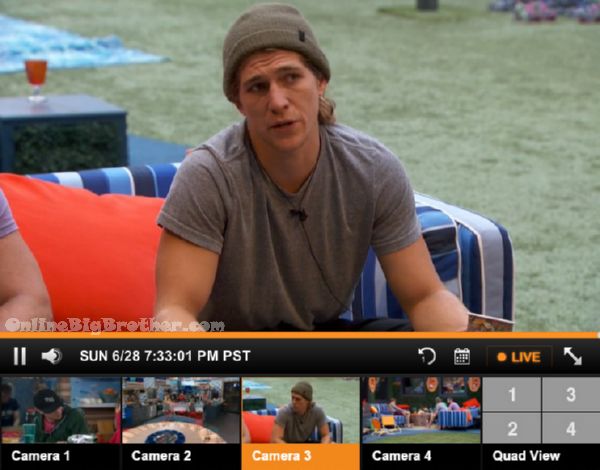 7:33pm Jason, Jace, Jeff and Clay
Jace says he made it on Big Brother he's already a winner
Jeff says a lot can still happen.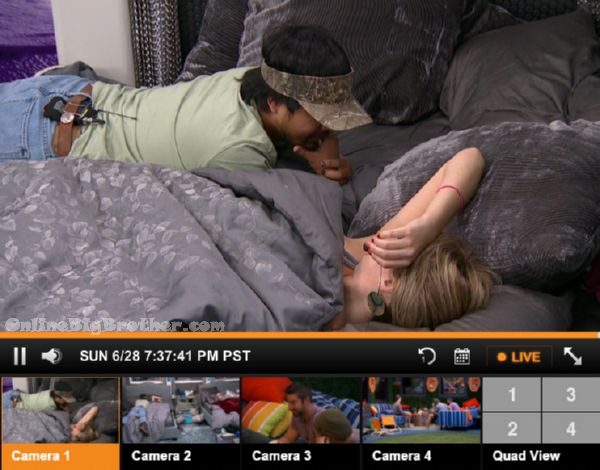 7:35pm Meg and James
James telling her about his conversation with Jace.
7:55pm Backyard Steve and Vanessa
Getting to know each other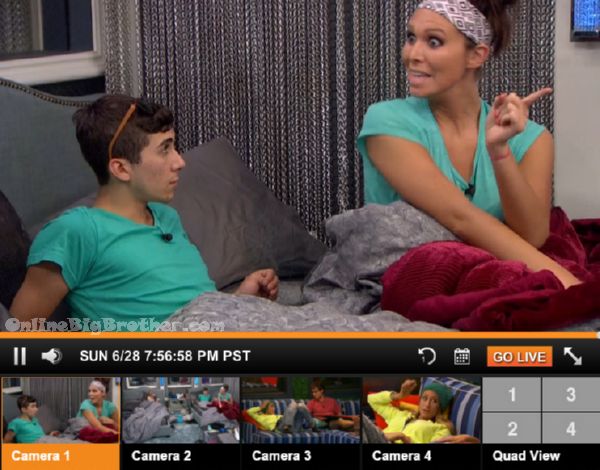 7:56pm Bedroom Jason, Audrey and Meg
Audrey is calling Jace a f****g idiot she's not worried about what Jace is going to do.
Audrey is recommending they just ignore JAce, Liz and Austin from now on.
Meg says 'they" are trying to turn the house on JAmes and Audrey. They agree that is dumb "They" should be working on getting the target on Jackie and Becky
Jason thinks it's going to be 10-1 with Jace going on of the house, "He's not going to say anything to flip these people"
Clay and Shelli come in.
Audrey says she's hearing that JAce is saying she's the mastermind.
Jason – I had a conversation with Austin about that
Jeff and James now with them.
James – I'm a bullet magnet I've been talking bullets all day

8:17pm Hot Tub Audrey, Liz and Austin
Audrey tells him to lay low she thinks there's multiple people trying to get her fired up about Austin.
Austin – who is saying this sh1t
Audrey says for him to go into the Have not room and he'll get an idea
Austin heads over there to find out.
Audrey tells her to vote with the house "Obviously"
Liz thinks jace is going to leave. Audrey agrees.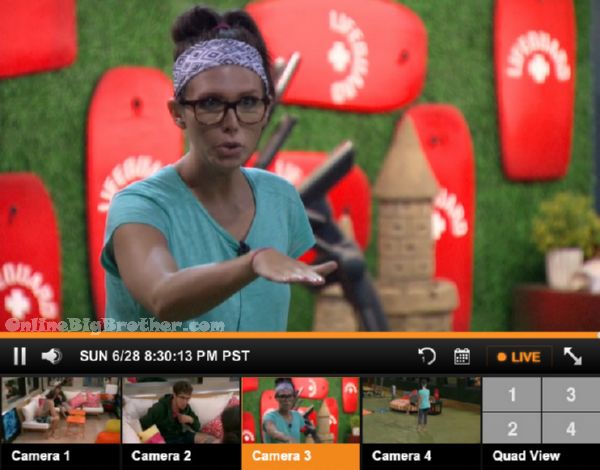 8:22pm Jace, Austin and Audrey
Audrey wants to give him a tip. She says while she's been asleep the person that is after him is spreading things saying that Austin and JAce are coming after her.
Jace doesn't understand what is going on he hasn't told anybody that all he told Jace was he's going to be after the person that threw him under the bus.
Jace – there will be a house meeting.. I'm not talking to anybody I'm enjoying my life in this house with people that don't; want me here.. it sucks audrey it really does.
Jace – "I don't know what I did I lied to noone"
Audrey – People are coming to me saying you two are gunning after me"
Jace – This is f****g ridiculous.. It's like I have leprosy people are treating me like a f****g dog
Audrey says that the people telling her this wants them to fight
Jace – You do realize there's one person in here lying to everyone..
Jace explains that there is a person that told James he was gunning for him moments before the Veto Meeting.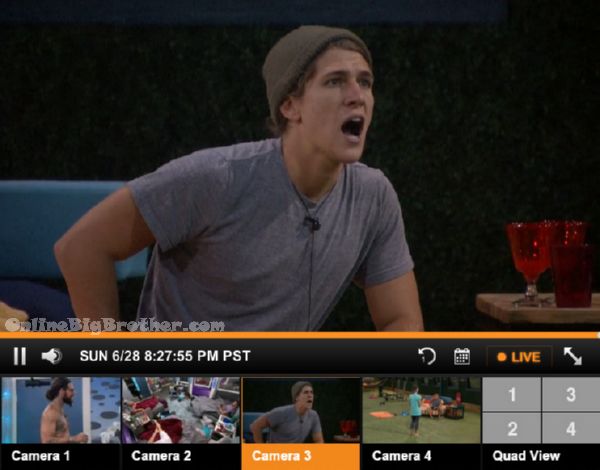 Jace – You targeted me so hard Audrey
Audrey – HOW!
Audrey – I never dominate the conversations I'm a bystander.
Audrey points out to him she doesn't know who told JAmes all she knows it was a last minute thing "I'm a bystander"
Jace says he's going to call a house meeting and she might hear her name then but first he needs to figure out who backstab him.
Jace says he really liked Audrey this is really hard for him, "What am I supposed to do.. I just f****g hate this game man"
Audrey says for him to question the people he trusted. "I don't have time for the gossip"
Audrey points out there was 4 people in the room when they talked why does she thinks it was her. Jace says there's no way it was Austin.
Audrey tries to say that maybe it was Clay but she won't name it.
JAce says if he calls a house meeting and Clay gets called out will Audrey back it up.
Audrey says she can't she's trying to lay low.
[envira-gallery id="117355″]
8:50pm Bedroom Audrey tells them about her conversation with JAce.
Clay, James, Meg, Sheli, jackie etc etc are in teh room.
Audrey "It's like arguing with a four year old"
Audrey – "The advice I gave him you have to stop causing so much drama" (Probably the funniest thing I've heard so far this season)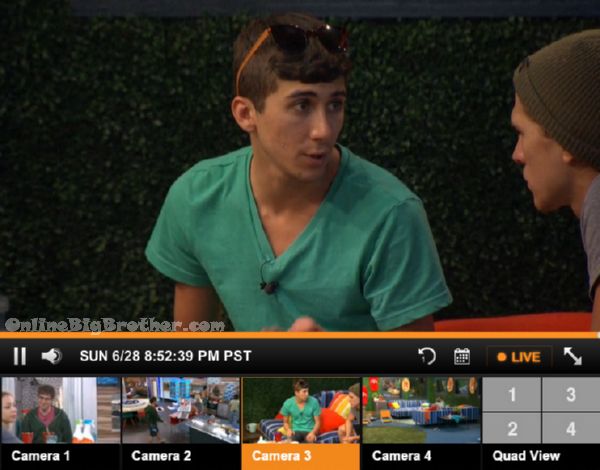 8:55pm Backyard Jace and Jason
Jace saying he's screwed, asks him what he needs for a vote. Jason explains that going against the house right now is suicide if JAce has the votes he's onboard. Says he won't be able the flip the house without James support. IT's rare the house flips on the HOH when they all like the HOH. Meg Joins them.
Jason – As a BB fan Lay low.. wait.. an opportunity will present itself
Jason – Jackie isn't saying all that much.. you can out game Jackie
Jace – the whole house is against me
Jason says he has to look like less than a threat than Jackie but he doesn't know how Jace can do that.
Live Feed subscription gives you CBS All Access thousands of archived shows. Live Shows like Big Brother, all the Big Brother Seasons, and 24/7 coverage of what is happening inside the Big Brother House. Plus there's flashback that lets you go back to any second of the feeds and rewatch what happened. Simon and Dawg will index the season just watch the parts worth watching.
All this for $5.99 a month try it out 1 week free. Support our efforts and get your feeds via a link on this site. Live feed subscription Sign up

[polldaddy poll=8954355]