POV Holder:
Steve
Next POV
July 3rd
POV Used
Yes
POV Ceremony
June 28th
HOH Winner Team 1:
James
HOH Winner Team 2:
Jason
Nominations 1 :
Steve, Jackie
Nominations 2:
Becky, Johnny mac
Battle of the Block Winner
Becky and Johnny Mac
Next HOH/ Next BOB
July 2nd / ?
Original Nominations:
Becky, Johnny, Steve, Jackie
Current Nominations:
Jace, Jackie
Have Nots
Austin, Da'Vonne, Liz, Vanessa
Big Brother 17 Alliances cheat sheet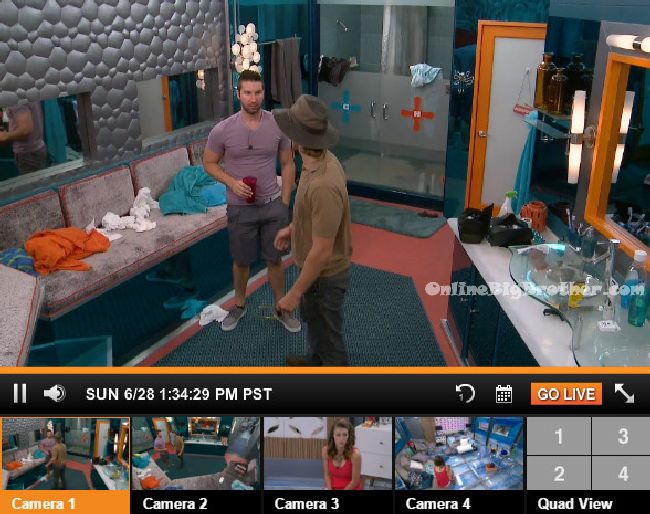 12:30pm – 1:30pm Big Brother blocks the live feeds for the Power Of Veto Ceremony to take place. As head of Household James has stuck to the plan of wanting to put up Jace as the replacement nominee. Results of the Veto Ceremony: Steve used the veto on himself. James then nominated Jace as the replacement nominee.
With the live feeds only being turned on a few days ago there is already so much game play happening with some house guests (Especially Audrey) making the biggest mistake in big brother. She's playing way too hard and way too fast. And the other house guests are noticing she's the source of all the lies/drama. It's going to be an exciting first week on the live feeds – signup and watch it all for free with the 1 week free trial!

When the live feeds return – Jace tells Jeff in the bathroom. "I know you're friends with Jackie. It's okay I understand." Jace then heads into the diary room.
In the kitchen – James says its just a game. The cameras switch to the HOH room. Becky is talking to Audrey. She says its a blessing to be HOH but comes with a curse. The feeds switch back to the kitchen where James asks hows Austin doing out there? He's probably feeling like sh*t. Jason says he is probably going to throw you and Audrey under the bus …like they agreed to do this. He's just doing damage control now in case I win. James says yeah I knew that. James heads up to the HOH room.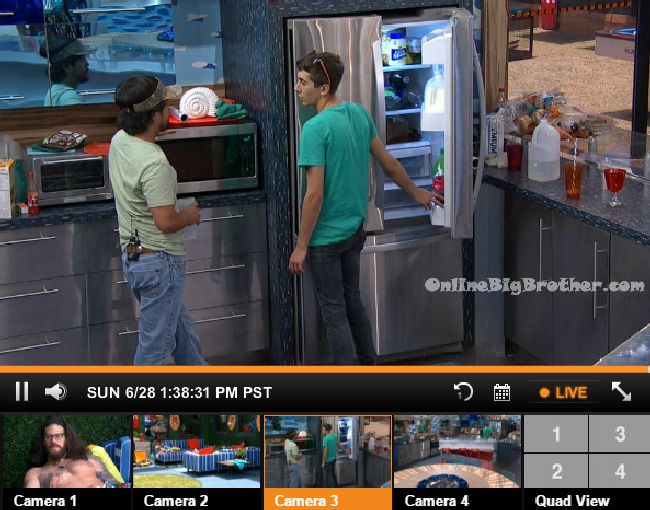 1:40pm Up in the HOH room – Audrey asks has he said anything to you yet? James says he's pissed! Clay says if he tries to talk to you just stay calm. James says I'm the last person he is going to want to talk to. James says it wasn't a laughing matter. I wasn't trying to go at it like that. I don't want to go up against him (Austin) in the battle of the block. Clay says he would die be for he stops. I think he will understand. James says I think he just needs a little time. He is really mad right now. Like super pissed. I can see why they put the HOH room up here because after sh*t like this I can see why you would want to lock the door.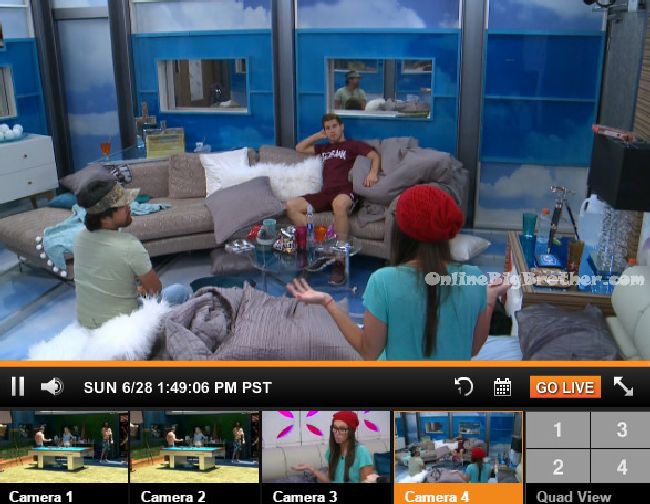 1:45pm Out in the backyard – Austin says James is a liar. He did what he said he wouldn't do. Don't blow up like they think you're going to do. Just focus on getting the 7 votes. Jace says I can't believe I'm going home on the first week. Austin says people are already starting to connect the dots. Jeff came to me and so did Vanessa. Jace heads inside.
Austin says I think we could get a movement going… that's just between you and me. They are probably going to use you to throw BOB's. They might try to get me to do that too .. like you're a big threat we're going to put you up but you're safe.

Up in the HOH room –
Jace comes up to talk to James alone. James says look I heard things that you were trying to flip things on me. A couple people told me that. Jace ask why would I do that when I'm in an alliance with you. I've had your back since day 1. James says its just a game move. It's nothing personal. Jace says it feels personal. James says its a last minute decision. Jace says there are a lot of people buzzing around throwing people under the bus and I'm just the easiest person. You realize you have a lot of liars around you. DO you realize that!? James says probably so. This is big brother. Jace says I wasn't one of them. So you fucked up! For real! It just sucks because I thought you were an honest dude. James says I'm sorry. Jace says no you're not. You're a liar. You wouldn't even look me in the eye the last 24 hours. Jace says you're going to send my home in the first week and ebarrasse me and my family. James says I respect you as a player and I don't want to go up against you again. James says its not personal. Jace says it is personal. You just sh*t on me in front of everyone. I know you're in a little alliance. James says I'm not in an alliance. Jace asks what does it say for your character making an alliance the first day and then going back on it. What would your daughter say? You're wearing that Jesus bracelet. What do you think Jesus thinks of your character?! James says don't bring Jesus into it. Jace says people won't talk to me. They act like I have leprosy. James says because people are afraid that you're going to blow up. Jace says why would I blow up. James says I'm sorry. Jace says don't say you're sorry when you're not.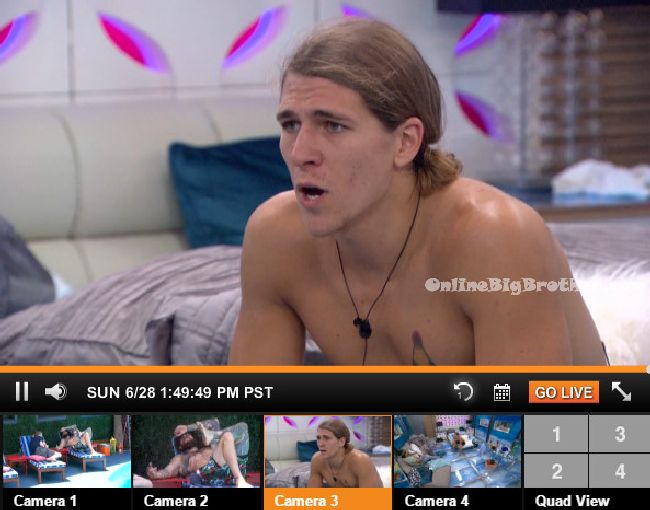 2:10pm In the bedroom – Jace talks to Vanessa about how he gave up everything to come here. I gave up 2 of my jobs, my beach house. Vanessa says you can come stay with me. Jace says I don't want to go to Vegas! I am going to have to go back to living with my parents. Jace says I'm being treated like a leper. Only two people came up to me after. James said that two people came up to him saying that I lied. Which sucks because I've played a super honest game. There is someone going around the hosue lying to everyone since the beginning. It's going to happen to you ..just like its happened to me. Just so you know – since day 1 he came to me and asked to be in an alliance with me! Jace tells Jackie you have nothing to worry about. People went up to James and said I was gunning for him. You're not the target. Everyone is trying to shoot me. There are multiple alliances in this house that are fake. Its funny that you can come in wanting to play an honest game and the people that are pretending to play an honest game can screw you over. Its fine, at least I will go out with my integrity.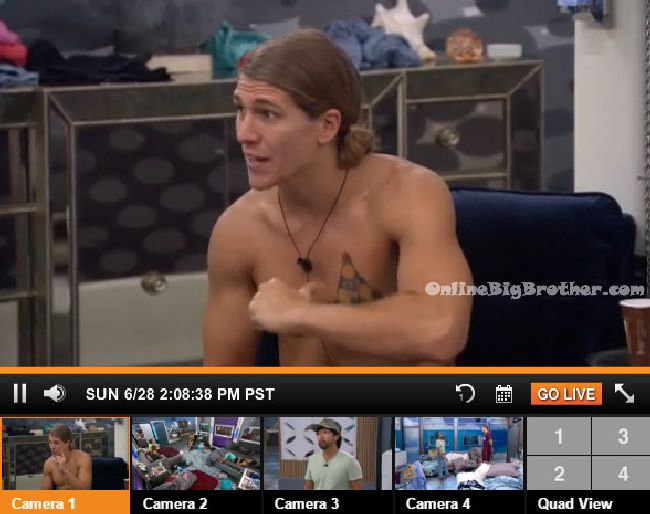 Jeff talks to James. Jeff says that Liz is already starting to detach from Austin. She started scrambling. She threw Austin under the bus. James says she knows that one of her key players is gone. Jeff asks how can we play her?
In the bathroom – Austin tells James that he wished he told him Jace was going up but that he understands why he did it.
2:20pm Backyard – James, Jason, Meg and Clay are talking. James says other things that are going to start to circulate are that James and Audrey can't be trusted.. but we just have to stick together. Jason and Clay talk alone. Jason says Jace hasn't even talked any game with me. Clay says I trust Vanessa. Not that we have her vote.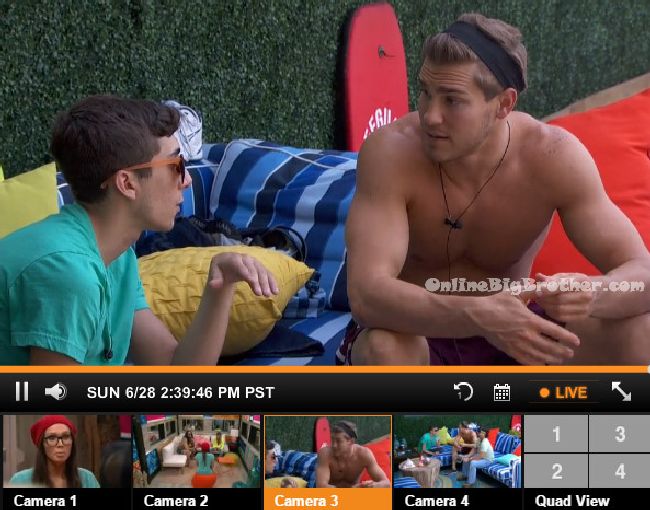 2:38pm Clay and Jason
Clay – I'm proud with myself for being honest to the people I trust
Neither of them trust Vanessa long term maybe for a week. Jason boasts if his people go up he doesn't care if he's in the minority he's voting with them.
Clay – There's lines drawn now
Jason – it's easier with lines
Clay says they have the numbers they are fine now.
Jason – We got enough numbers.. we don't even need Jackie
They agree to stick with the alliance they have now. Clay trusts Sheli 100% Audrey trusts Jason. They all trust James.
Becky walks outside Clay whispers "Get out of here Becky"
James joins them. Jason says if Audrey suggests a house meeting they need to stop her, "House meetings never go right"
James – Austin pulled me to the side
Told James he understands James decision he just wanted to know ahead of time.
James – He said it's good for his game with Jace gone
Camera switches to bedroom..
2:53pm Backyard James and Jason
They believe JAce would be the target of the majority of the house this week. James doesn't think they would have been as smart as they were.
James acting like getting Jace out was a power move. He considers the Jace one of the stronger players.
Jason – we didn't come here to hang around we came to play
James – Dude we are sitting really good right now we took control of the house.. we have control of the house.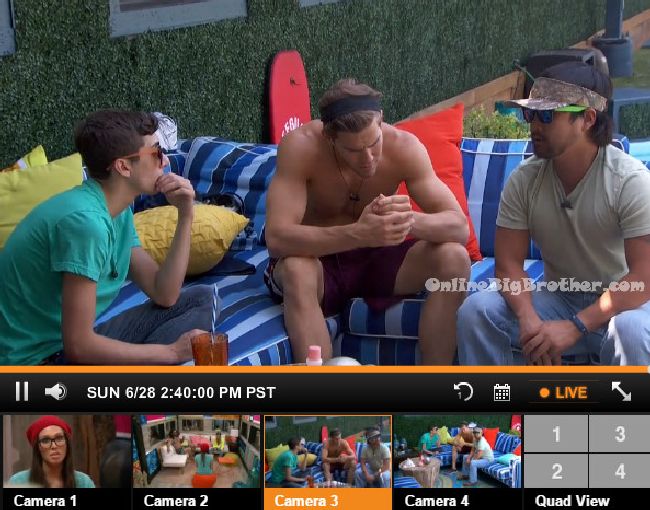 2:20pm – 3pm In the cabana room – Audrey says I feel very hurt by you. Stuff that I came to you with in confidence. Multiple people have come to me. Vanessa asks what?! First off I thought you told me that so I could go find out if it was true? The only thing I ever said was have you heard anything about an all girls alliance including me. And that person told me no. It never involved you. Remember if some tells me I am in an all girls alliance I have to find out about. Audrey asks so you haven't told Clay that you don't trust me? Vanessa says no! That's retarded! You three are the people I want to work with! Audrey says this morning Austin followed me up to the HOH room and basically told me everything I had told you? Vanessa asks like what? Audrey says that groups are starting to formulate. Vanessa says I think everyone in the house is saying that! Audrey says I told you that a group was being formulated, that Jace was going up. Vanessa says you never told me that a group was being formulated that didn't involve us. I honestly don't know what you're talking about. I would be happy to ask Austin. Ask him! Audrey goes to get Austin. Audrey says theres a weird game of telephone going on. Audrey asks Austin who did you tell that Audrey was involved in an all girls alliance. Austin says I never said that. This is ridiculous. Audrey asks so you didn't talk to anyone about me? Austin says no. I literally went out and talked to Johnny and rocked out. I didn't want to be involved in any of it. Vanessa asks what is the rumor you are concerned about? Audrey says I was concerned about you talking about me. Audrey says I will go talk to that person again that told me and see if it feels like bullsh*t or not. And if it doesn't maybe I put you and that person in a room to figure out. Vanessa says I can hold my head high with my integrity. Audrey says my biggest concern is that you hurt me and that I confided in you. Austin says I think you should just bring that person in here. Audrey says I will go confront them. Austin says this is the second time this has happened to my in two days. Austin says the only person I talk to about this was Clay. Vanessa says how about I just say it didn't come from you and that I just asked you about it. Austin says I just going to take a 24 hour game break. Vanessa says I will swear on my life that it didn't come from you.
Audrey says I am telling you in confidence… Clay and Shelli told me that you don't trust me. Vanessa says since that moment we had that conversation when you questioned me about my life which you have ever right to do. ..since then I was done with it. Audrey says Clay seems like the common denominator that everyone trusts. What was he trying to accomplish when they told me at 3am and told me Vanessa doesn't trust you (Audrey). Vanessa says I don't know. Audrey asks why would he say that? Vanessa says I don't know? Why would I say I want to work with you if I said that?!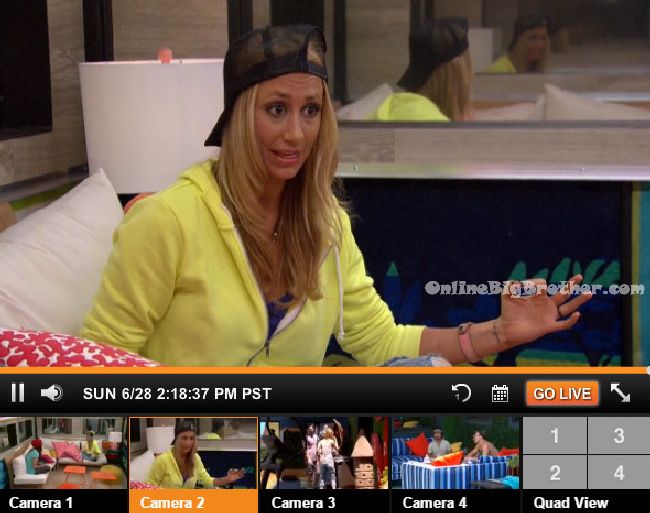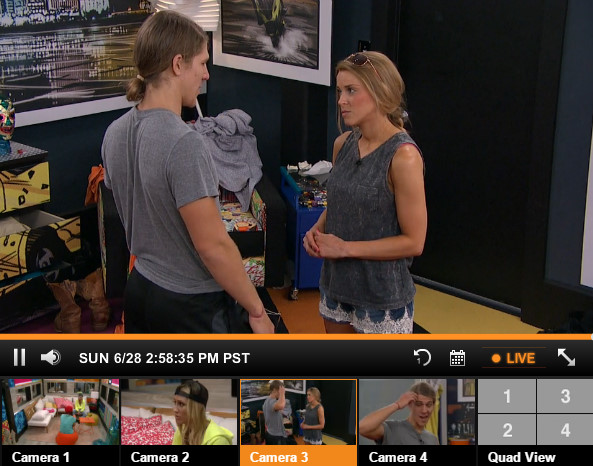 2:56pm Bedroom Shelli and Jace
gives him a hug says she's been staying out of the conversation this week she feels bad he's the nominee.
Shelli says she wants him in the house it's breaking her heart..
(Shelli and JAce start to tear up)
Jace – I would really like to stay .. everybody started targeting me I don't know why
Shelli tells him it's a compliment he's a strong player.
Jace – I feel like i'm a walking leper
tells her she's the only person that came up to him. Jace says James told him he was safe he's been lying to JAce a lot
Jace – "They're going to send me home"
Jace – DA hates me… I know Becky doesn't like me.. I don't dislike her.. I Don't know what to do.
Shelli – you do have real friends in this house regardless of what happens.
Jace wants to know who stabbed him in the back. He says someone was in James ear.
Shelli thinks he was seen as a strong player and it's the first week people don't know what is going on. She doesn't think it's because people don't like him.
jace says he has nothing to go back to.
Live Feed subscription gives you CBS All Access thousands of archived shows. Live Shows like Big Brother, all the Big Brother Seasons, and 24/7 coverage of what is happening inside the Big Brother House. Plus there's flashback that lets you go back to any second of the feeds and rewatch what happened. Simon and Dawg will index the season just watch the parts worth watching.
All this for $5.99 a month try it out 1 week free. Support our efforts and get your feeds via a link on this site. Live feed subscritpion Sign up

[polldaddy poll=8954355]