POV Holder:
Steve
Next POV
July 3rd
POV Used
Yes
POV Ceremony
June 28th
HOH Winner Team 1:
James
HOH Winner Team 2:
Jason
Nominations 1 :
Steve, Jackie
Nominations 2:
Becky, Johnny mac
Battle of the Block Winner
Becky and Johnny Mac
Next HOH/ Next BOB
July 2nd / ?
Original Nominations:
Becky, Johnny, Steve, Jackie
Current Nominations:
Jace, Jackie
Have Nots
Austin, Da'Vonne, Liz, Vanessa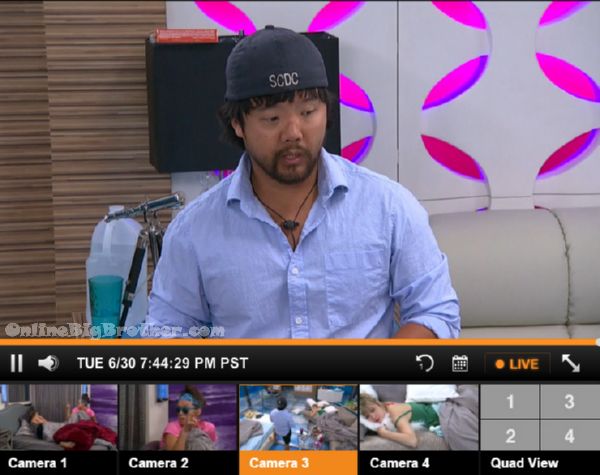 7:45pm HOH James Jeff, Jason and Meg
Talking about Audrey being a manipulator "Too much talking going on in Hammock rooms and in and out"
james is worried about Audrey flipping the house. If they don't hear something
James – And shelli… I don't know man I just feel like she's easily swayed.. when you think about it Audrey has talked to Shelli all day.. and Audrey has been in that corner with her Big BRother sun shades on
Jason comes in says JAce and Audrey are cuddled in bed.
James- Audrey's talking to everyone
Jason – she's not talking to me
Jeff – whats up with Shelli and Clay in the hammock room ALL DAY
Cams flip to back yard when it's back Clay has joined them.
Jeff saying Audrey is telling him that people have approached her to work with her. they all scoff at this call it bullsh1t.
Meg says Jace's smartest thing to do is go to Audrey and blow sht up. Jeff and Clay are positive that they will never get the votes.
Clay is certain Vanessa and Austin won't work with Audrey. They agree they need to spend more time with the outside players to make sure they can count on their votes.
Jackie comes in asks what is going on. They says Audrey is scheming again. Camera flips to Hammock room Shelli, Vanessa and Austin
[envira-gallery id="117943″]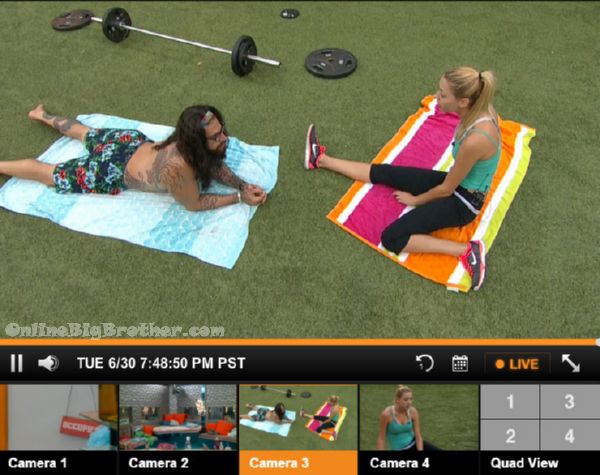 7:47pm Austin and Liz Working out
talking about What's going on in the house and how crazy it is that JAce and Audrey are now talking.
Liz doesn't think they will Steve to save JAce. Liz knows JOHNNYMAC and Becky but not Steve. Austin is more positive about it.
Jace joins them says the conversation with Audrey went well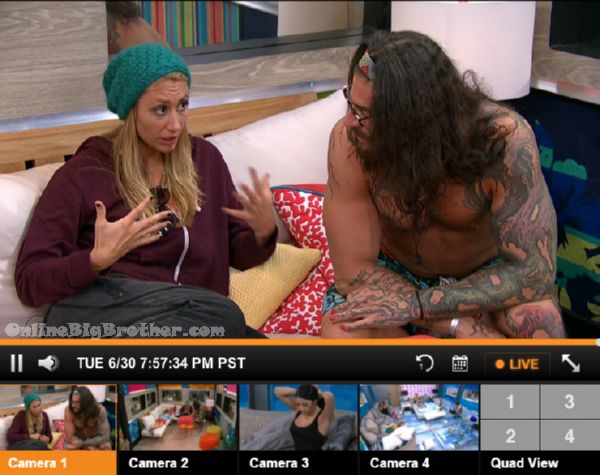 7:57pm Hammock room Austin, Vanessa and Shelli
Vanessa bring sup james just lying to her telling her the plan to backdoor jace was last minute.
Austin says he trusts Steve he's told him things on purpose to see if it would come back and it didn't. Austin is unsure about JohnnyMac.
Austin says if he wins HOH next week he's taking James out 'He lied to me straight to my face"
Shelli says Jeff is trustworthy and so is Jeff. Points out they need Jeff because he has Jackie.
Shelli leaves.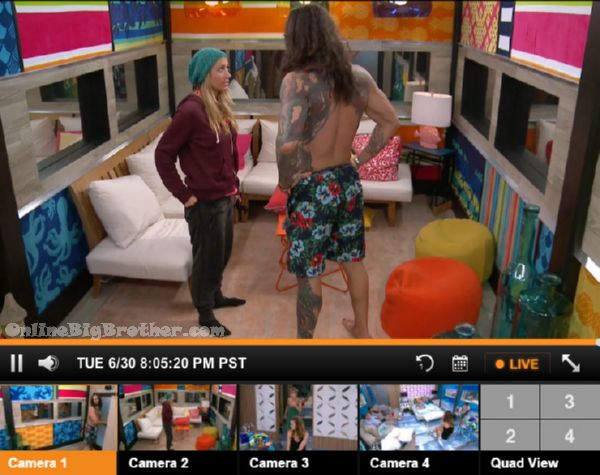 8:06pm Hammock Room Austin and Vanessa
Vanessa says she's starting to get the feeling she can save Jace. She knows saving Jace benefits Austin but is really doesn't benefit her. She needs a guarantee if it's top 3 Austin is taking her instead of Jace.
Austin doesn't know if Jace staying will benefit him he's been thinking through scenarios.
Austin tells her Jace is worried he can't get JohnnyMac's vote he thinks Johnnymac was in on backdooring him since the beginning.
Vanessa wants a final 3 with her and Jace if she goes with this.
Austin tells her doesn't matter what happens this week she's his final 2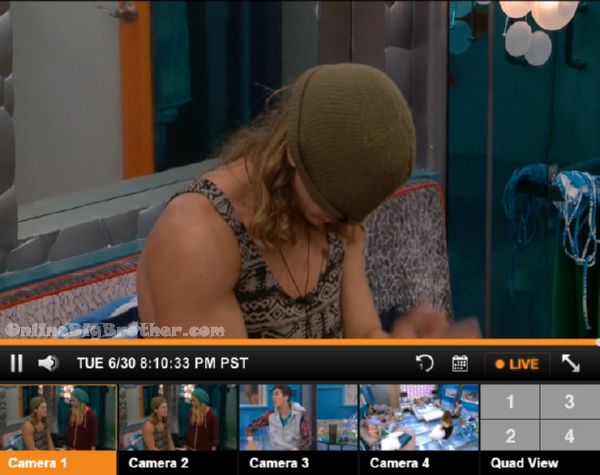 8:12pm Bathroom Jace and Vanessa
JAce crying..
JAce "They been making fun of me since day one just like high school"
Vanessa stuck up for him when she found out about them making fun of him and she wasn't the only on.
Jace says he must look like a huge fool on national television. His parents are so disappointed in him.
Vanessa says there's a chance to keep him.
Jace says if she helps him he will do whatever it takes to help her
Vanessa thinks her and Austin and pull it off they are going to get to work.
Vanessa is targeting james he's the only person she doesn't like thinks James is a douche for lying and coming up with that song.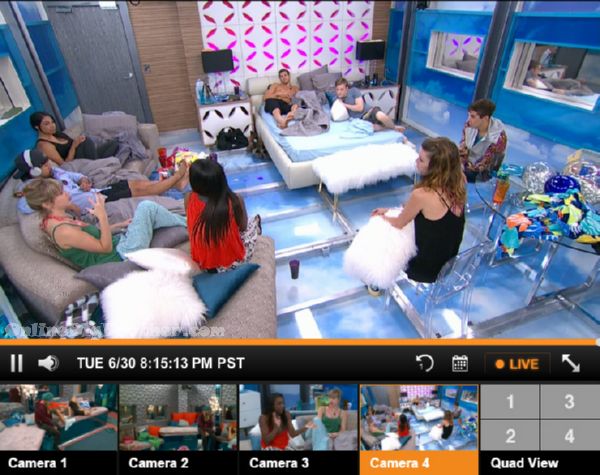 8:15pm HOH Jeff, John, Jason, Becky, Jackie, James, Meg, DAY
Hating on Audrey and JAce.
Counting the votes Jackie says she will be pissed if she doesn't get the votes. They act very confident there's no way Jace is getting the votes.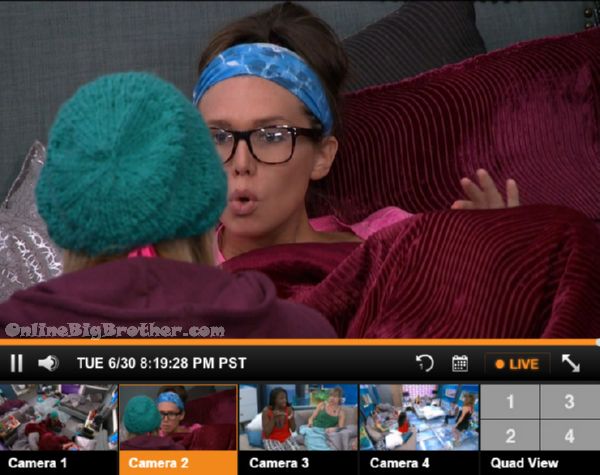 8:20pm Vanessa and Audrey
Vanessa asks her who was the last person into their 8 person alliance after Shelli.
Audrey says it was Clay.
Vanessa – I need someone, I don't have anyone..
Vanessa thinks if they work together nobody will suspect them
They agree to a final 2.
8:31pm Audrey and Jace bedroom
Jace doesn't feel like he has a shot says JohnnyMac won't talk to him.
Audrey tells him Steve pulled DAY into the Diary room. She gives him some angles he can use to get Steve's vote. (See below when he confronts Steve)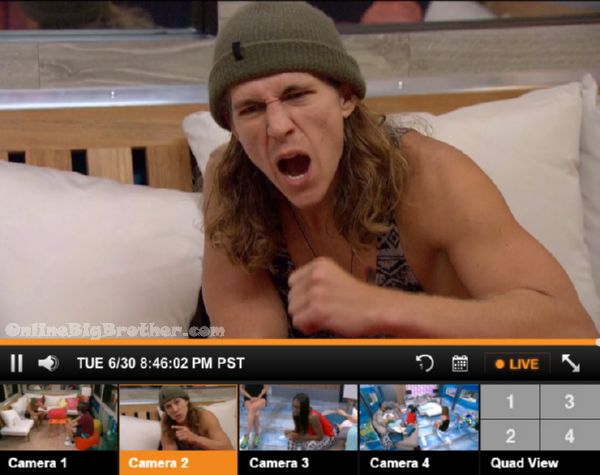 8:39pm Jace and Steve (Jace is a total d1ck in this conversation talks to Steve like he's a fool)
JAce tells him
-I know you knew about the plan to backdoor me since day 1
-I know you went to DAy and asked to be her jason
-I know you've been sneaking around and I also know the people that have your back don't have their back at all.. I know that because otherwise I wouldn't be privy to that information
– Look at me look at me in the eye
– They've been using you bro they've been using you like a piece of tackle on a fishing line hook line a sinker
Steve – I'm sorry I hurt you
Steve – there was nothing I could do (About being the pawn)
Jace – yes you could have steve yes you could have
Jace – no you are not.. you don't feel like a terrible person.. these people don't have your back like I do
Steve – I know
Steve tells him there is nothing he could do when he was told he was a pawn.
Jace – do you know what they say about you when you're not around.. they make fun of you the second you walk out of the room every single time you are a giant joke to them steve.. you want to go down as the guy that took out the person that had your back
Jace – you are screwed screwed they want you out next
Jace asks him why did he stab him in the back "I'm hurt now man I thought you were my friend"
Steve – I'm sorry that I hurt you
Jace says he's caught steve hiding behind doors listening in on conversations and running up to the HOH he calls Steve a rat.
JAce – you are the reason i'm going home.. I hope when you go home and you see the footage they were making fun of you making you look like a fool.
Steve doesn't see how he's the reason for getting rid of JAce.
Jace – don't be a pu$$y steve you want America to think you are a pu$$y .. you want to get manipulated.. I thought you were smart.. you have the highest IQ in the house.

Jace – you do know you are the next target you really think James cares about you.. you want to know james nickname for you ..
Steve – sure
Jace – do you think James cares about you
Jace – every single one of them calls you GEEK SQUAD MCGEE.. I even heard a few of them call you four eyes.
Steve – Geek squad Mickey
JAce GEEK SQUAD MCGEE
Jace – you stabbed me in the back like Judas with Jesus
Jace tells him he's going to go down as the biggest pawn in Big Brother history, "I'm so disappointed in you"
Jace – you want to go home with me or do you want to flip the script
Steve – I would love to do that
AJce – you can do it without me and I can't do it without you.. they control their house steve.. they have you by the strings steve..
Jace tells him they have an idea how they can take control but he's not going to tell Steve. He's going to wait to see if this conversation gets out first.
Steve promises the conversation will stay between them. They shake on it.
[envira-gallery id="117954″]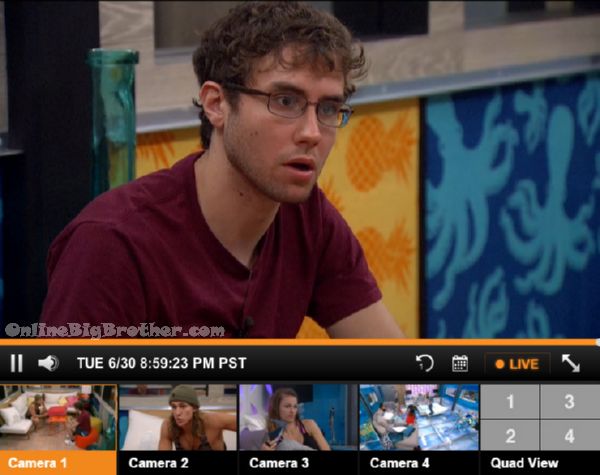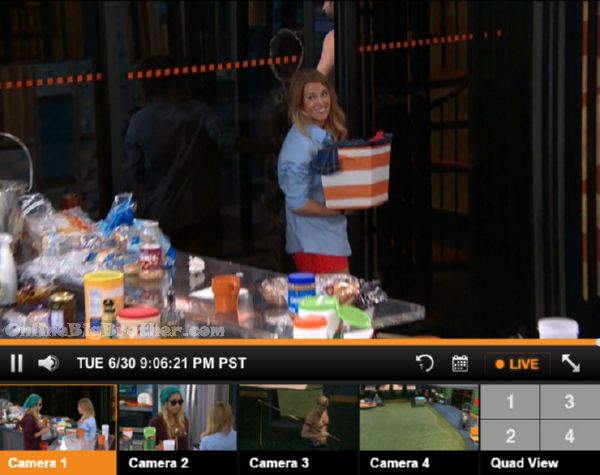 9:07pm Shelli and Vanessa
Shelli hints that her and Clay are getting some weird vibes in the house. Asks her if she's still feeling strongly about what they talked about with Austin "The Audrey thing"
Vanessa says she's open minded.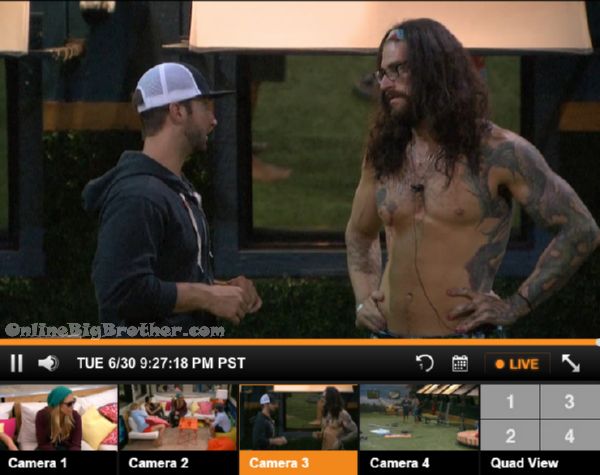 9:24pm Austin, Liz and Jeff
Austin saying he cannot trust Clay anymore. Points out that Clay is playing all the sides he's already talking to them for deals. Adds he's been setting Clay up to see and it's proven Clay is.
Jeff – I'm about ready to bounce on Clay
Jeff mentions that Shelli just told him he's giving off a weird vibe today. Jeff is going to test Clay out and if he fails he's done.
Jeff – they've been acting really weird (Clay Shelli)
Austin – Clay wants me to take out James next week.. he's trying to cover every angle possible.
Jeff – is he working with Audrey
Austin – he might be
Jeff wants to have a conversation with Austin and Liz later tonight. Adds that he's working with numbers right now because if he doesn't he's f****d
Live Feed subscription gives you CBS All Access thousands of archived shows. Live Shows like Big Brother, all the Big Brother Seasons, and 24/7 coverage of what is happening inside the Big Brother House. Plus there's flashback that lets you go back to any second of the feeds and rewatch what happened. Simon and Dawg will index the season just watch the parts worth watching.
All this for $5.99 a month try it out 1 week free. Support our efforts and get your feeds via a link on this site. Live feed subscription Sign up

[polldaddy poll=8954355]