POV Holder:
Steve
Next POV
July 3rd
POV Used
Yes
POV Ceremony
June 28th
HOH Winner Team 1:
James
HOH Winner Team 2:
Jason
Nominations 1 :
Steve, Jackie
Nominations 2:
Becky, Johnny mac
Battle of the Block Winner
Becky and Johnny Mac
Next HOH/ Next BOB
July 2nd / ?
Original Nominations:
Becky, Johnny, Steve, Jackie
Current Nominations:
Jace, Jackie
Have Nots
Austin, Da'Vonne, Liz, Vanessa
Watch the first week of the live feeds for FREE with the 1 week trial!
Click here to ensure your live feed subscription supports OnlineBigBrother.com at no extra cost to you.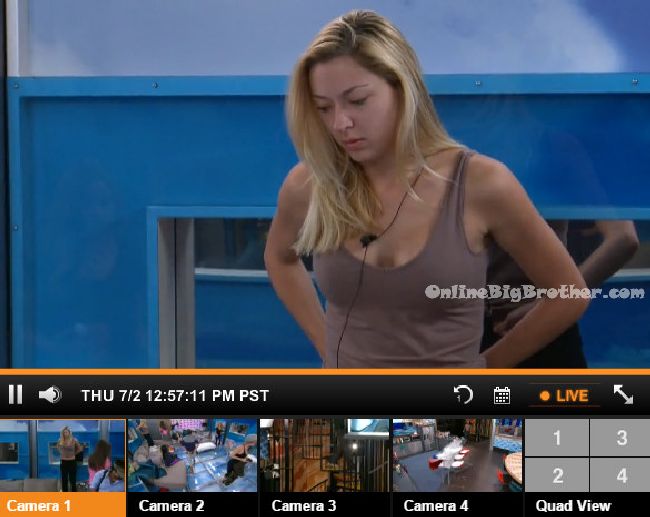 1pm – 1:20pm Feeds are back and HOH lock down is over. All the house guests head out of the HOH room. James "I got kicked out of the penthouse man!" Some of the house guests start eating lunch, while others start getting ready for the live eviction tonight. Jeff says he has to "disinfect the clippers because its full of James's pubes."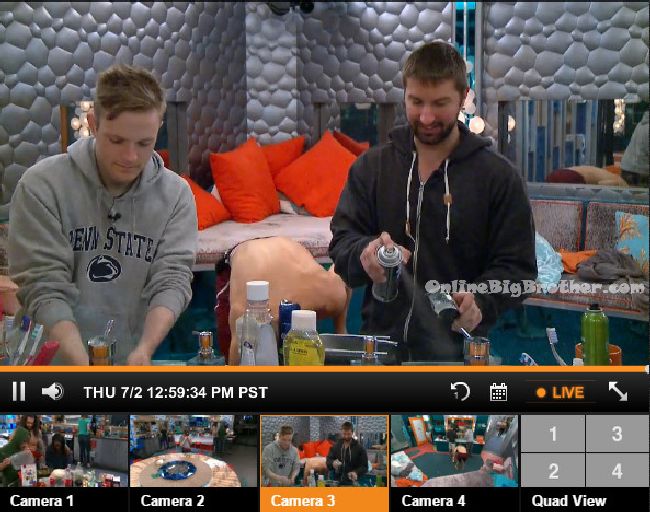 In the bedroom – Steve hugs Jace and tells him "I'm going to miss you so much! I'm sorry." Audrey comes in and talks to Jace. I'm just trying to collect information. She brings up last night saying that she overheard him whispering with Jeff. Jace says that wasn't me (It was James). Audrey says I could have sworn it was you. Jace says I don't know. It wasn't me. Jace says he was hanging out with James all night. Audrey asks if there is anything I can do. Jace says there's nothing. I don't have the votes. I may do a last minute plea but.. Audrey asks are you going to do the one that you mentioned before? Jace says production told me I can't. They said it goes against production. Jace says if I sleep past 5pm wake me up because I didn't sleep last night and need to.
In the kitchen – Steve says it won't be an endurance. We just had one of those. Meanwhile in the bathroom – Clay is cutting James's hair.

1:30pm In the havenot room – Vanessa tells Steve that there's a rumor going around that you give information to someone on that side. I don't want to be specific. So if you are I would not do it any more because that person told someone and it got out. Steve asks can I ask who it is? Vanessa says I can't… maybe later in the game. Steve says okay I can respect that. Vanessa says I will tell you to be careful because it specifically came from the person you told you would be able to get information for. And told that whole alliance that you're willing to give information. Steve says I'm not even sure what you're talking about. Vanessa says okay well maybe its not true. Okay good. That is the one thing I heard about you. We definitely need to win HOH or the numbers are just going to get sh*ttier and Sh*ttier. Vanessa says Jackie and Jeff and the loosest part of that alliance. Shelli & Clay are in close with Audrey.

1:45pm Jace walks by Steve and says I'm going to try one more thing. He heads to the kitchen and yells to Austin "Can you come help me with one more thing about my speech I need to fine tune something. I want to make sure something isn't too low. Jace tells Austin I think I need to have a meeting with the people that were not in that alliance and say if you give me your vote I will offer to be their armour as a shield. Do you think its risky or should I try. Austin says Its risky but you should try. Austin says I wouldn't include me but talk to the other 5 people. You need to blow that up though.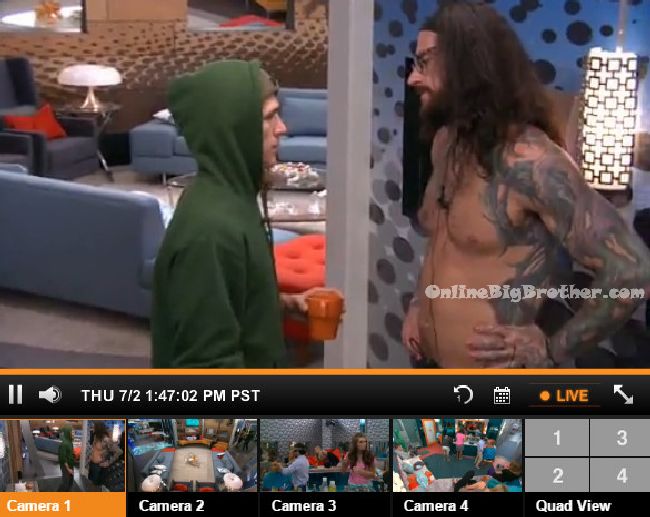 1:55pm The house guests are still getting ready / sitting around.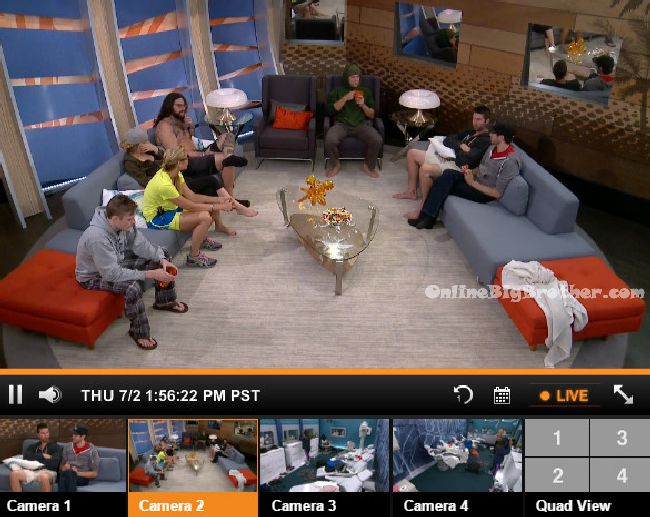 2pm – 2:15pm In the bedroom – Meg talks to Jeff about how Audrey pulled her aside and said I just have one question. If you win HOH are you going to backdoor me? I'm like are you serious right now?! Why is the only thing you're worried about is saving your a$$ right now. We don't even know … Big Brother blocks the feeds. Meg says if she wins tonight is going to be misserable. Jeff says well we will make sure she doesn't. Jason joins them. She talks about how she was so caught off guard. My feelings were so hurt!! They speculate on what the HOH comp might be and how they'll crown 2 HOH's. They talk about using up all the twists this season, what are they going to do next season.Jason says Jeff (Schroeder) is going to be 50 years old in a walker by the time they do an ALL-Stars" (LOL)
2:20pm – 2:30pm Havenot room – Jace talks to Liz. Liz says yes I am going to miss you. I've been acting mean today because I heard you were talking sh*t about me. You said you only cared about 1 person in here. Jace says that's not true. Jace says the three people I really care about in this game are you, Austin and Vanessa. Liz says I don't like the way you've acted the last few days. You going off and telling all those people that sh*t and you acting bi-polar is not cool. I don't want you to think the person you've seen the last 4 days is me. You can't know what its like until you've been screwed over by people that you thought you were in an alliance with. I was bullied when I was younger and this experience brought up a lot of those feelings. You're right maybe I should not have been so aggressive and I'm sorry about that.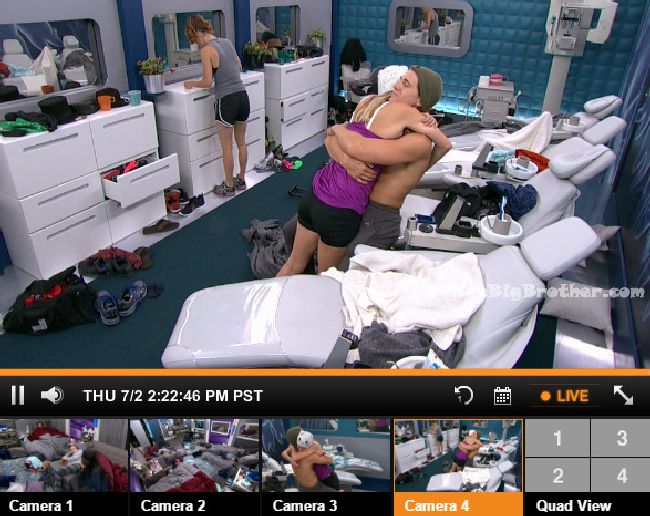 2:35pm In the kitchen – Jace brings up to Austin & Liz that she just said someone was talking sh*t about me saying I only care about 1 person in the house which is not true. It doesn't make sense I only said I feel like she (liz) didn't care about me. I only told you (Austin). Liz says it wasn't Austin! It was someone totally different. Just drop it. Jace says if I come back the only people that going to be safe are you two. Jace tells Liz you're so pretty. Liz "thank you"
Catch all the drama unfold after tonight's HOH competition: Big Brother 17 Live Feeds 1 week FREE Trial
2:40pm – 3:10pm Kitchen –Austin says next week I will be hanging out with Clay 24/7 so we look like the next bromance and he'll be the next to go. Austin suggests Liz buddy up with a girl too. You don't want to be seen as the girls that bounces from guy to guy. Austin says that Jeff has his hand in a lot of cookie jars. They head into the cabana room with Vanessa. Vanessa confirms Liz and Austin shouldn't be seen together so much. Liz says she is going to try and stay away from Jeff because she doesn't want to be seen as a flirt. Vanessa tells Liz I'll be loyal to you & Austin. Please be loyal to me. Vanessa says to only share information that they already know so it seems like you're sharing info. Austin asks so whos the target this week. Vanessa says Audrey but you're next. Austin asks do you think Steve is going to try and win today? Vanessa says Steve is scared sh*tless. Austin says if we can get the power off the 8 we can break them down. They'll turn on each other. They talk about what numbers they drew. (For the HOH comp tonight.) Austin says I got 12. Vanessa says did you notice most of us got below 8 so we're going to go first. Liz says I got 2. Vanessa tells Austin he needs to win. When was the last time you played a competitive sport? Austin asks does wrestling count. Vanessa says no because you already know who's going to win. Austin says that he's good under pressure. I'm going to try my hardest to get it done.
Austin @bigbspoilers #bb17 pic.twitter.com/t2C7CBXWD6

— Dawg (@DawgsBigBrother) July 2, 2015

Meanwhile in the havenot room – James talks to DaVonne. James says that he can't wait for Jace to go. He's a weasel .. and like Jeff said he's a scum-bag. Jace has been in Austin & Liz's ear all day. We just can't let Austin or Liz win HOH. If anyone in our group wins HOH we can control who goes up. Worst case scenario is Austin and Liz are HOH's. Or Vanessa.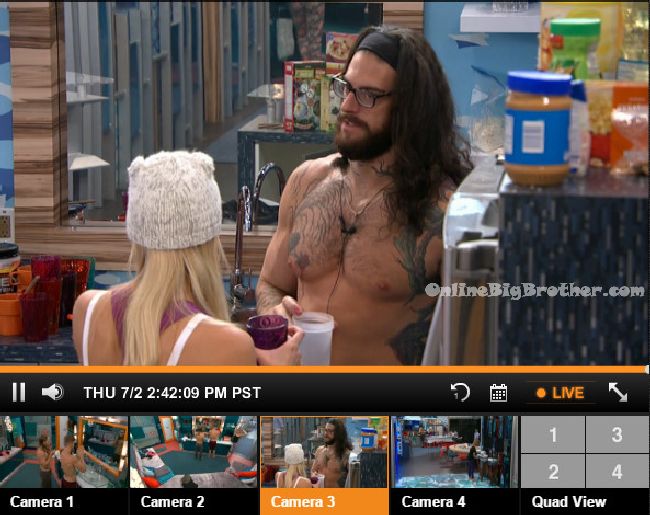 Live Feed subscription gives you CBS All Access thousands of archived shows. Live Shows like Big Brother, all the Big Brother Seasons, and 24/7 coverage of what is happening inside the Big Brother House. Plus there's flashback that lets you go back to any second of the feeds and rewatch what happened. Simon and Dawg will index the season just watch the parts worth watching.
All this for $5.99 a month try it out 1 week free. Support our efforts and get your feeds via a link on this site. Live feed subscription Sign up

[polldaddy poll=8954355]