Earlier in the week the 14 houseguests were revealed along with the house themes and some hints to a game breaking twist called BB takeover. Lucky for us this cast appears to be interesting. If you've missed it check out Dawgs post highlighting Austins WWE bullying and Vanessa Rousso bikini pics
Some other stories since the houseguests names have been released.
Get the feeds using the link below it's cheap and helps out onlinebigbrother. We'll watch the feeds all season and let you know the times worth watching. The feed subscriptions comes with more than just Big Brother you get all of CBS' shows it's a crazy good deal at only $5.99 a month. Big Brother Live Feeds are now part of CBS All Access. Get access to all past seasons and pre-premiere exclusives.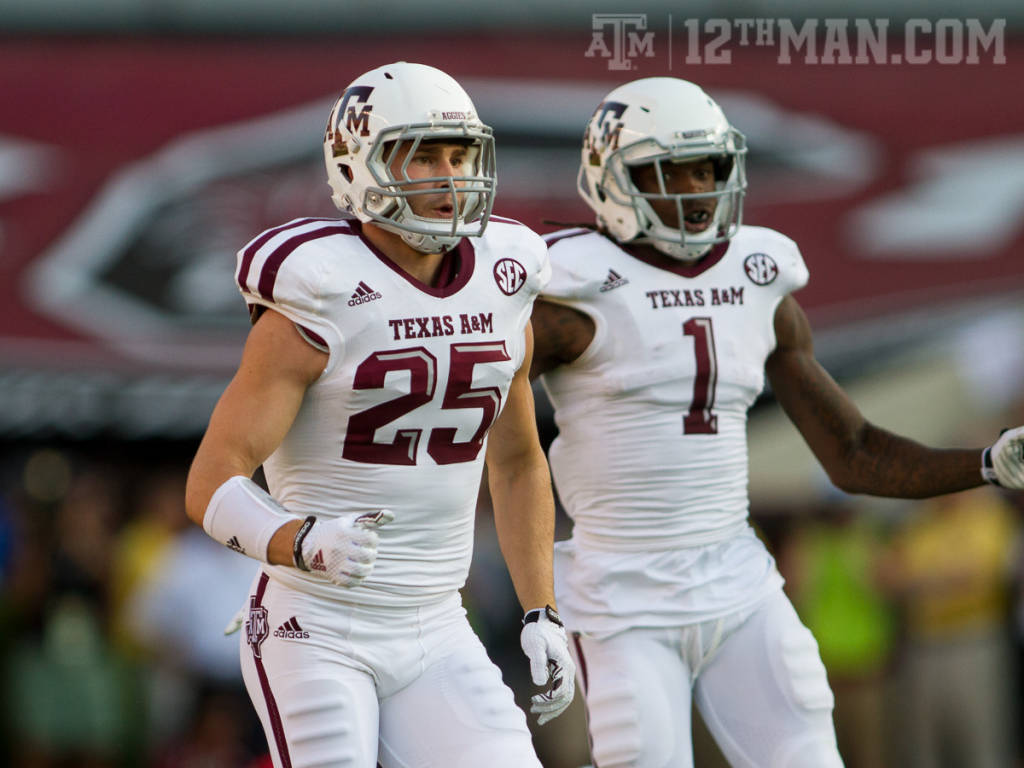 Image Source: www.12thman.com
Clay Honeycutt
According to his Linkedin profile he's currently working on a masters in sports management after having completed a Bachelor in Applied Science (2010-2016). Unfortunatly for Clay TMZ is reporting his house was burglarized after leaving for sequester. His TV, kindle, laptop and three handguns (a 9mm, a .22 and a .45) were stolen.
Twitter account @C_Honey25
collegesportsblog.dallasnews.com/ about his time at A&M
"Former Texas A&M safety Clay Honeycutt"
"Honeycutt redshirted for A&M in 2010 followed by a four-year playing career in College Station."
"Still living in College Station as a graduate student"
CBS Sports outlines his College Football highlights
The highlights of Honeycutt's playing career include 11 tackles against No. 1 Alabama in 2013, a season in which he started four games, totaled 44 tackles and earned a spot on the SEC's Fall Honor Roll. Honeycutt played nine games as a reserve in 2014, his senior season.
What Big Brother player wouldn't be complete without some modeling background. (Campbell modeling)
[envira-gallery id="116058″]
At https://t.co/8EYxFHkq0y — Behind the Scenes with Campbell Model: Clay @c_honey25 @campbellmodels Photographer:… pic.twitter.com/sDjsMKb2rZ

— Scenes from Texas (@scenesfromtexas) June 12, 2015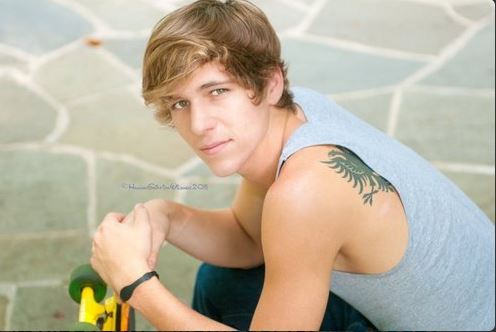 Jace Agolli
Works at Santa Monica show up fitness. His Linkedin account says
Currently in the process of becoming a Personal Trainer and Nutritionist so I can help make the world a healthier place. I believe that if each one of us individually lives a healthy life then we will in turn create a healthy world.
Jace photos with short hair can be seen here . His long dormant Twitter account lets us in that he like(s/d) the green.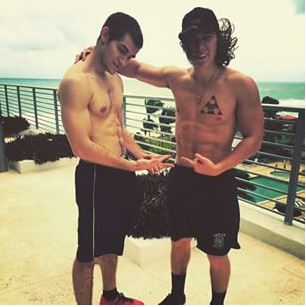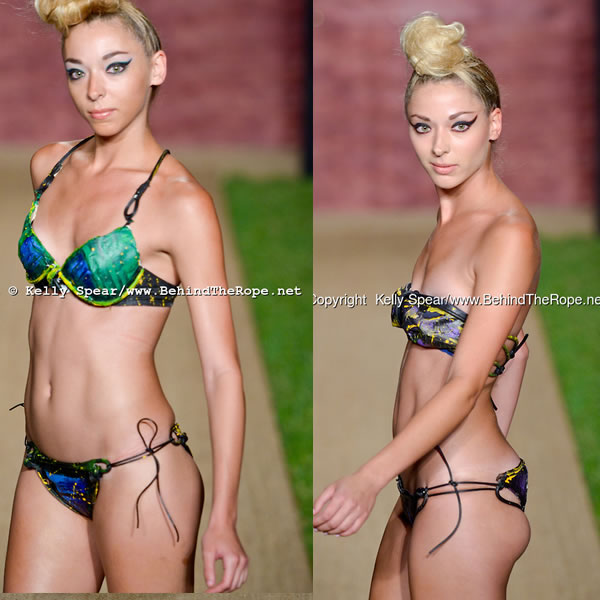 (Liz on the right Julia on the left. This is them at 2012 Julia-Velia Funkfasion)
Liz nolan
Maybe her twin sister Julia was on the season as well.. ;)
[envira-gallery id="116088″]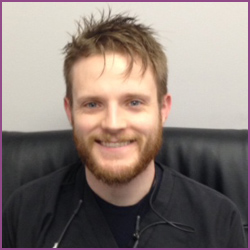 John McGuire
McGuire is a dentist who currently works out of a practice on Pittston Avenue, Scranton.
Co-workers thought he was on vacation until they learnt he was on the show.
From www.pahomepage.com
"I was kind of worried about him. I could kill him and kiss him right now," receptionist Amy Davis said.

"I was actually with a patient and I just put down my instruments and was like: I can't believe it. This is great!" fellow dentist Derek Demianczyk DMD said.

The owner of the dental practice was the only one who knew McGuire had made the show but he couldn't tell anyone.

He plans to watch every episode.

"I might have watched it ten years ago, a couple of episodes but I'll watch it from the beginning to end now," Richard Brazon DDS of the Keystone Dental Center said.

More videos on his youtube channel slowfuse61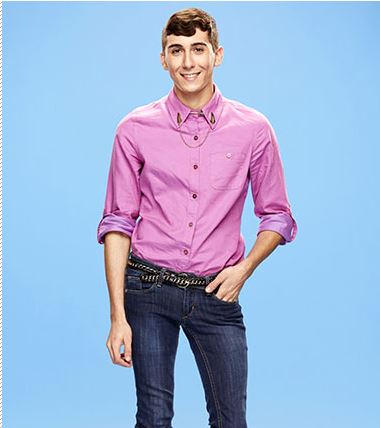 Jason Roy
From: www.heraldnews.com
In a phone interview, Studio Theatre Company founder Janice McDonald said Jason Roy was a member of her youth theater company ShowBiz Kidz many years ago, but as far as she knows he hasn't done any local acting lately. His mother is a member of the Studio Theatre Company board of directors. "He's a terrific kid — I love him," McDonald said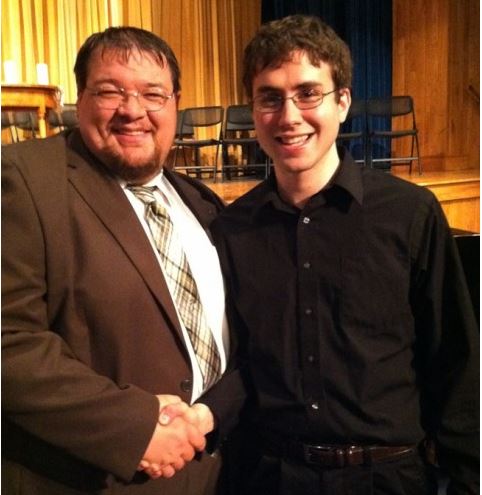 Steven Moses
Steven's Mom had this to say via www.watertowndailytimes.com
Mrs. Moses said her son, a 2011 graduate of Gouverneur Central School District, has dreamed of being on the show since he was in elementary school and they watched the program together at home.
"No matter what happens, he's already won because his dream came true," she said Wednesday. "He loves Gouverneur and he loves the north country. He's grateful for the help he's received to get him where he is."
After graduating from high school, Mr. Moses attended Cornell University, Ithaca, for two years before transferring to SUNY Fredonia, where he is majoring in audio engineering and music. He has one semester to finish before graduating.
An article from gouverneurtribunepress.com says
Mr. Moses is currently a senior at the SUNY Fredonia School of Music majoring in Sound Recording Technology with a concentration in bass trombone.

While at GHS, Mr. Moses was active in Concert Band, Marching Band, Jazz Band, Chorale, Chamber Singers, Orchestra, Select Strings, on voice, trombone, violin, and viola. He had several lead roles in the musicals, including the Cat in Seussical, Fagan in Oliver, and Tony in The Boyfriend. He conducted the high school orchestra playing his own composition, Skyward, in his final concert with the group.