POV Holder:
?
Next POV
July 13th
POV Used
?
POV Ceremony
July 15
HOH Winner:
Helen
Next HOH:
July 18
MVP:
?
Original Nominations:
Current Nominations:
Last Evicted Houseguest
David, Nick
Have Nots
Tonight is going to be awesome on the feeds. Now is a good time to Give the live feeds a try they are cheaper this year and the quality of the flashback and video player has been greatly improved. Subscribing to the feeds using our link helps support this site.
Subscribe to the Big Brother Live Feeds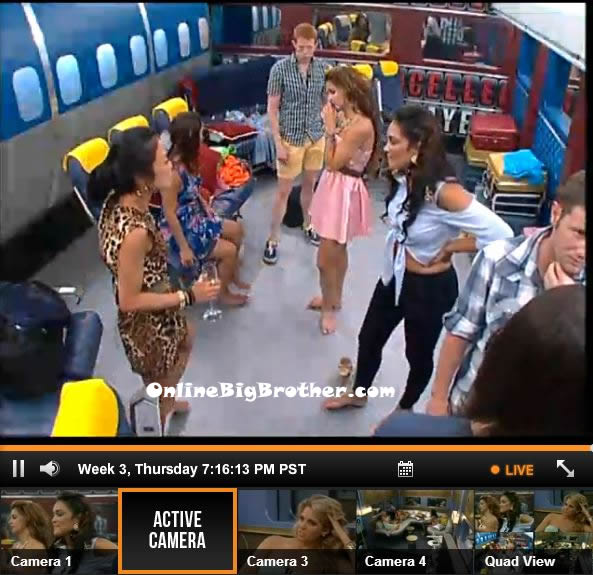 7pm The Big Brother Live Feeds return from being blocked during the Live Eviction Episode. In the havenot room – Andy, Candice, Jessie, Amanda, Helen, Howard, Spencer and Judd. Helen says someone was disloyal and I don't like it. I will find out who that 8th vote wasn't. Candice says they are cockroaches. Andy joins them and talks about how he is already receiving it. Jessie apparently said something to the others before the competition to make it look like she was on their side just in case they won the HOH. They call Jessie out on it and she says she is sorry and that she will go out there right now and tell them who's side she is on. Andy tells Jessie that he knows she is with them and that it's okay, he believes her. Helen and Elissa talk to Candice about how she can't go off on them like that again. Candice says she is sorry. Helen says we treat people with respect. America will judge us. Helen says that Aaryn should never have put me up. I also want to know who the mole is, I want them to sweat a little too. Jessie says if it means anything, it wasn't me. Andy says that everyone is really mad at me. Helen says that if anyone is mean I will put them on the block. Helen says that even when Jeremy won, I congratulated him. Helen says I have struggled so much in this game! Judd asks Helen if he can host the POV. She tells him sure, you can host.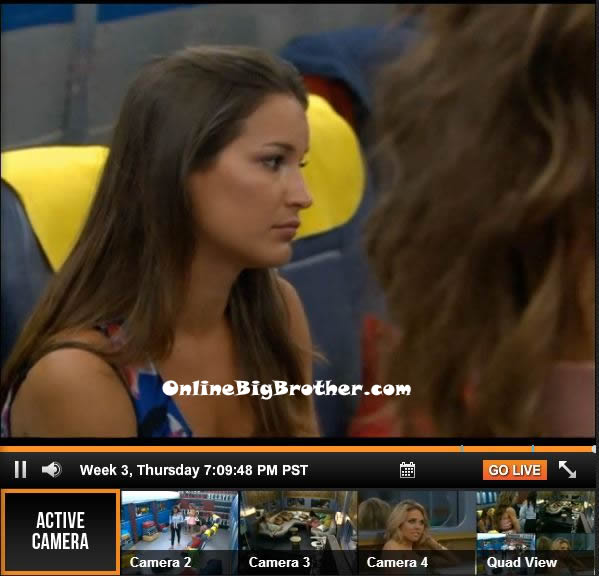 Big Brother 15 Live Feeds: FREE TRIAL
7:30pm In the lounge room – Aaryn says they are going to put up me, you (Kaitlin), Jeremy. We only have a few weeks left, one of us is going home. Gina joins them and starts crying about how she wanted a few more weeks with Nick. She says he would have liked me if he just had more time with me. I never got to kiss him. Why did they do this to him. He was such a good kid! Aaryn says because they are stupid bit*hes! Aaryn, Kaitlin and Gina all says that they don't want to be here any more. Aaryn says that she just wants to move on with her life right now. Gina says I really liked him! Two whole years I haven't felt like that! He was getting closer to me every day. He was hugging me more and more and touching my hand … we were getting closer everyday. If I only had two more weeks with him. Now I have to start all over again. (Gina is really crying a lot about Nick leaving. She is acting like Nick died.)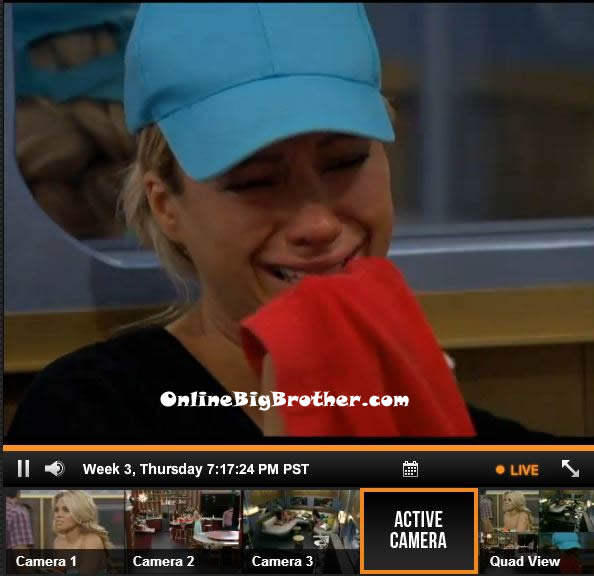 720pm – 7:40pm In the lounge room – Kailin and Aaryn are talking. Kaitlin is crying and says that she didn't know it was going to be this hard and didn't know what she was getting herself into. Aaryn says that she knew what she was getting into but isn't sure she wants to be here. Aaryn says that she went by the havenot room and over heard Helen say that they have the numbers to make it all the way to jury. Kaitlin says that you know whats horrible is that Elissa is going to win this and she doesn't even need the money. Kaitlin says I don't even care, put me up! I don't want to be here without you. Aaryn says that there were a few days where she didn't trust Kaitlin but after this happening I feel bad for even thinking that. Aaryn says maybe you and Jeremy should go to her and make a deal. Kaitlin says that she won't do that. Aaryn says that she can't mend it! Kaitlin says that Candice is so nasty! Aaryn says that Candice is trash!! Aaryn says that she thinks Jeremy is going to join them. He wants the money so bad. kaitlin says that she thinks so too. That's why he isn't in here sitting with us. Aaryn says that she didn't even start any of the arguments, she started all of them.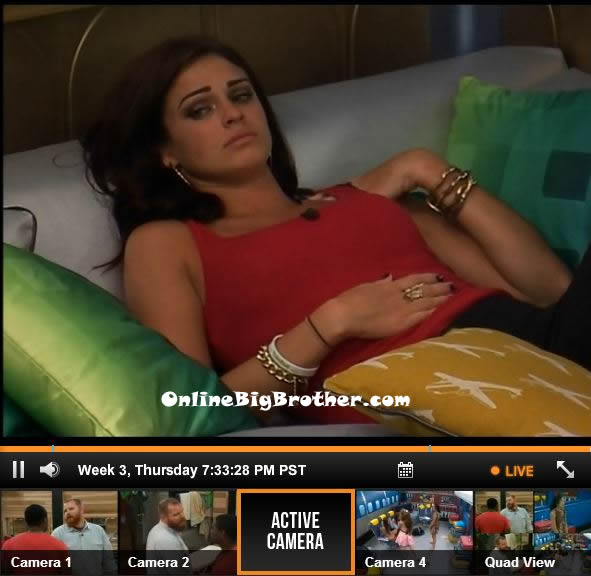 7:45pm Aaryn says we could turn this around and get back in power. We would have to win a lot. Jeremy joins them and tells them that there is no sense dwelling on it we have to move on. We are at the bottom and now we have to move back up. I can't trust anyone in this game now. Aaryn says we are all going up on the block. Jeremy says they can only send one of us home this week. Aaryn says that she got ripped a new a$$hole about fairness and this isn't. Meanwhile Spencer talks to Andy in the bedroom. Spencer says that he is definitely closest to him and Helen. He says that he is sorry that he wavered but people were talking behind my back.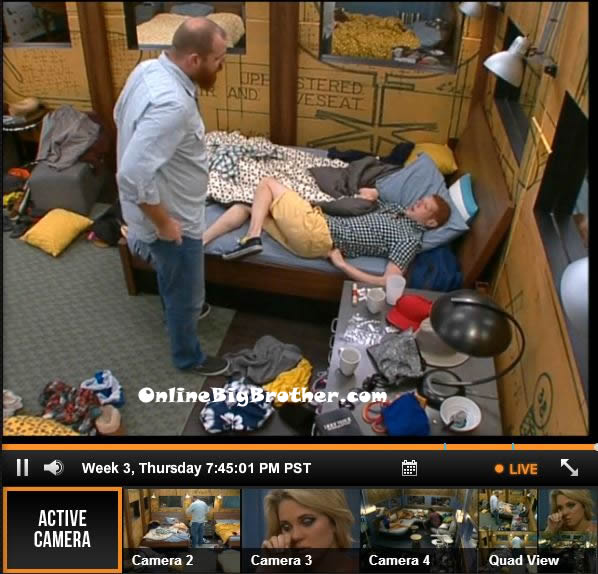 8pm – 8:10pm In the living room – Gina continues to cry to Amanda about Nick leaving and wanting more time with him. Meanwhile in the bathroom – Jeremy is talking to McCrae. Jeremy says that he thought the Moving Company was going to stay strong. I am just surprised it was going to go down like this. McCrae says that they came to me. Jeremy says that he knows it's just a game but that he would appreciate it if he can help him out but understands if he can't. McCrae says that he will try. McCrae tells Jeremy to just lay low, that's the best thing to do. Jeremy and MCrae leave the bathroom. McCrae and Amanda head into the lounge. MCrae talks about how disgusted he is with Spencer and Howard. McCrae says that there is no way Jessie could go into the lions den and lie, she is too weak, it wasn't her. Andy joins them. They talk about who to put up. They think possibly putting up Jeremy and Howard. Amanda says we shouldn't put up Jeremy initially, we should back door him. Amanda says we should put up Kaitlin and Aaryn. McCrae says I want Howard and Spencer to go home. Meanwhile Gina joins Aaryn and Kaitlin up at the chess board. Gina says that she didn't cry this much when she broke up with her fiance. I don't care about he money, I just want to be happy! Aaryn says yeah but in 70 days you are going to see him, it's not like he died! Gina says what if he meets someone else. Aaryn says if he meets someone else then it's not meant to be. Aaryn asks can I self-evict!? Kaitlin says that she will too. Gina says if all three of you do it I will too, I don't want to be here. Kaitlin says I will go in there and tell them this game is so unfair, I don't want any part of it. My high school 4 years ago was so much easier than this.
Stay connected and interact with other Big Brother Fans on our Facebook page.
And Follow: @BigBspoilers and @Dawgsbigbrother on Twitter for the most up to date spoilers.