POV Holder:
?
Next POV
July 13th
POV Used
?
POV Ceremony
July 15
HOH Winner:
Helen
Next HOH:
July 18
MVP:
?
Original Nominations:
Current Nominations:
Last Evicted Houseguest
David, Nick
Have Nots
Tonight is going to be awesome on the feeds. Now is a good time to Give the live feeds a try they are cheaper this year and the quality of the flashback and video player has been greatly improved. Subscribing to the feeds using our link helps support this site.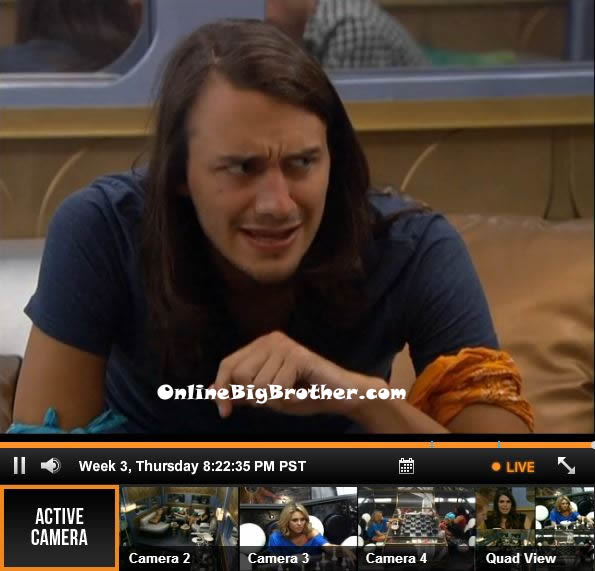 8:15pm – 8:30pm In the lounge room – McCrae, Amanda and Andy are talking about who to put up on the block. Amanda thinks they should put up Howard and Aaryn. Andy talks about how they were bullying Jessie in the kitchen right before the vote, how dumb is that!? Andy says thank god Helen got it! McCrae agrees and says that next week will probably be endurance and Helen probably wont be that good at it. Andy, McCrae and Amanda agree to keep the five (Helen, Elissa, McCrae, Amanda and Andy) of them safe and under wraps. McCrae says this couldn't have been any better. Amanda says that she told Jeremy that this game isn't all about winning challenges. That's what you get for only watching one season. They talk about how they have 100% trust in each other. Andy says that Candice yelling and screaming at all of them, let her do it. Andy says that with Helen being HOH it is better that she has blood on her hands because she has a reason to go after them. They talk about how they are so fu*king excited. Amanda says that she is really thrilled that Howard and them went against us. Amanda says that but as soon as one of them get power they will put us up. Andy says that is why we don't alert them (Spencer and Howard) that we are onto them. Andy says that he will act like their best friend. They talk about how its Elissa day, let the Rachel come out, let her stomp around in her stilettos. Let her have her day! Amanda says that she will back her up too. Andy says that Gina followed Nick around like a sick puppy dog, I was embarrassed for her. Andy says lets keep the five of us under wraps. Howard joins them. Howard asks can my name stay out of your mouth now. Amanda says your di*k can't. Howard says you heard it here first! Howard talks about how immediately after Helen was wanting to find out who the fourth vote was. Let's just enjoy the night. Candice and Jeremy join them.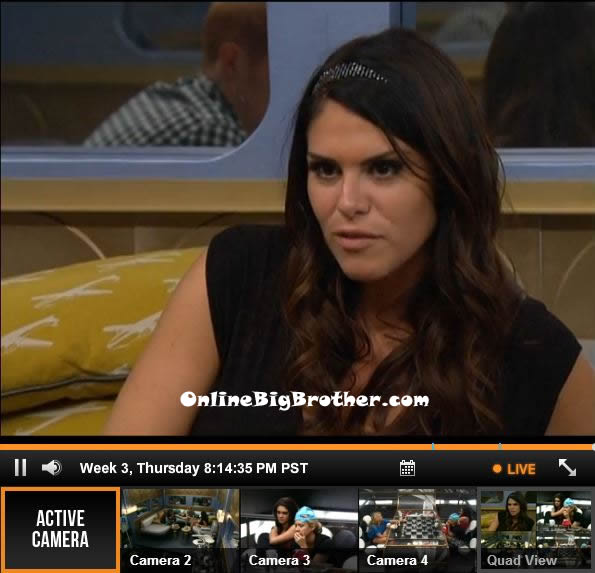 8:30pm In the bedroom – Howard asks Jessie if she was really with them or if she was a pawn for them. Jessie says that she was a pawn. Howard says that it is best that she figured it out now. Jessie says its just that I jumped on the boat just before it left the dock and Helen said that she is going to protect the ones that have been with her since the beginning. Howard tells her not to look at it like that, he says think of it as how you have time to built a relationship and trust with her now. Jessie agrees. Howard leaves the room.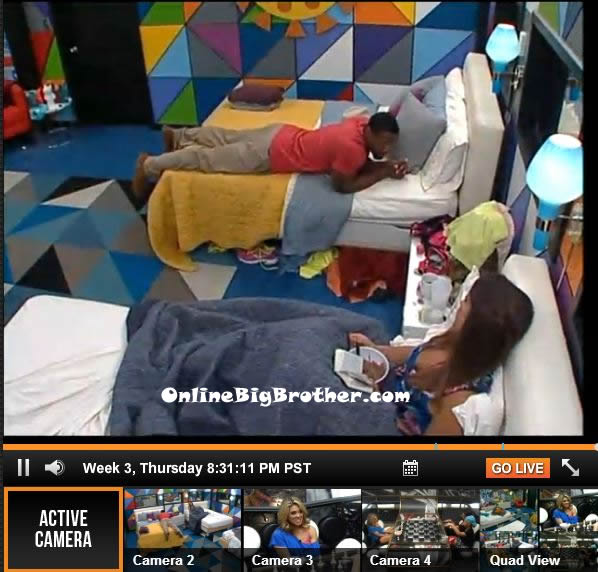 Big Brother 15 Live Feeds: FREE TRIAL
8:40pm In the lounge – Candice, Andy and Jeremy are talking. Candice says that this is a numbers game. You pick your side and you stick with it. If you don't pick a side you both sides are going to get mad at you. Candice talks about how if people get ugly and start calling names she is going to go off on them. Candice and Andy leave the room. Judd joins Jeremy. Jeremy asks Judd to talk him up to his side. Judd says that he could do that. Jeremy says I am on the losing side. Judd tells Jeremy to put his game face on and win the POV. Jeremy says that he might get back doored though. Judd says that once Helen gets her HOH he will try talking to her. Judd says that he thinks it would be better for a girl to leave this week.. well next week .. you know what I mean. Judd says don't get discouraged. Jeremy says that he isn't, it ain't over till its over.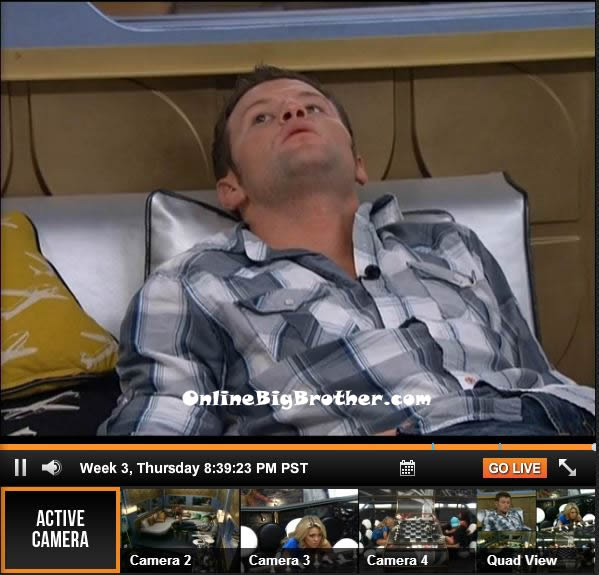 In the kitchen – Andy tells McCrae that he would be the one Andy would go for. McCrae says that he takes that as a compliment. McCrae says he knows if his gay friends from home tell him looks good, he knows he can believe them. Aaryn comes through the kitchen and tells Gina to come with her. You don't want to do this here. Gina is still crying. Aaryn takes her to the bedroom and makes her bed. Gina sits in the chair in the corner and starts balling. Gina says that Nick left his cereal. She asks did he forget anything. Gina then goes looking for things of Nicks and finds his chap stick and starts crying even more. Aaryn tells Gina that she can't be walking around with Nicks coffee cup and losing it. Aaryn says that our downfall is that we can't be fake. Nick wouldn't want you to be sad. Gina says that she just haven't felt this way in a long time. He made me feel smarter. Amanda comes in to console Gina. Gina says I didn't even get to kiss him. Amanda laughs and says at least he's not dead, he can watch you now.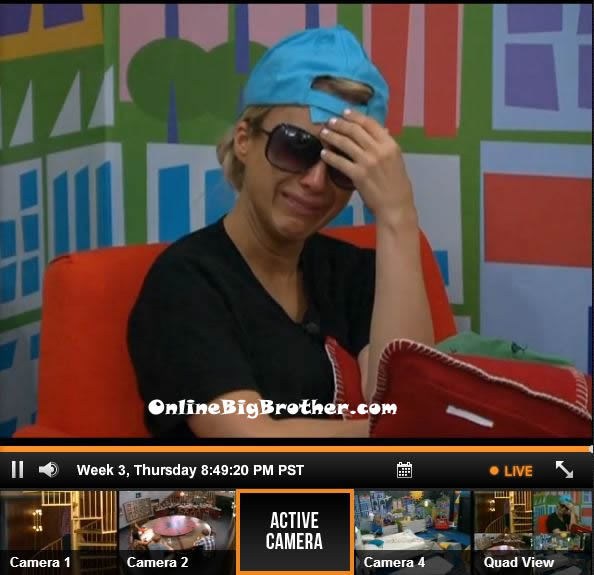 9pm In the havenot room – Helen, Andy and Candice are talking about Helen winning. Helen says I want to help the people that helped me and protect them. Andy says that there will be no tyranny this week. Meanwhile up at the chess table – Jeremy and Kaitlin talk about how mad they are Elissa is still here. Jeremy says that America disgusts me! They disgust me that they would vote for her. Kaitlin agrees and says that Elissa will get it every week! Jeremy says again that America disgusts him. In the lounge room – Spencer talks to Elissa. He tells her that he knows he wavered a bit but that it was Jessie that didn't vote with us. He says that 1000% it was Jessie. Spencer says Howard and I vote together and we voted out Nick. Jessie was the one that did it. Lets just let this week play out. Elissa says that she doesn't want to be seen talking and leaves the room. Elissa heads into the bathroom and tells Judd how Spencer is trying to corner her to talk to her and says that he trying to say it was Jessie. Judd says no way it was Jessie. Elissa agrees.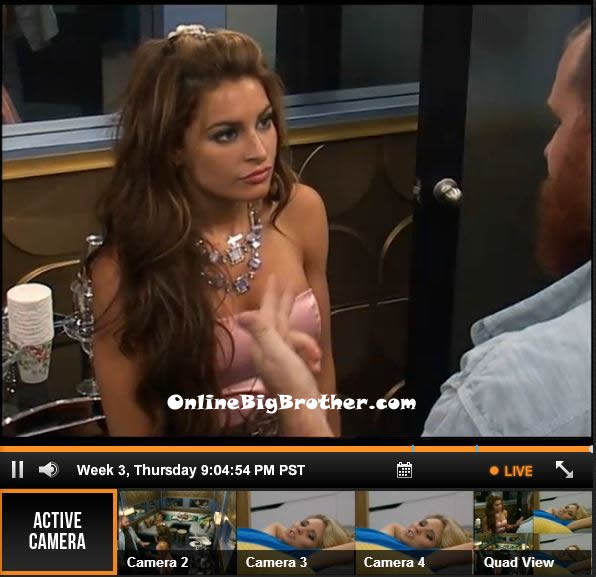 9:15pm Candice and Helen are talking in the havenot room. Candice says that in her heard of hearts she thinks Jessie was the missing vote. Helen says well I can use this to put Jessie up as a pawn if I want. I don't know if I will put her up as a pawn, I will see. Candice says that she knows it wasn't Howard, he wouldn't be able to look me in the eye as a man of god and do that. Howard joins them. Howard says Candice is biting her nails she is thinking something, she is up to something. Candice says no. Helen hugs Howard and thanks him for his vote today. Howard comments on how there is one less guy now. Helen says between you and McCrae you two tough guys should be able to beef it up for us.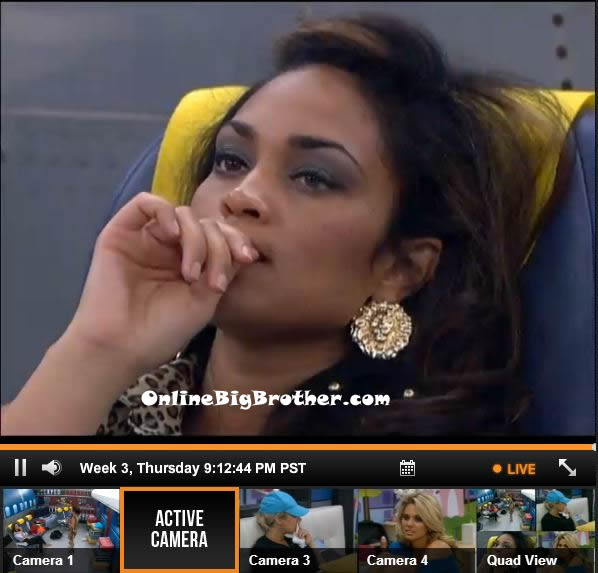 Stay connected and interact with other Big Brother Fans on our Facebook page.
And Follow: @BigBspoilers and @Dawgsbigbrother on Twitter for the most up to date spoilers.