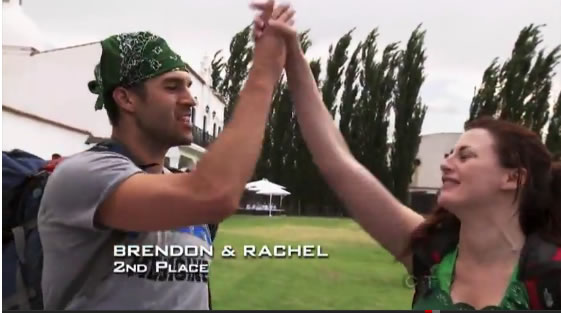 Brenchel on The Amazing Race 20 recap
Last Weeks Amazing Race Premiere had everyone wondering will Brenchel survive this type of "real" reality TV Show. They did survive the first leg of the race and did quite well coming in second place.
Brendon and Rachel Big Brother exploits need no introduction on onlinebigbrother. We've followed their every move on the Live Feeds for the last two BB season (BB12 and BB13). With last year finally witnessing the unthinkable Rachel Reilly becoming the Big Brother Winner, all while surviving Fan/Houseguest ridicule, countless BB Fights, emotional breakdowns and trying to give up more than once. Think you could do better than Rachel in the high stress BB14 house? check out the Big Brother 14 Application and sign up. Looking for the most complete and funniest Big Brother Spoilers? Check us out on Google+
Episode One Arrival Order:
Rachel / Dave (Express Pass, can use until the end of the 8th leg)
Brendon Villegas / Rachel Reilly
JJ / Art
Nary / Jamie
Ralph / Vanessa
Andrew / Eliot
Kerri / Staci
Dave / Cherie
Mark / Bopper
Joey/ Danny
Removed from the Race: Misa and Maiya
No need to read The Amazing Race recaps here's the complete episode on Youtube

Brenchel on TMZ
TAR20 contestants Joey Fitness and Danny showing off their abs to the TMZ cameras. Rachel Reilly Drunk as f*ck comes into the shot spewing out that these guys should eat some cheeseburgers. Brendon starts eyeing Danny's abs and decides to rub his shirt on them.
Brendon tries to wash his shirt on

Rachel on The Bold and the Beautiful
Rachel Reilly returns to Bold and the Beautiful for 3 episodes starting Feb 22 2012

Share it YO!!
Tweet