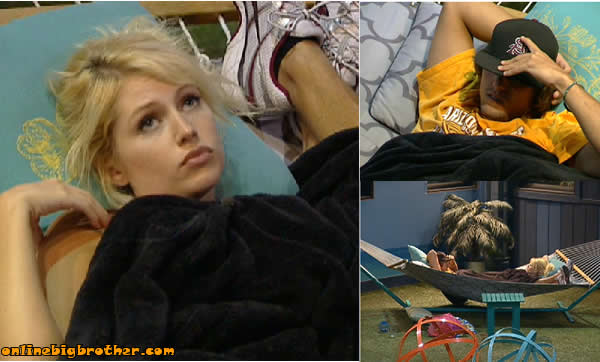 10:38pm Hammock Hayden and Brit, Talking about how B/R need to go one after another there reasoning is they leave too much chaos and drama. They think it's bad enough what they they have to listen to constantly. Hayden wishes that brendon would of gone this week because Rachel would of broken down, "I would of paid money to see the drama if they weren't in jury together". Brit says that now if Brendon leaves next week and the following week they put Rachel up she won't fight. Hayden: "they make me sick to my stomach" Brit says it makes her sick that B/R have soo much pull in this house. Brit mentions how shitty it would be if Brendon won HOH, "I say we all just get up and leave because i can't stand to hear them as HOH again". Hayden agrees says he's never been around more annoying people before. Brit "Brendon is the most awkward person in the world".."He's the biggest douche bag in the world I hope America see that". Hayden does to he's worried that CBS is editing them to not be the douches they are. Brit says that the majority of her fanbase will be Brendon haters because she rips on him so much in the DR. Hayden "she's not atractive at all..She's the type of girl you avoid in the bar or you have to talk to her because you lost a bet". Brit she said the other day "I snagged the hotest guy in the house he a Model physicist". Brit brings up the first week in the house before Brendon and Rachel started "Sexing". During this time Brendon had a conversation with Brit and Monet about how he's looking for a good girl, a family girl that is kind to him and won't hurt him. Brit: "And then he goes after gummy bear boobs". I don't think brendon has any game in here.. Brit points out that every time you talk to Brendon no matter what you are talking about he'll tell you some long life sotry about that topic.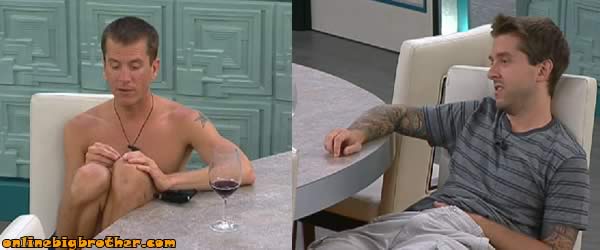 10:50pm Kitchen ragan and Matt Ragan isn't sure who B/R will go after he thinks it might be Lane and Hayden. Matt is thinking more Brit and LAne because they are looking like a pair. Ragan says he thinks that Rachel and Brendon have their own side alliances going on. Matt doesn't think so he thinks that the no one in the house is close to Brendon except for Rachel. Ragan says that if Brendon wins HO he believes they will be safe. Matt isn't convinced. They start joking about a eviction scenario that the consider the worst punishment they could inflict on a person. Brendon goes home next week and then during double eviction Rachel goes home with one unfortunate soul that has to hang out with them in the jury house for 6 days alone. Ragan tells America and CBS to give that person 10 grand. Ragan asks Lane why Rachel acted the way she did when he gave her the 5grand in the pov and took the ticket. Matt explains Rachel is assuming that they are going up if they don't win HOH. Ragan doesn't understand, "If she goes up she can still play POV" Matt:" Yes but she doesn't want there to be a 7th player…Thats whats cool about your ticket because if your not drawn you use the ticket and we now have a 7th player on our side in the Veto contest"…"She doesn't want it to use she wants it so we can't use it". Ragan gets up to get wine, "heres my feelings with rachel and I said this on press day to a number of people… feeds cut (FUCK).. feed come back. ragan: "I genuinely like Rachel but I think she needs time to mature" Matt agrees, "Ronnie is a perfect example of a person that is a major fan of big brother but it doesn't mean he should play big brother…I'm a fan of the NHL but you don't see me trying to play in it"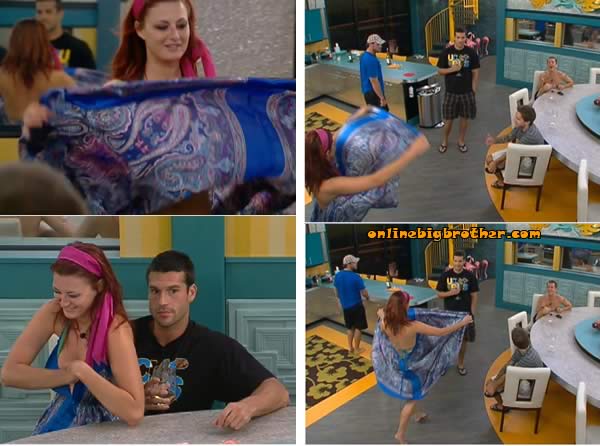 Lane walks in tells them how fucking insanely retarded drunk Rachel is and how she won't shut up about Vegas and drinking 250 dollar drinks of tequila and having men buy her 1000 dollar bottles of wine… 10:58pm rachel comes in drunk as fuck. They all start laughing about the picture wall.. Rachel goes on and on about Vegas Vegas this Vegas that. She starts to lift her dress up showing all the guys her underwear. Brendon is getting very uncomfortable he keeps trying to keep the alcohol away from her.. Eventually he storms upstairs and she follows.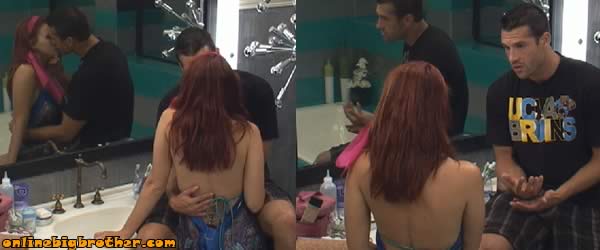 11:00-midnight Brendon starts off telling her that it's getting a little much all the Vegas talk and acting wild. Thats not the type of girl she is, he's not moving to vegas he's going to continue his career where he's at. She tells him she's VESGAS its part of her. eventually they kiss and make up.
Share it YO!
Tweet