Follow @BigBspoilers and @Dawgsbigbrother on Twitter for recent crazed out spoilers. There is also a Facebook page.
7:05pm Purple Room. Adam, Jordan adn rachel crying that Jeff is gone and their BLANKed..
Shelly walks in tells Jordan she wants to talk. Jrodan says no , "This is so stupid.. so stupid"..
Shelly sticks up for herself tells Jordan it's a game and she told Jordan she cannot win with JJ in the game.
Jordan gets pissed says Shelly was probably laughing at them all in the DR when JJ were nothing but nice to Shelly. Shelly raises her voice Tells Jordan she never once said anything negative to Jordan int he DR or in the house.
Shelly: "I'm not playing JEff's Game here…."
Shelly really raises her voice says that She knows Jordan feels bad, "you know what Jordan.. I feel bad to"
Jordan says that Shelly should Feel bad for what she did.
Jordan starts yelling "I GAVE YOU THE BLANKING PHONE CALL" Jordan goes on and on about how everyone in the house treats Dani as a god and Jordan doesn't give a BLANK about Dani's father Eval Dick.
Jordan yells that she's a idiot for voteing Brendon out and Keeping Shelly..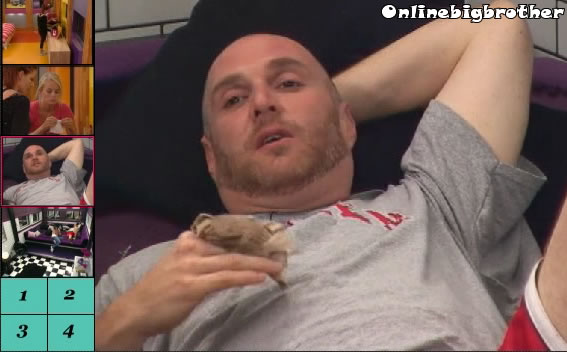 7:08pm Purple Room Kalia and Adam Adam explains why he choose to go with JJR over DKP. His reason is he trusted JJ and they were always good to him all along. Kalia then attempts to pull Adam closer to her side says she's still open to work with Adam. Adam being this years true blue floater starts to agree.
Kalia explains what happened with her LAst HOH and why Lawon went home. She continues to explain there is still a lot of game left and she knows her and Adam can work together to get farther.
7:15pm Shelly and POrsche Porsche is comforting Shelly telling her that Jordan acts like a little baby.. Shelly mentions that the one person in this house that has talked the most BLANK about JJ is Rachel and they decided to choose her to be in thier corner. Shelly asks POrsche if Kalia will know the vote from Dani's eviction. Porsche says yes she'll know you voted for Dani to stay..
Shelly brings up that unless you're playing the JJ game you get freaked out on and bullied. Shelly is done with them.. She NEVER talked BLANK about JJ never once.
Shelly: "The stupid thing is Jordan brings up that Phone Call.. Dani told me she would bring it up"
7:30pm Rachel and Jrodan
jordan freaking out that they are outbnumbered if they don't win HOH they should just leave..
Jordan wants to give up
Jordan is sad
Jordan doesn't think it's fair
Jordan hates Shelly
Jordan Hates Dani
Jordan thinks they will get picked off one by one
Jordan calls Dani a BLANK
Jordan calls Dani a dumb BLANK
Jordan thinks everyone will thinks she's a idiot for teaming up with Shelly.. She wishes she had listened to Rachel early one because Rachel was warning her of Shelly.
Rachel tries to make her feel better saying they have to get their head in the game and get ready.. She still thinks they have a chance as long as they win the HOH.
Rachel thinks the HOH comp was stupid because there was a question about Dominic, "Who the BLANK cares about stupid Dominic". Rachel apologizes for not winning the HOH she should of had that one. Jordan tells her it's hard to win the COMPs.
If you like this site and want to help us keep it running please consider donating, Your donations go directly to paying the server and bandwidth fees. Donate Link