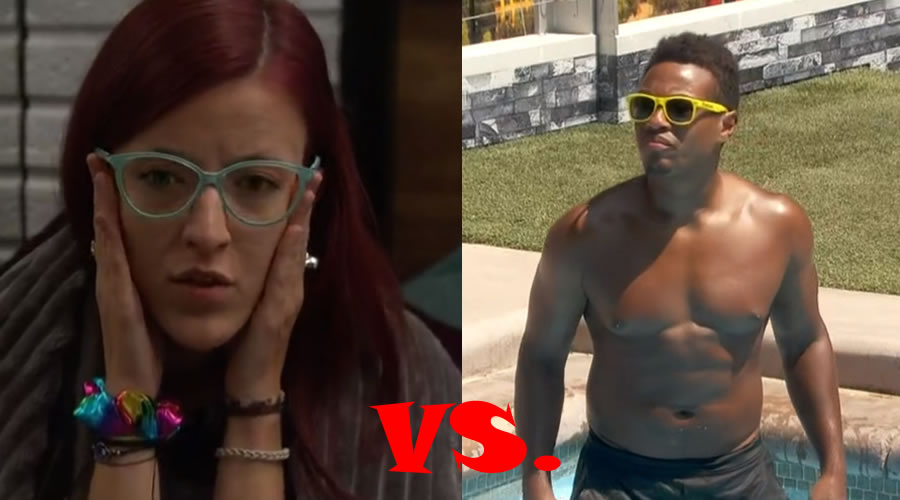 What a frustrating week for us Big Brother feed watchers. Surprised to see this level of delusion coming from Allstars but Kevin and NicA have really upped the bar.  It was a bit of a treat albeit painful at times.
Let's for a moment look at this from her point of view. The entire house is against the same people, Janelle/Kaysar. She's with J/K and has a final 3 with Kevin/Da'Vonne. Everyone (including Da and especially Kevin) is filling her head with brain worms soaked in Kraken that are against J/K. It's one boiling pot of messy gameplay and interlocking cowardly alliances that are focused against J/K. The main delusion – J/K's plan was to get NicA out of the house because the only game they know how to play is a house divided and a split vote would create a house divided. There's more to it, but pretty much crazy pants. It'll go down in BB history and for someone who has a podcast in the Big Brother community, it might be weird. Of Course, she'll rationalize it away. Would you? David is pretty much stumbling around.
Week in review
Memphis of all people wins the Head of Household competition. His first HOH win ever, this AllStar proclaimed. His target is Ian but chooses not to tell anyone in his alliance. He hopes to get as many people as he can to play in the safety Suite to reduce the number playing the following week. It worked! The problem is Christmas (someone in his alliance) ended up winning the safety suite and using it on Ian, keeping him safe. Memphis decided to nominate NicoleA and David, His target is David. He was basically going for the softest targets he could when his hard target wasn't available.
The power of veto is played and again Memphis wins. At this point, the house is full-on anti  J/K and the brain worms burrow deep. Memphis runs a very opaque HOH, His grumpiness, and propensity to leave the HOH room locked up like a teenage boys porn stash really rubs the house the wrong way. Come Monday he decided to not use the Power of Veto. For the next 3 days NicoleA plus the entire house blame everything on Janelle and Kayar. Check these memorable times: Here, here and here.
For most of Monday-Thursday morning, the vote was very close 6-6 or 7-5 for David to stay with Memphis claiming he'll keep NicA in a tie. Now it's looking like it'll be more like 4-8 for NicoleA to leave. Tough to call. as the cats say "love the season really awesome.. never watched it"
Results from the show
David – Grateful to be here pun intended..
NiCA – plugs her podcast .. she wants to play allstars not allsacred
Tyler Votes to evict NicA
Enzo Votes to evict David
Christmas Votes to evict NicA
Kevin Votes to evict David
Janelle Votes to evict NicA
Da'Vonne Votes to evict NicA
Kaysar Votes to evict NicA
Bayleigh Votes to evict NicA
Cody Votes to evict NicA
Ian Votes to evict NicA
NicF Votes to evict NicA
Dani Votes to evict NicA
NicA is evicted. Admits she made a terrible mistake..
HOH Competition
Hot Mug Shots…
Tyler wins HOH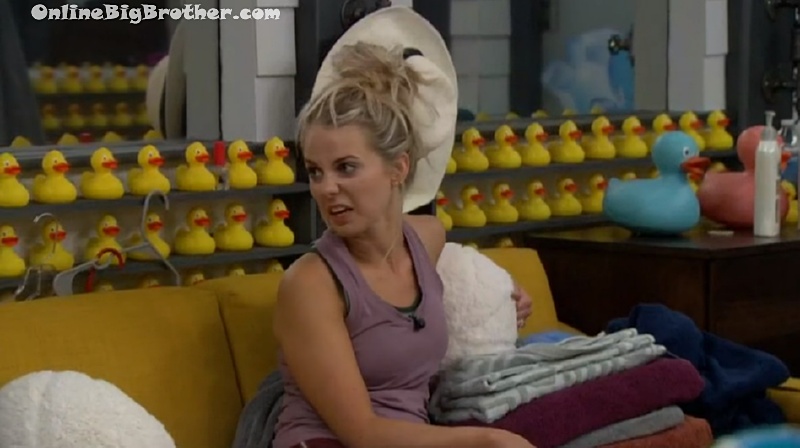 6:07 pm Ian and Nicole
Nic – she just came up to me and said WHINNY WHINNY WHINNY
Ian – did you have these issues on the race
Nic – no we helped them.. she was invited to my wedding
Nic – In here she doesn't like me because Rachel doesn't like me
Ian – I bet you any money she'll keep throwing our names out
Nicole – I didn't plan on saying that it just came out and now I'm in trouble.. it's going to be bad it's going to be really bad.
Cody joins them "you know what they say about looking for trouble. You usually find it"
Nic – I already found it she's been talking about every second of every day
Ian – our names have been dragged thru the mud
Nic – I've been called the b-word
Ian – not to mention worse words as well
Nic – for the girls at home stick up for your damn self
Nicole does the whinny whinny again to cody feeds blocked left and right.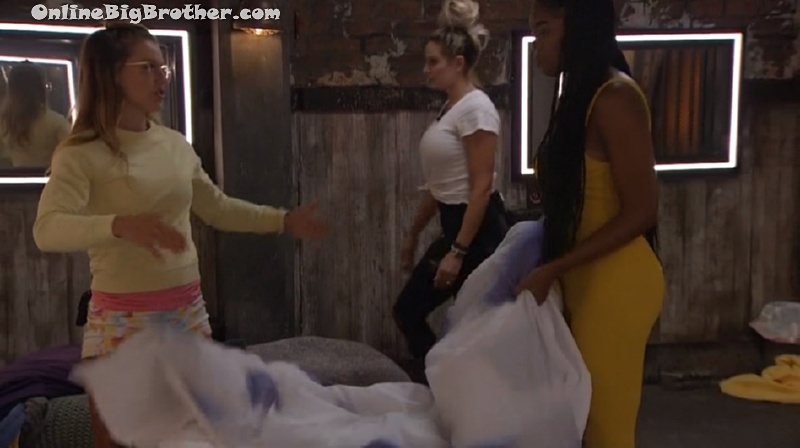 6:07 pm Janelle, Christmas, Bayleigh
Preparing the Have nots room. Janelle and Abyeligh are have nots Christmas is helping them.
Feeds go down at 6:10pm
6:32 pm No feeds for you
7:09 pm no feeds never
7:54 pm Feeds still down.. weird.
8:40 pm there's not feeds and never will be