Head of Household Winner – Memphis
Have nots – Kaysar, NicoleF, Christmas, David
Nominations – David & NicoleA
Power of Veto Players are – Memphis, David, NicoleA, NicoleF, Ian, Tyler
POV Host: Enzo
Power of Veto holder – Memphis
Power of Veto Ceremony – Memphis did not use the veto David and NicA remain on the block.
Safety Suite – Christmas wins. Ian is her Plus One
Live feeds —-> Grab your Live feeds here. Try it free.
Rank the houseguests —-> Big Brother 22 Ranking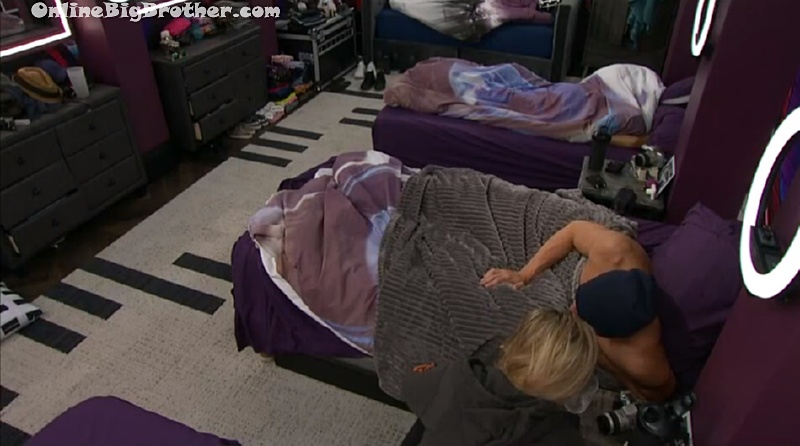 9:42 am Dani and Enzo (hard to hear Dani)
Dani saying that Janelle isn't after him she's after the "Four of us" (nicF, Dani, Cody, Tyler)
Dani goes on about if they win the safety suite they have to use it on those four "If we can get the veto then one of us is safe then only one of us is on the block"
Dani – If Janelle and Kaysar don't get it (HOH) we want you to get it (Safety suite) so that Memphis doesn't

9:43 pm Dani and NicF with Enzo in the room
Dani going on about how Janelle told NicA the only way she' knows how to play the game is if the sides are clearly drawn in the house
Dani – that's why she wants to split the house.
Dani – her and Kaysar were telling NIcA they're are the misfits and we're all the popular people and they are on the outskirts.. are you freaking killing me
NicF – so America likes the misfits is that what she's trying to do
Dani – you know who NicoleA feels.. I can't believe it
Dani – Ian tame in here and said Janelle did this exact same thing on season 14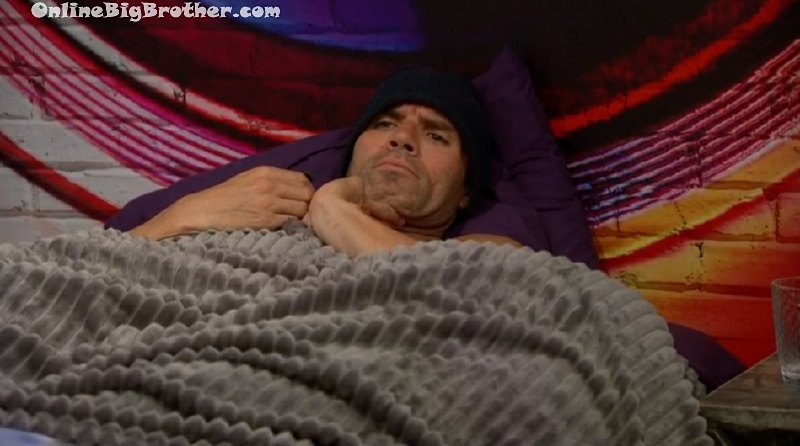 Enzo listens to all of this.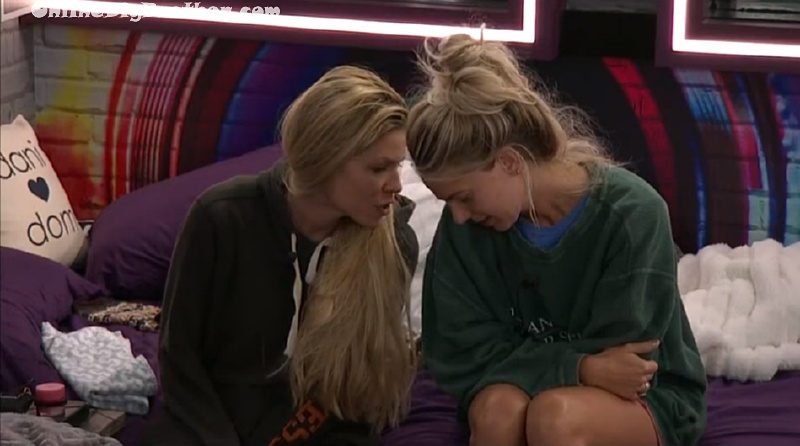 Dani – Ian is voting our NicA
Dani – they think they have Christmas they do not
Dani – it'll be Janelle, Kaysar, Da'Vonne, Bayleigh, and Kevin. That's it
Dani – that is still a split vote.. they don't even have Kevin he just likes her more.
Dani – Da'Vonne is shady as hell man
NicF brings up Da coming to her "Don't say anything Nicole.. there's a guys alliance"
Dani says Da'Vonne is pissing her off. "She's stirring up everything"
Dani – she's playing everyone
NicF – she doesn't want to win HOH.. don't say anything
Dani – she's got to go soon.. she's so stupid
They talk about being good friends outside and how they deflect hat from Da'Vonne.
NicF – I said I was way closer to Janelle I invited her to my wedding
They bring up that Janelle told NicA to not bother campaigning to Dani, Cody, and Tyler
NicF – the bad people are, You, me, Cody and Tyler (pretty much sans Tyler)
Dani – she's so stupid man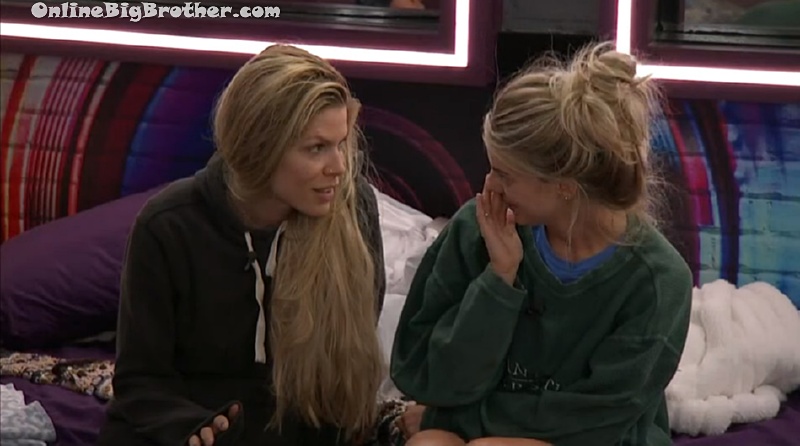 Dani – Ian doesn't like the game she's (Janelle) is playing.. what do we do I don't want him to be a floater.
Dani mentions Ian telling her the brigade needed Britney he offered to be the Britney
NicF says Ian trusts Christmas because she saved him, "ever since she saved him they're pretty close"
Dani – how much do you trust Christmas
NicF – she tells me everything
Dani – there are so many alliances
NicF – she tells people she's going to get caught
Dani – what does she say
NicF explains that Christmas tells everyone that Janelle and Kaysar tell her things
Dani suggests NICF tells Christmas to watch out
NicF – I tried to give her advice she didn't take it well
Dani – Da thinks Cody is closer to you.
Dani wants Cody to give information to Bayleigh about NicF so that it makes it back to Janelle
NicF asks if Bayleigh wins HOH who would she put up
Dani – Kasyar and Memphis
Dani explains that Bayleigh was attached to Janelle before she was close to their fake alliance.
Dani says Bayleigh and Da thnk NicF and Cody are tight
Dani is worried Memphis would use the safety suite on Kasyar or Janelle
Dani says she'll use a safety suite on NicF and her excuse will be "NicF the only name I hear out of your mouth. Janelle is you're talking crap for no reason"
NicF says they need to win the safety suite and Cody/Tyler need to win the veto
NicF brings up Janelle making up a lie trying to put a wedge between her and Ian.
Dani – why don't you and me talk to Ian today just us two and we'll pitch to him an alliance saying we need to be tight blah blah.. who else do we add we need two more people and see the names he throws out.. what if he doesn't throw any out though
NicF – he will.. he likes doing that
They smile about putting Janelle on slop, "Oh my god she's going to be so mad"
Dani – she's miserable.. why did she come back I don't understand
NicF – she thought she was going to be queen bee
DAni – do you think she came back to get Instagram followers.. it's so weird. that's the last thing on my mind
they laugh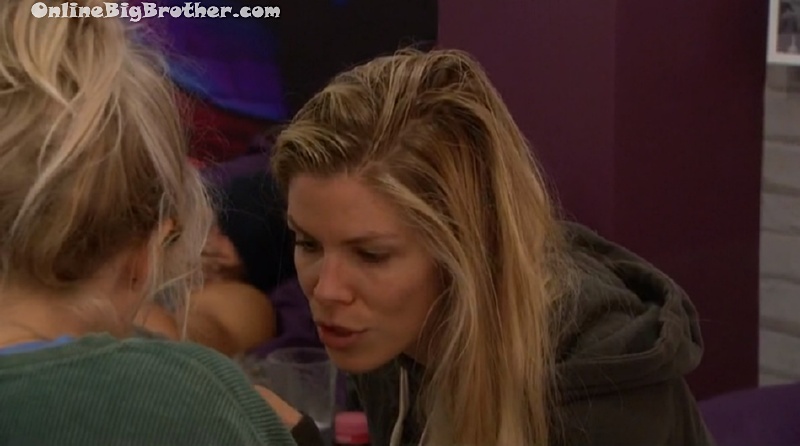 Dani says Janelle always gets a good edit
NicF – NicA is going right?
Dani – I hope so unless someone is flipping
NicF says David's story now is he's going after Janelle and Kaysar
Dani – why would he go after them
NicF – David was telling everyone that Memphis was his target it got back to Christmas
NicF says Christmas tries to micromanage David's nominations
Dani – she thinks she's close to him
NicF says David is putting up two of those three (Memphis, Janelle, and Kaysar)
NicF – We cannot flip
Dani – I will never are you kidding me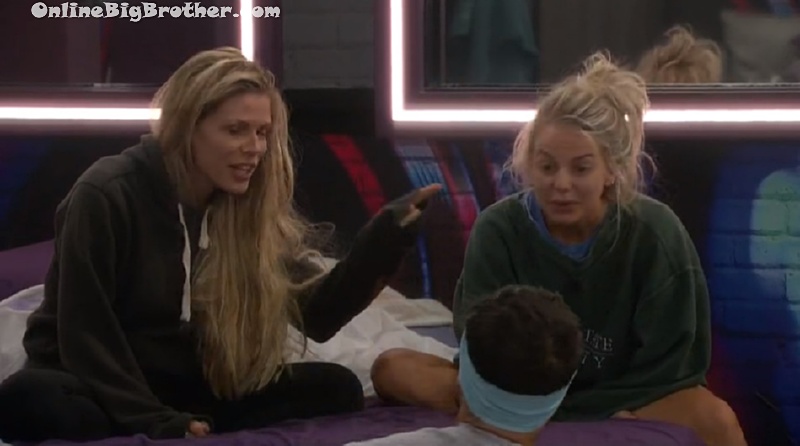 10:18 am Cody joins them
They fill him in on the plan to pull Ian into another alliance with them because Ian thinks there is a four-person alliance. Dani wants this new fake alliance to be NicF, Dani, Cody, and Ian.
Dani – Ian likes you and me
Dani – even if they did flip the vote. Da, Bayleigh, Janelle, Kasyar and Memphis
Cody – they don't have it ..
NicF and Dani are certain Christmas won't flip "She's so freaking loyal"
They fill Cody in on Da going around saying there's a guys alliance.
Cody about Da – She's going to play herself out.. Again
Tyler joins them Cody leaves.
They fill Tyler in on Da saying there's a guys alliance and how Da is trying to keep the girls safe.
Dani – she might be trying to flip the vote
Dani says Da went from being her BFF to hardly talking to her
Tyler leaves..
Cody is back with them now brings up talking to Da the other day.
Cody – I'm not sending David home and Da'Vonne is not saying a word
Cody – I don't understand what Da is doing here.. I can't be the one that convinces her.. I can't be the one that says keep David because she'll suspect a guys alliance
Cody- Da'Vonne is freaking out because of my personality to be friendly to everybody
Dani – she thinks you're doing what she's doing.. Every single thing she is accusing other people of, she is doing.
Cody- 100%
Dani – it's so transparent
NicF warns them they have to watch out what they say about Da'Vonne because if it gets back to her they'll be in trouble
Cody – we have the numbers because we have Christmas
Dani going on about Janelle only knowing how to play with a split house.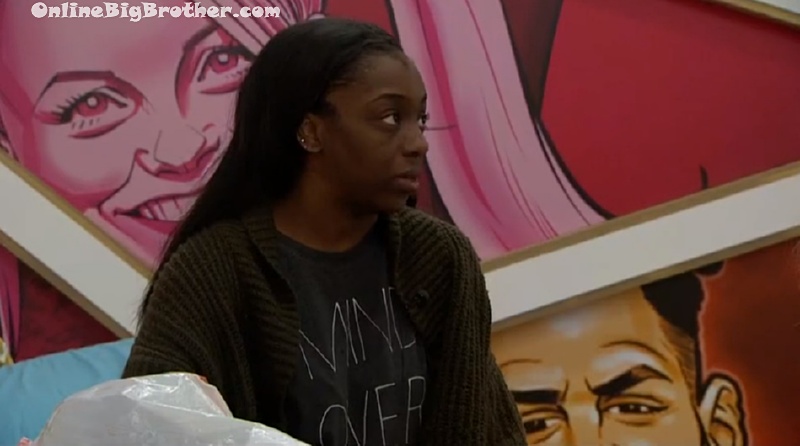 10:47 am Da'Vonne tells NicF it's going down tonight
NicF – so wear something cute
Da – mmmhmmm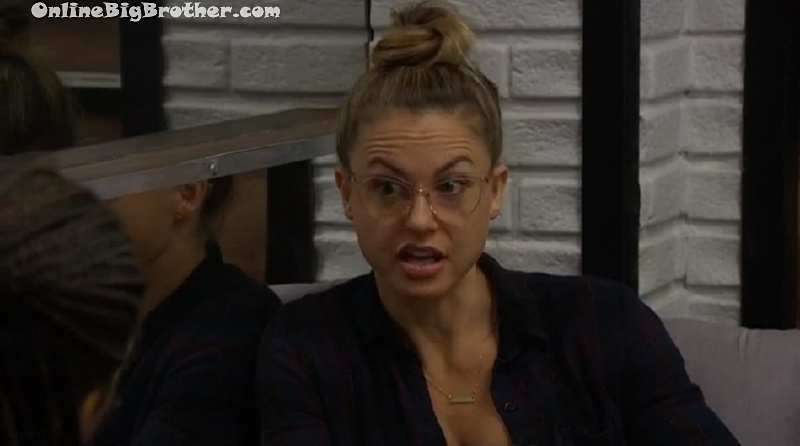 10:55 am Bayleigh and Christmas (this is a long conversation there's a bit missed )
Bay – last night NicA was so upset it made me so sad.
Bayleigh goes on about NicA being up set that Janelle is ordering her around and Janelle told her not to play in the safety Suite
Christmas – she (NicA) told me she (Janelle) gave NicA certainty and NicA was under the assumption that they had an in with Memphis
Christmas adds that NicA then had a conversation with the HOH memphis that told her she needs to play.
Bayleigh – she trusted her judgment over her own
Bayleigh – word on the street from multiple sources there's a all-boys thing.. major four.
Bayleigh – including David
Christmas says "I'm going to guess" David but Ian and Kasyar aren't in it
Bayleigh after this week 2 girls are going ot be gone.. "I don't know if this is a big deal or not"
Christmas brings up that NicA is smart and she's played this game before (You all have)
Bayleigh – Did Janelle ever tell you what Dani said about you
Bayleigh says three days ago, that he should go for David and Christmas.
Christmas says this was confirmed by both Dani and Janelle.
Christmas – they did connect and Dani did offer her safety and Janelle denied it.
Christmas heard her name was circulating as an option not by Memphis but "the other side"
Bayleigh – the other side was Dani and they tried to merge with Janelle and Kaysar
Christmas – why would Janelle say no to that
Bayleigh – she told me they didn't include me and didn't include Da'Vonne.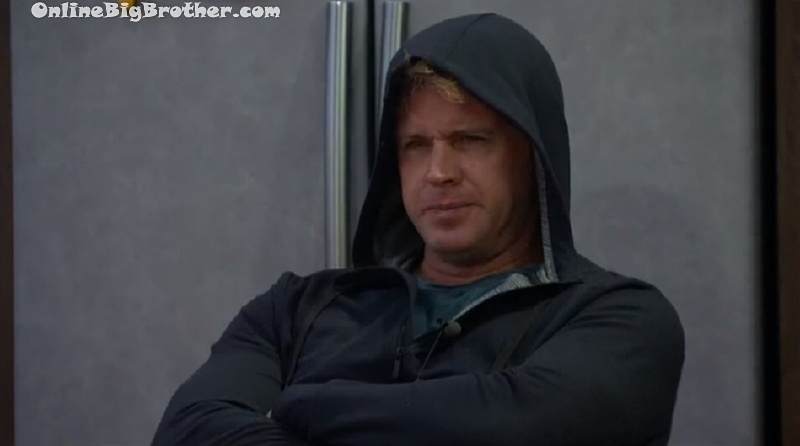 Memphis up now.. loving the morning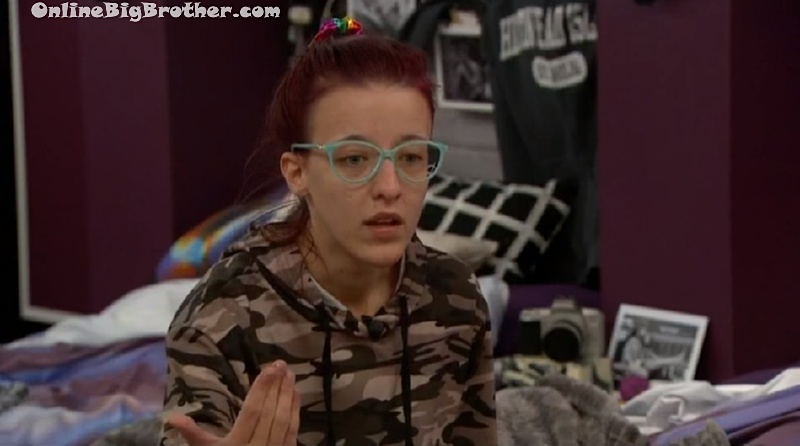 11:20 am Kevin and NicA
NicA – I was thinking about everything last night then again this morning
Nic – you know how I am
NiCA explain that last season she has Cliff and this season it's Kevin "Meaning what you say and Final 2 actually means something.. You stick by me and advocate for me"
NicA – if I go out tomorrow you are the one person that's my friend for life
NicA – I have to talk to Da'Vonne like really talk to her because that's something I'm really struggling with I git it I do. I am right there standing shoulder to shoulder. However when I make a final 3 It means something. It's week two and you're already throwing the alliance out
NicA – everything else aside this is a game and she's not playing that way and it's very unfortunate if her and David had a final 2 they made prior to us making a final 3 that's fine
Kevin says he talked to Da and Da doesn't think NicA is feeling this way.
NicA – my game is hanging by a threat the two people I thought I had locked into the end.. one of them is like you know ..
NicA – I am expendable to Da'Vonne.. final 3 is the final 3 and I'm in the DR saying that's my final 3 it's embarrassing
NicA says she has to watch what she says with da'Vonen because if she says the wrong thing she'll be "Hung out to dry on social media" (Da'Vonne's cause for an African American to win this season and/or that she doesn't want to two African American women to vote out the one African American man this season)
Kevin says he'll bring up the "cause aspect"
Kevin – as a person of colour. In my personal opinion, I don't think it's right and I'm a person of Colour
Kevin – there is such a thing as reverse discrimination you know what I'm saying you can't keep someone purely on colour
NicA – if you evict someone based on colour that's not right and if you keep somebody solely because they're black that's not right either
Kevin agrees "it will eb a f**ed up a conversation if you bring it up "
NiCA – I think I should count her out.. if I spend all day trying to get her vote and lose everybody else
Nic says she needs to focus on Enzo, Ian and Nicf's votes
NicA says Janelle pissed her off when she said "It is what it is" after nominations
Kevin – did Janelle tell you not to play in the safety suite
NicA – no, I did it to myself
NicA – have Janelle and Kaysar been 100% on my side this entire time and I'm just twisting it because Memphis put me up. Maybe Memphis did go, rogue, Mayeb they have been advocating for me and Memphis said NO
NicA – I feel so bad I've been going person to person saying they're my targets and they're my only two votes.
Kevin – I was thinking about that two last night
NicA – I deserve to walk out tomorrow. I had three for certain votes and two of them if that gets out . that's it.
NicA she'll be down with just Kevin so don't bother.
NiCA – I have you, Bayleihg, HJanelle and Kasyar
Kevin – Christmas da'vonne
NicA – I don't have Christmas and DA'vonne
Dani walks in Kevin leaves ..
Dani tells him that Memphis will break a tie in her favour
NicA asks if there is anything she can do to get a concrete yes from Dani
Dani – it's so hard man it would be different for me if she wasn't spewing out my name all over the house (Janelle)
Dani – she came to me and said she wants to work with me..
nicA – she's a liar (Janelle)
Kevin comes back
Nica – you're not voting for me because I'm associated with her.. it's catch a 22 I'm stuck there's no moves.
Dani says NicA is in the worst position ever because of Janelle
NicA – Janelle doesn't want me to stay she wants to split the house (and we're back to the brain worms)
NicA – she just wants to split the votes, David stays I stay she doesn't care. she wants 7-5 or 6-6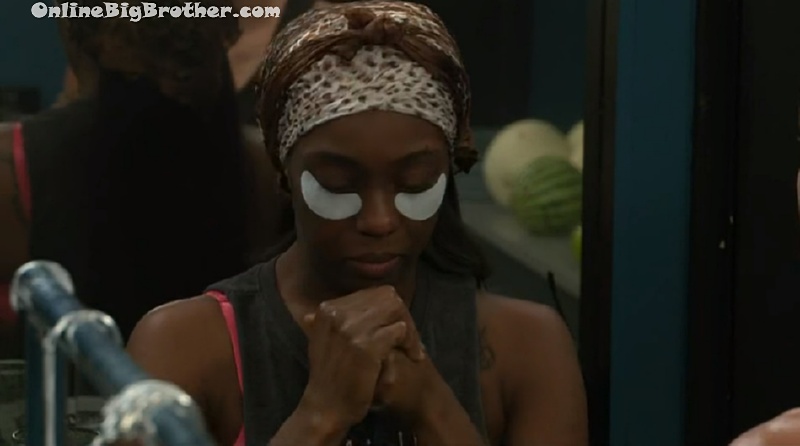 11:46 am Da'Vonne and Kevin
Kevin asks her to help him understand her cause
Da'Vonne – throughout this game, there's a cast and there's usually only one or two tath look like me
Da'Vonne – 21 seasons no one that looks like me has one this game.. because we don't have the chances as everyone else. The odds are not in our favour.
Da'Vonne – when we come into this game we have to come into this game with a completely added layer.
she adds everyone else comes into the game just worrying about playing.
Da'Vonne – we have to come into this game with the mindset.. one I'm a black person playing this game 2 a fish outta water playing this game and 3 not having anybody I can relate to and 4 somebody that's playing big brother.. there's players when you look like me
Da'Vonne – whens the last time you've seen an African American man in the jury house of BigBrother
Da'Vonne – it's outta control
Kevin – they count me as African American.
Da'Vonne says her morales are saying keep David her game is saying evict him.
Da'Vonne – I know keeping him in this house is terrible in this game I did pros and cons he has no pros when it comes to my game.
Da'Vonne starts to cry
Kevin says he's 1/2 black so he doesn't have the total black experience
Da'Vonne crying saying that "Our black men are being targeted they're done so wrong our black women too I just want to protect them"
Kevin understands.
Da'Vonne – NicA is really good for my game. I would hate to go against my morales.
Kevin – between me and you I think David is better for our game because that is a target. I'm only voting for Nic on a personal level.
Kevin – you, me and NicA you're my ride or die you're getting my vote. Gamewise DAvid will look out for us.. you don't get that vibe
Da'Vonne – I don't talk to that man
They talk about NicA calling a house meeting. Kevin says NicA is getting advice from others to not do it
Da'Vonne- who
Kevin – Dani
1:00 pm Feeds are on Pound animals while the houseguests practice for a competition. It's a crapshoot.