Head of Household Winner – Memphis
Have nots – Kaysar, NicoleF, Christmas, David
Nominations – David & NicoleA
Power of Veto Players are – Memphis, David, NicoleA, NicoleF, Ian, Tyler
POV Host: Enzo
Power of Veto holder – Memphis
Power of Veto Ceremony – Memphis did not use the veto David and NicA remain on the block.
Safety Suite – Christmas wins. Ian is her Plus One
Live feeds —-> Grab your Live feeds here. Try it free.
Rank the houseguests —-> Big Brother 22 Ranking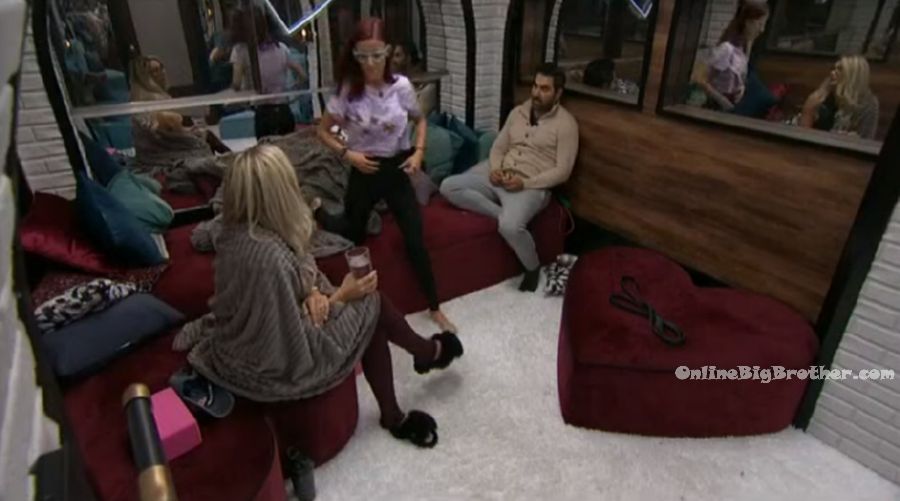 1:25pm Lounge room. NicoleA, Kevin, Janelle, Kaysar
Nicole pulls people into the room. Kevin – should I get Bay? Janelle – I would NOT get Bay .. she is so upset right now.. she is PMS'ing right now. Nicole – should I just ask her? Janelle – no! I would not! Nicole – but this is it.. if she doesn't come in here. Janelle – she just freaked out on me.. Kaysar – why? Janelle – she wouldn't tell me but I think its NicoleF.. she said Nicole is after me .. are you after me now and now she is scared that she is in Nicole's position too. She is pissed off at the situation. Nicole – I'm going to go see where she is at? Janelle – I WOULD NOT DO THAT! I would really not do that! Kaysar – just talk to her tomorrow. Nicole – I am f**ked then! They don't seem willing …they would have come in here.. hesitation is not conviction. That's it, I'm done. Bay is scared of something that is inevitable. Janelle – if you don't want to take a stand that is fine but you have an opportunity. Nicole – GOOD LUCK! That is my message to everybody because YOU'RE ALL F**KED! I am going to sit at home and watch you all go out one by one and you better not cry to any of these cameras that you wish I was here because I am going to be sitting at home laughing… yeah b***hes you wish I was there! And when you're in a comp facing off against him and these other beasts and you all lose.. you're going to wish Nicole the sucky comp beast was here. Janelle – Nicole I am a vote for you to stay no matter what. Even if it is just me and Kevin. I am trying. These people aren't banding together. They're scared of being targets.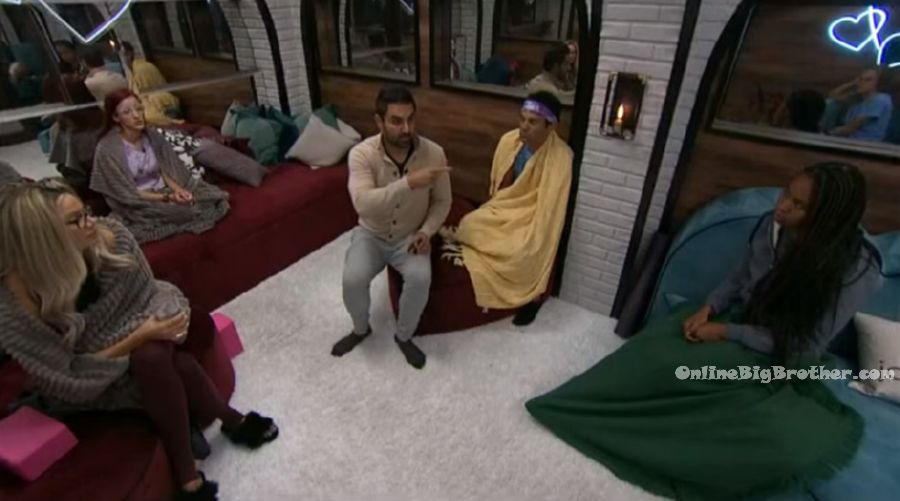 1:32am Nicole, Kaysar, Bay, Christmas, Janelle, Kevin.
Kaysar – my position is that we should save Nicole because.. I have nothing against David .. I love love love David. I think we can all agree on that. This is more about the longevity of our game play. Of the power that was created the first week that was aimed at taking out outcasts that were not part of the original alliance. So it is my hope that we can stay alive for a couple more weeks until we can figure out what to do next. It is in our best interest that we do not empower them based on sheer math and numbers. If we go into this next crap shoot game with one less person working with us and one more person working for them then that just diminishes our ability to stay alive. And we're going to watch like every other season .. us getting picked off one by one as we bicker over whatever scraps are left. Janelle – its freaking all stars .. I don't want them laughing at us. Kaysar – I don't want to be in that position .. I didn't leave my wife and kids to be picked off and be made a laughing stock and this has nothing to do with an emotional decision or else we're going to make bad choices. I want to just be able to come together about one thing.. I know you might think this is early but it is not .. there are moments in a season where you can look back and go that is where they f**ked up! If we send her home, we are basically going to give them the edge with not only the votes to go forward but also the statistical advantage. If they get HOH they're going to pick us off one by one!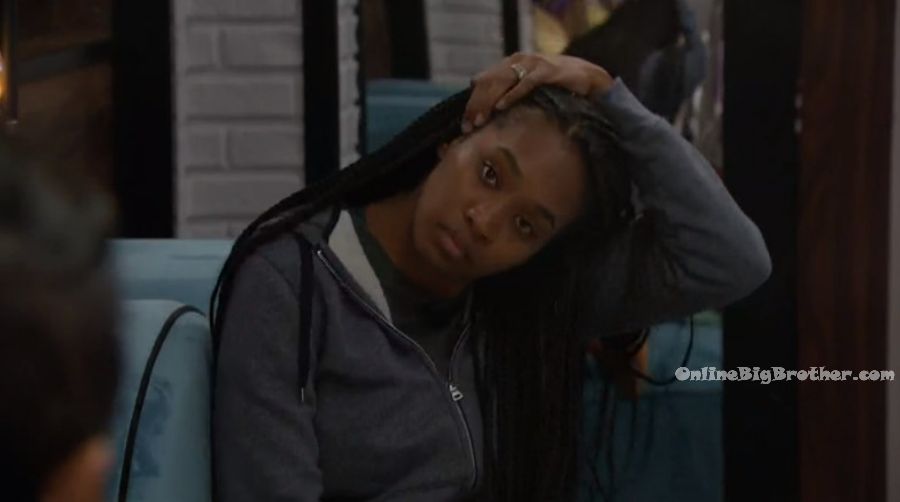 Nicole – I do want to speak because I spoke to all of you. I was very pissed off at you two and I voiced it to all of you because I wasn't sure where all this f**kery was coming from. But I will say that vote wise David really scared me when he said he had the votes locked in right after the veto. I wasn't even sure how that was possible unless they are solid. Kaysar – they are solid. Nicole – and that's why they're getting mad at you. Janelle – they're trying to get you scared so that.. Kaysar – if they haven't shaken everyone of you down yet .. they will. Lets not get picked off. I don't want to be another sheep for the slaughter. Nicole – I will repay anyone who gives me a vote. You guys know how loyal I am. Janelle – there are 7 of them. Bay – have you confirmed that he (Memphis) will break a tie in your favor? Janelle – he will, I'll bring him down here. Bay – no, he will tell you that .. I need to hear it from her that is what he said. Nicole – and that is what scares me, he said he we would talk tomorrow. Janelle – he told me he was voting David out. Day – he said he would go eeny, meeny, miny, moe.. Kevin – he told me eeny, meeny, miny, moe .. he doesn't give a f**k about us. Janelle – why would be lie to me though. Kaysar – lets just get this locked and then we can move onto the next milestone. Kevin – why does he give you guys the security but play us. Janelle – he is weird .. he doesn't want an alliance till mid game. Day – I have a question .. I was talking to Janelle last night and she told me that she told you to play the safety suite. Why didn't you take her advice? Nicole – I'm being honest.. we we were in the bathroom that night and we all said we're good. I told Memphis as a show of faith I am not using it. If I win it next week, he would be my plus one. That was my initial offer. It was an asinine leap of faith.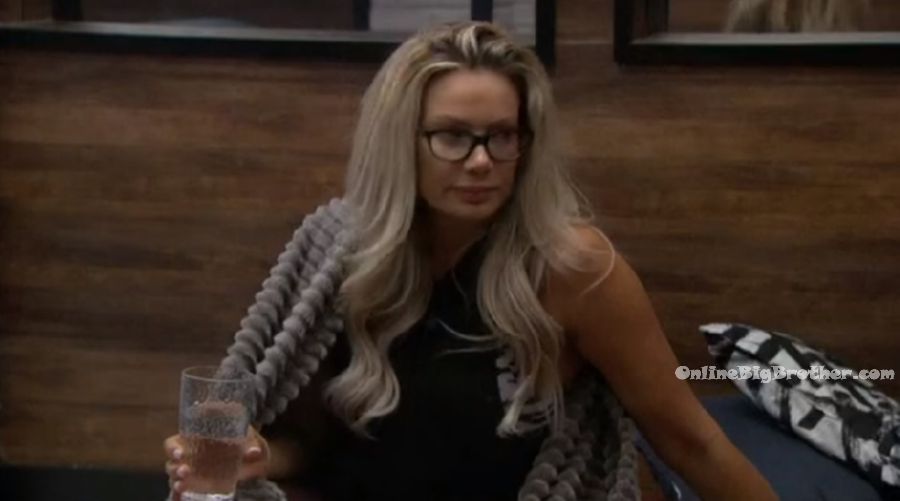 Nicole – if I stay .. use me as a pawn or if they start coming after us because one of them wins offer me up. As long as I stay past this.. do what you need with me. I don't know what else to offer .. my goose is cooked. If this doesn't happen I will be really sad at home watching the rest of you go. Janelle – they have a really close bond because Enzo and Cody are friends, Tyler is new and NicoleF and Daniele are really good friends outside of this house. It was easy for them to connect faster than us. Nicole – what about Ian? Janelle – he is closer to NicoleF. Nicole – I am still very frustrated with you two (Janelle / Kaysar). Janelle – if they take a shot at us .. its me or him. I'm prepared. Day – my concern is the foundation of what you guys are trying to establish is very shaky .. I don't like how it is being built. I was propositioned about this under the pretenses that they (Kevin & Christmas) were 100% locked in which is false.. I don't like to be lied to. If I am going to trust you, we have to establish on trust. Kevin – and I have been omitted from conversations.. so if you're asking for my support why have I been omitted from whole conversations? Kaysar – because this was not a for sure thing and we were just taking it day by day. We had to piece meal this whole thing. Nicole – I am upset that you didn't include Kevin. I've said it multiple times. I am going to swallow my ego and because I do need all six of you. As frustrated as I am with you two (Janelle / Kaysar) I do need all six of you. I know the foundation is sh*t but please don't throw me away because of all this bullsh*t. Kaysar – I don't think the foundation is sh*t. This as you can see has never been formalized. Can we get a commitment? Can we work together? Nicole – at least for this vote? Christmas – so if we don't know where he (Memphis) stands this puts everyone in a compromising position. Janelle – I talked to him today if it is 6 – 6 he is voting out David. Kaysar – how about this is contingent on getting that vote (Memphis tie breaker vote). Day – and tomorrow if its 6 – 6 and he (Memphis) votes to keep him (David) ..we're (points around the room) f**ked .. and for what?! Kaysar – it is not going to happen. I promise you. Bay – don't promise until you have it because that is how you lose peoples trust for good. Kaysar – lets talk tomorrow. Janelle and Kayar leave.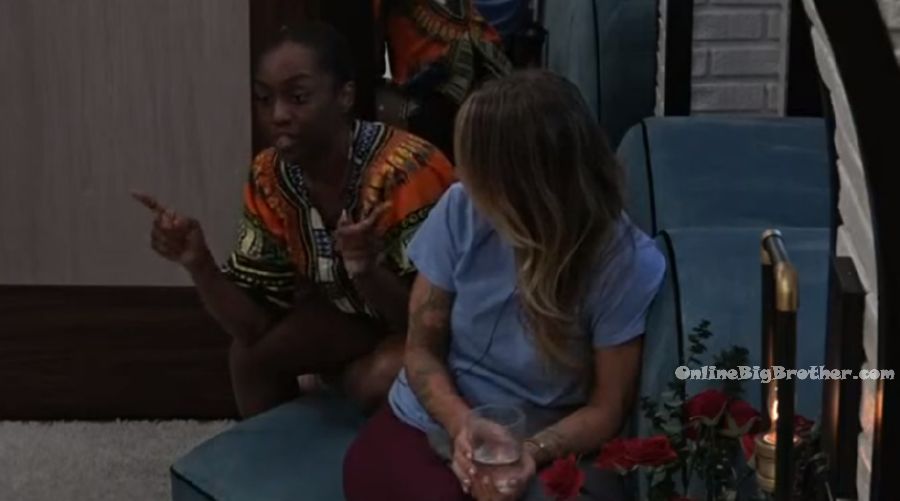 1:50am Day, Kevin, NicoleA, Bay and Christmas.
Nicole – I don't know what to make of them (Janelle and Kaysar). Bay – and I don't want you to take our reaction personal but the foundation of this is very shaky so what they're asking if for us to throw our game on the line for them. Christmas – they're (Janelle and Kaysar) are the top two on the pecking order. Nicole – if we were in a five person alliance .. with them as the two other votes.. just take them out of it. Christmas – we can't .. its guilty by association because once you muddy the water and you get in it you get mud on you. Bay – and even if we were in a five person alliance.. the number to beat is six and if David stays that is seven. Christmas – and honestly Nicole if we were in an five person alliance you wouldn't be sitting in that spot right there. Bay – because we wouldn't have mislead you .. we would have told you to play safety. Nicole – so I am done! That is it! Damn! I appreciate all of you guys chatting really. Bay – I am sorry this is happening and that you're in this position. Day – you're literally a casualty to someone else's game. Christmas – and Keesha was last week. Day – and this was dangerous as hell.. if anyone had seen this. Bay – if I told you I had a bad day and you seen me .. and you want to push push push .. if I pop off I am in an exposed position. I don't appreciate being pushed to where I have to be the crazy person.. and we all know how that turned out on my season. I am trying to be zen-Bay! Kevin – and they (Janelle / Kaysar) never did anything to repair the week that they campaigned against me. Nicole – I could give a f**k if you four target them (Janelle / Kaysar). I don't want them here. I don't trust them. I already told all of you they're my targets. I told them, they're my targets. But from my biased stand point I need the six of you so I was going to try any thing I could. Thank you for chatting .. you can all go to bed .. its fine. Christmas – we love you, respect you and honor you. Nicole – its fine. Day – you are a casualty .. I do not want to be. I don't want to be associated with them. This vote this week can be very crucial .. this coming HOH is very crucial.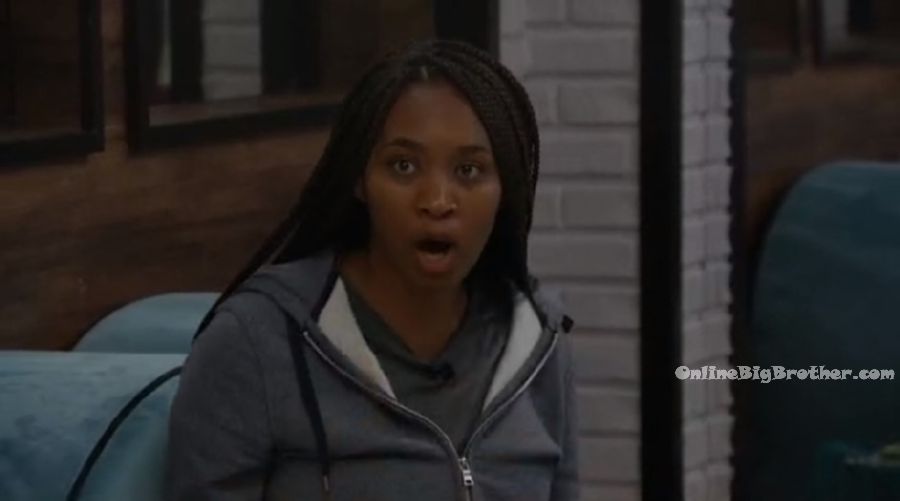 2:10am – 3am Kevin and NicoleA.
Kevin – I really think there is some kind of.. Nicole – battle back?! That requires me to win a competition! Kevin – there might be still a chance but also you should be really proud of yourself. Kaysar and Janelle join them. Kevin – Christmas was making a point that by doing this we are clearly declaring sides. Kevin – for this to work you need to prove that you're trustworthy. I think the weakest link is Christmas. She has the strongest links to the other side. Day also feels very secure. And Bay feels betrayed. Kaysar – if no one wants this.. cool. I've been trying to save you. Kevin – everyone thinks you're connected to Memphis and it looks deceptive that she is on the block. It looked like she was the pawn and now she is going home. Kevin – they way you pitched sucked. Like low key. Like my job is pitching. Kaysar – I pitch all the time. Kevin – well then you made them feel small and insignificant. It came across that you're frustrated. You have to understand their perspective. Saying its a numbers game .. makes them feel like you're just using them. They feel used by you. Kaysar – then we don't need to do it. Nicole – f**k it. Janelle – I am floating .. f**k it! Kaysar – somehow I'm made out to be a villain ..f**k it. Kevin – no one said a villain. They're not trusting the angle you presented. Nicole – oh my god this is such a f**King joke. I wonder what Keesha and I will watch together.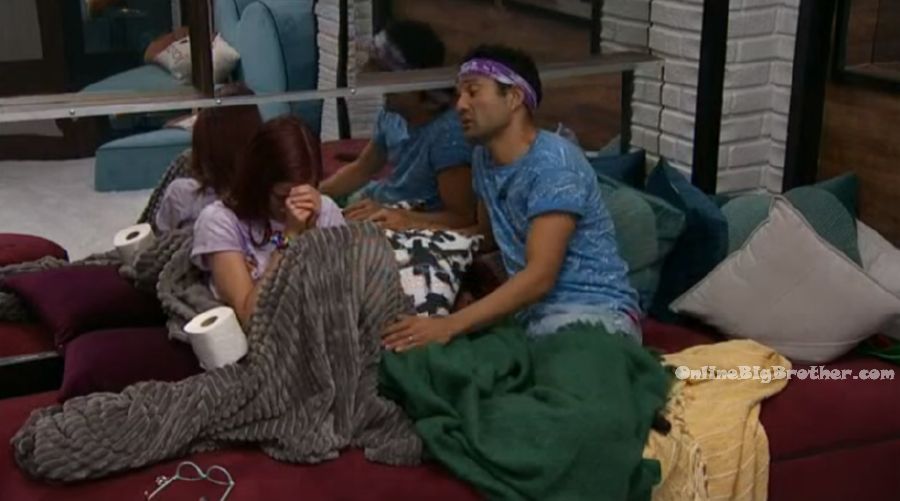 3:18am – 3:40am Kitchen / Bathroom. Kevin and Day.
Kevin to Day – are you in an alliance with any of the other people? Day – who? Kevin – in the back room? Cody, NicoleF, Dani, etc? Day – no. In order for us to keep our sub alliances we need her to go home. She has to go. Its the only way to maintain both sides. Kevin – why? Day – Keeping David keeps me okay with them. If I am in a visible Janelle, Kaysar vote they're going to cut me off. I am not about to do that to my game. She is in a full alliance with Janelle. I am not about to do that. She made that bed. Kevin -so moving forward. Nicole goes and we need to work with them? Day – I agree. I agree 1000%! Kevin – so we need to get Bay on board again. Day – I told Kaysar this week it is not going to happen.. but moving forward I want to work with you.