Head of Household Winner – Memphis
Have nots – Kaysar, NicoleF, Christmas, David
Nominations – David & NicoleA
Power of Veto Players are – Memphis, David, NicoleA, NicoleF, Ian, Tyler
POV Host: Enzo
Power of Veto holder – Memphis
Power of Veto Ceremony – Memphis did not use the veto David and NicA remain on the block.
Safety Suite – Christmas wins. Ian is her Plus One
Live feeds —-> Grab your Live feeds here. Try it free.
Rank the houseguests —-> Big Brother 22 Ranking
2:27 pm Dani, Cody and Bayleigh
Dani is worried about Da'Vonne being close to David. Bayleigh doesn't think they are. She says Da'vonne came to her and said she doesn't even know David.
Bayleigh says that NicA and David are both going after Janelle, Memphis, and Kaysar
Cody says J/K don't have the numbers to keep NicA. Cody warns if NicA stays and wins HOH she might realize they did help her
COdy – that's what makes me nervous but not that nervous
Bayleigh – I don't think she'll forget it. Her number one person in this game is Kevin
Cody – 10000% percent.
Cody – we can just till at the end of the day it's us deciding.. our numbers and one person.
Bayleigh asks how he did on his competition practice.
Cody says one of his went out.
(There's a crapshoot competition tomorrow for HOH they got to practice)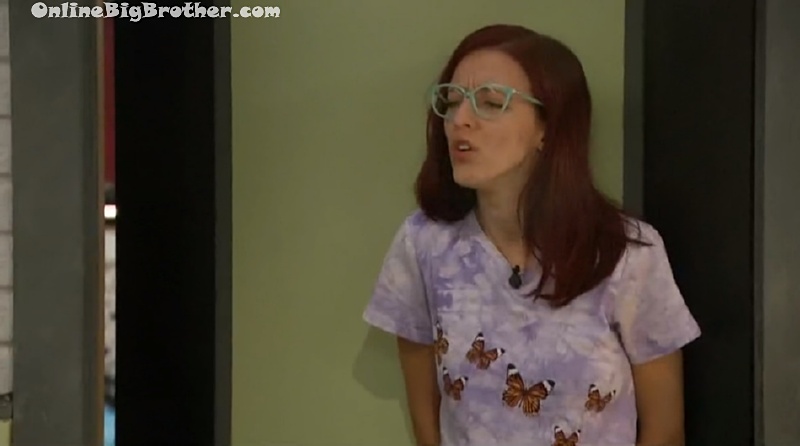 2:35 pm Janelle and NicA
Janelle – it's incredibly frustrating.
NicA- tell me about it
Janelle – did you talk to Da'Vonne
NicA – she wants to talk to other people
Janelle – I told her it's on you.. if you vote to keep her she's safe
nicA doesn't know who Memphis will be though if it's a tie
Janelle says Memphis told her he would vote out David.
NicA – why does he talk to you and doesn't talk to me
Janelle – Memphis is weird you know that. Even I am scared to talk to him
NicA – I don't think that you're afraid to talk to him
Janelle – I talk to him a little bit
NicA – Janelle you guys shared a bottle of wine for 2 f***ing hours
Janelle – I was trying to keep you off the f* block what do you think I was doing.. I tried..
NicA – not hard enough.
Janelle – I can't make him Nicole
NicA – he didn't put you two up. You guys looked at me and were like 'you're good you're good we're going to tell him you're good'
Janelle – we did
Nica – then he puts me up and you two were like … OHH and nothing.. all of a sudden there's a vote and you care.
NicA – I expressed I was upset last night and you were like ohh it is what it is
Janelle – No that's not what I said… that's not what I said Nicole
NicA – do you care do you not care.. a bunch of horse sh1t ..
NicA leaves..
2:43 pm NicA and Cody
NicA's voice when impersonating Janelle makes her sound like a witch
Cody tells her if she stays it won't be because of Janelle.
Cody – their whole thing it to split the house
Nica – she wants the house split
NicA delusions continue
Cody – they're[J/K] scrambling and creating something that isn't there. (LOL)
Cody – if you call a house meeting
Nic – they'll be like we planed this..
NicA – it's my Hail Mary to call a house meeting
Cody warns her that house meetings don't always work out for the person that calls them.
NicA – I know what she'll say how dare you. I'm campaigning for votes .. how dare you
NiCA – when I review the tapes I'll be like OHH my GOSH.. they created this we have to split the vote we have to split the two side
NicA – she doesn't give a crap who goes David or me.. she just wants the house split
NicA – I feel like if the whole house was like we want Nicole we want Nicole I wouldn't be surprised if suddenly they were like campaign for David they just want a split
Cody – I think you're overthinking it (ya think)
NicA spinning her wheels making things up and blaming Janelle/Kasyars
NicA – you're turning people off to me because I'm associated with you
NicA – I'm almost like go Campaign for David
NicoleA- I have her and Kasyars votes but I don't want them take them back (An allstar)
NicA – I feel like I'm in a tornado.
NicA says Kaysar and Janelle are equally as bad
Nic – they want that split so bad the us versus them mentality
Feeds cut.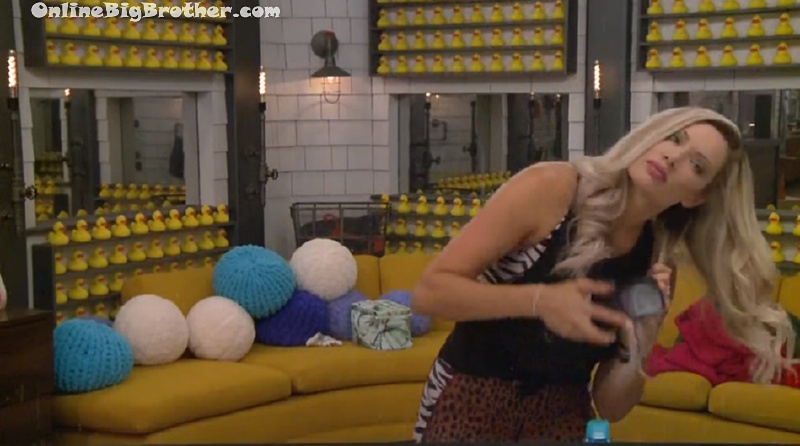 What a monster If NicA stays it's her fault if she goes it's her fault too.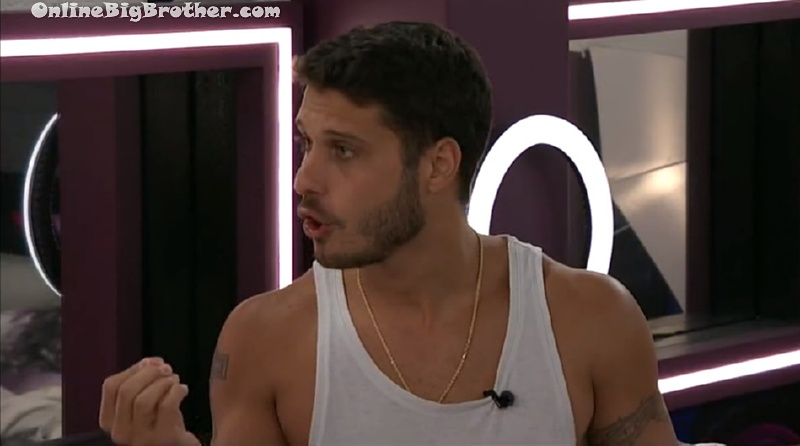 3:06 pm Cody and Enzo
They're talking about keeping NicA being good for their game and she'll snap on Janelle and Kaysar.
Enzo is warning him about Dani and Da'Vonne having something.
Enzo says Memphis is with Kaysar and Janelle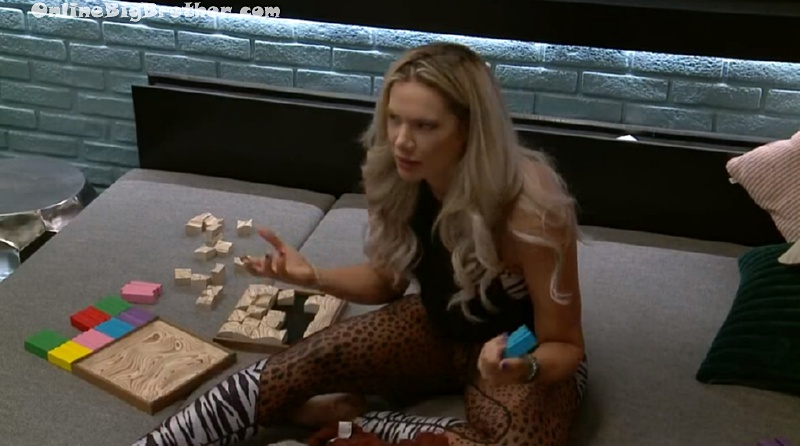 3:27 pm Janelle and Bayleigh
Janelle – NicA is mad at me.. oh she's pissed she blames e for getting nominated
Janelle – she doesn't even believe me do you realize I did nothing but say good things about you and tried to not get you nominated.
Janelle – she's like you didn't try hard enough
Bayleigh – dang
Janelle – It's really bad
Janelle – she's really pissed at me
Janelle – it sucks
Bayleigh – it does
Janelle – it's like she's blaming me for everything
bayleigh – everyone it putting Memphis, you and Kaysar together she thinks you went up there
Bayeligh – she feels she was misled because you guys and her are friends that he wouldn't put her up
Janelle – I can't control Memphis and he's not working with me .. and she was like well he didn't put you and Kaysar up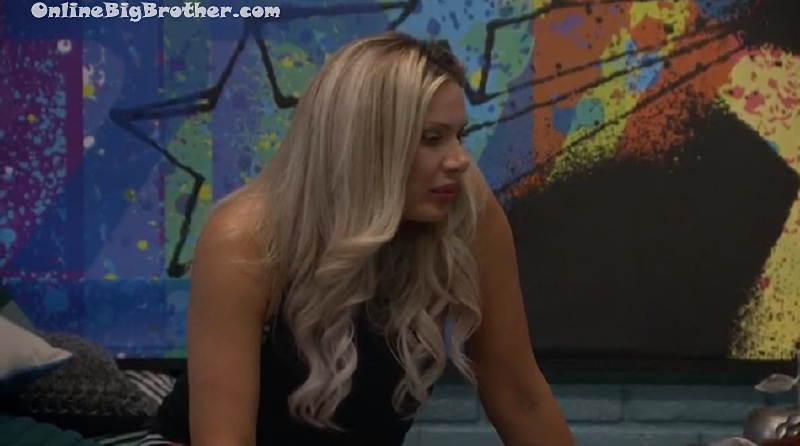 3:34 pm Janelle and Memphis
Janelle – I'm surprised Enzo doesn't want to work with you and be like what do you want to do.
Memphis – I'm one person
Janelle – and they're a big group
Memphis – yeah .. and I can't win HOH next week
Janelle – if it comes down to it.
Janelle – if I don't win HOH I'm so screwed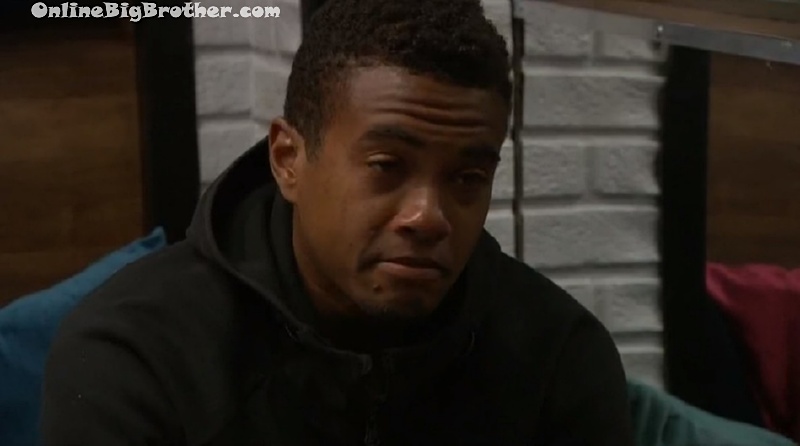 3:39 pm David and Bayleigh (this is a long conversation)
David is crying says he doesn't connect with Cody.
Bayleigh says she feels the same she doesn't connect with the people here because they don't share the same experiences they have to work overtime to connect
David says he's gunning for Memphis if he wins the HOH.
Bayleigh tells him she's not going to be a black woman that votes out a black man.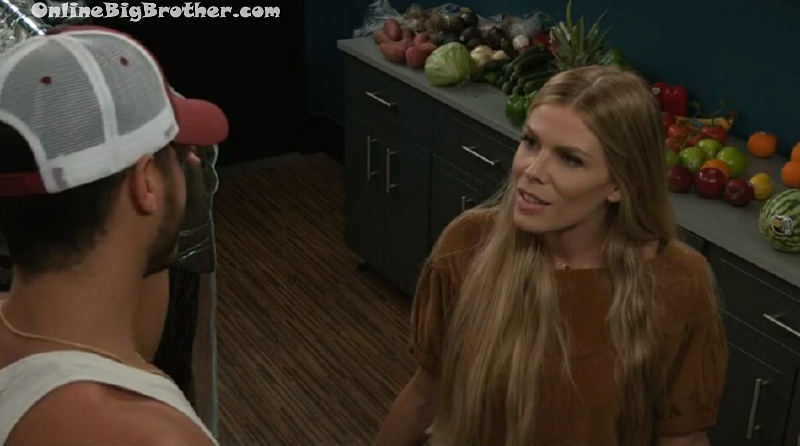 3:40 pm Cody and Dani
Dani is freaking out about Tyler not talking to her about game.
Dani told Tyler what Da'Vonne said about him but he's not reciprocating that.
He brushed her off and said he's not talking game today.
Dani – he's done that two times.
Dani says she doesn't trust Da'vonne at all she's so messy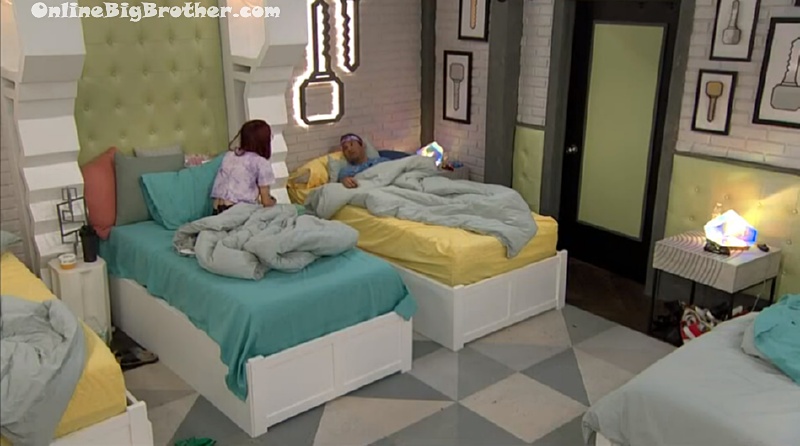 4:07 pm Kevin and Nic filling each other with brain worms.. well their going over campaign strategy. Kevin pushing for her to really push the +1 she has for the safety suite. There's lots of brain worms though.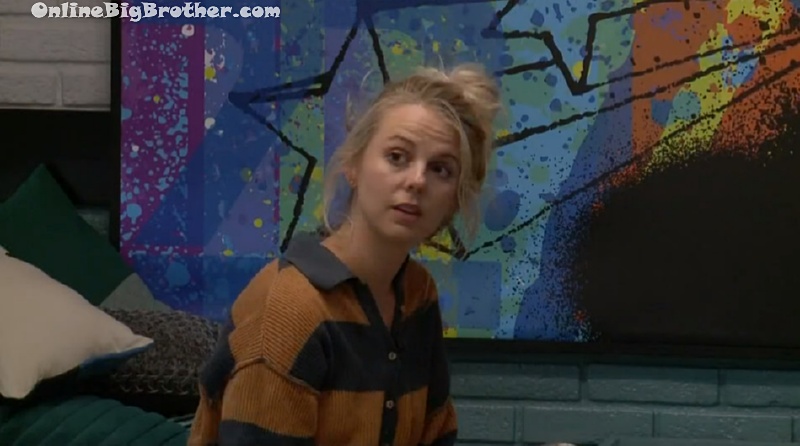 4:13 pm NicF and NicA
NicF – honesty I don't know what I'm going to do
NicF – some people are worried you will go back to her I don't think there's anything you can do to prove it.
NicA – give me the opportunity to take her out
Kasyar comes by and asks if he can talk to nicA after they're done. He leaves
NicA – there's going to be a BIG fight.. dammit.. I just don't want to talk to them. If I lose their votes I don't care anymore
NicA asks if Janelle is yelling at her.. NicA gives a retell of her "argument" with Janelle. (embellished)
They begin sharing brain worms about Janelle..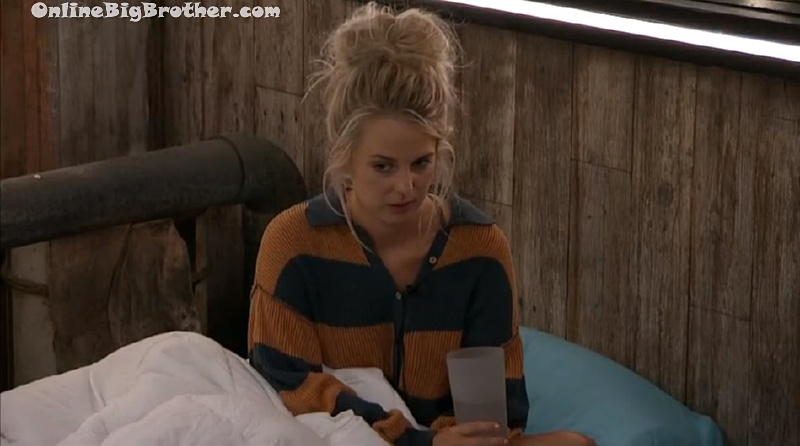 4:26 pm NicF, Dani and Christmas
NicF says NicA wants to call a house meeting but people are telling her not to
Christmas – who's telling he not too?
Dani – I am. She's going to call out Janelle, Janelle will yell over her and she will cry and I don't think she should cry before eviction
Nic is worried some things might get out that will hurt their game
Dani – Kevin really wants her to do it.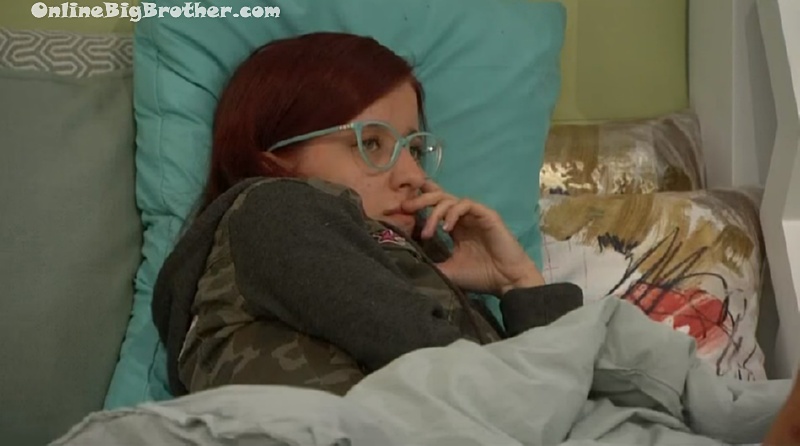 4:35 pm NicA, Kevin and Janelle
They're talking about Votes. Kevin asks if Dani will vote to keep NicA.
Janelle says no there's not even a slight chance.
Lots of tension.
Janelle – if our side doesn't win HOH I will go on teh block KAsyar will go on teh block bay will go on teh block
Kevin – Won't Memphis plus one you
Janelle – Memphis doesn't want to be in an alliance he wants to be a free agent
Kevin – he has to plus one somebody
NicA says she's going to be gone so it won't be her
Janelle gives NicA a pep talk
Janelle – It's the same group that put Kevin and Keesha but last week they'll keep targeting us. It's the same group that gunned to get Keesha out of here
Janelle – just like their gunning right now to keep David.
NicA – they are being smart Memphis is a moron
Janelle – he is a moron I agree.
Janelle says Memphis swore up and down that Cody was trying to get out Kevin but it was Keesha.
Janelle says so did Dani.
Kevin leaves
NicA – I'm f***ed
Janelle – it's not over Nicole please. just remain positive. Did you talk to Cody today or did he give you a crap answer
Nica – everyone is deciding.. I don't know who to believe I don't know who is against me
Janelle – are you serious .. Nicole stop. you're talking yourself down you know who is with you and who is not
NicA – why did he put me up
NicA – you don't have more influence on him?
Janelle – no when I brought up using the veto on you he got superheated with Kasyar I do believe he was going to put Kasyar on the block.
Nic – I feel like I was set up
Janelle – that's the saddest thing about this is it's not the case you think I set you u
NicA – yeah
Janelle – are you serious.. why would I set you up
Nica – I'm trying to figure that out ..
Janelle – why would I do that
Nica – split the house
Janelle – I would never do that to you neither would Kaysar.
NicA – I don't know
NicA goes on that Memphis doesn't talk to her so if J/K are putting in good words why isn't he.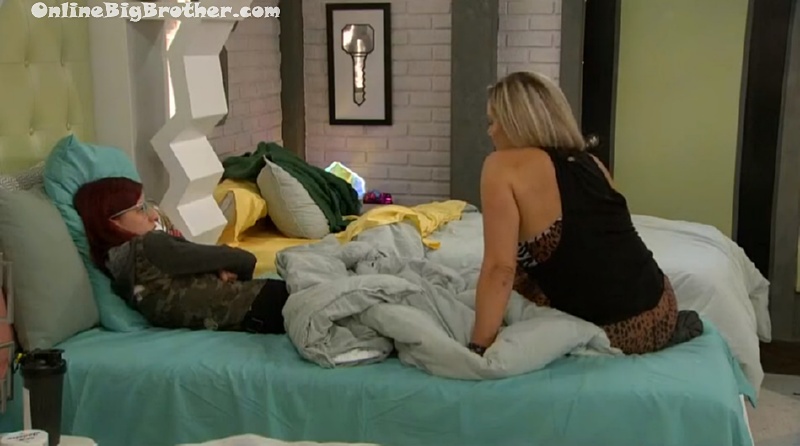 NicA says she feels expendable
Janelle – you're not expendable to me
NicA – I hope not
Janelle says that Memphis didn't want to make waves he didn't want blood on his hands "He's scared of Cody and Tyler "
NicA – why are people not scared of me it's like I'm a f***ing joke it's embarrassing ..
NicA says the whole house doesn't like Janelle and a person that she thought had her back isn't thinking about the game with her vote (Da'Voenn)
NicA brings up that the whole house is saying this is all Janelle's master plan adds that she's been pushing that she's not with them to everyone.
Janelle – why would I try to save yo uif this was my master plan
NicA – I think you were indifferent as long as it wasn't me and Kysar
Janelle – that's not how I thought at all.
NicA says the only chance for her to stay is Janelle, Kaysar, Kevin, Bayleigh, and Da'Vonen all vote for her and Memphis breaks the tie
Janelle says she is voting for her.
NicA is worried that Da'Vonen won't
Janelle says Ian is voting with NicF.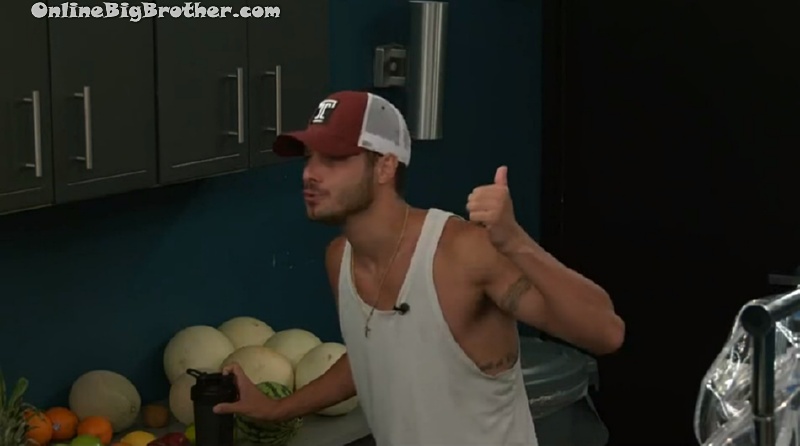 4:36 pm Cody and Enzo
Cody is back to wanting to keep David.
Cody says Memphis wants to keep David.
Cody – you, me, Dani, Tyler, Ian, NicoleF, and Christmas we don't need to worry about it (Worry about Da and Bayleigh)
5:20 pm Kasyar trying to remove the brain worms from NicA
Kaysar – this week was a disaster.
Kaysar – last night.. of all these years of knowing Janelle I've never seen her cried.. and she cried because of the amount of guilt we field. We had no control over this
Kaysar – I've been campaigning all week trying to save you, I'm so so pissed and I feel so guilty I had no idea.
Kaysar says he told Memphis "Please do not go after these people and he didn't listen. He is so set in his ways"
NicA – I don't know if that was a set up I don't know you guys don't care either way you just want a split house
NicA says now Da'Vonne doesn't want to vote for her.
NicA tells him she told everyone she's not with them she's against them.
Kaysar – Hopefully you didn't say anything that would screw up our game or undo the things we're working on.. (Sigh)
NicA says she told everyone she's blaming this on them.
Kaysar – I still want to work with you
NicA complains that nobody offered her an alliance day one.
NiCa now says she feels bad that she put this all on Kaysar and Janelle
Kaysar – you have to trust us
NicA – I trust who saves me tomorrow
Kaysar – I'm working on that (and NiCA should to)
NiCA – I really told all these people I'm mad at you
Kaysar – did you mention anyone's names?
NicA – you two yeah
NicA – I messed up everything I really did
Kaysar – this game is hard and it messes with your head.. don't underestimate the pressure you incurred being on the season last year
NicA – that influence how I reacted to thing
niCA cries
NicA – maybe I should just go home it really screwed me up.
Kaysar brings up his experiences coming back for BB7 after BB6
Kaysar – it's not over the votes are so close why don't you think the other side is panicking
NicA – even then if it's 6-6
Kaysar says Memphis will break it in her favour.
Kaysar – be strong let me do the work I'll do my best.. take care of yourself get yourself in a better positive headspace. Take those negative thoughts and throw them away.. get yourself in a better space.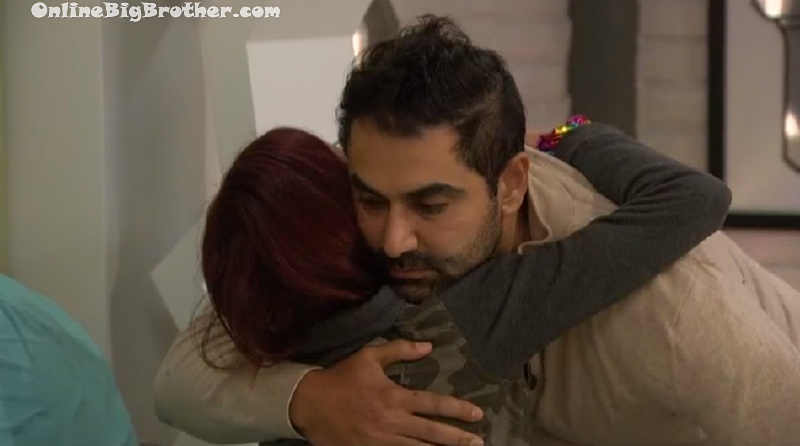 NicA – I'm sorry …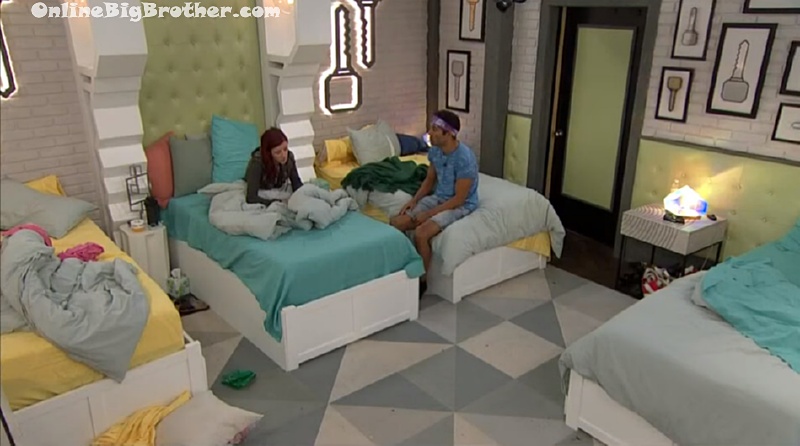 5:40 pm Kevin trying to put the brain worms back into Nicole's head.
Kevin – why would big a$$ Memphis target little Nicole
NicA – he didn't like my answer to the safety suite. that was all on me I did it to myself.
NicA – I feel such guilt if they really didn't know and were fighting for me I just trashed them to everyone
kevin – Umm.. I think it is a very valid and understandable perspective. when I talk to people what I say to them.. NicoleA got played they all said Janelle and Kasyar.
(Duh they're all against her)
Kevin – Why now are they telling you they tried because you are crying if they were with you …
NicA – they don't want ot pus too hard because they don't want Memphis to do after them
Kevin – something is not adding up
NicA – David came to me that first-day (after noms) Nicole I have the votes to stay.. He has an alliance.
NicA – I don't have the votes.. I just blew up the people that are numbers for us
NicA – I need her.
Kevin – Janelle said ther'es a 7 lock alliance that means next week they can pick someone out
NicA – why did Memphis put up me he must be with them
Kevin – there's believe that Janelle is bullshitting ..
NicA says Enzo told her that Memphis wants David out.
Kevin – I just talked to David and he's waffling too.. I don't think it's as locked as you think
NicA – Janelle, Kaysar, You, BAyeligh Christmas they are locked
NicA – I feel like Cody, Tyler, and Dani (Are not locks) .. in that case, if it's 6-6 I don't know what Memphis will do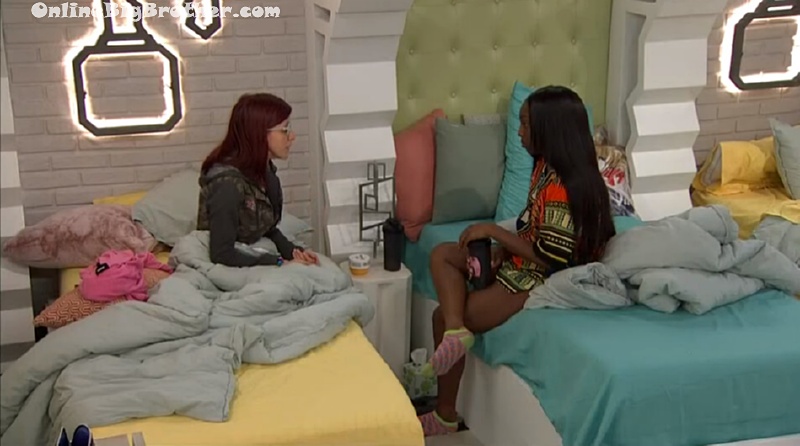 6:16 pm Da'Vonne and NicA
NicA says she told j/k that she felt used.
Nic says they will still vote for her.
Da'Vonne says they only want to keep her for the numbers. (Get those brain worms back in there)
Da'Vonne tells her not to trust Janelle.
They talk about the HOH tomorrow.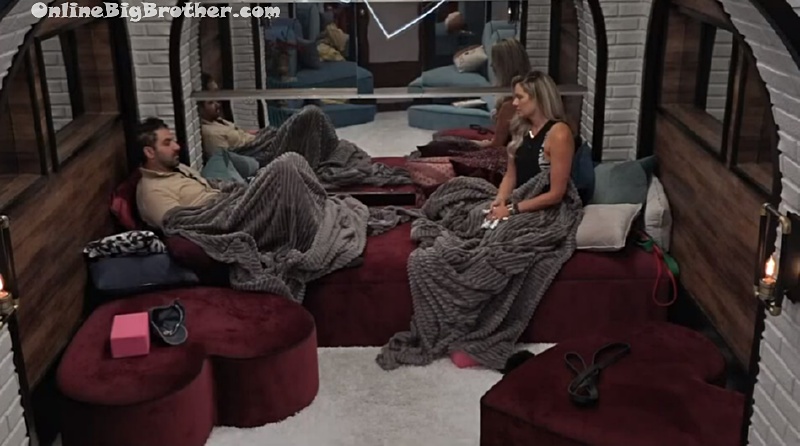 6:20 pm Kaysar and Janelle
Kaysar brings up talking to NicA. They are upset she didn't believe them at first. Kaysar says for some people it's tough coming back after one season it was very hard for him to come back to 7 after 6.
Kaysar says this vote will dictate the game this summer.
Kaysar – she's going to wreck her game.
They talk about a crapshoot competition benefits the team with the most numbers.
Janelle – I don't know who Nicole's head works if she's doubting us
Kasyar – she took a major psychological toll last year. she was messed up I don't think she processed everything..
Kaysar – I really didn't play well the second season because I didn't feel well. I can understand where she's coming from
Janelle – but for her to think I'm backstabbing her I betrayed .. her
Kaysar She's Tripping out
Janelle – what is she taking
Janelle – I hate seeing her like this.. she's just a kid
Kasyar – she thought we were with Memphis
Janelle – if we were with Memphis those wouldn't be our nominations
They talk about Memphis and how big of a mistake he's making thinking he can work with people
Janelle – Nicole was a vote for him to stay off the block.. it's idiotic.
They agree they're going up unless they win HOH.
Kaysar says they're going to get picked off he told Bayeligh that.
Kaysar says with David it has nothing to do with the fact David is black it has to do that he's on the other side that is against them.
Janelle – what is Da'Vonne thinking
Kaysar – she must have a side alliance with David.
Janelle says if Da'Vonne votes to keep David she's not wanting to move forward with her in this game. She doesn't want to play with someone like that.
Janelle – the other side does not like Bayleigh
Kaysar asks why she knows that
Jaenlle – pre-alliance talk with Dani
Janelle sighs "two weeks in a row"
Janelle says she thought Da'Vonne was a smart player "I'm so confused"
Kaysar says the other side is all giving him the cold shoulder with the exception of NicF.
Kaysar – what's wrong with them they're not being fun
Janelle – Cody giving you codl shoulder too?
Kaysar – big time
Kaysar will be shocked if Cody doesn't come after them "He can't even hide it at this point"
Kaysar – he's so pissed it's a crapshoot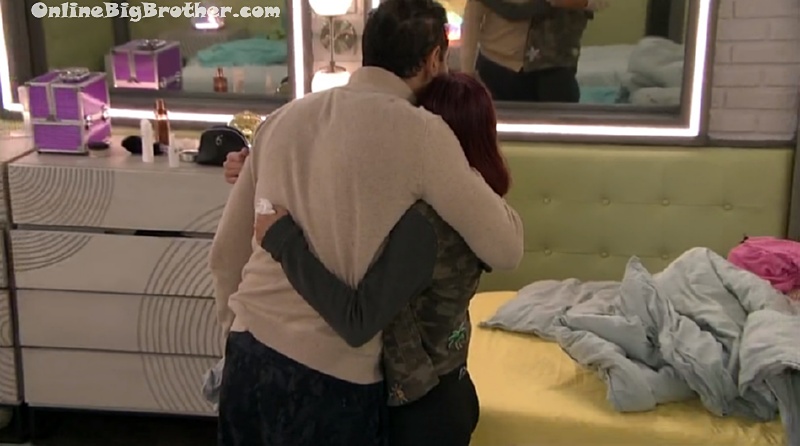 6:46 pm NicA and Kaysar
Kaysar asks if she's talked to Da'Vonen about the vote.
NicA says Da'Vonne didn't tell her yes or no said she'll talk to people.
Kasyar – at least it's not no
NicA – Ian just doesn't want to talk to me.
Kaysar – I'll talk to him
NicA – but just in general
Kaysar – Ian is scared.