Head of Household Winner – Tyler
Have nots – Bay, Janelle and Enzo
Nominations –
Power of Veto Players are –
POV Host:
Power of Veto holder –
Power of Veto Ceremony –
Safety Suite –
Live feeds —-> Grab your Live feeds here. Try it free.
Rank the houseguests —-> Big Brother 22 Ranking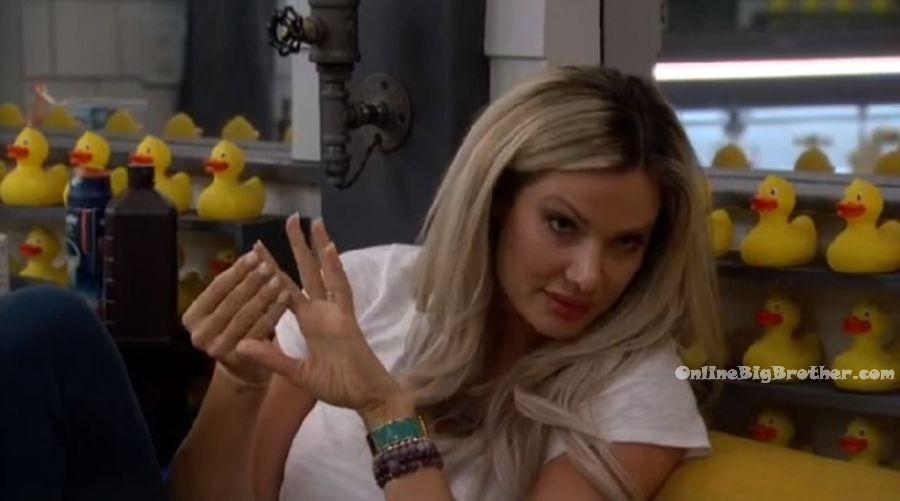 6:10pm – 9:03pm The live feeds return from being block. The announcer announces that Ian's punishment is over and that he did NOT get the part.
Bathroom. DaVonne, Kevin and Janelle.
Kevin – Janelle are you going to start a fight? Make this house exciting? Janelle – I don't do the whole .. I don't play like that. The little snitchy snitchy raty raty. Like if you want to talk about me.. lets bring it! Don't go in the corner and .. (in NicoleF's voice) I don't know you guys! NOO! Come to me! Tell me! DaVonne – that was hilarious! I didn't expect her to say that. I think that is why everyone was in shock. Not that it was said but that it was said by her. Kevin – yeah. I still don't understand the beef between you two. Janelle – it all stems from The Amazing Race when she back stabbed my friend. Kevin – what was it. Janelle – we were all in an alliance. What happened… Rachel (Reilly) heard from another team that they were going to back stab Victor and NicoleF .. and U-Turn them. Rachel being the nice person that she is went to NicoleF and said Team Fun is going to U-Turn you be careful on the next leg. And Nicole went immediately to Team Fun and said Rachel and Elissa said you're after me. And so it was like holy f**k we need to get them out .. they're starting things. And then she started her thing… the whole thing was these crying tears. All this little snake move stuff. I am not okay with that! Like whatever! I don't trust her in this house because I know what she does. DaVonne – been there done that. Kevin – I keep forgetting your past. That doesn't sound back stabbery. It sounds like she was trying intervene. DaVonne – no what she was saying was that it was cool that she fact checked but she was like lets go after them. Janelle – she flipped it on them. Kevin – you don't think.. well lets cross that bridge when we come. Janelle – it sucks thats the reality we're in. Its a good thing that you guys didn't vote with us to put you in jeopardy and we obviously lost HOH. The fact is they have enough votes to control the vote. It sucks. DaVonne – if you end up there (on the block) this is what you do! Janelle – I will be so pissed if they put Bay on the block trying to back door me. It doesn't matter whoever they put up and back door .. they have enough votes .. f**Ked! We tried though! Gave it an effort!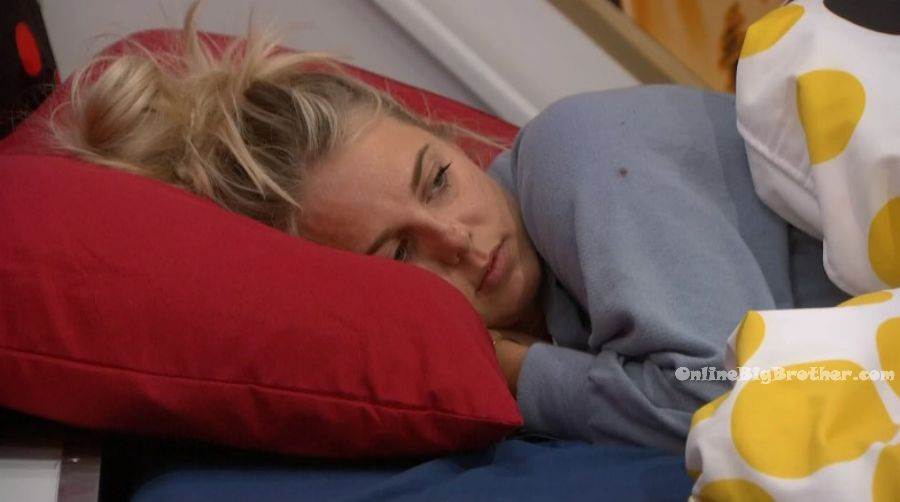 9:25pm Enzo, Memphis, DaVonne, Bay, Tyler
Enzo – whoever wins that sh*t (safety suite) tomorrow should give me that plus one and the punishment. I will make that sh*t fun as hell! My son gets a big kick out of me being crazy. My daughter is over it though.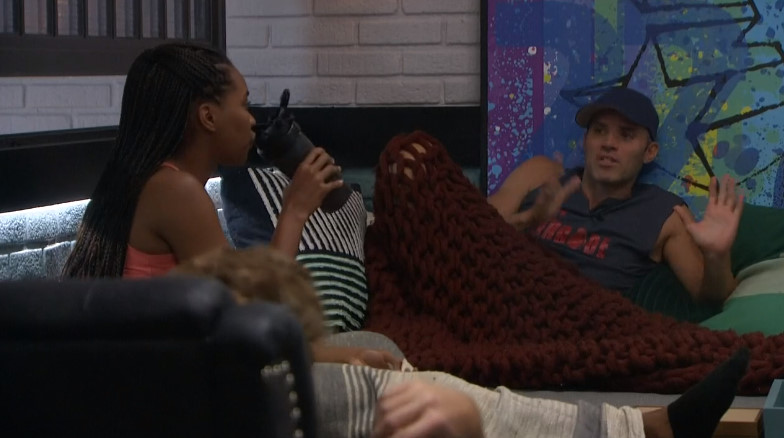 9:35pm – 9:50pm Bedroom. Cody, Ian, Dani, Nicole.
Ian – an anti jokers sequence .. like really unlucky.. If Memphis wins it (Veto) and saves Kaysar or Janelle. Cody – I don't think Memphis would save them. Also we should solidify.. Dani – yeah we need a name. Ian – I thought of something .. The Four Prime.. and then we can extend it if we bring in more people.. The Five Prime.. The Six Prime. They all like it and put in their four fingers. Ian – we should solidify things with Tyler. The other agree. Dani is The Total Package. Nicole is The Spice! Dani – it doesn't even matter what happens even if one comes down the other is going. Nicole comments on how she regrets her confrontation with Janelle when the feeds were down.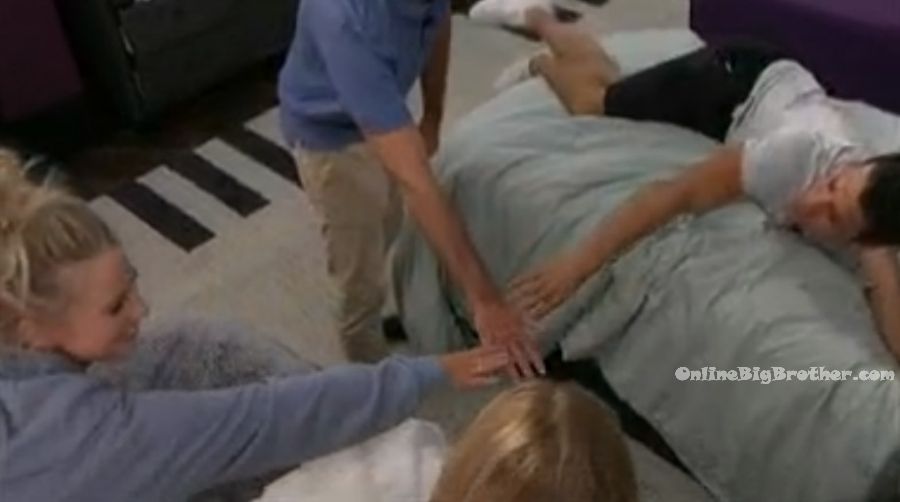 Janelle talks about Memphis being a wild card. Kevin – don't you have the ability to crack Memphis's code. Janelle – he literally said I don;t want to be in an alliance with you. He said if we make it to the middle of the game and you're done whatever you're doing .. I will work with you but he said he would work with anyone at that point. Kevin – I am looking for angles.. You're definitely someone I want to work with.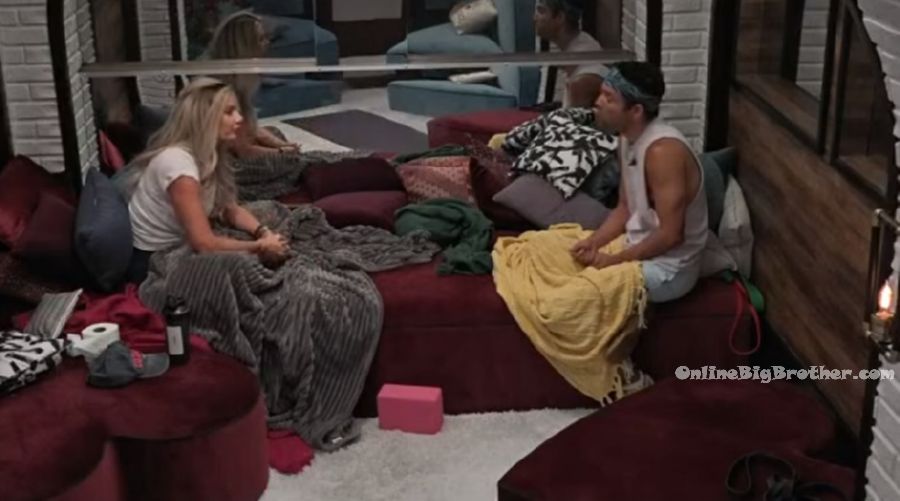 10:15pm Lounge room. Kevin and Janelle.
Janelle – I've got NicoleF talking sh*t about me! Are you kidding me!?!! I will f**king destroy her. Kevin – that almost seemed fake to me. Janelle – she needs to stay out of rooms when I'm there. Seriously! I will go off on her. She is so gross! Kevin – we want to keep bigger targets in the house. Janelle – I will spark up all week. Or the guys will be like the girls hate each other. I mean I can do that. Like when she (NicoleF) is cooking .. I'll dump a bunch of garbage in her food.. a bunch of salt so it tastes like sh*t.
10:36pm – 10:45pm Tyler is in his HOH room. Kevin joins him. Tyler – I don't want you to go home this week .. that would be freakin awful. You know what I mean.. so f**k that. Kevin – I like how when we moved in you were like.. Tyler – I like you, lets do this. Kevin – I'm not super connected in this house. Tyler – I am more on the outs than what people are planing in people's heads. People aren't trusting me as much as.. Kevin – okay. I haven't heard that. There is a source of weird deception and I think everyone knows it. Tyler – cut those people that are making up rumors. Kevin – I really want to show .. there was a reason why we moved in together. The vibe has been really positive. You looked out for me. Tyler – we are chilling right now but soon these sides are going to start going after each other. You and I are going to be chilling in the middle so if we can start rolling through this and gaining power. Scooping people up. I think we can be good. Kevin – I've seen what you've done for me and I will return it 10 fold. Tyler and Kevin hug. Tyler – did you for for NicoleA to stay or go. Kevin – I voted for NicoleA to stay.. is that going to be a problem. Tyler – no. Kevin – like they (Janelle and Kaysar) did her dirty. They hug and Kevin leaves.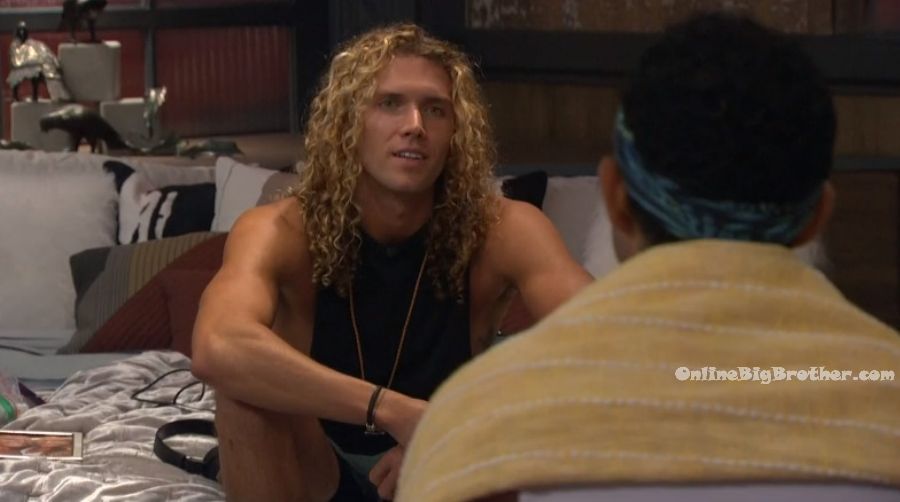 11:20pm Kitchen. Bay, Ian, David, Enzo, Day, Cody, Nicole, Christmas are all sitting around the kitchen table chatting about random things.