Head of Household Winner – Memphis
Have nots – Kaysar, NicoleF, Christmas, David
Nominations – David & NicoleA
Power of Veto Players are – Memphis, David, NicoleA, NicoleF, Ian, Tyler
POV Host: Enzo
Power of Veto holder – Memphis
Power of Veto Ceremony – Memphis did not use the veto David and NicA remain on the block.
Safety Suite – Christmas wins. Ian is her Plus One
Live feeds —-> Grab your Live feeds here. Try it free.
Rank the houseguests —-> Big Brother 22 Ranking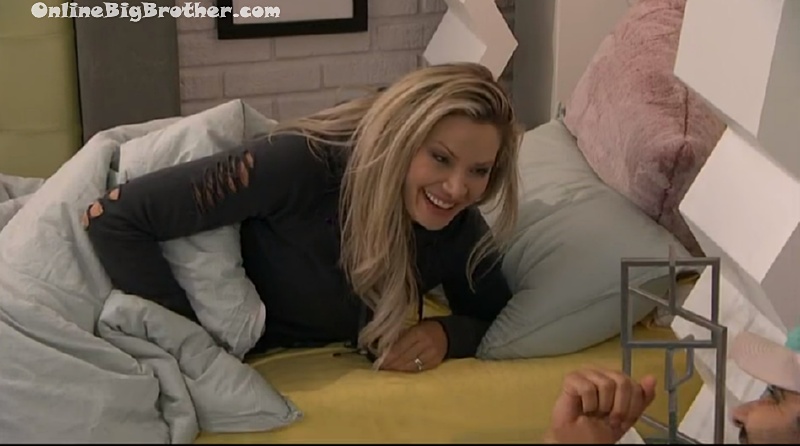 3:07 pm Janelle and Kaysar
Janelle – we shouldn't hang out all the time me and you
they laugh
Kaysar – they know we're friends
Janelle – they'll think we're in a final 2
They laugh
Kaysar – we should stage a fight
Kaysar – I was thinking about telling Memphis asking if he's ok with me telling Ian that Memphis was going to put him up and I talked him out of it to gain Ian's trust
Janelle – why would Memphis be Okay with that? Don't do that
(Godddammmit the brain worms are in Kaysar now)
Janelle – DOn't do that Memphis will be f***uing pissed.. are you crazy. why do you have these crazy ideas every Monday and Tuesday.. Last week you wanted to work with Cody.
Kaysar – You're going to come out of this house and you'll remember. you told me to keep the options open
Janelle – in case he won HOH but they didn't win it
Janelle – I was hoping we could work with them but it's impossible
Kaysar – that's long gone
Janelle says Kasyar came into the room and said 'Cody wants to work with me'
Kaysar – he was charming and I looked into his eyes I wanted to work with him
they laugh
Janelle – that's so annoying that's really annoying
Janelle is worried Memphis will "bro" out with the guys.
Kaysar thinks Mempohis wants to "So badly" especially Enzo
Kaysar – he can see
Janelle – there's no way in
Kaysar – he's hoping this whole thing blows up and it'll change
(ZOMG… )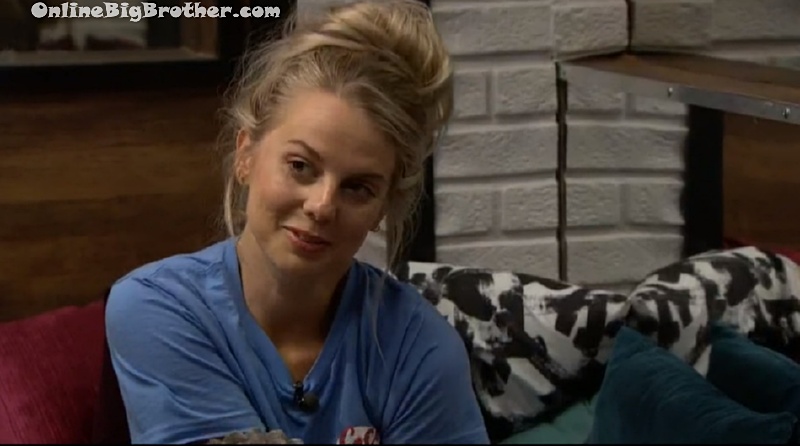 3:18 pm NicF and Christmas
NicF – a good thing about kicking NicoleA out is if there is a pre-jury buyback I feel like America will vote her in and not Janelle but if it's Janelle and other people that didn't know the game super well they're going to vote Janelle
NicF – give them someone that can beat Janelle.
Christmas- I love David but he literally didn't play a day
NicF – this is his first time so it's hard.
NicF says they have to get David to make Kaysar and JAenlle his target
NicF asks if Bayleigh wants David to stay
Christmas – She has a very fair view like us which is like look there's two parts of that view. One he's brand-new, and he isn't an all-star and two on the other side She's like I don't want to vote him out especially becuase Janelle and KAsyar are getting her to save NicoleA I don't want this to be two black girls vote out the black guy
Christmas explaining that Da'Vonne is more for keeping David.
NicF brings up them keeping NIcA but she jumps ship. She's harder to beat than David. "He doesn't know what he's doing"
They agree they have to get Janelle out first.
NicF is lusting about putting Janelle and the people she's close to on slop.
they talk about their 6 person alliance and how when they get to the final 6 they'll have to make a choice.
Christmas – if it comes down to it Memphis or Enzo we gotta get rid of Memphis he's just too unpredictable and not logical
nicF agrees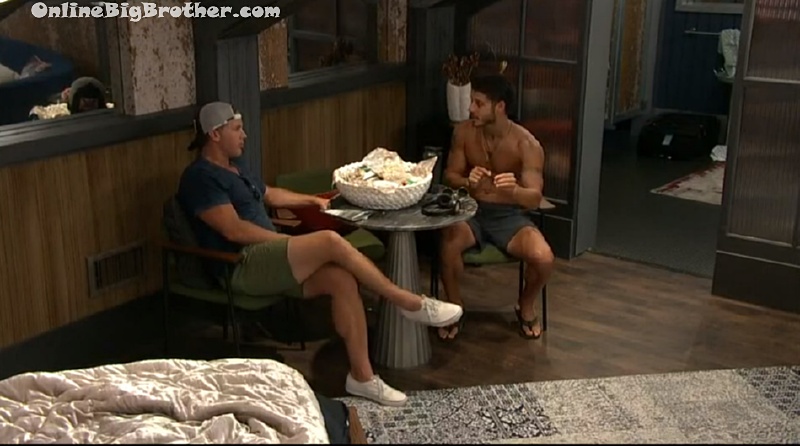 3:35 pm Memphis and Cody
Memphis – this morning they were talking about.. DID YOU HEAR DID YOU HEAR
Memphis – I'm like oh my god here we go.. Kaysar and Janelle are tag-teaming me
Memphis – David went to Janelle and said look I'm going after Memphis
Cody laughs
Memphis – and Janelle said well what about me and he goes we'll you're guilty because by association
Cody laughs says David did not say that
Memphis – you guys must think I'm a f**Ing fool.. that kid down there did not say that
Memphis – you guys are taking this too far.. you are spreading crazy it's nuts
Memphis – they're digging their own grave
Cody – I asked Ian who are you putting up and he's like Ohh Janelle and Kaysar.
Cody – the whole house I think it doing it
Memphis brings up Kasyar telling Ian that there's an alliance with NicoleF and Ian wasn't involved
Memphis – that's not good for us
Memphis – Kaysar has to be out these next couple weeks..
Cody says he's more threatened by Kasyar than Janelle because Kaysar is spreading stories.
Memphis says Janelle is so cutthroat if both of them end up on the block and they don't have POV she'll turn on Kaysar.
Cody says the whole house will want Janelle out but he's going to want Kasyar out
Memphis – do we have the votes to keep David
Cody – it's not as near as they think it is
Memphis – if they don't think they can get it they're not voting that way
Cody – they're planting the seed if they don't get it it's because of Tyler and me
Cody says they think this is the vote that will divide the house and show which sides are against each other
Memphis – it won't. we can't let that happen we can't split the house it won't be beneficial to us
Memphis – we have to make sure the vote is 12-0
Cody – or 10 -2
Cody says Ian told them the logical person to get out is NicA because she's with Janelle and Kaysar.
Memphis – as long as we have Enzo and Ian
They agree Da'Vonen is voting to keep David
Memphis will talk to her he wants to secure 8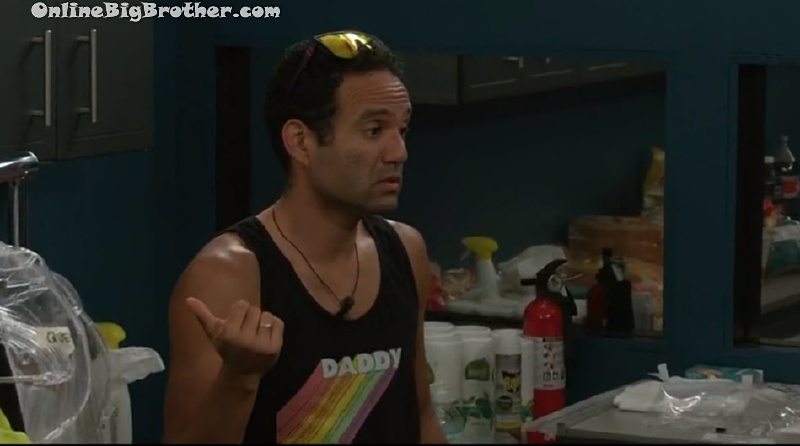 4:00 pm Kevin and NicA
Kevin says she needs to be careful with her conversations because Janelle, Kaysar, and Memphis are working with other people.
Kevin says everyone is putting the heat on Janelle but it's Kaysar too
NicA – the people they are working with Ian. I told Ian the terrible thing they did to NicF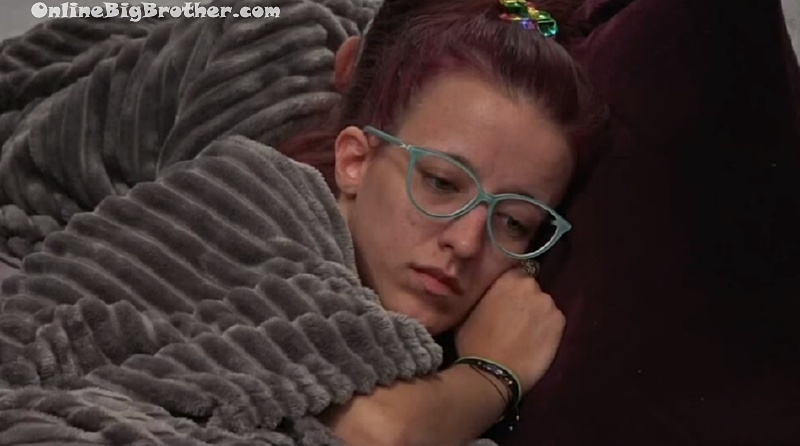 4:22 pm NicA
NicA – why is she telling me all of them got in a room and solidified the votes when they didn't
NicA – like you clearly don't care
NicA – they say they're not close with Memphis, Janelle had freaking wine for two hours.. Kaysar the one night in the bathroom. NiCole you need to go get Kaysar
NicA – I'm not waking him up .. I'm not like your friggin … delivery girl that's horse sh1t
NicA – I don't know this sucks.
NicA – "they're rubbing everyone the wrong way including me. It's so unfortunate. was it that Memphis went rogue. that man does not like me that's clear. "
NicA – Memphis never talks to me. I'm so irrelevant to him I'm so disposable to Janelle and Kaysar
NicA – if I make it past this week I'll be proud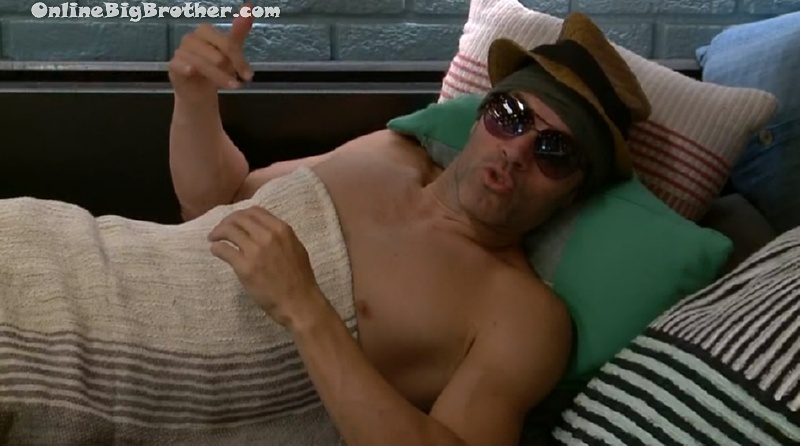 4:28 pm nicf and Enzo
Enzo – we got good odds (talking about safety Suite)
Enzo – Memphis struck deals with people
NicF – yeah.. that is why he didn't put anyone big on the block
Enzo – exactly
Enzo – did he strike a deal with Tyler?
NicF – I dunno
they start lusting over a power being dropped into the game after the safety suite is over.
NicF says the fans like Enzo they could vote him to get it
Enzo – or you have a competition for the power. You know what I'm saying But if America votes I would love that sh1t (
Enzo – if we keep Dave I hope he goes after Memphis
NicF – I think he will. He will go after him.
Enzo – I'll be like he put you on the block
NicF – he's going after Memphis he just doesn't want to say
Enzo – if it gets around
NicF – he was telling people that but they said no you can't say that.. you can
Enzo – you're on the block buddy campaign
NicF says NIcA gets to play safety suite next week and she'll be a tougher player in the game she made it far her season.
NicF says David is close to Cody which is good.
THey talk about their four-person alliance "the core four"
Enzo – I hope Cody wins HOH.. YO get your hands dirty we got your back
they laugh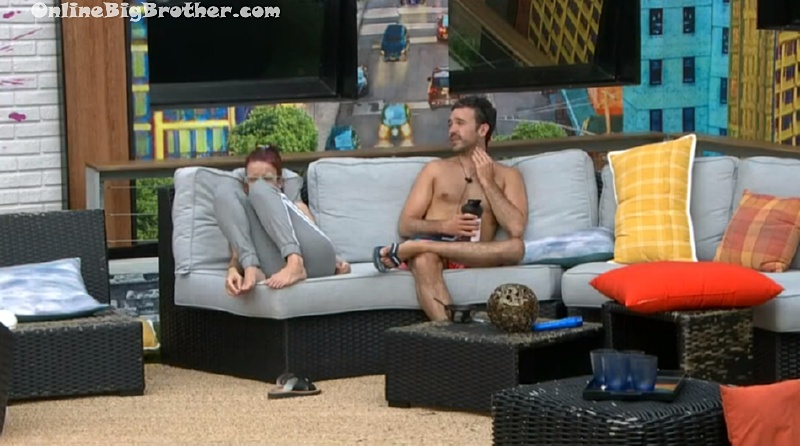 4:41 pm NicA and Ian
NicA – do I have a pulse
ian – I don't know which way this house will go
ian – which way does Memphis want this to go
nicA – I've been told David
they notice the inflatable duck's neck is getting low on air.
ian – if we lost that duck I would die that's the cutest thing.. if it popped I would lose it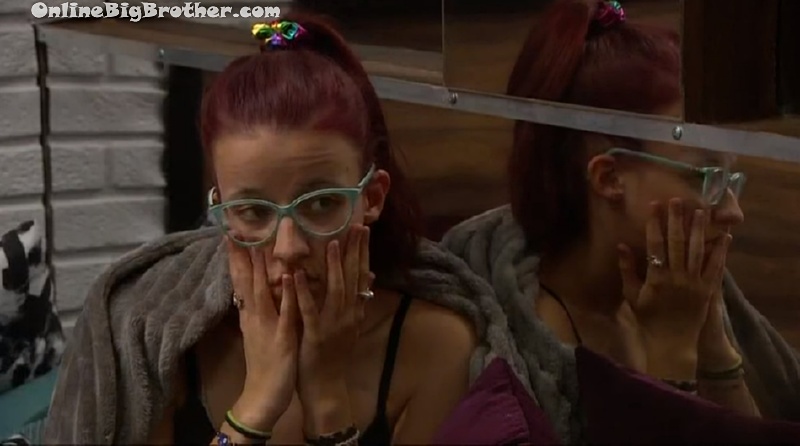 4:55 pm NicA and Tyler
NicA campaigns says she felt Burned by Janelle and Kaysar.
nicA – I was used and I'm aware of it I feel really stupid about this.. right now they want me to stay Ok I'll take your vote.
NIcA – they're my targets.
feeds being blocked every 2 seconds. NicA campaigning saying she's her own player she's not working with Kaysar and Janelle.
NicA all she has right now is her truth and that is what she's going around telling everybody.
NIcA saying that Janelle and Kaysar want the vote to reveal the side of the house.
Tyler saying that Janelle is linking him, Cody and NicF together "we're not even friggin together I haven't talked to NicF this whole time"
NicA – I don't know if i'm just not seeing it I don't know what the f** is going on. She thought ohh just put her up I won't care.. they're using me to split teh house
Tyler questions if Janelle and Memphis really talk. He's not sure that her going up was JAenle's idea
NicA doesn't believe it rattles off some crazy theory about it being Ksyars and Janelle's plan all along
Tyler – It might have been the plan all along to offer up one of their warriors as a diversion
NicA – I was used
Tyler – I know you are telling the truth.. I don't bullsh1t this season
Tyler says David is already going after Janelle and Kaysar. They want it to be 6-6. Memphis will keep you if it is 6-6.
NicA – I'm F* from every angle.
NicA – I was already confused then I was nominated and more confused..
NicA says the backdoor plan that was floating around was a ruse.
Tyler – she's drawing the side
NicA – she thinks it's funny she told me every season I've been on it's me vs the house..
NicA – she kept telling me don't campaign to Cody, Tyler they're the other side.. to you (Janelle)
Nic – Memphis, I'm not even pissed at him (LOL.. doesn't she have a podcast where she talks BB strategy )
Tyler- at least he wasn't trying to be your best friend.
Tyler – they're playing old school, big brother, old school sounds cool but what it means is underdeveloped
NicA says Janelle thinks Ian and her are weak. "I refuse to walk out of here because of shitty things I didn't even say.. so many people are sketched out because of her and I'm lumped with it"
Tyler – I know you are telling 100% truth
Tyler – you need to lay this out before it gets back to them.
NicA wants to call a housemeeting
Tyler – the quicker the better
NicA says she'll wait until tomorrow.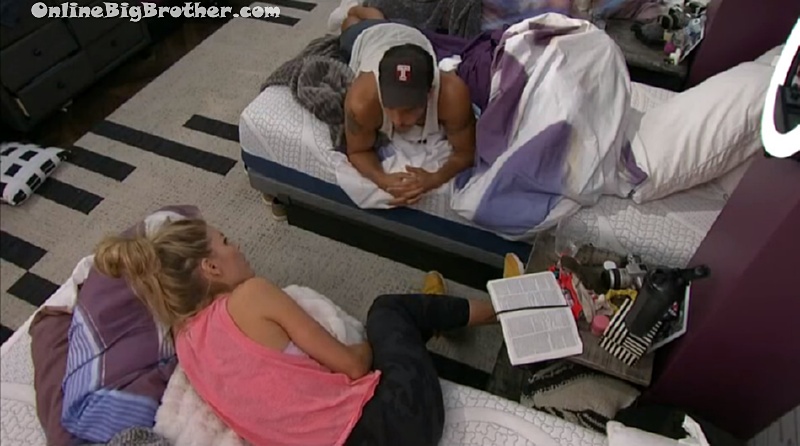 5:33 pm Cody and Dani
Dani pushing for Janelle to go first over Kaysar. Agreeing that NicA has to go this week.
COdy doesn't like what bayleigh was doing last night she was talking a lot of sh1t.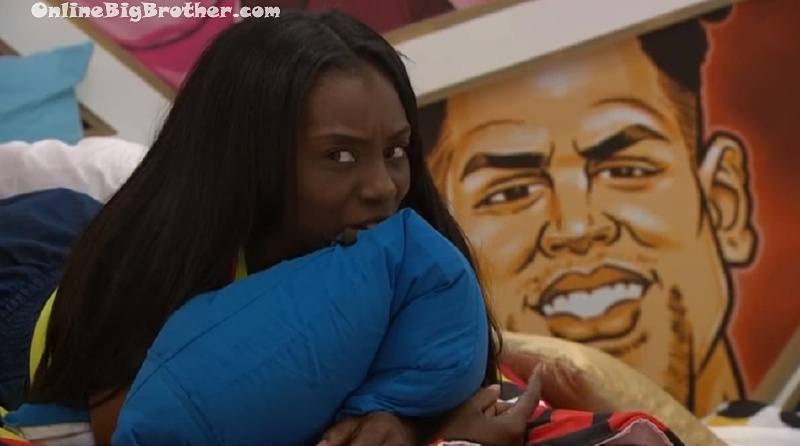 5:53 pm Da'Vonne and Kevin
Kevin – I low key bought a book on how to be persuasive.. I have this problem in my regular life..
Kevin says Kaysar, Janelle, and Memphis are working together the plan was Memphis works on the boys, Tyler and Cody. Kaysar you work on the girls Bayleihg and Da'Vonne and Janelle work on NicA and Kevin.. They divide and conquer
Kevin – they're playing all of us.. I swear to god that is what's happening.. I'm 99.9 percent sure.. they are trying to get the numbers (GOOD Christ)
6:28 pm Memphis and Da'Vonne
Da wonders who NicA is working with
Memphis – I feel like Janelle is trying to utilize her. I don't think they are thick as thieves.. she's trying to rope her in and use her
Memphis says he doesn't care which one leaves he just doesn't want to break a tie. "If David's that confident I dunno"
Da'Conne – I was shocked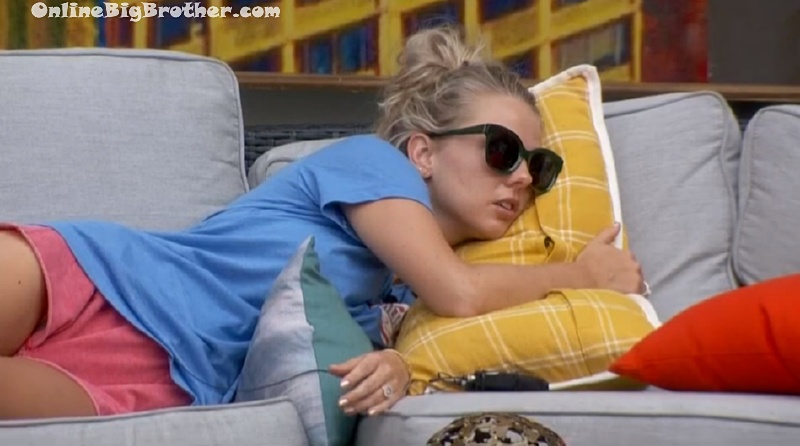 6:38 pm NicF and Da
Da saying that NicA wants to call a house meeting
NicF – I want to be there for that.. ohh it's too hot to do anything today
Da – do you think people will vote to keep her over David..
NicF – she's doing a good job campaigning
Da – she's doing so good
Da – it's a toxic relationship.. what if she stays and go back.. that is my concern
NicF says she's keeping David because she knows he'll keep her off the block.
Da says memphis is the only one that makes her nervous.
Da was worried that Janelle had gotten to Ian.
NicF says Ian is good with Da .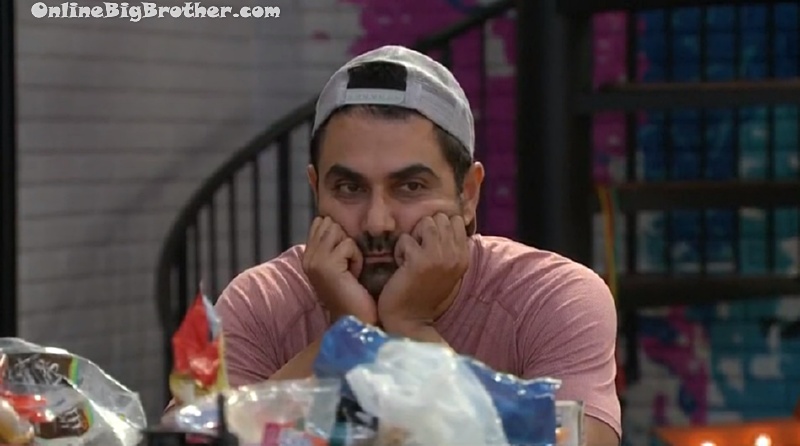 6:55 pm SIgh ..