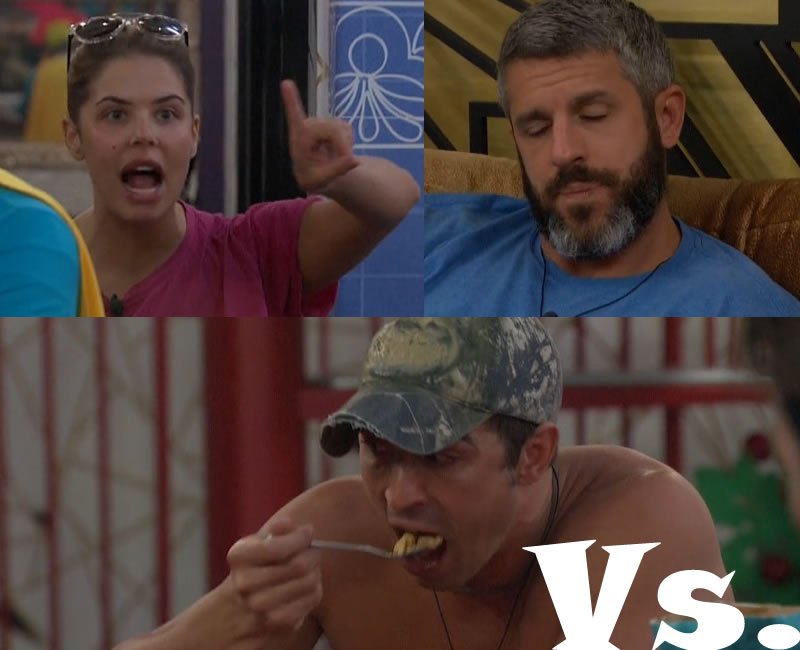 Well folks.. Here we are the Double eviction. True to form CBS is treating us to no feeds, "But it will be worth it" they say, hardly. All that juicy awesomeness that happens after the double will be missed.  I had some fun with this recap that I know will cause some of you great distress. the comments are there for you to vent at me. It's just for fun.  Enjoy  😉 
Here's how things went down
Jessica was evicted by a near unanimous vote. Cody, of course being her one vote to stay. In case you are wondering Jessica is not coming back, she's on twitter. Julie also mentioned no Jury members will be returning. So hopefully this means there's a damper on the late game twists. They've done enough damage already.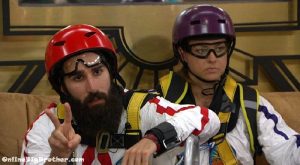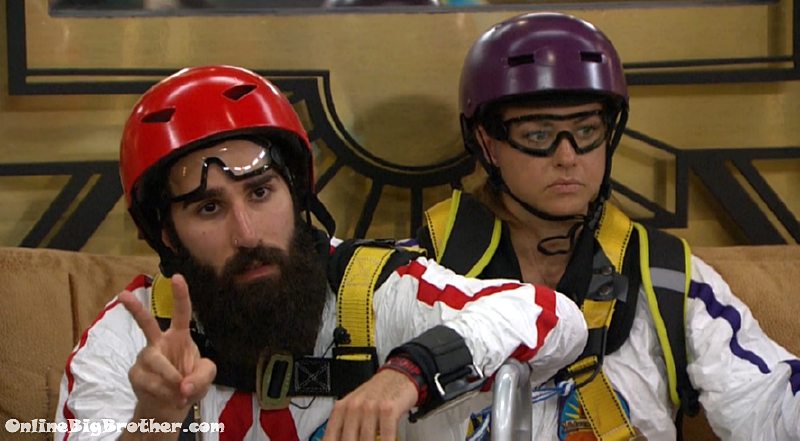 Alex goes on to win the Hocus Focus Head of Household competition, barely beating out Raven. Paul's plan for Alex is simple get rid of Cody via a backdoor. Alex is in on it 100% it's Paul's HOH after all. Everything is set, easy week. 
Temptation and Power of Veto Competitions
Matt throws the final temptation competition and becomes the third nominations. Alex plans to nominate either Jason or Paul along with Elena. Jason ends up going on the block because it'll "calm Elena down" there target's Cody. After all Alex is nominating her best friend in the house. She's that confident Cody is going to jury (this was Paul's reasoning) .  Matt wins the BB Adventure Tour Power of Veto and prizes were awarded to some of the competitors.  
POV "Prizes"
HouseGuests to join Matt for a meal from Outback Steakhouse: Mark, Elena, Christmas, Alex, and Jason (Christmas is kind enough to point out Elena's eating disorder to Paul)
Elena – $5000
Alex –  Camp Guide costume
Paul – skydiving costume with Christmas
Mark – trip to Colorado
Jason – Extreme-itard costume
Monday morning Cody tosses some game out at Alex and Jason trying to get them to keep him and go after Paul. His angle is obvious to us watching the feeds, It's the Paul's show etc etc.. To Jason/Alex  it's a risky proposition, in their minds they're locked in to come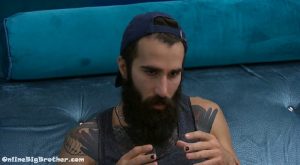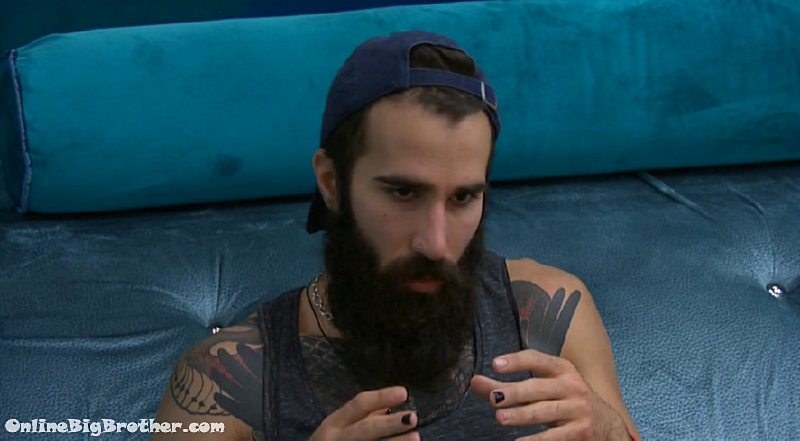 in second and third with Paul winning why disturb that. Alex and Jason, while receptive ultimately take this information and run back to Paul with it.
Matt doesn't use the Power of Veto on himself. Paul uses it for him on Jason. Jason is replaced by Cody. The die is set, Cody is on the block and going home, should be an easy week. 
Paul's next targets to sh1t on
With the nominations set Paul begins riling up his sheep against Kevin, Mark, Elena, And of course Cody. Kevin is new, there to replace outgoing Cody. Paul believes Kevin was trying to work with Cody and conspiring against him. Paul keeps saying he's going to put Kevin "in Check" says it all night.  Alex jumps on this bandwagon head first, going as far as saying that Kevin probably doesn't have any kids. The stories grow and grow just like we've seen happen before. For some reason Paul wants to Rattle Elena and Mark now too  so they can't perform in the HOH. Even though he was adamant about keeping Elena calm that's why Jason had to go up. "WE can F*ing break her.. She'll be f*ing demolished.. Then Christmas will jump in.. "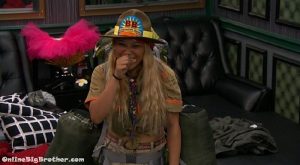 Monday Paul and Xmas ask Alex if she wants to start sh1t with Mark (to Rattle him). Alex is game,  Paul brings up that Mark stealing Xmas' blue pillow along with pillows from Alex's downstairs bed.  Paul and Christmas rile Josh and Alex up about this. Alex runs downstairs and freaks out on Mark for stealing her pillows. She's screeching and screaming at him for everything you can think of.. After Mark leaves Alex laughs with the rest of them as they dance around. She tells the rest of the team she doesn't care about the pillows she just wanted to go off on Mark. (as requested by Paul)
A bit later Paul, Alex, Josh and Christmas all start in on Mark.. attacking him for stealing pillows, Stealing Ramses food, stealing slop cookies, eating all the food, etc etc.. basically every single thing you can think of. Mark eventually walks away giving Christmas some time to say the last word of positivity " can't win so you walk away.. good move…" all while Alex is dancing around fist bumping. 
They continued to hound Mark throughout the day and throughout night..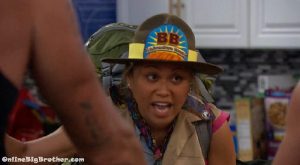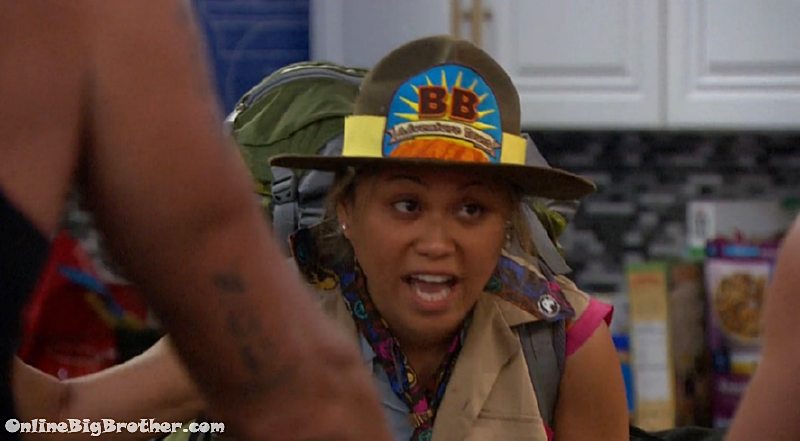 Alex finds out that Cody ate all her Cereal from her HOH basket. Cody says he asked Alex if he could have it and she said yes (Maybe she didn't mean the whole thing.. Cody might have been messing with her don't call me biased I don't know). Alex screeches that he ate it all and that Cody is a liar.  The fight evolves into her Yelling at him about Lying, stealing, not having a daughter etc etc.. Xmas jumps in like she always does and starts barking about Cody lying. Cody doesn't respond in a way they want so they keep going at it. This only makes them more angry as Cody ignores them. Even Jason jumps in with a couple jabs about Cody lying about his daughter. Kevin jumps in to try to diffuse the situation and for the love of god actually says THE RIGHT F*ING thing to calm it all down. Christmas interrupts "why are you guys even preaching to him he doesn't give a f*.." and they all go back to it.. 
After Cody leaves Josh starts in on Elena. Alex and Xmas of course jump in. Screeching at her calling her a liar bringing up lies from week 1.. Bringing up Elena saying she needs the money even though she drives a Audi.. Etc etc.. Josh in the end tells Mark/Elena he's drawn the line. Alex tells Elena that Cody is covering for someone and that person is her and next week that person is going home.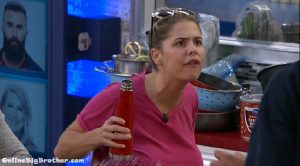 After the fight we get 6 hours of Paul, JOsh, Jason, Alex, Cody justifying what they did saying they were the ones bullied. Christmas, Alex and Paul seem to be the most oblivious to what they are doing, As jason and Josh have both expressed great dislike for the mob attack tactics they've been employing. Maybe this is standard behavior for some of them. Their conversations are absolutely cringe worthy. Doesn't take long and their back to plotting to tear people down rinse and repeat it's bB19 .
(Please note – Mark and Elena were wanting to work with Alex/Jason. Those two were nowhere on their radar. Now they sure as shit are. Jason told Alex to stop with these fights it's making her a target. Alex pretty much told him no. It's surreal what is happening this season. This Paul cult is legit. )
someone will have a hissy fit if I embed this video so I'll sneak a link here just a 1 minute montage of the fights. https://twitter.com/bigbspoilers/status/898341673419259905
Quick Thoughts 
So here we are… Paul controls the house teasing all sorts of ugliness out of these people. I watch 10 hours a day since day one this has been intense Group think cult behaviour. It's the biggest bunch of followers I've ever seen on this show after 10 years of watching feeds. (Some seasons come close thougth). basically anyone going against the grain is fan favorite. (maybe the DR should drop that hint.. well maybe Raven's f*ed in the fan area)   Paul's a powerful player who is playing an angle of the game that while distasteful is also highly effective especially with his set of skills, hats off to him ..  🙁 ..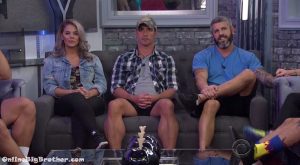 Double Eviction Results
Houseguests give their speeches.
Elena fumbles her speech…
Cody – Alex, you played a dirty game this week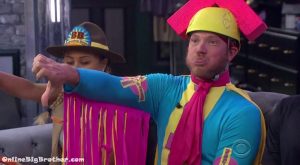 Cody makes up some things about Alex and Jason coming to him about a plan to get Raven and Paul out. etcetc.. Jason and Alex make farting sounds and give him a thumbs down
Matt – My goal is to eat a thousand bowls of Cereal

Votes
Paul Votes to evict Cody
Mark Votes to evict Cody
Kevin Votes to evict Cody
Jason Votes to evict Cody
xmas Votes to evict Cody
Josh Votes to evict Cody
Raven Votes to evict Cody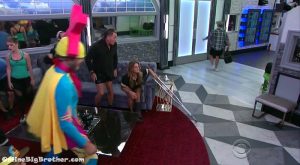 Cody Is evicted from the Big Brother house and will be the first person in Jury.
MASSIVE CHEERS as Cody leaves..
Someone in the house say "What a TOOL"
Cody – I made up those plans.. (about Alex and Jason)
Julie – Are you going to marry Jessica
Cody – I will (HAHAHAHAH)
Winner of the Head of Household is Jason
Nominations are Mark and Elena
Power of veto players are Mark, Elena, Jason, Matt and Raven
Power of veto winner is MARK (Fight that Kraken)
Power of Veto Ceremony results = Mark uses the Veto on himself.. Jason nominates Matt.
Matt's speech involves Cereal again..
Raven votes out Elena
Alex votes out Elena
Mark votes out Matt
JOsh votes out Elena
Paul votes out Elena
xmas votes out Elena
Kevin votes out Elena
Elena is evicted from the Big Brother house
Elena blames her lose on Cody, Mark, Jessica. saying that her close associations with Cody and Jessica hurt her game. Mark continued to talk to Cody and she was close to Mark so by association she was screwed. (not really the case fully)
Feeds down until After Friday's Show. Enjoy the time off!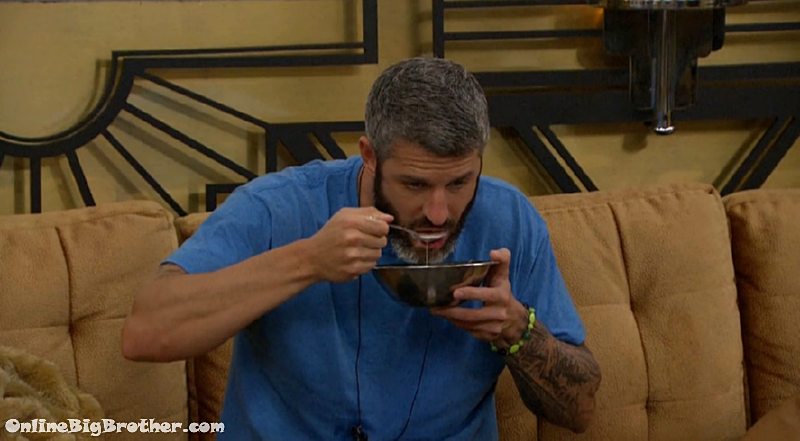 If you plan on buying anything from Amazon. Use this link Amazon home
Doesn't cost you anything and we get a small cut.
Links to the ranking system
Rank your house guests here
For those of you that like Statistics here are some expanded reports.