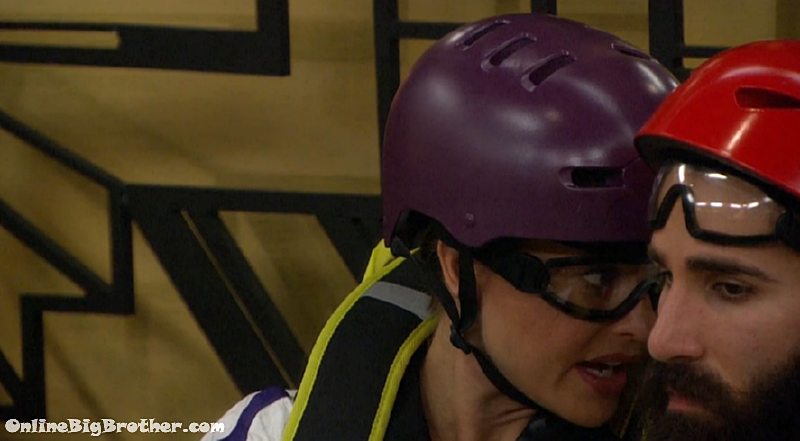 5:21pm HOH Xmas and Paul
(Xmas is starting to spread stories about Elena's eating issues. She's talking about the outback steak house dinner some of them got to go to)
Xmas – she did not eat any of her f*ing food at all and as we were walking out they were like.. Ok guys get to the door she leaned over the table to either my ice cream or Jason's.. yeah it was my Ice cream.. digging it with her hands into her mouth
Xmas – swear to god
Paul – what..
Xmas – everyone was at the edge and I looked back.. and she's like.. shoving ice cream in her mouth with her hands.
Paul – F*ing Bizarre Dude
Xmas – like if you wanted ice cream that bad you could have f*ing ate your desert dessert
Paul – why didn't she
Xmas – she kept on saying.. oh I don't eat food.. oh I don't eat food..
Xmas – are you trying to show America that you don't eat or what.. it's a real fuck*d up message to come in here and say you love your curvy body and then tell people you don't eat.. that's f*ed up.. not OK not OK..
Xmas – sit here and try to show people that you love your curvy body and be positive and only drink you dinner not eat any food.. shovel Ice cream into your mouth with you hands. and sit there every time they bring another plate she said keep it ehre I might eat some in a minute.
Xmas – Only Drink your beer and sit there saying I don't eat..
Paul – Wow…
Xmas – she ate nothing…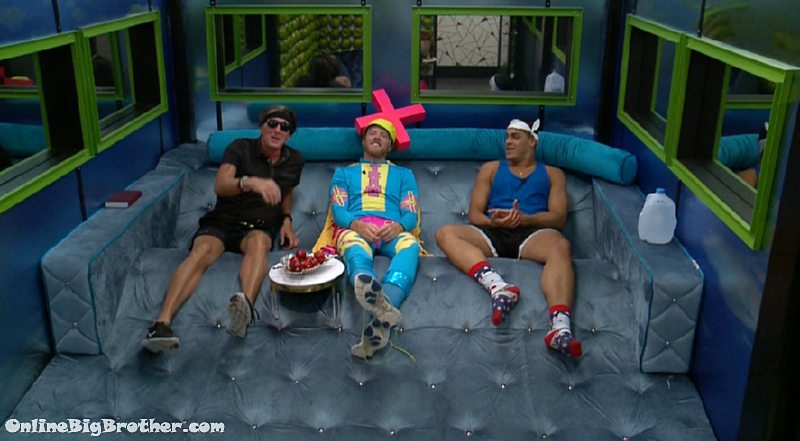 5:40pm Josh, Jason and Kevin
Meatball chat…
Kevin – the oldest, youngest and the best looking..
Jason says Kevin isn't too much father than he is in looks..
they laugh…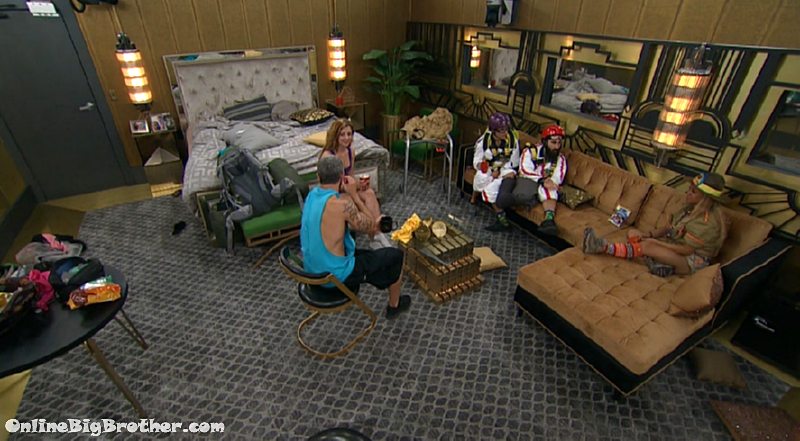 Paul's been going on about Mark stealing 2 of his pillows in the have nots. Raven, Matt and Alex are with him.
Matt says Mark is a piece of sh1t..
Paul's getting them all riled up. (so the pattern continues)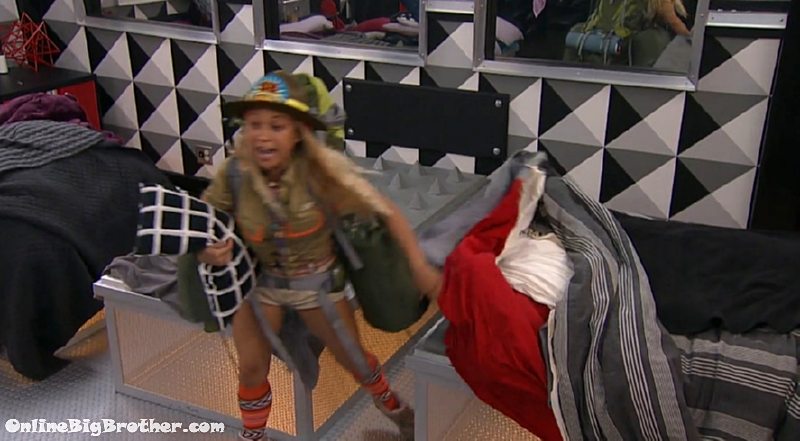 5:50pm Alex is flipping out.. that Mark took her pillows..
Alex – what the f* these are all my f*ing pillows
Alex – Mark, you dismantled my bed without asking me
Nark – you were HOH..
Alex – you could have asked me dude, that's f*ed up.. there' all in your f*ing bed
Mark – there's 4 have nots
Alex – you don't own this stuff dude..
Alex – you took my pillows and comforter ..
Mark – Alex are you kidding me right now..
Mark – Alex.. where are you sleeping right now
Alex – ASK.. they're not your to take
Mark – ohh so they're your pillows..
Alex – YES that's my bed.. how hard is it to ask someone.. literally it's my bed..
AZlex – you don't own this place dude..
Mark – listen to what you are saying.. I messed up your bed..
Alex – YES
Mark – Alex, Last time you said it wasn't me…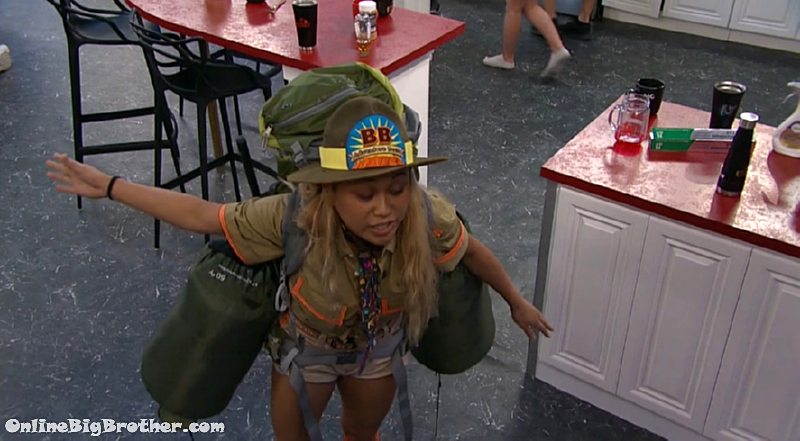 Mark goes outside..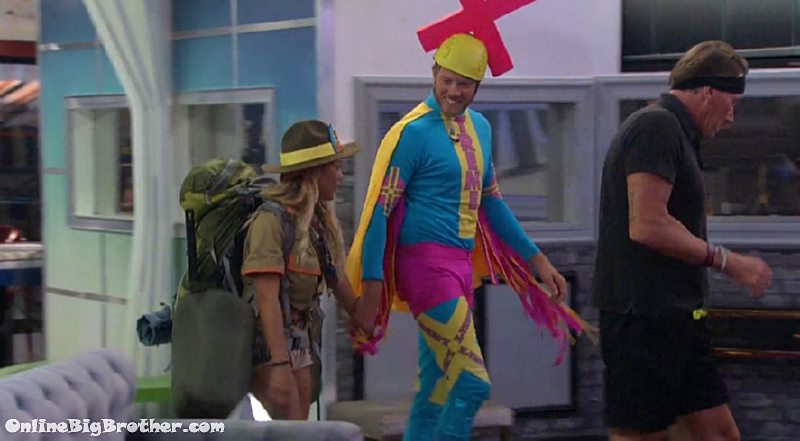 Alex – End Scenee… I'm done guys..
Jason – so you staged that ..
Alex – yes..
Alex laughs… "those ones aren't mine.. "
Josh – call him out he took Paul's pillows too..
Alex – I don't care that he took my pillows… I'm just trying to rile him up ..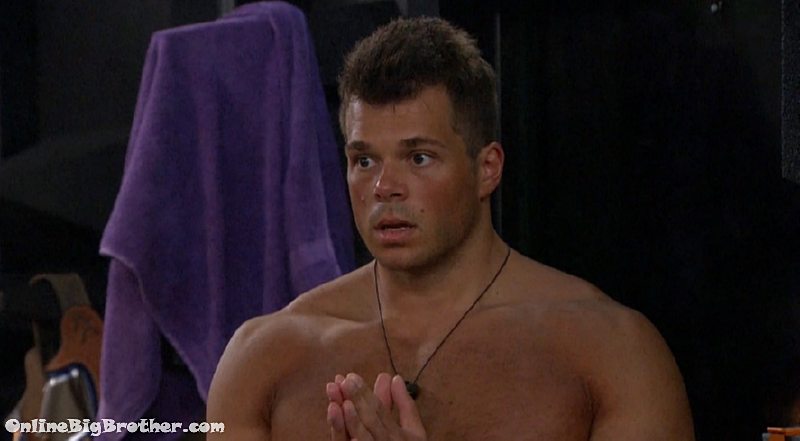 5:53pm Have nots Paul's Minions laughing about what just happened.
Alex tells Josh he can start yelling at Mark whenever just don't bring up their conversation.
Mark comes in
Xmas- so Mark I just want to understand the pillow that was on my bed, you took last night as well and when we asked you didn't say anything
josh – Mark why are you the pillow thief..
Xmas – hold on let me finish
Xmas – I just want to clarify .. that blue Pillow was actually mine..
Mark – I asked Paul last night if he wanted more pillows..
Xmas – you took my pillow from my bed
Mark – yes I took pillows I gave them to Jason, Kevin and myself
XMas – you took them off Paul's bed.. WHY
Mark – I had spikes up my a$$
Xmas – you didn't think we did
Alex – there's 2 of them ..
Mark – Did I not ask Paul last night if he wanted more pillows .
Xmas – that's not the point.. when he said who took the blue pillow you said nothing..
Mark to Alex – I'm sorry I should have asked you
Xmas – it's a common theme.. you take without asking… take take take.. without asking. you never GIVE.
Xmas – and after apology doesn't count when you continue to do this to everyone in teh house
Mark – when have I ever taken things from somebody
Xmas – Slop.. pillows.. the Pillows with Josh.. Have nots with cookies and Ramses…
Alex – Mark you took my Pillows
Mark – are you kidding me..
Xmas – I'm not kidding if I was kidding I would be laughing.. HAHAHAHAHAHAHA I'm not laughing
Alex – Ramses use to complain about that you can go back and see..
Xmas – I just don't know where in Mark's world that this is OK
Mark – I don't know Christmas.. I'm just..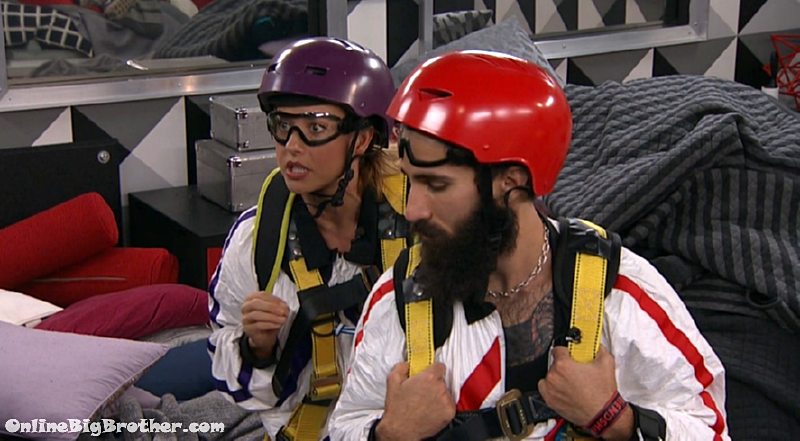 Xmas – YOU DON'T KNOW that's why you keep doing it NO SORRY NOT LESSON LEARNED
Xmas – NOT APOLOGY ACCEPTED..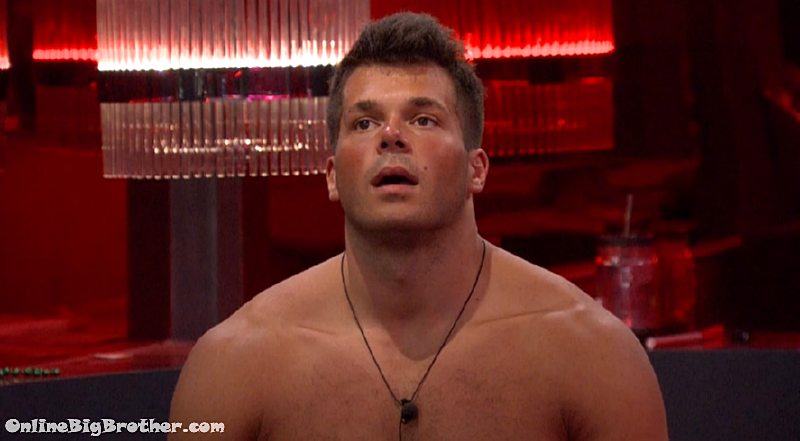 5:57pm
Mark must be thinking… "**ck these people"
Mark takes a break in the red room before heading back out..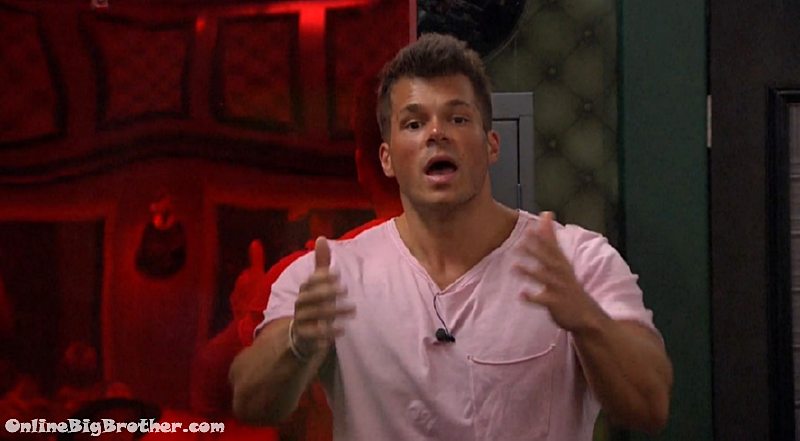 6:09pm fighting about where to sleep..
Josh and Elena made a deal to share the red room bed. Mark won the have not pass and was going to sleep with Elena..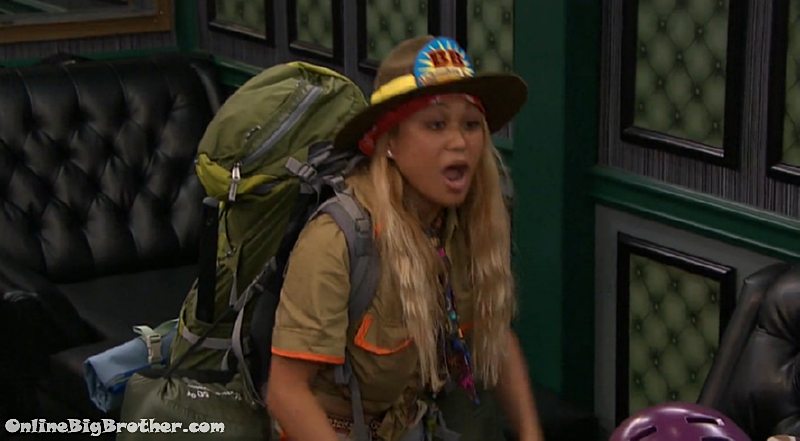 Alex starts freaking out about the pillows again… (Remember this is a complete act by her)
Alex screaming… ."YOU TOOK MY PILLOWS…. YOU'VE DONE THEM TWICE.. ."
Mark – I never took you pillows before
Alex – how do I know.. how do I know…
Mark – Alex you're in the HOH room..
Mark – so the pillows are yours and it's wrong for me to say that this is my bed…
Mark – am I the crazy one here.. there was 4 have nots..
Paul – you took my blue Pillow..
Alex – you are the pillow thief.. how many pillows do you need.
Mark leaves…
Alex starts to celebrate…
Xmas – can't win so you walk away.. good move…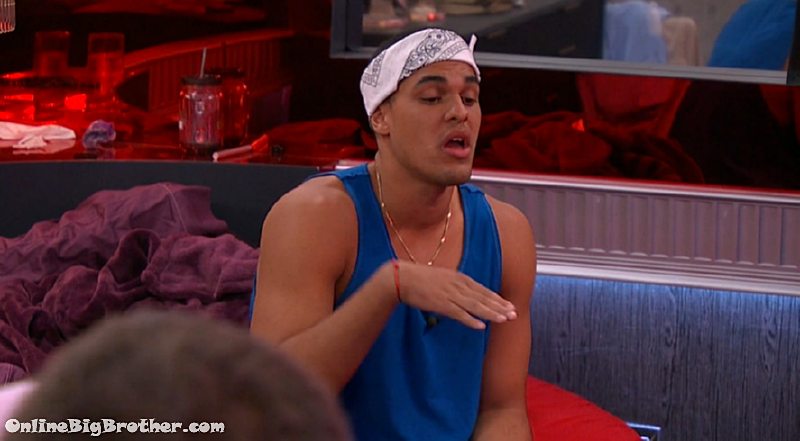 6:12pm Josh, Elena and Mark
Josh says he wants to sleep with someone small like Elena not mark. Elena says she doesn't care where she sleeps as long as she has a pillow.
JOsh – I called that bed last night because he didn't have the key and he's trying to call the rules.. like he always does
Josh – did I not ask you last night if I could sleep next to you
Elena – you did ask me last night..
Josh says Mark can sleep next to Cody
Mark – Josh I'm done arguing.. I already told you I'm going to sleep here
Josh – well you're not
Mark – OK
Josh – Cuddle with Matt and Raven..
Josh – America am I missing something.. I dunno..
Josh – Mark.. we don't own beds here buddy we share them.. SHARE that's the key..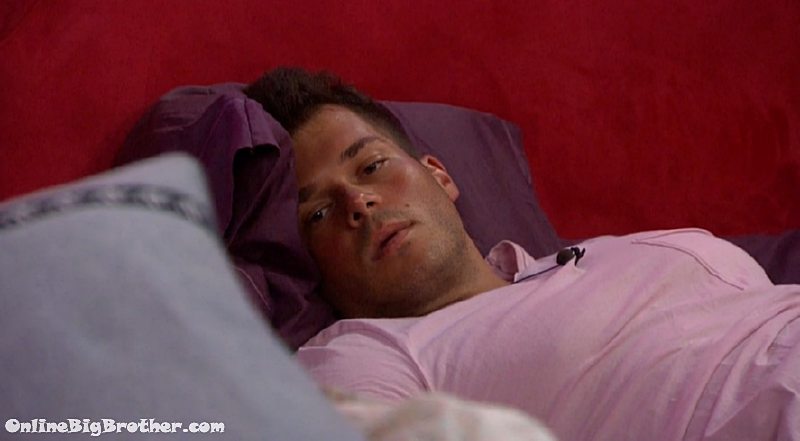 6:15pm Elena to mark
Elan – this house is psychotic.. you can survive this you have survived worst..
Elena – mark look at me.. they are not 100% neither are you.. I've had my shit taken from me so many times.. we just move on .. all taht stuff is not alex's.
Elena – the conditions josh asked me last night was slightly different but whatever..
Mark – did you hear Paul jump in
Elena – I hear Paul laugh every time Josh says something
mark – Uhhhhhhhhh
Elena asks me what the status of her laundry he's been doing.
Mark – Man.. Xmas, Alex and Josh are crazy…
Mark says they were bringing up Ramses and him eating slop cookies.. Mark says they are trying to single him out as a taker.
Mark – this is crazy…what the f* is wrong with Christmas.. they are so desperate not to be a target they all jump on..
Elena – I hope you win HOH
Mark – Paul and Alex on teh block.. (HOH better be a benchpress)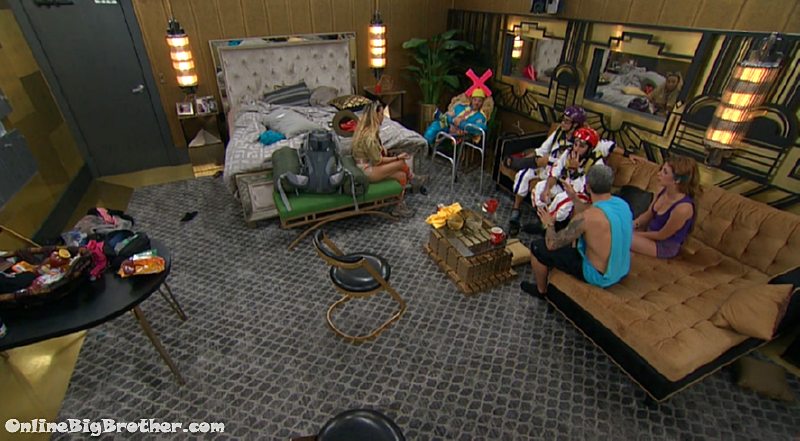 6:18pm Paul, Xmas and Alex.. Rilling everyone up… (I'm out of this conv folks.. use flashback)
6:40pm Josh is with them.. more talk about rattling Mark. Josh talks about dumping a pot of water on him.
7:08pm HOH Alex, Jason, Kevin
Kevin – I can't believe they have the nerve to say we're going to be top 5 and not include me and … who the f* do they think they are.. they're lucky I don't throw them off the top .. I'm telling ya .. HEY want come to the campground.. Right through the glass..
Kevin about Raven, I don't know what gives her the right to say her name.. she's done nothing. except for.. I P (Instigate and parade)
Alex – Elena literally told Josh she needs more air time
Alex – she wants to become famous
Jason – she's a f*ing idiot.. 99% of the stuff she says is disgraceful .. Like I'm serious..
Kevin – I saw that a long time ago man..
Kevin – anyone that come to a POV meeting at 92 degrees outside and puts makeup on .. we're waiting for her to get ready youngest f*ing girl here.
Kevin – her and F8ing raven sitting there putting Makeup on while we're sweating
Kevin "she thinks this was made for her"
Alex – hopefully her followers see she's a selfish twit..
Kevin – make Cody leaves.. 7 – 0 make her think everything is fine.. f* him.. take the rest of them out Mark, Matt, Raven and Elena.. I don't give the f* what order…
Kevin – Alex, I told him to talk to you about getting his pillows.. He said you wouldn't be back until Friday
Alex – I'm back there on Thursday
Kevin – I hope there's a double f*ing eviction.. I don't know what it means.. I know 2 people evicted..
7:46pm B2Men and Raven alone in the kitchen eating their dinner complaining about Cody.
7:49pm.. Cameras flip to Mark and Jason in the backyard..
Kevin says Alex could have a little bit better social game.
Kevin says Mark is going to come to him "I'm going to have to win the HOH"
Jason – the thing is he wasn't after Alex.. he wasn't after her but he might be now..
Kevin says there's no point for Cody to make a speech.
Kevin – he didn't have social skills.. they didn't know you were 5.2 because you had those high heels on
they laugh
Kevin says Cody screwed Jessica, she was the more deserving player to make Jury.
Kevin doesn't believe Cody has a daughter
Jason – that name is from a TV show
Kevin – you need the money that bad man..
Kevin says Matt and Raven have secluded themselves more that Jessica and Cody
Jason – they're going to make it to top 8
Kevin – I can't wait for him (Matt) to go..
Kevin says Paul and Christmas chatting with Elena/MArk right now knowing in the next 2 weeks they're gone. Kevin calls that cold.
Kevin complaining about how much food Matt and Raven eat..
Kevin doesn't believe that Raven turned Cody down..
Kevin – I almost spit my water out..
Kevin – all you guys loved Cody in the beginning you thought he was the all american hero he's the all American zero
Kevin wishes Matt and Raven could be have nots.. he would eat pizza and chicken at the door all week long, "I wold gain 40 lbs"
Kevin – Paul knows what he's doing I'm telling you..
Kevin – you know who are the players it's the ones getting called into the DR's that week ..
Kevin says Cody should have let Jessica keep the hex and just left.. They would have kept Jessica around for awhile she was good TV.
Kevin points out there was 10 people in the house that didn't like him he was never going to last.
Kevin – it's good for TV rating \a little Sparrow a$$ hanging in the f*ing camera .. you know what I mean.. sticking her butt out all over the place.. you know what I mean..
Kevin says Matt is the most peculiar "dude" in the house
8:10pm HOH Alex, Jason and Cody
Alex – mark's still trying to f* with me.. I wanted to shower.. he wanted to start round 2
Alex tells Cody last night Mark stole Paul and Zmas' pillow. etc etc.. she goes through the highlights from the fight..
8:13:30pm Alex – Christmas laid into him about the pillows, and all the stuff he's been doing that's super shady like.. he always eats everyone's slop, he never makes his own, he use to take Ramses food and eat it, He's just being a f*ing bully"
(ZOMG)
Alex – she just lays into him..
Alex calls Elena "A f*ing C**t" for taking the money.
Alex tells him that Elena wants to grow her
Cody reminds Alex that making big moves make you famous on Big Brother. Playing it safe doesn't
Cody says he wouldn't do BBOTT he just came on the show because he really likes it. After this show is over he's going to disappear he has no intentions to be on another show.
Alex talking about if he's living in LA with Jessica or moving back to Texas.
COdy – to tell you the truth I didn't have much going on.. I'll always be a resident of Texas..
Cody mentions the Big Brother Canada ET host that questioned them (Ika) brought her boyfriend (Demetres the Greek) says all he did was sit there and ate from the fruit basket.. (AHAH)
Cody says he say the biggest target and took a shot he didn't know Paul was protected.
Alex says they all assumed that Paul has some twist to protect him he's seen Big Brother too why didn't he think that.
Alex reminds him that last season they protected the vets in the beginning.
Alex – and who won the game
Cody – the vet.. you take out the vets..
Alex – no .. they will always protect them (Production)
Alex says Raven is saying he went for her and she turned him down. Cody says f* no.
Cody mentions that Mark was jumping from side to side. People saw that and it wrecked his reputation.
Alex says Elena treats Mark like sh1t and he bends over backwards.
Cody though Elena had a great social game when he left.
Alex – her true colours game out
8:47pm Josh comes up. They see Christmas and Paul coming up so Cody leaves. Josh – what a coward.
Alex and Jason say Cody is being super cool calm down.
Paul and Christmas come in..
Paul – I'm putting Kevin in Check right now (drink every time Paul says this)
8:13pm Xmas and Paul backyard couch
Xmas says Matt doesn't like confrontations at all but now he's fired up about Mark campaigning against him.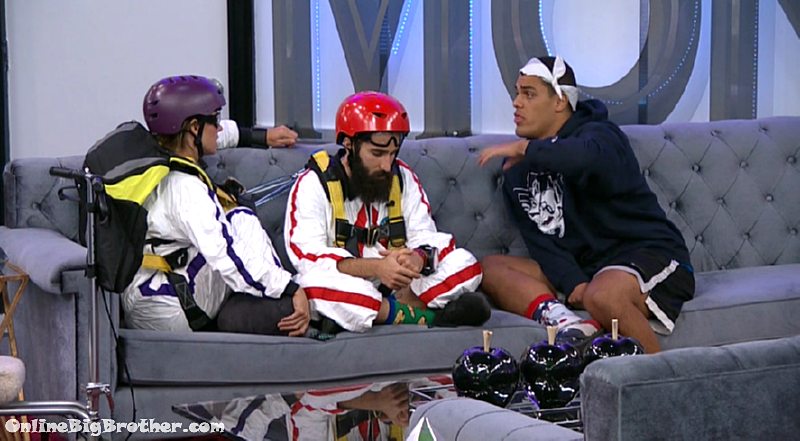 8:32pm living room couch Josh, Xmas and Paul
Josh says Elena and Mark's intent was to flip the house and take them three out.
Josh says he can see on Kevin's face he's worried
Paul – I'm going to put him in check today..
Paul – I'm going to be like Hey Dude what's up with the eyes you are giving me you got something to say to me
Josh thinks he's being a bit aggressive
Paul – don't worry I know what I'm doing.
Josh – I don't think right now's the time to act on it..
Paul and Xmas say Jason is protecting Mark low key. saying that it was Josh that messed with the pillows.
Josh to Paul – I don't need a little instigator telling me what to do in my ear.. If I want to f* with someone I'll f* with someone (ZOMG can you believe it)
Xmas about Kevin – He thinks Paul tells you what to do
Paul – when
Xmas – he said it awhile back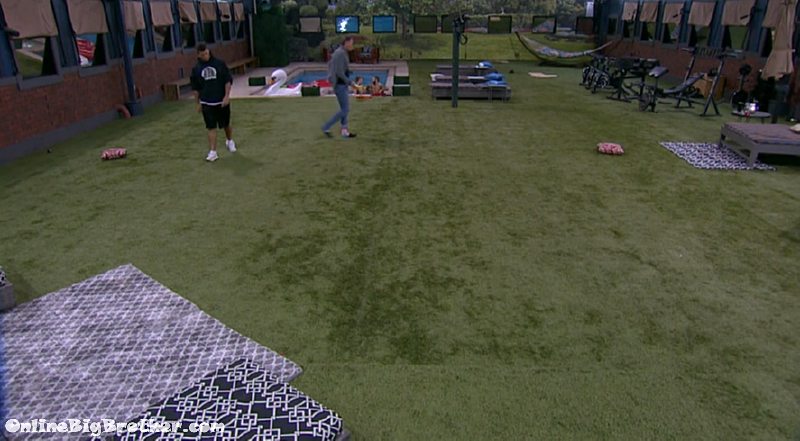 8:49pm Elena, Mark and Kevin with Raven and Matt in the hot tub
Mark and Kevin are playing some game they made up.. I'm sure Paul will include this when he "Puts Kevin in CHeck"
If you plan on buying anything from Amazon. Use this link Amazon home
Doesn't cost you anything and we get a small cut.
Links to the ranking system
Rank your house guests here
For those of you that like Statistics here are some expanded reports.