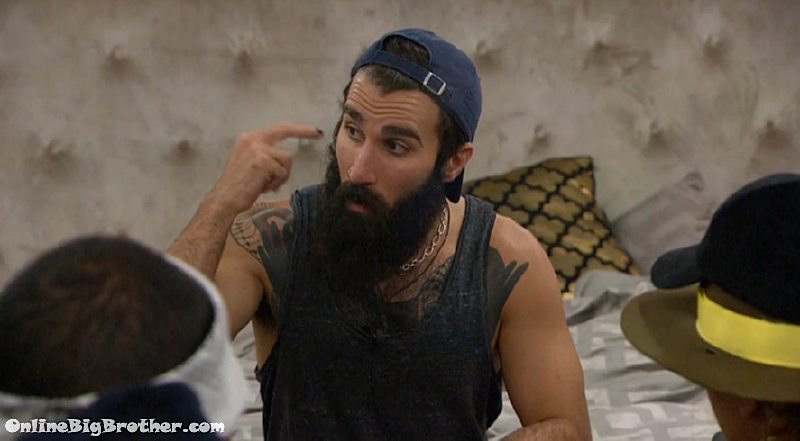 3:20pm HOH Paul, Jason, Josh and Alex
Trying to determine their boot order. Bringing up Raven and Matt not doing anything.
Paul says they've already blown up Mark and Elena they have to be easy on Matt and Raven, "we can't make them feel weird"
After everything Paul says Josh – ya ya ya ya
Jason suggests they criss cross their targets.
Paul says they take Cody out then Mark, "We See Elena, we can crack that.. She does not do good under pressure"
Paul – we saw it with Otev, she freaks the f* out.
Paul – for example you (Josh) say you are tight with Paul whenever it's time for me to drop a bomb and she's about to compete..
Paul – I'll be like Elena you've been f*ING and I drop one of those and she'll be f*ing demolished.. Then Christmas will jump in..
Paul – WE can F*ing break her (WOW.. I've seen him do this to Cody, Dom, Jessica, Cody)
Paul – now that Mark is feeling comfortable .. he doesn't want to win
Paul – he feels OK he knows Elena is more of a target than he is
Paul – keep patting him on the back..
Paul tells them again this week Cody goes, if it's double mark goes then that following week they put up Elena and Raven as a pawn.
Paul – if we can't take out Elena BOOM we take that f*ing shot on Raven Matt
Paul – Mark Elena and MAtt or
Josh – YEAH YEAH
Paul – Mark matt and Leave Elena
Josh – take out Raven before matt Matt's going to turn it up. (Boyz2men vs Paul.. lol it could happen )
Paul – if we take Matt out raven will have to attach to a male, she'll probably turn to me
Jason – Raven will crumble if you take raven out Matt will be fine.
Paul – that's what we're saying..
Paul – are we thinking Mark and Matt and leaving raven and Elena to crumble
Josh – NO I want Elena out.. She makes me look like a liar
Alex tells Josh that Elena has nothing for him during the argument she was grasping at straws.
Alex – she brings up week 1 who the f* cares.. (ZOMG)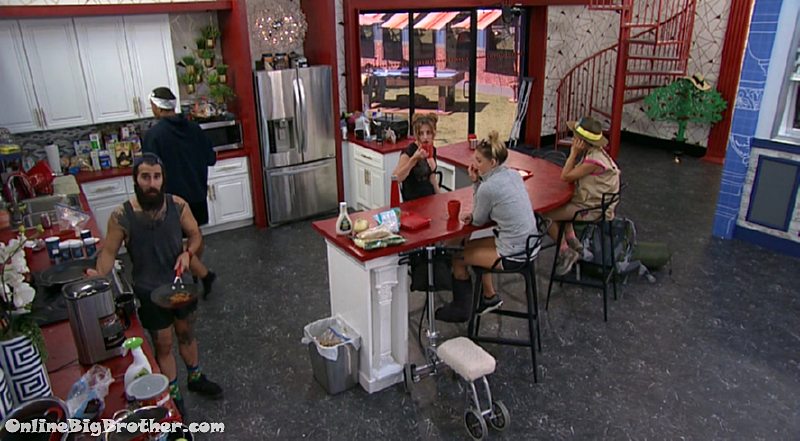 3:54pm Kitchen.. Alex, Raven, Christmas and Josh
Paul says Jessica threw her game away for Cody
Paul – Hey Jess I hope you're watching..
JOsh – she would have done better than Cody
Alex – Jessica was not going to do good at this game
Xmas accuses Cody of holding grudges.
Paul – you guys didn't humour what cody want then immediately flips to f* you
Paul – he wanted to make it to Jury I put them on the block .. F you you little man complex.. (ZOMG)
PAul – Because you don't get what you want nobody is intimidated by your f*ing violence and your bullsh1t denomer..
Paul – doesn't mean you can act up
Raven – he's so aggressive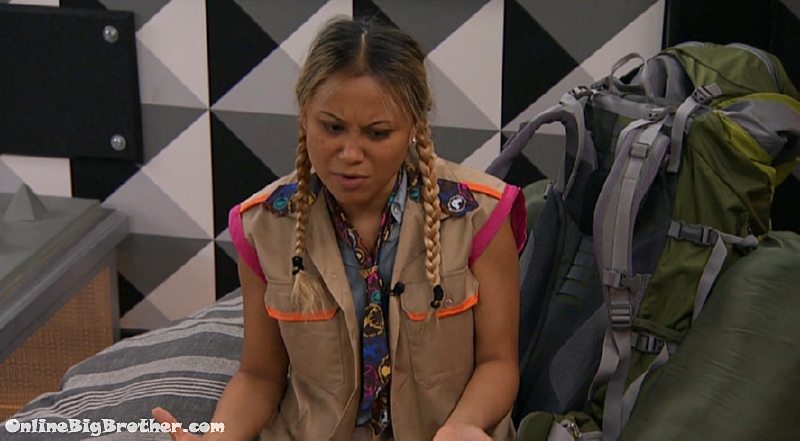 4:20pm Alex and Jason
Alex says Cody ate the cereal on purpose. They had a talk the other day not to take advantage of her stuff.
Alex says they were the only people nice to Cody and for him to do that. "he could have thrown up Ramses" (Week1 stuff we care about)
Alex about Elena "god she sounds like a banshee" (ZOMG)
Alex says everyone needs the money here not just Elena. Elena told people she needed the money because she lost her job, Alex called her out for driving a Audi. Alex mentions that Elena's mom owns a "big a$$ cooperation"
Alex says she told Mark that Elena doesn't like him.
Jason – Raven is driving me nuts
Alex – yes
Jason – good that's what I wanted to hear.
Alex – raven hates me..
Jason – she took you coke it's still in the f*ing refrigerator
Alex – you see that's the thing, if you are so sick eat a f*ing apple. why are you eating all this junk food..
Jason – it's an anomaly
Alex – she drives me nuts
Alex – I feel it would be unjust of one of them one against like Me, Paul, Christmas, Josh because they are actually doing something in this game. (imagine if it came down to that Matt/raven/Christmas final 3)
Jason – when I win HOH I'll need to know what a tweet is
4:41pm Alex says Elena's mother pays for all her sh1t.. says Audi cars are expensive "Lexus makes them" She adds that she lives with her parents but they worked hard to to keep what they have.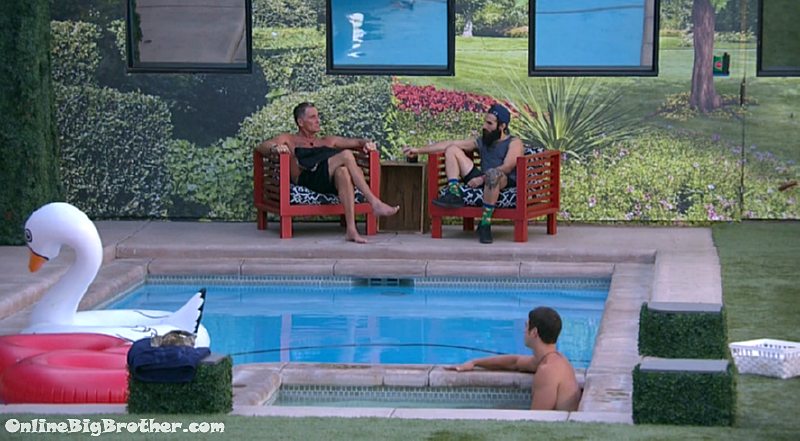 4:36pm Backyard Cody, Paul and Kevin
Feeds flip to them
Cody – everything from the start has been very simple to me..
Cody – the Christmas thing.. I was a third of the way into the cast. There wasn't a secret play to Nominate 5 people
Paul – I feel ya
Cody – people are just running Wild with everything.. I'm just like Guys simple plan
Paul – I wasn't going to use that against I was just curious.. I like kids..
Cody – Simple plan vote me out.. you know what I mean.. no if's and or buts, not discussion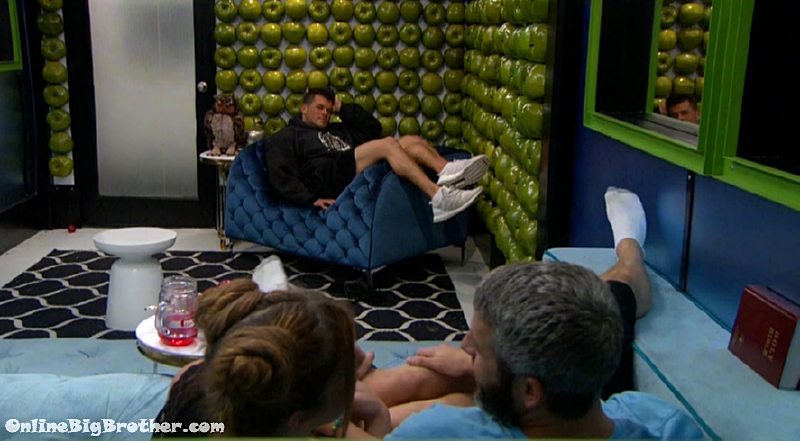 4:51pm Mark, Matt and Raven
Matt says Cody is borderline brilliant by just sitting there. It get under some peoples skin so much.
Mark says he thought Cody was going to be chill byut finding out he ate all of Alex's cereal is crazy
Raven – he's a d1ck been like that since week 1
Matt saying that it's best for Cody just to go to Jury..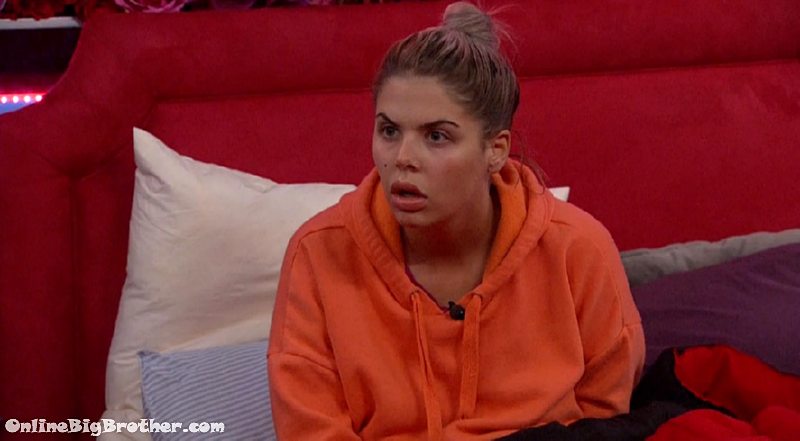 5:10pm Elena and mark
Elena mentions that Alex said in front of everyone that the next target is the person Cody is protecting. Elena thinks that's her.
Mark says every chance Paul gets he chimes in on fights.
They bring up Paul telling her that he's a man and isn't going to fight someone over a pillow yet he's talking shit about the pillow none stop
Elena says they accused her of flip flopping on Mark when she's got nobody but Mark in the game and all she does is spend time with Mark.
Elena says she got caught in a lie and what about all of Josh's lies, "Just because he's dumb he gets away with it"
Mark says they're keeping Josh around because he's attacking other people once he attacks them (them as in Xmas,paul,kevin,alex,jason etc) they'll get rid of Josh.
Elena – I want to blow up their whole sh1t about their alliance.. all the sh1t that Alex said about Josh.. how much she hates him
Mark – wait until Thursday.. Matt doesn't get a vote and COdy doesn't get a vote.. if they are pissed then.. (she might go home.. I think she's got shit on Paul for Matt and Raven)
Elena says the only way they can survive is winning back to back
Mark says it only takes 1 win, if he can get MAtt and Raven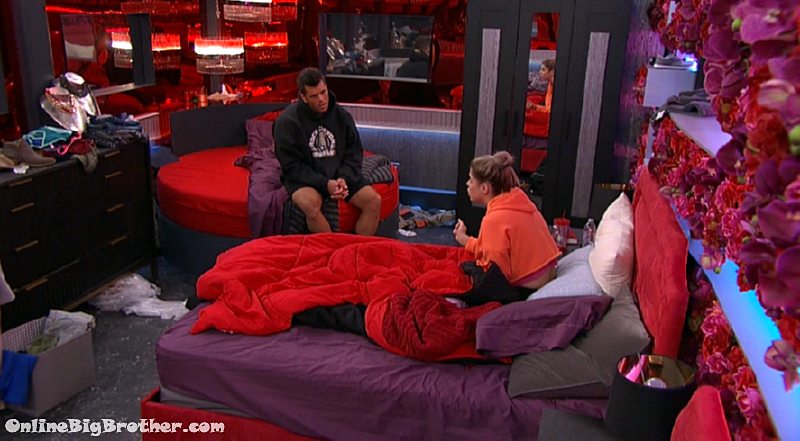 Elena – Matt and Raven don't want to get involved in anything.. We're the new Jess and Cody and they're the new us
Mark says Christmas just wants to be in front of the camera as long as possible.. she knows she's not going to win
Mark – I've seen seasons like this all the floaters stick together..
Mark – Paul is such a piece of sh1t..
Mark says Cody was up there with Alex and Jason and Paul didn't care but when he was talking to Cody it was World war 3
Mark says it was that week when Jessica won the HOH they spent too much time in the HOH
Elena says it's going to suck being around them all summer (the rest of the house)
Mark doesn't mind Jason and Kevin but Paul, Josh, Christmas/Raven he's having trouble being fake around them.
Elena – Paul today.. I was annoyed by him too.
Elena brings up Paul's philosophical conversation with her earlier today.. brings up that Paul always wants to sounds intelligent..
Mark says as much as he doesn't like Matt/Raven's game play they stay out of everything
Elena says Matt and Raven just does what everyone else says.
Elena – you better win HOH, Alex and Josh
Mark – Paul.. Alex has been good to me
Elena – after she lied to you and me in the kitchen
Mark – I thought I had a chance with Alex and Jason but that's flown out the window
Mark – Matt and Raven that's our only hope.. (Sigh.. that's the only hope)
Elena says she's going to start calling Alex out for her lies.
Mark – please don't say anything until Thursday.. I'm going to start calling Paul out too
Elena – We're not going to have a fun summer
Elena – I thought Josh was going to sleep in here
Mark – Josh is a b1tch
Elena – I swear Josh didn't know what condescending meant until I said it to him for saying BOO BOO
Elena regrets tossing the HOH to Alex.
Mark – Josh was hurt by the intelligence comments, Why are people always bringing up my intelligence.
Mark – I was like I don't know Josh it's a mystery
If you plan on buying anything from Amazon. Use this link Amazon home
Doesn't cost you anything and we get a small cut.
Links to the ranking system
Rank your house guests here
For those of you that like Statistics here are some expanded reports.