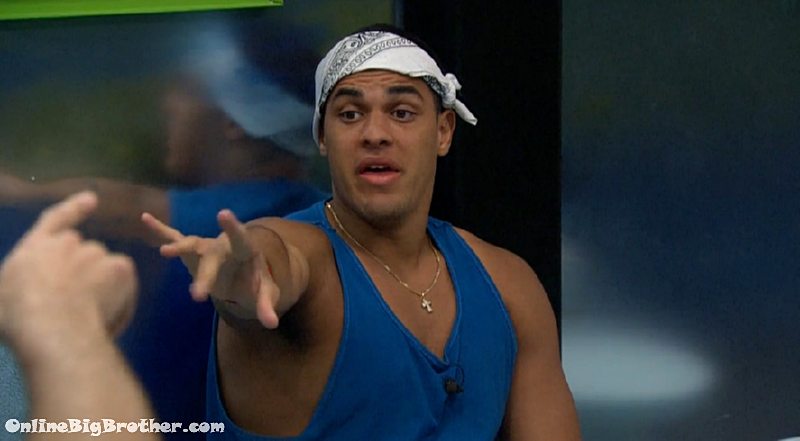 1:23pm Josh, Christmas and Paul APSR
Josh is saying that Kevin is much more physically capable than he's leading on. Josh says that from day one Kevin would tell him that he's going to make them think he's a fool and when they come for him "Turn it up"
Paul – the other thing I'm not fooled by is his backhanded comments.. Like wow Paul's smart..
Josh – why was he telling me he loved me last night
Paul – cause I put him in check
JOsh – I really like the dude
Paul says Kevin is placing blame on Alex.
Christmas mentioned that Kevin was rubbing her back last night and also rubbing Elena's back.
Josh – he knew he had all of us fooled.. Everyone was connected the dots
Josh – he's going to get even more sketched out as the days go on..
Josh – he's going to crank it up on me
Paul – personally, I don't think he should make it past 7
Josh – i'm not threatened by Matt and Raven
Josh – so what are you thinking us three, Jason and Alex, Matt and raven
Paul – yes
Josh – I think we should keep him top 7 then clip him
Xmas – he remembers everything you said and when
Josh – he knows everything
Josh – in the beginning he's tried to talk to me about you (Paul) but then he saw how close we have become he stopped
Xmas – I remember talking to Kevin about you (Paul)
Josh – he was like why is everyone kissing his a$$ is he god.. (Kevin's words of truth)
Paul – I'm the devil
Josh – yup
Paul says he's putting Kevin in check .. "I want him to know HEY you're not as smart as you think buddy"
Josh says Alex and Jason are not sharing everything with them. He went up there when Cody was chatting and Alex/Jason were looking at the spy screen on them.
Josh – they were watching us the whole time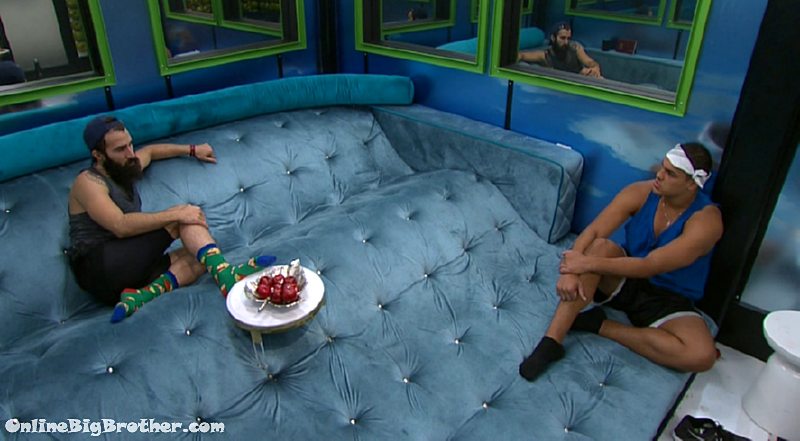 Paul – this is not good right now we need to not do this..
Xmas – there was so many people in here
Paul – yeah but they left..
Josh – do I have to leave..
Paul – I'll leave..
Josh – no I'll leave..
Xmas leaves..
Paul – I'm just saying… people already know we have each other and people don't like that..
They start talking about how Matt and Raven instigate things. Paul says they talk it up big when behind closed doors but out in the open they are quiet.
Paul – they just go WOW.. uhh huuh .. nothing tangible
Josh is pissed at Matt/Raven because they are supposed to draw the line with Mark on Thursday yet Matt/Raven are playing buddy buddy with him trying to protect their game.
Josh – they are playing both sides
Paul – I know they are
Josh says from now on he's squashing beef with Mark and Cody. Josh adds it's up to Matt to say something..
Paul – they never do sh1t man
Josh says it's always just Paul, Christmas and him going after people and sometimes Alex.
Josh – Matt thinks he's going to win the game.. F* no..
Josh – I don't care who is sitting next to either of those two they're not getting my vote
Josh – f that you play safe the whole half of the game and still play it safe and think you are going to win this game.
Josh – I just hat that I keep getting checked every time these two f*ing come at me
Paul – it's really weird
Josh – yesterday I said I don't want to fight, I don't want to argue, I don't want to scream and what does he do BOOM he takes it there.. (ZOMG)
Mark comes in..
Paul – I play a dangerous game
Josh – that is how I live my live (LOL dangerous)
Josh – I can separate personal from game..
Josh says Cody and Jessica taught him that
Josh – the whole playing it safe sh1t and sitting back… I don't even live my life like that for me to stay quiet that's not even in me..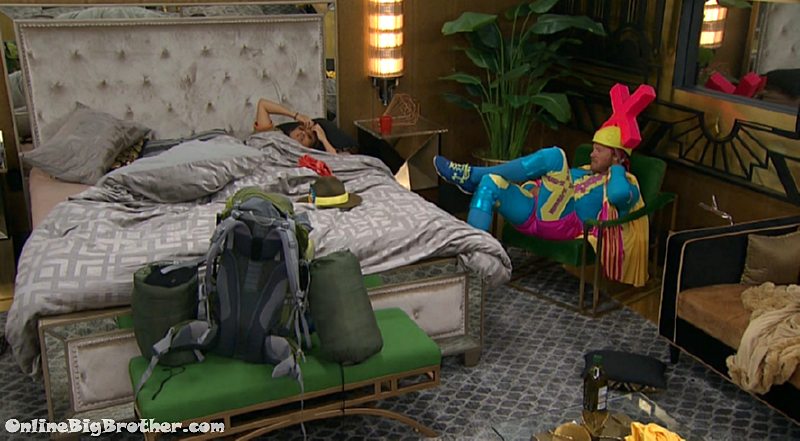 1:23pm Alex and Jason
Jason is telling her about his conversation with Kevin how he gave him a rundown what COdy has been talking to him about during their times outside.
Alex mentions why Kevin Felt like he had to tell him that.
Jason – you don't think Kevin is the one running around trying to start a coup
Alex – yeah.. I thought you knew that
Alex says Cody has no chance in this game, "he's got a pretty sweet deal he's getting to lay around and do nothing"
Alex calls him a salty b1tch for being rude and grumpy to her.
Alex – Matt, you going to fight Cody when you leave.. It'll be hilarious.. (Readers.. Who would win in a fight cody or Matt)
Matt says it's be hard enough for Cody when he gets out of Jury and he doesn't have the girlfriend he thought he had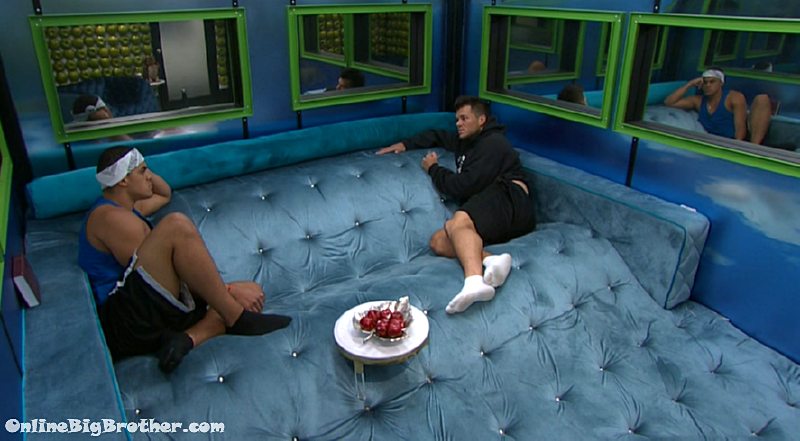 1:45pm Mark and Josh squashing their beef.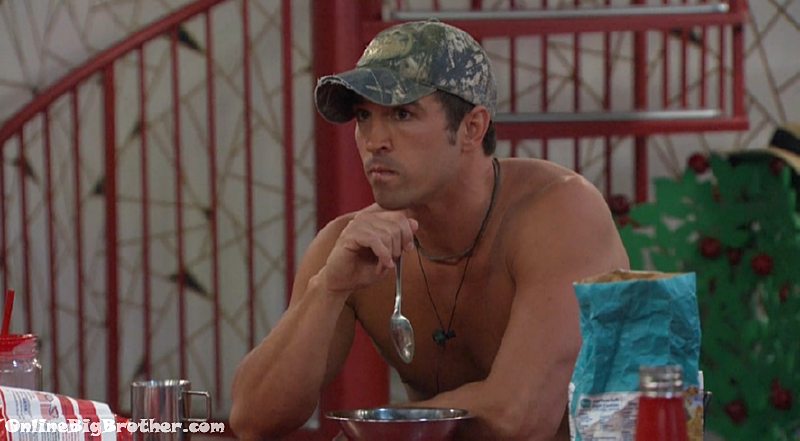 1:49pm Kitchen Alex, Jason, Paul and Cody Kitchen
Alex is pissed at cody for eating all her cereal. She's telling him to stop being grumpy he should be happy he gets to go to Jury and do nothing. Reminds him there's no chance he'll win this game so just sit back and enjoy.
Jason and Alex yelling at Cody telling him it's his fault he's getting excited it was his f*ing game.
Alex – we're trying to be nice to you and all you're being is a a$$hole
Alex – you couldn't save me 1 f*ing bowl of my cereal.. I'm the only person being nice to you
Cody – I don't want you to be nice to me I don't want anyone to like me
Cody – I would prefer you people never talk to me again
Jason – I thought you were joking at first but you're a F*ing idiot.. For being a d!ck to her
Cody – thanks..
Josh, Elena and Xmas are now here..
Cody to Jason – You've done nothing for me in this game..
Jason – nothing
Cody – I saved your game
Alex starts screaming
Jason thanks Cody was using him.
Alex asks him if Mark and Dom really knew week 1 he was going after Paul or did he just throw them under the bus
Cody – I don't want to talk about any of this with you guys
Cody – I don't care if you peple f*ing hate me I don't care
Alex starts doing the miss swan impersonation.. (from Mad TV)
Jason – are you even from Iowa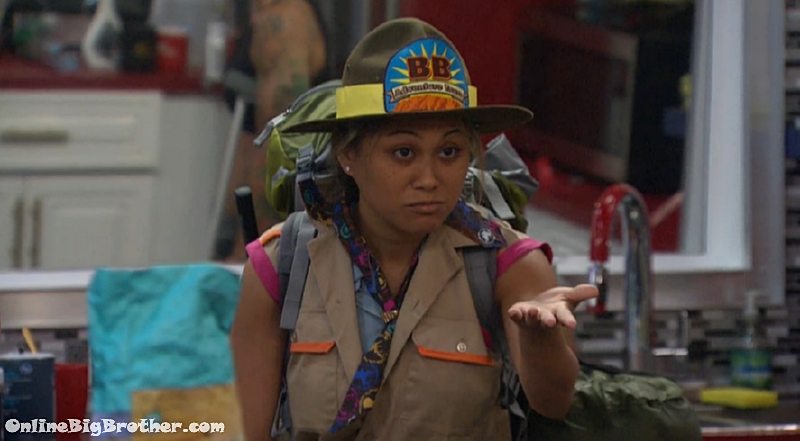 1:52pm Alex – How's your kid.. Do you have one
Cody – you guys could you quit talking to me
Alex – NO .. YOU WANT us to hate you we're going to make you hate us even more
Alex- what's the truth Cody .. how many people are you going to throw under the bus
Alex – do you even like Jessica or did you use her for your game.. You f*ed up her game too and you didn't do a very good job of getting very far.
Alex – how many more lies to you have to tell dude.. What do you want for us
Cody – I mean over Cereal..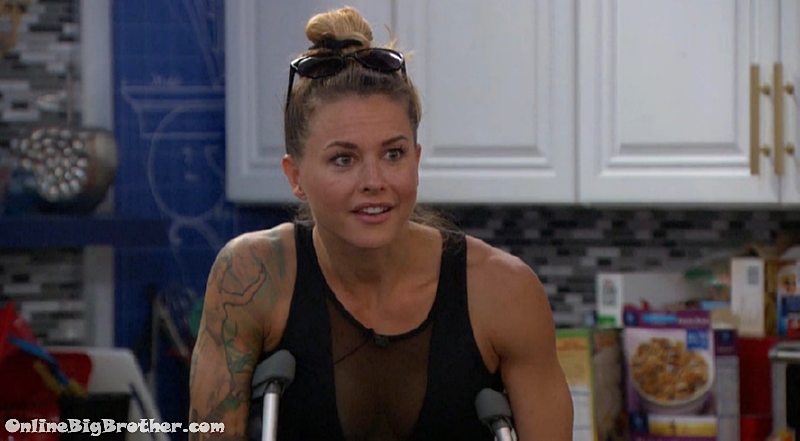 Alex – you f*ed every person in this game..
Xmas shows Alex where she's hiding the cereal.
Jason – you are full of f*ing sh1t.. Hurts me a little bit.. I'm voting out your a$$ on Thursday
Cody – when have you never voted to keep me..
Alex says the person Cody is trying to protect is going to be next.. Hint hint Mark
Josh – who is it..
Cody – I have not idea
Alex calls him a liar..
Paul – who is it..
Xmas – you never told me Mark is your ride or die since day one .. before I went to have surgery..
Cody – he kinda turned his back on that one..
Xmas – that's not a ride or die is
Alex – you and Ramses started that rumour about the message in the sky
Cody – Oh my god .. you guys are lunatics.. Absolute lunatics..
Alex – umm no they'll see you are when they see that rumour was started by you
Xmas – we're lunatics that actually talk to each other and communicate.. But whenever anything is brought up to be questioned you shut down walk away and don't talk
Cody – what's the point
Xmas – we're not arguing we're asking questions (ZOMG)
Cody – I'm leaving .. what the point of any of it.
Xmas – what's the point of you being here..
Cody – you're right I'm about to go out the f*ing door
Josh – who are you trying to protect
Alex back to calling him a liar asking him if he ever tells the truth,.
Cody – it's all a lie every bit of it that's why I'm going out the door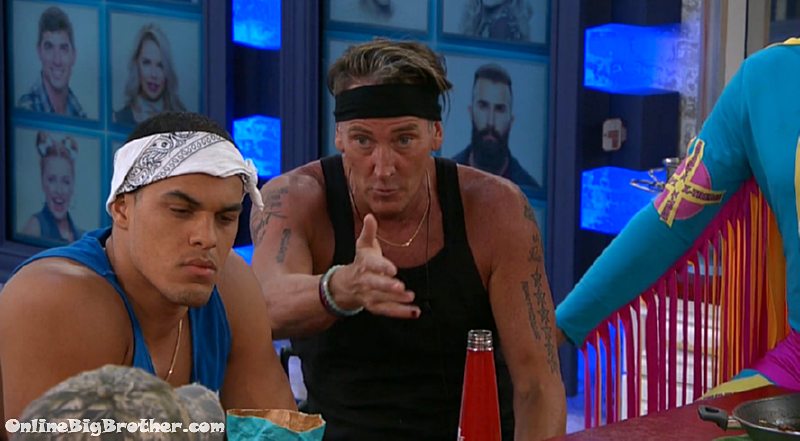 Kevin trying to defuse the situation says people just want to talk to him maybe he can go to people and sit down and talk to people one on one.
Kevin says he should be honest and let people know the kind of person he really is.
Kevin – maybe they don't hate you maybe they hate the way they played the game..
Kevin -the word I'm sorry isn't a hard word to say..
Kevin – just talk to everyone.. Go out on a good foot.. Just speak friendly to us.. You got 2 days..
Kevin says they all agree Cody wasn't a good game player maybe they can see he's was a OK guy. (See everyone is that hard! I'm sure Kevin will get sh1t on for not being aggressive enough)
Cody – if everyone wants I will be polite and courteous .. I won't talk to anybody
Alex – you can be a decent human being.. When did I be mean to you on a personal level
Alex continues to yell at him "we were nice to you and told you exactly what we were going to do"
Kevin speaking calm.. "People don't hate you they don't know you to hate you"
Xmas- why are you guys even preaching to him he doesn't give a f*..
Xmas- he's doesn't say anything all he wants to do is walk the F* away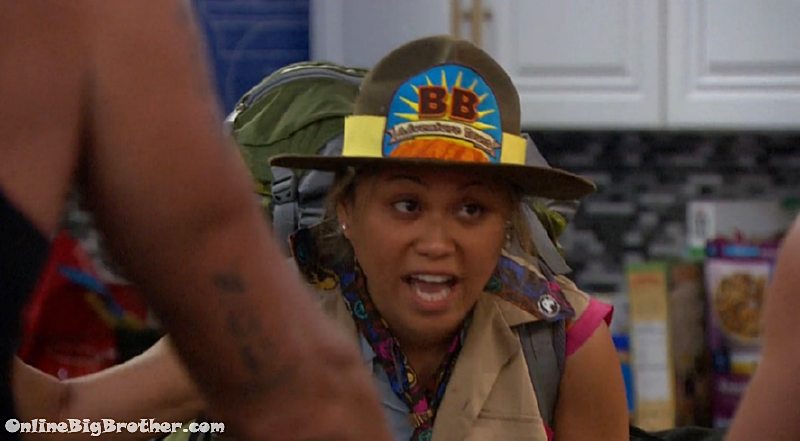 Alex – he's trying to make himself the target..
Kevin – the victim
Josh – he's trying to protect Elena
Alex – he's genuinely a nice guy
Kevin – let it out
Josh – cody have you ever had an alliance with Mark
Cody – all i want to do is be myself..
Xmas – then why are you on Big BRother..
Cody – i'm going out the door
Xmas – doesn't matter we still want answer
Cody – nothing I say people will believe anyways
Josh – that's not true
Cody – I didn't mean to be a jerk Alex
Xmas – that's not an apology.. And he doesn't answer your questions and he doesn't want to play this game.. If he wants to alone he shouldn't have come on Big brother..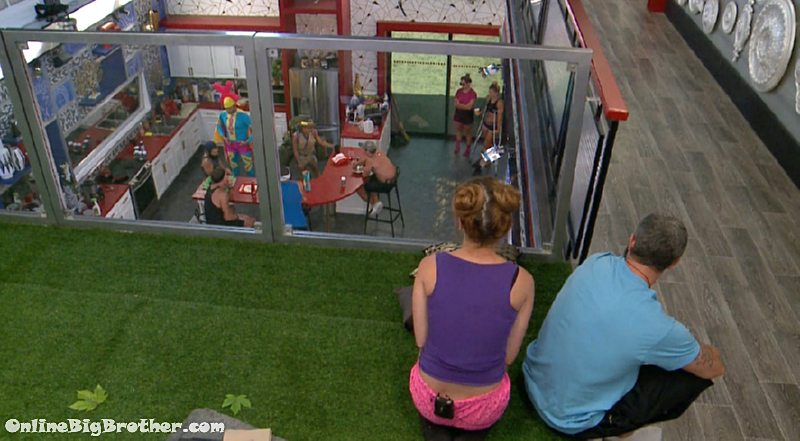 Matt and Raven safe distance..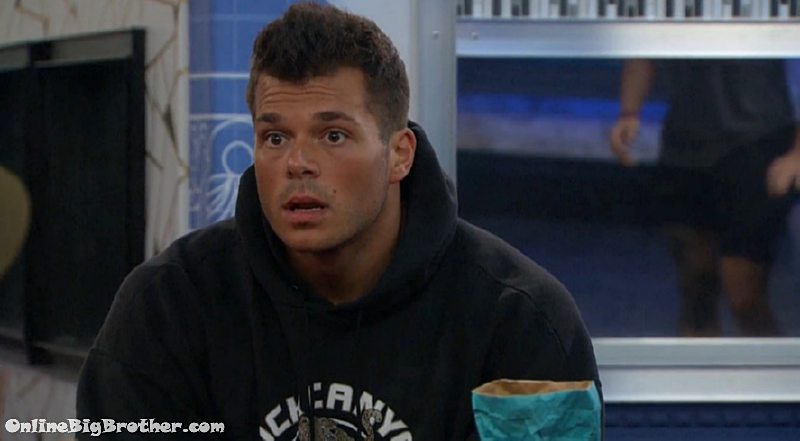 2:02pm
Mark comes out.. Tells them he had an alliance with Cody week 1 but then nothing
Alex – nobody has seen you actually have it out with him
Alex says Cody ate all her cereal
Cody comes out..
Josh asks when COdy came in the second time did he have an alliance with mark
Cody – no just jessica.. I just buddy buddy with him
Sure as shit raven and Matt comes down once the coast is clear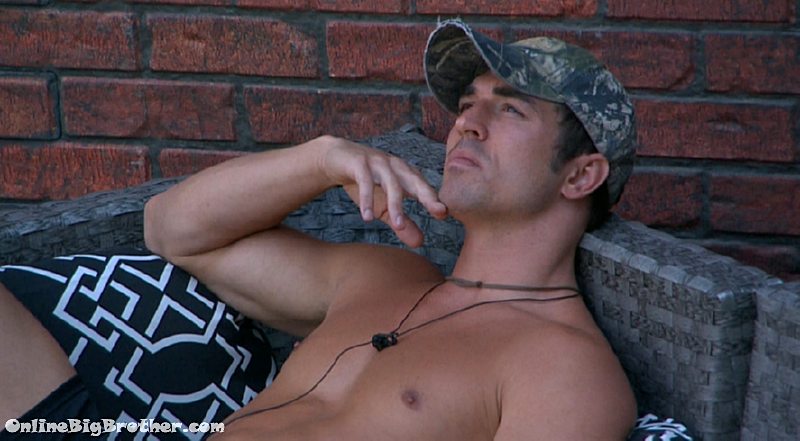 2:07pm Sigh…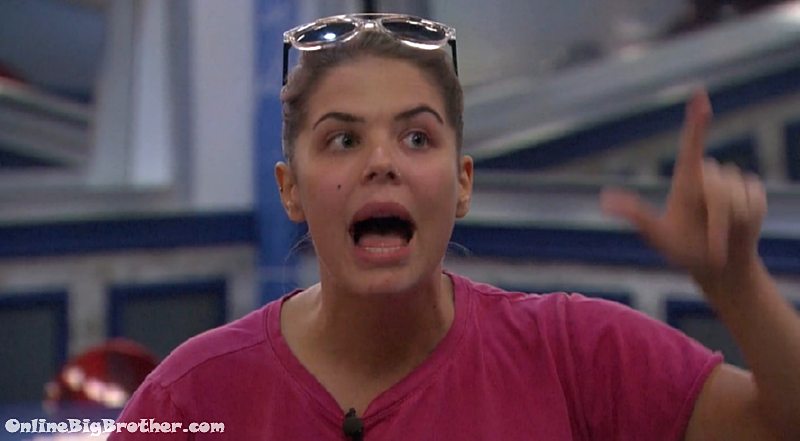 2:17pm Josh, Christmas and Elena fight (time for the house to go after Elena)
(I'm trying to catch up.. it's noone stop fights right now)
This fight has Alex, Christmas and Josh fighting with Elena calling out lies.
Josh calls Mark and Elena out for jumping ship with Cody.
Josh calls her disloyal, manipulative and condescending
Elena – you're just finding big words that you don't know what they mean
Josh – lets pull a Jessica
Elena – how the f* am I condescending
2:34pm
Josh – I'm drawing the line the line has been drawn
Elena – Josh.. it's already be drawn
Josh – no I've drawn it BOO BOO
Josh – I want to show the house how big of a liar and manipulative person you really are
Elena – what week did I lie and manipulate
Xmas – did you not tell me when Mark wins HOH this is before you guys split..
Xmas – if mark wins HOH you were going to say congratulations and split from him you do not want to be associated with his game
Elena – HUH.. that when he wins HOH
Xmas – if he wins HOH and When he does
Elena – No I never referred to his HOH
Xmas – Lie 1 of 2
Xmas – WOW.. lets go to the most obvious lie.. DID you not make an agreement with Alex to not throw her into a ..a .. whatever this is (the costume)
Alex – I will give you your shot first.. explain what happened.
Elena – the way I understand an elimination competition
2:36:15am Alex – what did you say to me they've (Production) have been asking about it and they know you have lied because they have it on Camera (using production)
Alex – you said lets promise not to curse each other..
Alex you said what wrong
Alex – I said I was nervous and what did you say.. don't worry we promised not to curse each other.
2:37pm Alex Screaming at the top of her lungs for a lie that Elena said
Alex – you have no respect for anyone..
Elena – How do I not have respect for anyone..
Xmas – deflecting deflecting ..
Alex – what car do you drive..
Elena -Why does that matter
Alex – Because you say your broke
Elena -I drive a Audi..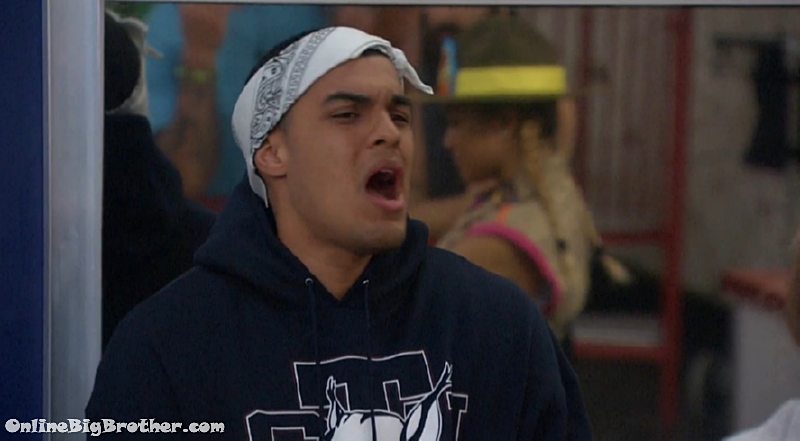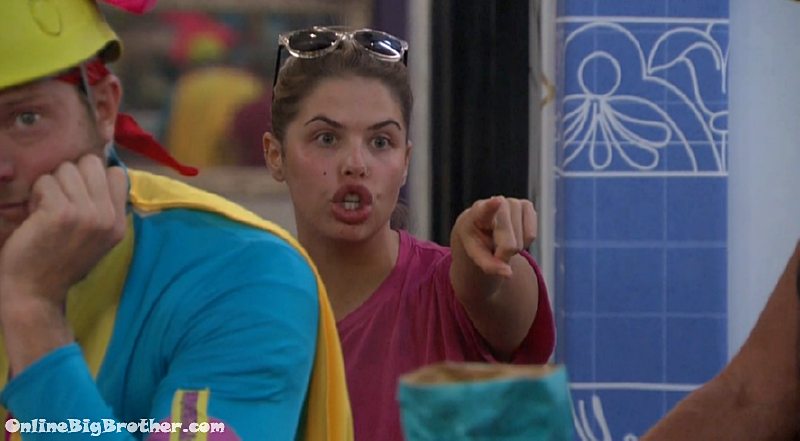 2:49pm after Elena leaves..
Paul start calling Cody a sack of sh1t.
Josh saying he's got a headache and doesn't want to fight
30 seconds later Him and Elena are screaming at each other again about Elena jumping ship on Cody and Jessica.
After things have simmered down Alex says Cody is trying to stir the pot he's trying to be hated by everyone.
Mark to Josh – can we please stop rehashing sh1t..
They agree they've drawn the line in the game
Xmas tells everyone that Elena is talking to Cody he doesn't want to talk to them but he'll talk to her.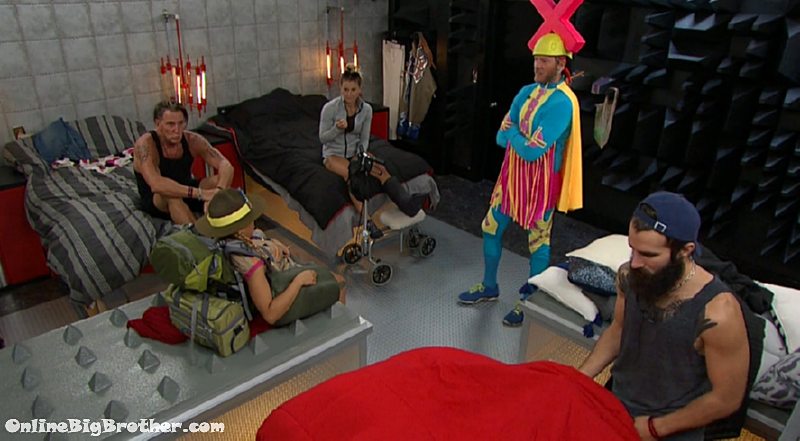 3:08pm Have nots room
They're talking about Matt and Raven not doing anything during the screaming..
Raven and Alex join them say that Mark is crying..
Jason – is he though..
Paul – we need to keep ping ponging back and forth (between Elena and Mark)
Raven leaves.. Paul says after the get rid of Mark and Elena they go after matt and Raven.
If you plan on buying anything from Amazon. Use this link Amazon home
Doesn't cost you anything and we get a small cut.
Links to the ranking system
Rank your house guests here
For those of you that like Statistics here are some expanded reports.