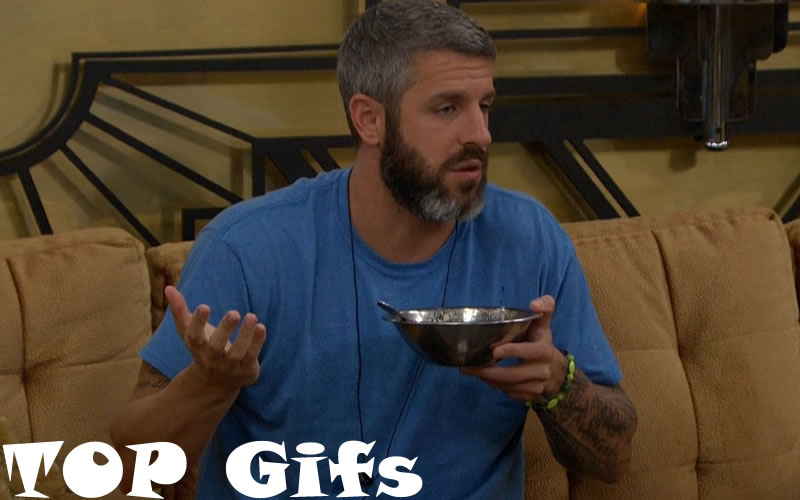 Check out our BB19 Ranking Grid. . rank your houseguests here
Typically Gifs always go to our Twitter accounts (@BigBspoilers) and most times they make their way to our facebook.
It's starting to slow down. Matt is just too good of a player his command of the game means nothing goes on without his say. This has a damper on the game. Until these houseguests can give us more than just sh1t talking Matt's cereal eating is now what these Gifs will focus on. ENJOY! (I'm 1/2 joking btw)
Raven and Matt engaged in s$xual acts at night as they usually do
Paul gives Josh a little tickle.. JOsh seems to enjoy it
Jason tells us how psychotic most days are with Alex, Xmas, Paul, JOsh in the house
TONS of Matt game updates.. he's a game powerhouse his strategy is what guides the game The Cereal strategy. This is how it goes.. Find a girl, Get HJ and BJ's for 2 months  all while eating Cereal. On top of that there's now a 10% chance to win 500K! pretty nice..
Matt and Raven @bigbspoilers #BB19 pic.twitter.com/KbTAu2MMBc

— Dawg (@DawgsBigBrother) August 17, 2017
Paul gives Josh a little tickle #BB19 @DawgsBigBrother pic.twitter.com/XpEbPhIQcU

— OnlineBigBrother.com (@bigbspoilers) August 17, 2017
Cody is preparing his Thursday speech for Alex and Jason "F* Them" #BB19 https://t.co/1cFybx8Ran pic.twitter.com/SUHJaubiHz

— OnlineBigBrother.com (@bigbspoilers) August 16, 2017
The day summed up "Psychotic" #BB19 @DawgsBigBrother pic.twitter.com/FCxDx8xMq7

— OnlineBigBrother.com (@bigbspoilers) August 16, 2017
Matt Game Update @DawgsBigBrother pic.twitter.com/GSxuJHBZvw

— OnlineBigBrother.com (@bigbspoilers) August 14, 2017
Mark Gets GREEN! now a have #BB19 @DawgsBigBrother pic.twitter.com/weyhX6sY7r

— OnlineBigBrother.com (@bigbspoilers) August 14, 2017
Josh – he thinks I'm a bull #BB19 @DawgsBigBrother pic.twitter.com/IvYX4ndT0V

— OnlineBigBrother.com (@bigbspoilers) August 14, 2017
4am Matt Game update. #BB19 @DawgsBigBrother pic.twitter.com/pAf6CsJeyp

— OnlineBigBrother.com (@bigbspoilers) August 13, 2017
Paul & Christmas "Who wants to go tandem skydiving?"@bigbspoilers #BB19 pic.twitter.com/bEOpumvxtx

— Dawg (@DawgsBigBrother) August 13, 2017
Matt Game update #BB19 @DawgsBigBrother pic.twitter.com/wOBiHHJKmH

— OnlineBigBrother.com (@bigbspoilers) August 12, 2017
Josh and Jason prepare and POV performance for us "The Shannon" #BB19 @DawgsBigBrother pic.twitter.com/ajBUICdTdF

— OnlineBigBrother.com (@bigbspoilers) August 12, 2017
Matt game update #BB19 @DawgsBigBrother pic.twitter.com/rbmia6hhG4

— OnlineBigBrother.com (@bigbspoilers) August 12, 2017
JOsh and his "team"
Josh – look what I got you
Paul – Josh, go over there YA just so it's not 5 people
Jason – watch the gap.. pic.twitter.com/UyMGBcjaSi

— OnlineBigBrother.com (@bigbspoilers) August 11, 2017
Matt game update.. .#BB19 @DawgsBigBrother pic.twitter.com/uLhHSPI9xu

— OnlineBigBrother.com (@bigbspoilers) August 11, 2017
JOsh turns it up to a 12 #BB19 @DawgsBigBrother pic.twitter.com/qUcttKyOhF

— OnlineBigBrother.com (@bigbspoilers) August 11, 2017
moves.. #BB19 @DawgsBigBrother pic.twitter.com/vUGEdVEHGe

— OnlineBigBrother.com (@bigbspoilers) August 11, 2017