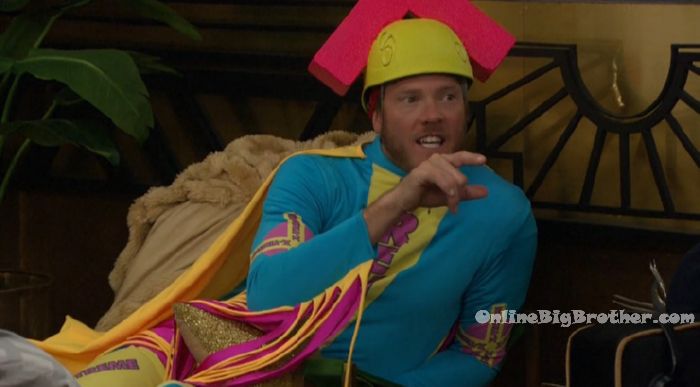 Check out our BB19 Ranking Grid. . rank your houseguests here
ds9pm HOH room – Josh, Alex, Jason, Paul and Christmas.
Jason – so he is either trying to get closer to you (Paul) .. to cause .. this could be a back handed plea to get back at you. Paul – this better stay here. I told Alex briefly but I didn't tell her fully.. when you two (Alex and Jason) were saying something and he walked by and asked what are them two always talking about. I said I don't know Kev, they're close and then just talk about things. You know what, I'm sick of them. They always keep things to themselves. Its you and me. Them two can do whatever the f**k they cwant. He is trying to riff us because he sees were all strong. Then he starts bringing your name into it.. dropping your name. Alex – he drops her name but he's not actually protecting you. Christmas – Does he think I would ever team up with Mark, Elena or Cody? Josh – he has always had a distaste for Paul. In the beginning he always asked why everyone was us your a$$. Paul – this is what I'll say to him .. so you say you made a deal to protect me but then Cody has campaigned all day to get me out. And then you've been hanging out with him … so tell me how you've had my back Kevin!? I'm going to put his a$$ in check! And be like if you want to continue working with me you better quit what the f**k you're doing buddy! He will sh*t. If I put him in check and if he wins HOH he can go after me. Josh – he tells me to play the fool and then when its time to turn it up I should turn it up. Alex – he is telling you his plan. Josh and Jaf====

See what they can't show you on TV Try the live feeds FREE for 1 MONTH!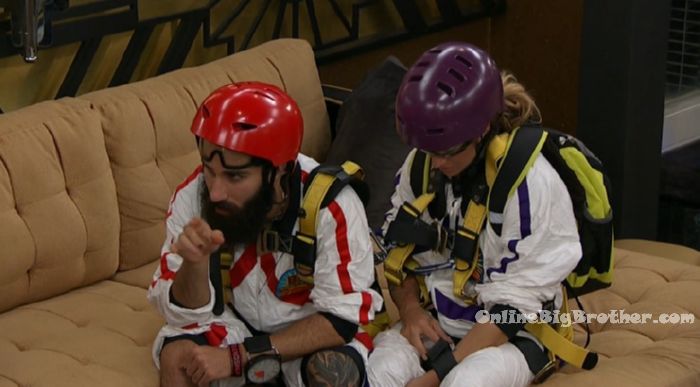 9:30pm Paul and Christmas made it the 46 hours so they get to take off the skydiving costumes.

9:57pm Kitchen. Paul, Elena and Josh.
Paul tells Elena about a pillow that Mark took from him and Christmas. Paul – when I know homie is campaigning against me and you want to keep him in here, that is where I draw the line. And you really haven't done sh*t for me. So I don't give a f**k. Oh and by the way he (Mark) knew I was going on the block because guess what after I asked him here I went and asked Cody. Did Mark know I was going to the block week 1, and he said yes he knew. Right after, to my face he said I swear to you I did not know. Not only has he been lying to me for a long time about know I was going on the block but he has been trying to keep someone who is trying to get me out. Once with his girlfriend and now with him. I am over it because I have said nothing about the kid and I have down nothing but help the kid. But if he wants to f**k around, we can f**K around. Christmas – who is f**king around? Josh – Mark's b***h a$$. Elena – so he has been continually lying to me too.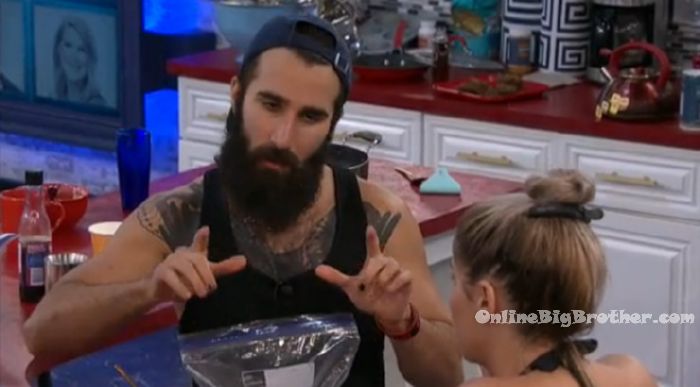 10:07pm Lounge room – Kevin and Paul.
Paul – what I am concerned about is this prick (Cody) has been throwing my name out left and right and he thinks he has you as a number. He thought he had you as a number. Kevin – no, we were going to use him if he got HOH. Paul – he's been saying he has you in his pocket. Kevin – wow, I don't even talk to the kid. Paul – we don't believe it but don't get sucked into his f**king bullsh*t. Kevin – you know I would never.. this game is just a lead on to other things. What about my girl, does she say things? Paul – no. Kevin – Cody would never say anything about you to me. Once he is gone Thursday night, everything will be good.
10:30pm Josh, Kevin, Paul and Jason are playing lawn darts. Kevin and Mark play a game of pool.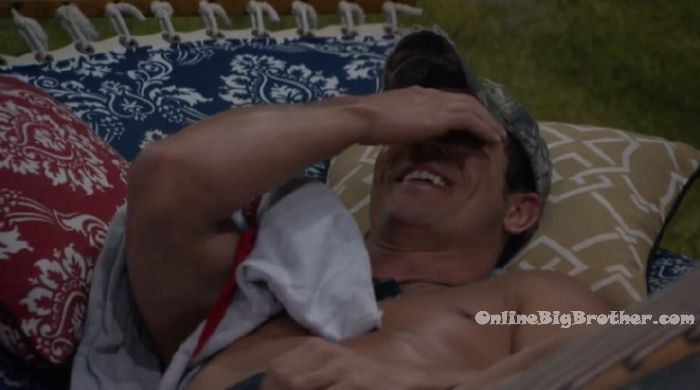 11:35pm Backyard – Josh and Mark.
Josh to Mark – I want to clear something up. Cody came to me as a man. He dislikes me, I know that and we can agree on that. He's wanted me out since week 2 and what I told him what I don't respect about you… is that you've been playing both sides since the moment he stepped back in. You've been playing the house and wanting to backdoor Cody and then when Cody is in power you want to pow wow with Cody and Jess and get me out. So guess what!? As a man I can respect that the kid is gunning for me … you have been playing the f**king middle for 3 – 4 weeks whatever benefits your game you go with .. at this point he (Cody) wants nothing to do with it. I'm letting you know that you're shady as f**k and playing both sides since jump! When it benefits you, you're down to get Cody out and when Cody or Jess are in power, you're down to get whoever the f**k they want out.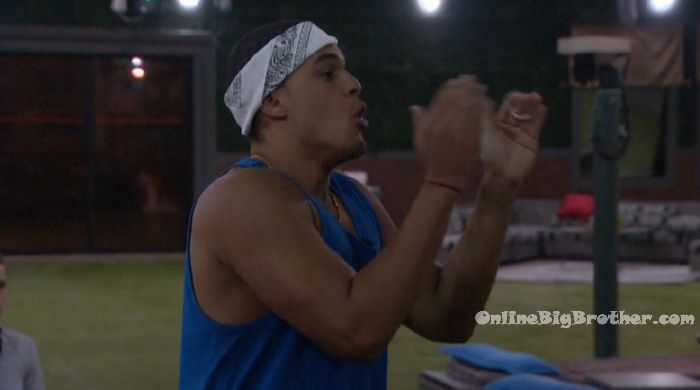 Mark – I thought this was about campaigning. Josh – I thought so to but I'm talking about how shady you've been playing this game. Just know that everybody including homie (Cody) is on to your sh*t! Cody – don't do that at the end. No, don't do that. Josh – Alright, we're all on to your sh*t. So you can run around here next week and do your whole flip flopping .. no one is buying it. Mark – okay. So what does Cody have to do with this conversation? Cody – I said I don't want anything to do with it. Mark – why are you surprised I wanted you out of this house?! Because the week before you blew up my entire game! Josh – I didn't blow up your game, I called you out on your sh*t and you f**king reacted. Mark – what shady sh*t? Josh – all the shady sh*t you've done since day 1! Mark – I wanted you out of this house before Cody came back in. Josh – thank you, say it to my face. Mark – I already told you that!! Josh – WHEN!? If you had told me in 55 days that you wanted me out, I wouldn't be talking to you. Mark – in the kitchen after you stayed I told you I was not happy you stayed. Josh – shut the f**k up. That same hour you said lets go back to being how we were. Mark – why would I ever say that?!!? Josh – so you didn't say that?! The house has seen that I am not a liar and that my actions aren't sh*t. Mark – I voted you out of the house, I clearly wanted you go. Big Brother blocks the feeds and when they return – Mark has gone back inside. Paul – reinacting how Mark stormed off. Paul – the real b***h is Cody over there who can't stand up for his own friend who he has apparently been with and told his girlfriend that he was going to jump on a grenade for. Josh – B***H you can't perform under pressure, I'm bringing out the pots and pans!!! Call security!!! He ain't going to do sh*t!!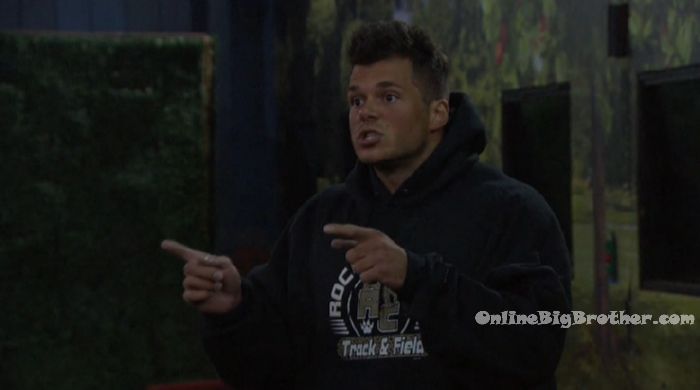 12:07am Mark laying in bed with Matt and Raven laughing and popping zits in front of him. Mark asks Elena if she will go get his water because he really doesn't want to go out there. Mark to Matt – I hope this goes without saying but when I was up there talking with Paul.. Cody has been trying to get… I heard that he was trying to get you to go up in whistle nuts (Jason) place and trying to get you out this week. He has been campaigning. I have had nothing to do with that! Matt – they told me he said that. This is big brother I would not anything less.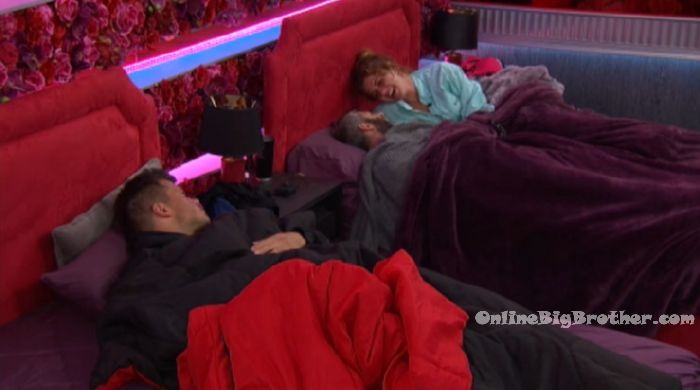 12:15am – 12:45am Alex set up her campsite and is now feeding the house guests her hot dogs. Josh comes back outside. Alex – were you in the DR? Josh – yeah, they told me to chill! Alex – WHY?!! Big Brother blocks the feeds. Josh talks to Alex about the fight. Josh – and then he called me a b***H when he walked away. "HOH on Thursday B***H!" Josh – I've just had enough of this sh*t!

12am HOH room. Alex and Jason.
Alex – it will be okay because they I will be able to compete in the next one (HOH), which would mean I would have this room 2 weeks in a row. Then Mark would be really pissed and make him a havenot next week. Jason – I thought he would be going up. Alex – well yeah hopefully he leaves this week being the second one (if there was a double eviction and Mark left second.) Jason – why is that fool so shady. The way this game is you're supposed to be able to confront people, you're allowed to be mean to people.. that's the whole point to the game.. you clash with another person and that they're (Production) are not allowing him to do it. is not… Big Brother switches the feeds.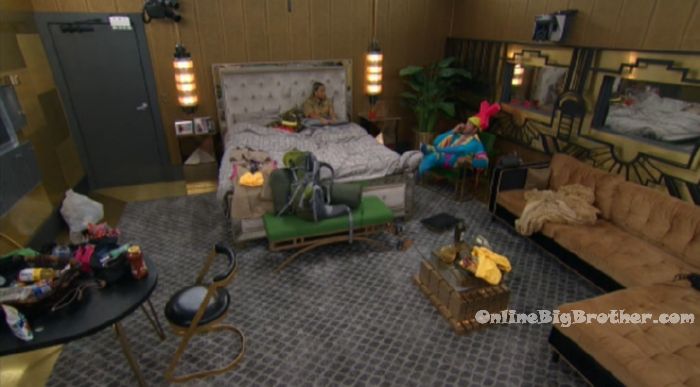 1:05am – 1:20am Backyard. Alex, Josh and Christmas.
Josh – I wanted to drop so many facts on di*k head. Alex and Christmas talk about past confrontations. Once Alex is finished packing up her campsite they head inside.
In the havenot room – Christmas, Jason, Kevin, Elena and Paul are chatting about random things.

1:50am Havenot room – Kevin caressing Christmas's face… Christmas falls asleep.. Kevin wakes her up. He kisses her on the cheek. She thanks him for putting her to sleep. They turn out the lights and go to sleep.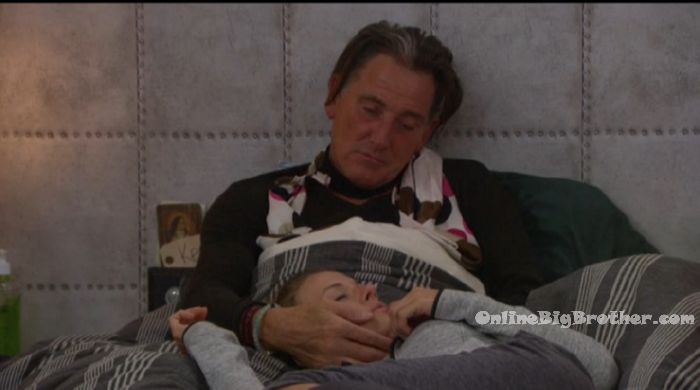 2:40am All the house guests are sleeping..
If you plan on buying anything from Amazon. Use this link Amazon home
Doesn't cost you anything and we get a small cut.
Links to the ranking system
Rank your house guests here
For those of you that like Statistics here are some expanded reports.